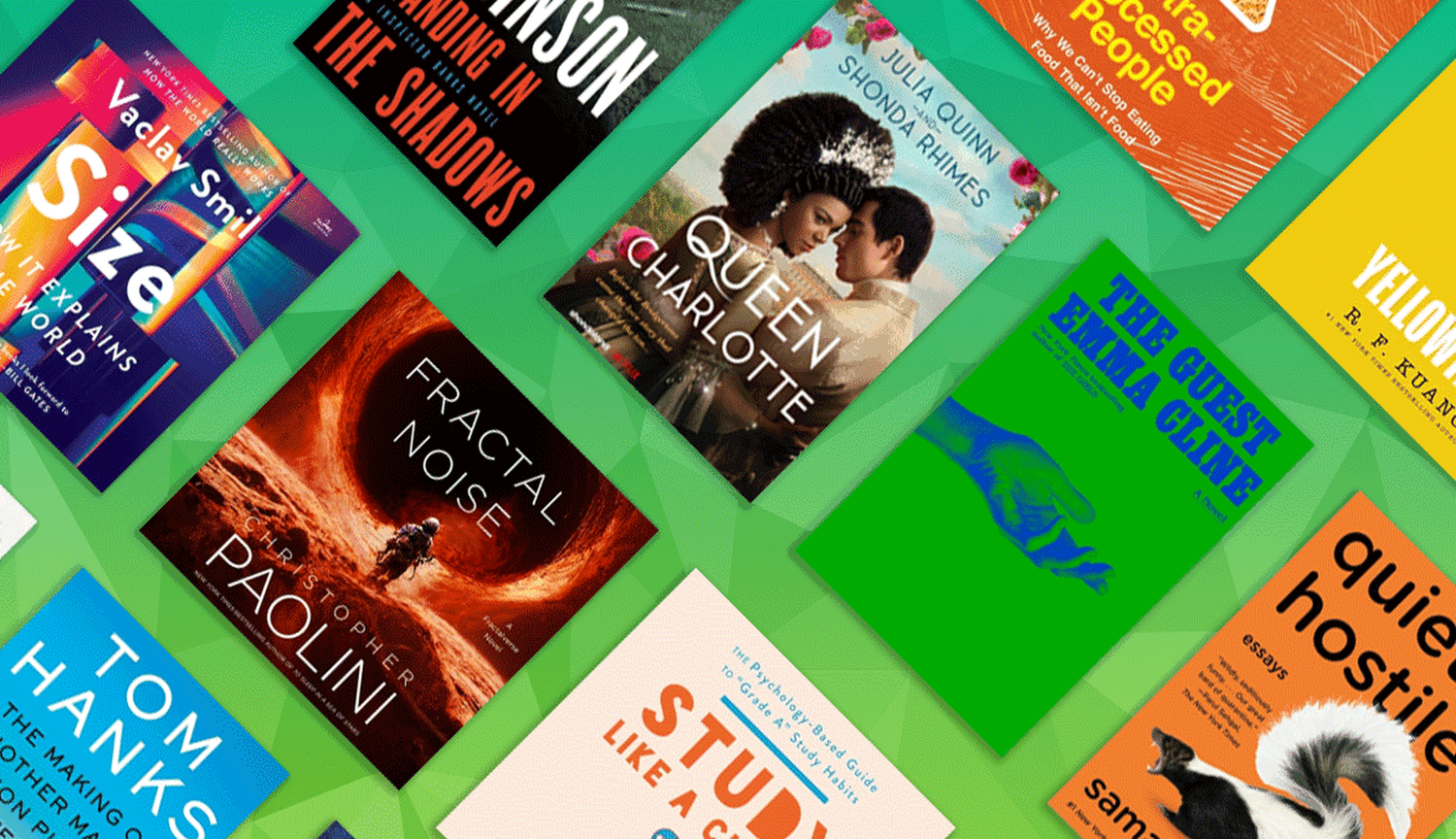 100 new eBooks and audiobooks coming out May 9 – 22, 2023
The Spring 2023 publishing season is in full swing!
🧰 Help and How-to
HealthyGirl Kitchen: 100+ Plant-Based Recipes to Live Your Healthiest Life by Author Danielle Brown
Take Charge of Bipolar Disorder: A 4-Step Plan for You and Your Loved Ones to Manage the Illness and Create Lasting Stability by Julie A. Fast
You Are the One You've Been Waiting For: Applying Internal Family Systems to Intimate Relationships by Richard Schwartz, Ph.D.
Arrangements in Blue: Notes on Loving and Living Alone by Amy Key
10x Is Easier Than 2x: How World-Class Entrepreneurs Achieve More by Doing Less by Dan Sullivan and Dr. Benjamin Hardy
Study Like a Champ: The Psychology Based Guide to "Grade A" Study Habits by Regan A.R. Gurung, PhD and John Dunlosky, PhD
Of Bears and Weight Loss: How to Manage Triggers, Lose Weight, and Enjoy Getting Fit by Dr. Brian King
The Queer Parent: Everything You Need to Know From Gay to Ze by Lotte Jeffs
The Family-First Entrepreneur: How to Achieve Financial Freedom Without Sacrificing What Matters Most by Steve Chou
Extra Easy Keto: 7 Days to Ketogenic Weight Loss on a Low-Carb Diet by Stephanie Laska
This Book Will Make You Feel Something: Masturbation meditations to use on your own or with a partner by Florence Bark
💡 Big Ideas
The World: A Family History of Humanity by Simon Sebag Montefiore
Quietly Hostile: Essays by Samantha Irby
The New Masculinity: A Roadmap for a 21st-Century Definition of Manhood by Alex Manley
The Edge of Knowledge: Unsolved Mysteries of the Cosmos by Lawrence M. Krauss
The Trauma Beat: A Case for Re-Thinking the Business of Bad News by Tamara Cherry
Ultra-Processed People: Why We Can't Stop Eating Food That Isn't Food by Chris van Tulleken
Red Memory: The Afterlives of China's Cultural Revolution by Tania Branigan
These Vital Signs: A Doctor's Notes on Life and Loss in Tweets by Sayed Tabatabai
Size: How It Explains the World by Vaclav Smil
A Renaissance of Our Own: A Memoir & Manifesto on Reimagining by Rachel E. Cargle
Our Migrant Souls: A Meditation on Race and the Meanings and Myths of "Latino" by Héctor Tobar

🗣 True Stories
Wine Witch on Fire: Rising from the Ashes of Divorce, Defamation, and Drinking Too Much by Natalie MacLean
Walking with Sam: A Father, a Son, and Five Hundred Miles Across Spain by Andrew McCarthy
My Own Magic: A Reappearing Act by Anna Kloots
Wildflower: A Memoir by Aurora James
The Daddy Diaries: The Year I Grew Up by Andy Cohen
Edison's Ghosts: The Untold Weirdness of History's Greatest Geniuses by Katie Spalding
King: A Life by Jonathan Eig
Miss Major Speaks: Conversations with a Black Trans Revolutionary by Miss Major Griffin-Gracy
An Unspeakable Hope: Brutality, Forgiveness, and Building a Better Future for My Son by Leon Ford
Gentleman of Jazz: A Life in Music by Ramsey Lewis and Aaron Cohen

💘 Romance
Atlas: The Story of Pa Salt by Lucinda Riley and Harry Whittaker
The True Love Experiment by Christina Lauren
The Problem with Second Chances by Piper Rayne
HOT Limit by Lynn Raye Harris
Doggone Mess by R.J. Blain
Aliens on Earth: a Limited Edition Science Fiction Romance Collection by Rhetoric Askew, LLC
Unexpected Bliss by Lexi Blake
Man Cave by Vanessa Vale
Needing a Hero by Maryann Jordan
Queen Charlotte by Julia Quinn and Shonda Rhimes
Harbored in Silence by Carrie Ann Ryan
The Comeback by Lily Chu
The Rachel Experiment by Lisa Lin
Unladylike Lessons in Love by Amita Murray
Take a Hike by Mimi Grace

🗡️ Action, Crime, and Mystery
Uzi in the Urn by Dale Mayer
Standing in the Shadows by Peter Robinson
The Girls in the Glen by Lynne McEwan
Only the Dead by Jack Carr
The Lie Maker by Linwood Barclay
Girl, Lured (An Ella Dark FBI Suspense Thriller—Book 12) by Blake Pierce
The White Knight (Ben Hope, Book 27) by Scott Mariani
Her Dark Grave by Carolyn Arnold
Tessa's Trust by Rebecca Zanetti
The Hexed Hunt by Cate Lawley
Playing It Safe by Ashley Weaver
Seaside Bookclub by Meredith Summers
Independence Square by Martin Cruz Smith

🖊️ Literary & Contemporary Fiction
Yellowface by R. F Kuang
The House on Prytania by Karen White
The Forgotten Children by Ann Bennett
The Postcard by Anne Berest
Golden Dreams by Anna Jacobs
The Garnett Girls by Georgina Moore
In Feast or Famine by Mesu Andrews
Scarlet by Genevieve Cogman
The Guest by Emma Cline
Retrospective by Juan Gabriel Vasquez
The Three of Us by Ore Agbaje-Williams
A Grandmother Begins the Story by Michelle Porter
The Making of Another Major Motion Picture Masterpiece by Tom Hanks

✨ Fantasy, Horror, Sci-Fi, and Speculative Fiction
Season of Skulls by Charles Stross
The Book That Wouldn't Burn by Mark Lawrence
Fractal Noise by Christopher Paolini
The Malevolent Seven by Sebastien de Castell
Fallen Kingdom by E.V. Everest
The Whistling by Rebecca Netley
Scarlet by Genevieve Cogman
An Embittered Witch by E M Graham
The Iron Vow by Julie Kagawa
To Shape a Dragon's Breath by Moniquill Blackgoose
Painted Devils by Margaret Owen
Dionysus by Eva Pohler
Decree by W.J. May
Zombie Fallout 20: Shores of Despair by Mark Tufo
Transmogrify!: 14 Fantastical Tales of Trans Magic by g. haron davis
Dual Memory by Sue Burke
Bang Bang Bodhisattva by Aubrey Wood

🗯 Manga & Graphic Novels
Skip and Loafer Vol. 7 by Misaki Takamatsu
The Savior's Book Cafe Story in Another World Vol. 5 by Kyouka Izumi
My Happy Marriage 03 by Akumi Agitogi
Fly Me to the Moon, Vol. 17 by Kenjiro Hata
Megumi & Tsugumi, Vol. 2 by Mitsuru Si
Crossplay Love: Otaku x Punk Vol. 4 by Toru
She Professed Herself Pupil of the Wise Man Vol. 7 by Ryusen Hirotsugu
2.5 Dimensional Seduction Vol. 6 by Yu Hashimoto
The Girl I Like Forgot Her Glasses 03 by Koume Fujichika
Choujin X, Vol. 2 by Sui Ishida

Check out even more new eBooks & audiobooks here