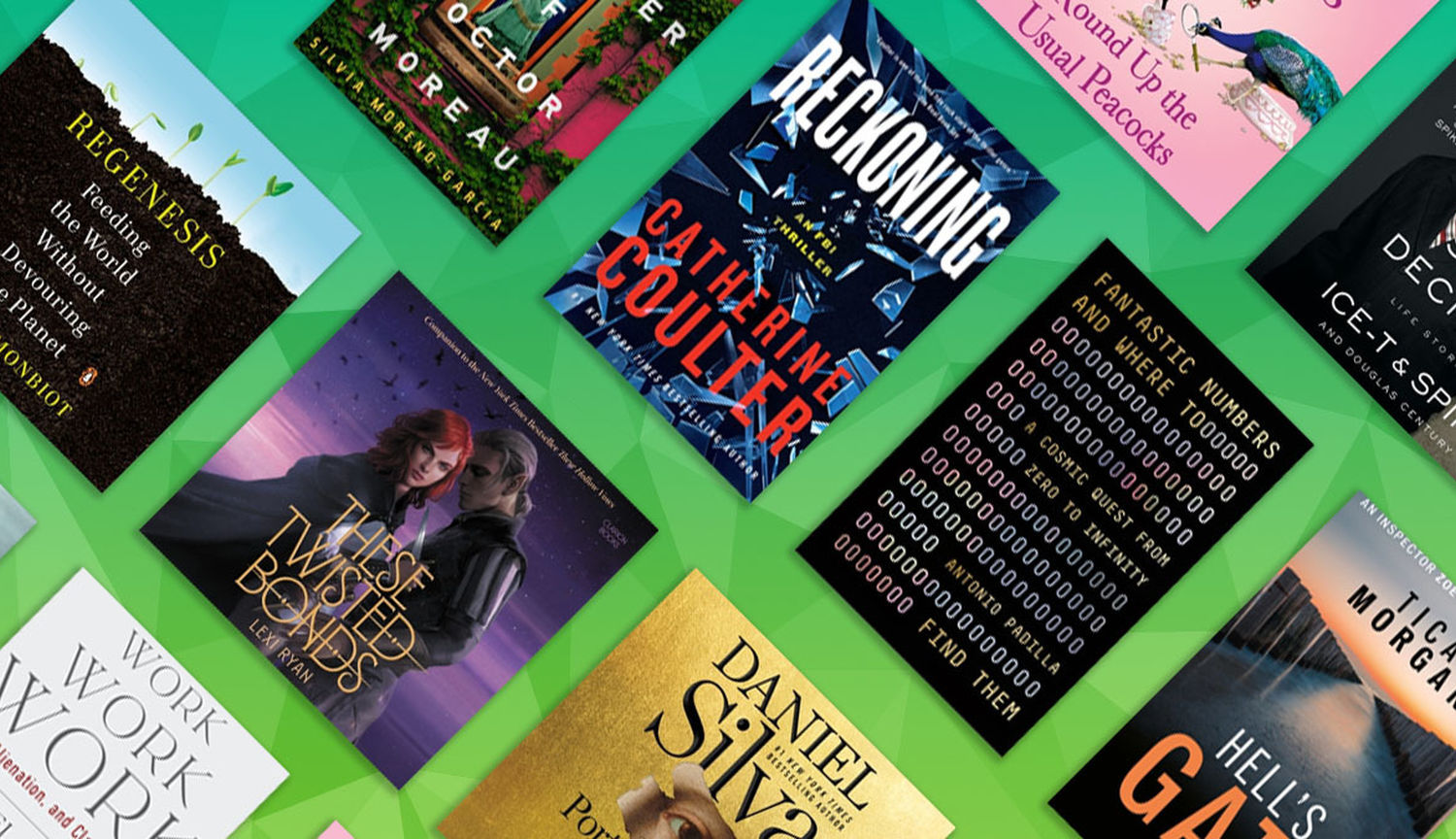 114 new eBooks and audiobooks coming out July 19 – August 8, 2022
There's no excuse to have nothing to read by the beach, by the pool, on the dock, or on the couch with these new eBooks and audiobooks coming out over the next 3 weeks—we even have a few suggestions to consider…
If you want to know exactly what all this fuss about "CRT" is but you can do without the intensity around the topic, try On Critical Race Theory: Why It Matters & Why You Should Care by Victor Ray. It's short and to the point and backed by scholarship while remaining entirely accessible.
If the penultimate season of Stranger Things got you curious about the world of Dungeons & Dragons, and you love a good business story, check out Slaying the Dragon: A Secret History of Dungeons & Dragons by Ben Riggs to learn how the company behind the classic role-playing game mismanaged its way to disaster—and was saved by its chief rival.
If you've never read the poetry of Dionne Brand, Nomenclature: New and Collected Poems is a great way to discover her particular genius.
If you enjoy learning from eastern religions but you've read all there is to read about Buddhism (though we should mention that How to Focus by Buddhist monk and bestselling author Thich Nhat Hanh has just come out) The Light We Give: How Sikh Wisdom Can Transform Your Life by Simran Jeet Singh is a helpful guide to learning about the Sikh faith—and from it in practical ways.
If you're wondering what it's like to work with comedian Conan O'Brien, The World's Worst Assistant by Sona Movsesian, his longstanding (and fittingly self-deprecating) assistant will give you some idea.
If you find yourself sitting on a beach looking out at the ocean, you could discover the incredible resilience of a group of incredible ocean-going animals who could really use some help after taking a lot of abuse from humans in Shark: Why we need to save the world's most misunderstood predator by Paul de Gelder
If you're looking for a sexy body-positive romance, The Accidental Pinup by Danielle Jackson features a plus-size Black photographer and entrepreneur who was supposed to run the shoot for her friend's new lingerie line—and ends up picking up posing duties on the other side of the camera for a rival photographer.
Alexander McCall Smith's 14th Isabel Dalhousie novel, The Sweet Remnants of Summer couldn't be better-named as poolside entertainment. If you haven't been following the series from the start, don't worry: just jump on in.
If you've made it through the first 3 novels in Tica Morgan's Zoë Janssen series, step through Hell's Gate.
If you think too many books are titled, "the daughter of so-and-so" we beg you not to make the mistake of overlooking The Daughter of Doctor Moreau, a retelling by the spectacularly prolific and talented Silvia Moreno-Garcia of H. G. Wells' classic horror novel of a mad scientist creating unholy creatures on his own island. Moreno-Garcia—a master of speculative fiction who exploded onto the scene in the last few years by winning prizes and gaining legions of fans—transports the familiar story to a 19th century Mexican setting, narrated by the madman's daughter Carlota Moreau.
If you want to revisit an old classic, The Last Unicorn by Peter S. Beagle has been re-released with a new introduction by epic fantasy master Patrick Rothfuss.
More books coming out July 19 – August 8, 2022
✍ Poetry
Nomenclature: New and Collected Poems by Dionne Brand
Memoirs by Robert Lowell
🧰 Help and How-to
How to Focus by Thich Nhat Hanh
The Light We Give: How Sikh Wisdom Can Transform Your Life by Simran Jeet Singh
Chill and Prosper: The New Way to Grow Your Business, Make Millions, and Change the World by Denise Duffield-Thomas
Healing from Toxic Relationships: 10 Essential Steps to Recover from Gaslighting, Narcissism, and Emotional Abuse by Stephanie Moulton Sarkis, PhD
The White Allies Handbook: 4 Weeks to Join the Racial Justice Fight for Black Women by Lecia Michelle
The Art of Teaching Children: All I Learned from a Lifetime in the Classroom by Phillip Done
How to Stay Smart in a Smart World: Why Human Intelligence Still Beats Algorithms by Gerd Gigerenzer
Good Grief: On Loving Pets, Here and Hereafter by E.B. Bartels
The Neuroscience of You: How Every Brain Is Different and How to Understand Yours by Chantel Prat
💡 Big Ideas
The Metaverse: And How it Will Revolutionize Everything by Matthew Ball
Shark: Why we need to save the world's most misunderstood predator by Paul de Gelder
Work Work Work: Labor, Alienation, and Class Struggle by Michael D. Yates
Fantastic Numbers and Where to Find Them: A Cosmic Quest from Zero to Infinity by Antonio Padilla
Revelation: The Ultimate Hope in Christ by Dr. David Jeremiah
How to Read Now: Essays by Elaine Castillo
Regenesis: Feeding the World Without Devouring the Planet by George Monbiot
On Critical Race Theory: Why It Matters & Why You Should Care by Victor Ray
The Viral Underclass: The Human Toll When Inequality and Disease Collide by Steven W. Thrasher
🗣 True Stories
Split Decision: Life Stories by Ice-T, Spike, and Douglas Century
Any Given Tuesday: A Political Love Story by Lis Smith
The World's Worst Assistant by Sona Movsesian
Slaying the Dragon: A Secret History of Dungeons & Dragons by Ben Riggs
Dirtbag, Massachusetts: A Confessional by Isaac Fitzgerald
Arrow Through the Heart: The Biography of Andy Gibb by Matthew Hild
The Castleton Massacre: Survivors' Stories of the Killins Femicide by Sharon Anne Cook and Margaret Carson
Where You End and I Begin: A Memoir by Leah McLaren
Going Public: How Silicon Valley Rebels Loosened Wall Street's Grip on the IPO and Sparked a Revolution by Dakin Campbell
Escape from Manus Prison: One Man's Daring Quest for Freedom by Jaivet Ealom
Our Voice of Fire: A Memoir of a Warrior Rising by Brandi Morin
💘 Romance
Grace Under Fire by Julie Garwood
Resilience After Dark by Marie Force
The Sweetest Connection by Denise Williams
The King by Nana Malone
The Accidental Pinup by Danielle Jackson
The Trouble with Whiskey by Melissa Foster
Sudden Impact by Kaylea Cross
Garnet Flats by Devney Perry
Sugar and Salt by Susan Wiggs
Booked on a Feeling by Jayci Lee
Knot Again by Kwana Jackson
Jet by Winter Travers
New Beginnings at the Old Bakehouse (Love Heart Lane, Book 9) by Christie Barlow
Husband Material by Alexis Hall
Holiday Rogue by Rebecca Zanetti
The Hookup Plan by Farrah Rochon
Stirred Up by a SEAL by Kait Nolan
Shadows of Destiny (The Shadow Realms, Book 5) by Brenda K. Davies
🗡️ Action, Crime, and Mystery
Portrait of an Unknown Woman by Daniel Silva
The Sweet Remnants of Summer by Alexander McCall Smith
Things We Do in the Dark by Jennifer Hillier
Already Chosen (A Laura Frost FBI Suspense Thriller—Book 7) by Blake Pierce
Aura of Night by Heather Graham
Happy Death Day by Lisa Renee Jones
Hell's Gate by Tica Morgan
The Antarctica Incident by J. Robert Kennedy
A Silent Truth by Rachel Amphlett
Revenge in the Roses by Dale Mayer
Reckoning by Catherine Coulter
Black Dog by Stuart Woods
Round Up the Usual Peacocks by Donna Andrews
Are You Sara? by S.C. Lalli
Dead Man Deep by Lynne McEwan
Serpent's Point by Kate Ellis
🖊️ Literary & Contemporary Fiction
The Daughter of Doctor Moreau by Silvia Moreno-Garcia
The Work Wife by Alison B. Hart
Shmutz by Felicia Berliner
Calling for a Blanket Dance by Oscar Hokeah
Smells Like Tween Spirit by Laurie Gelman
The Many Daughters of Afong Moy by Jamie Ford
Bonsai by Alejandro Zambra
Yoga by Emmanuel Carrère
The Last White Man by Mohsin Hamid
Mademoiselle Revolution by Zoe Sivak
A Hundred Other Girls by Iman Hariri-Kia
The Last Gift of the Master Artists by Ben Okri
✨ Fantasy and Speculative Fiction
These Twisted Bonds by Lexi Ryan
Fantastic Beasts: The Secrets of Dumbledore – The Complete Screenplay by J.K. Rowling and Steve Kloves
Heat Wave by TJ Klune
Just Like Home by Sarah Gailey
Avatar, The Last Airbender: The Dawn of Yangchen (Chronicles of the Avatar Book 3) by F. C. Yee
The Book of Sand by Theo Clare
The Orville: Sympathy for the Devil by Seth MacFarlane
Firefly - What Makes Us Mighty by M.K. England
A Darkness at the Door by Intisar Khanani
Violet Made of Thorns by Gina Chen
The Valkyrie's Daughter by Tiana Warner
Master of Iron by Tricia Levenseller
The Last Unicorn by Peter S. Beagle
Three Miles Down by Harry Turtledove
A Half-Built Garden by Ruthanna Emrys
Guardian of Madness by Michelle Manus
Dragons of Deceit by Margaret Weis and Tracy Hickman
The King Will Kill You by Sarah Henning
Long Live the Pumpkin Queen by Shea Ernshaw
Eversion by Alastair Reynolds
Fault Tolerance by Valerie Valdes
Cobalt Blue by Matthew Reilly
Squirrel Girl: Universe by Tristan Palmgren
Dark Nebula: Graveyard by Sean Willson
Priest of Crowns by Peter McLean
💬 Manga & Graphic Novels
A Man and His Cat 06 by Umi Sakurai
I Think Our Son Is Gay 03 by Okura
My Quiet Blacksmith Life in Another World: Volume 3 by Tamamaru
Classroom of the Elite: Year 2 (Light Novel) Vol. 2 by Syougo Kinugasa
That Time I Got Reincarnated as a Slime, Vol. 14 (light novel) by Fuse
Death March to the Parallel World Rhapsody, Vol. 17 (light novel) by Hiro Ainana
Ascendance of a Bookworm: Royal Academy Stories - First Year by Miya Kazuki
A Tropical Fish Yearns for Snow, Vol. 9 by Makoto Hagino
By the Grace of the Gods: Volume 11 by Roy
Chillin' in Another World with Level 2 Super Cheat Powers: Volume 6 (Light Novel) by Miya Kinojo
Konosuba: God's Blessing on This Wonderful World!, Vol. 17 (light novel) by Natsume Akatsuki
The Great Cleric: Volume 9 by Broccoli Lion