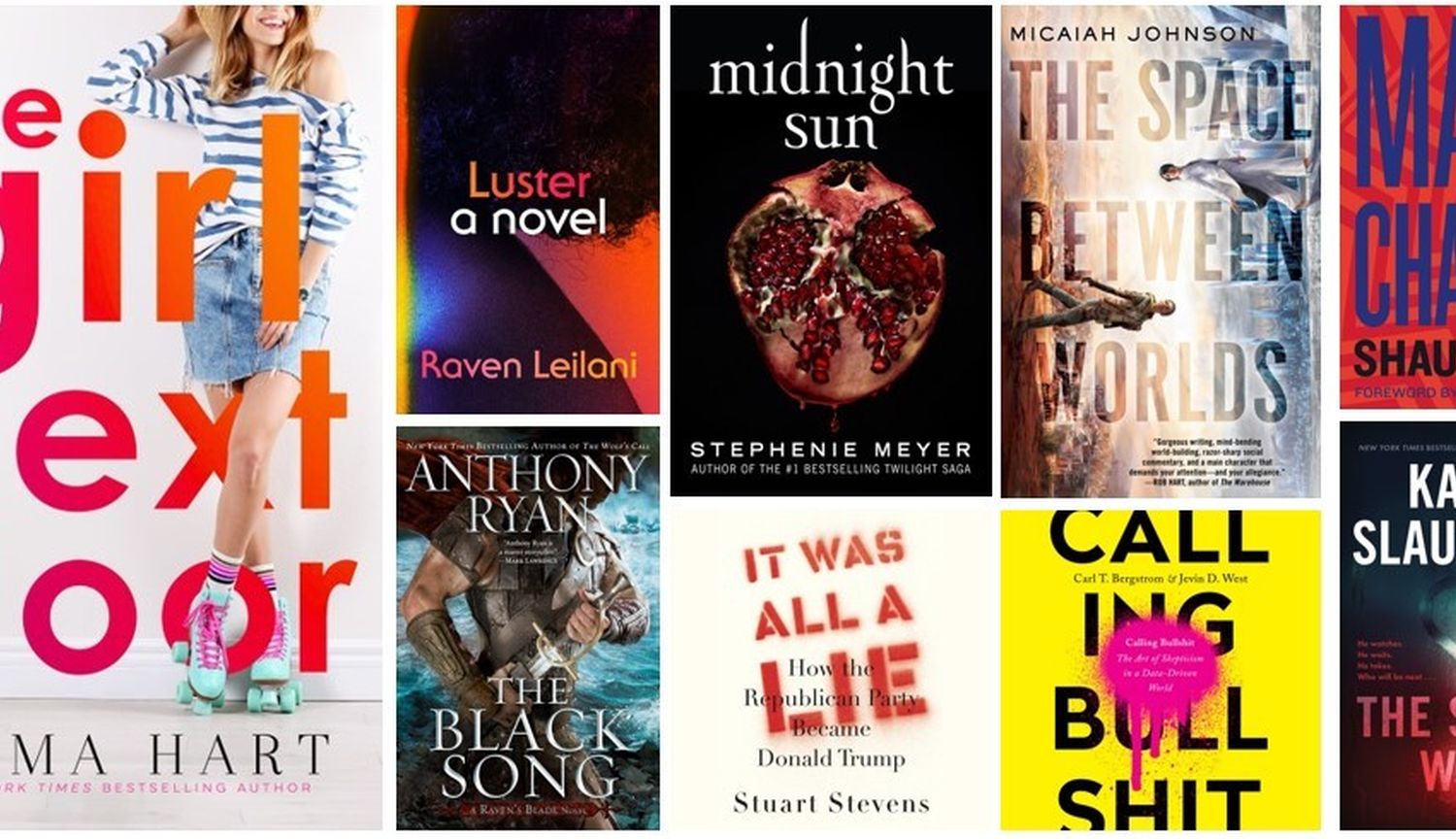 30 new eBooks and audiobooks we're looking forward to this week
Welcome back to New & Hot Reads, where we talk about some of the most anticipated books coming out now
In the time since young adult author Stephenie Meyer last released a book in her blockbuster Twilight series, entirely new 12-year-olds have been born. But will a new generation sink their fangs into this 5th installment in the series the way young adult (and some not-so-young) readers devoured the first four books -- and will fans of the original books be back for this? And what about the mind-bending question of what to make of Twilight returning to re-tell its story from Edward's perspective after E. L. James started re-telling her smash hit series Fifty Shades of Grey with Christian Grey as the protagonist. Fifty Shades, you'll recall, was in its earliest drafts a work of Twilight fan-fiction, and James' re-telling of the story in Grey could be seen as a kind of self-inspired fan-fiction. With Meyer now following suit, is the master now the student? Is perspective-switching now an established means of extending a series' run? And does any series ever end anymore?
If books like Kiley Reid's Such a Fun Age, Bernardine Evaristo's Girl, Woman, Other, and Candice Carty Williams' Queenie left you hungering for more realistic contemporary fiction that touches on the politics of gender and race, Luster by Raven Leilani might be the book you've been waiting for. It's about a young woman whose involvement with a married man in an open marriage turns into a complete domestic entanglement that includes a friendship with his wife and daughter. Leilani's wit and will makes these agonizing complications so entertaining you'll be lusting for her second novel.
There have been many, many critics of the Trump presidency, and it seems that the most notable of them come from the right, such as Republican strategist Rick Wilson, conservative writer David Frum, former Trump appointee John Bolton, as well as registered Republicans and Trump nemeses Robert Mueller and James Comey. But Stuart Stevens, who's spent a lifetime getting Republicans elected to offices at every level of government, sinks his critical knife deeper than his predecessors. Rather than dwelling on the failings and general unpresidentiality of the current president, Stevens argues in It Was All A Lie that Trump is perfectly suited to the role the Republican Party has been crafting for a party leader and commander-in-chief over the last 60 years. While other right-wing critics have worn the #neverTrump badge for 4 years, from Stevens' point of view, #obviouslyTrump is more apt.
Perhaps what politics in the third decade of this century needs is a book like Calling Bullsh*t: The Art of Skepticism in a Data-Driven World. It's written not by politicos but by a pair of academics (one a biologist, the other a researcher in information and communication) worried that data is being wielded like a cudgel in the service of spreading misinformation. Their argument is simple: skepticism in good faith is a valuable tool for keeping a clear head. And they provide methods for informing your skepticism, ways to find the seams in the shiniest data-infused arguments. With an American election on the horizon and rhetoric heating up, we could use all the help we can get.
More books coming out August 4 - 10
💭 Big Ideas
✍️ True Stories
💘 Romance
🗡️ Crime Fiction and Thrillers
🖊️ Contemporary Fiction
✨ Tales of Other Worlds and Other Times
Check out even more new eBooks & audiobooks here