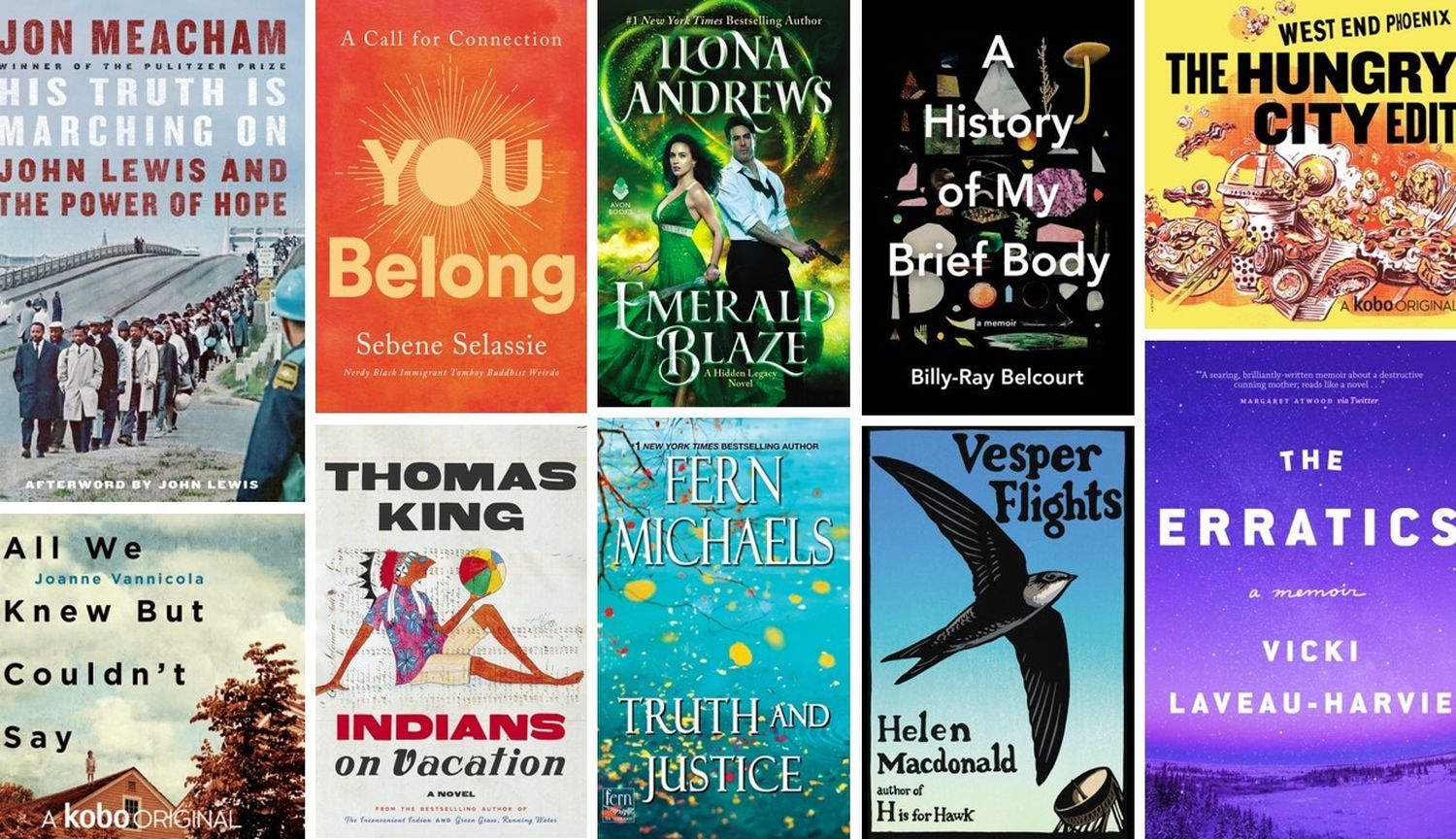 32 new eBooks and audiobooks we're looking forward to this week
Welcome back to New & Hot Reads, where we talk about some of the most anticipated books coming out now
Helen Macdonald's 2015 book H is for Hawk was a surprise bestseller that still stands as one of the great literary memoirs of grief. In it, the author processes the loss of her father through acquiring and training a goshawk, a notoriously unruly species of raptor. It's a book which, like grief (or presumably, training a bird of prey), needs to be experienced first hand to be understood. Readers of Hawk encountered a grief of their own when they discovered that there weren't other full-length works of prose by Macdonald to allow them to spend more time with her beautiful mind. Vesper Flights isn't quite a new Helen Macdonald book, but it'll do: it's a collection of her writing on a variety of topics, ranging from deeply personal meditations to an investigation of renewable energy in Uzbekistan, all of it felt and considered deeply as the author takes us to places we didn't know we wanted to go.
The Erratics by Vicki Laveau-Harvie is a memoir about the author's terrifying mother, which Laveau-Harvie waited until her 70s to write and publish. The book won the 2019 Stella Prize in Australia, where the Canadian-born author now resides. It's a hair-raising story, in which the author and her sister are minutely controlled by their mother, whose public tirades alienate everyone in their community, while their father retreats silently into the shadows. The sisters get away as adults, cutting themselves off from their parents for almost two decades only to discover upon their return that their mother has been telling incredible tales to visiting healthcare workers while starving their father and squandering what little money remains in the family coffers. As readers, we're sorry for what the author endured while feeling grateful for the spectacular book that came out of it.
Further on the topic of exquisite writing born of excruciating pain, last week Joanne Vannicola's much-lauded memoir All We Knew But Couldn't Say finally arrived as an audiobook, narrated of course by the author themself. Don't miss it.
As we're all getting out more to take in the end of summer as safely as we can, the West End Phoenix has released The Hungry City Edit: Stories from The West End Phoenix, the perfect soundtrack for a solo stroll through whatever city or town you find yourself in. The Phoenix is a self-described "slow print" community newspaper from the west end of Toronto, founded and edited by Dave Bidini, author of several books on hockey and music, and singer-guitarist for the legendary Canadian rock band, The Rheostatics. In this audiobook, we hear from the likes of Canadian literary icons Claudia Dey and Michael Winter about food, hunger, and big city life at street-level, backed by a soundtrack composed by Don Kerr. It's an audiobook like nothing else.
More books coming out August 25 - 31
💭 Big Ideas
✍️ True Stories
💘 Romance
🗡️ Crime Fiction and Thrillers
🖊️ Contemporary Fiction
✨ Tales of Other Worlds and Other Times

Check out even more new eBooks & audiobooks here