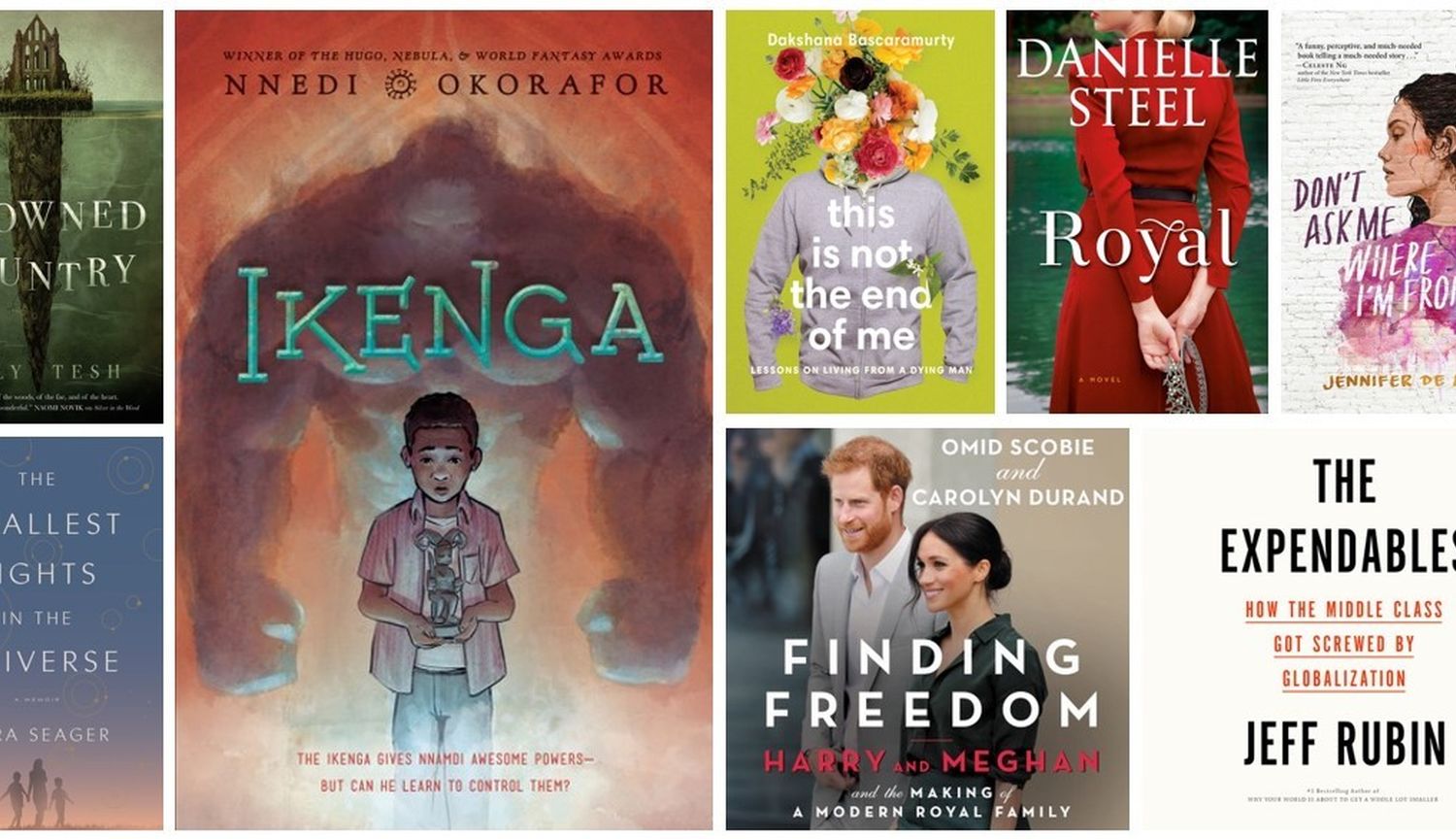 35 new eBooks and audiobooks we're looking forward to this week and next
Welcome back to New & Hot Reads, where we talk about some of the most anticipated books coming out now and next week
In Ikenga, Nnedi Okorafor's first novel for middle-grade kids, we're introduced to Nnamdi, a 12-year-old boy determined to avenge the death of his father. Okorafor's older readers will know to expect magic adapted from different African traditions, and it's here in the form of a magical object that imbues its bearer with superpowers (and of course the responsibility to do good with them). For parents looking to broaden their childrens' reading horizons, they can hardly do better than this new series by one of the greats working in science fiction and fantasy today.
Grief memoirs are special kinds of books: they speak to an experience that's impossible to know except first-hand, and yet even for those who haven't suffered traumatic losses, the best grief memoirs offer insight into emotional truths that every reader can appreciate. In The Smallest Lights in the Universe MIT astrophysicist Sara Seager contemplates what it meant to lose her husband at a time in her life when she was immersed in her life's work, searching the heavens for Earth-like planets. With her husband's death, suddenly she was a single mother of two children but with little of the life experience that we typically associate with women in her situation: she was more familiar with spaces light years away than the aisles of her local grocery store, and was also no longer able to ignore her Asperger's at a time when she had complex emotions to process and children who needed a present and available parent. Few of us will ever set foot in an MIT astrophysics lab, but there are truths here we can all relate to: a sudden change that renders familiar coping mechanisms immediately ineffective, the shame of facing our inadequacies, but also the saving grace of taking the long view and seeing our place in the vast, vast universe.
This Is Not the End of Me by Dakshana Bascaramurty gives us something rare among grief memoirs: distance. Bascaramurty writes of her friend, Layton Reid, who takes a cancer diagnosis as a signal to upend his carefree, hedonistic life, moving to his hometown and taking the good fortune of remission as an opportunity to become a husband and father. Since this is a grief memoir, it's no spoiler to reveal that remission doesn't last. But what he leaves behind, letters, diaries, and public statements, Bascaramurty treats seriously and critically, creating a portrait not of a saint but of a man who did the best he could with the time he had. And if that isn't something every one of us can relate to, what is?
On the other end of the spectrum of relatability, we have Meghan and Harry, Duke and Duchess of Sussex. Or ex-Duke and Duchess? Hobbyist royals? While Meghan and Harry, written by Lady Colin Campbell, was just released, it's Finding Freedom by Omid Scobie and Carolyn Durand, a pair of A-list scribes on all things pertaining to the house of Windsor, that's really grabbed the attention of royal-watchers. Omid Scobie is an increasingly familiar face to anyone interested in British royalty: though he was just 7 when Princess Diana died, the podcaster, writer, and TV personality has carved out a space for himself as a commenter on the affairs of the British royal family. Carolyn Durand is a seasoned pro of the British royals beat, whose career runs as long as her co-author's lifetime. In Finding Freedom, Scobie and Durand paint a highly sympathetic portrait of the couple that's sure to captivate fans craving a peek inside the palace, or the couple's palatial Los Angeles home, as it were.
More books coming out August 11 - 24
💭 Big Ideas
✍️ True Stories
💘 Romance
🗡️ Crime Fiction and Thrillers
🖊️ Contemporary Fiction
✨ Tales of Other Worlds and Other Times
Check out even more new eBooks & audiobooks here