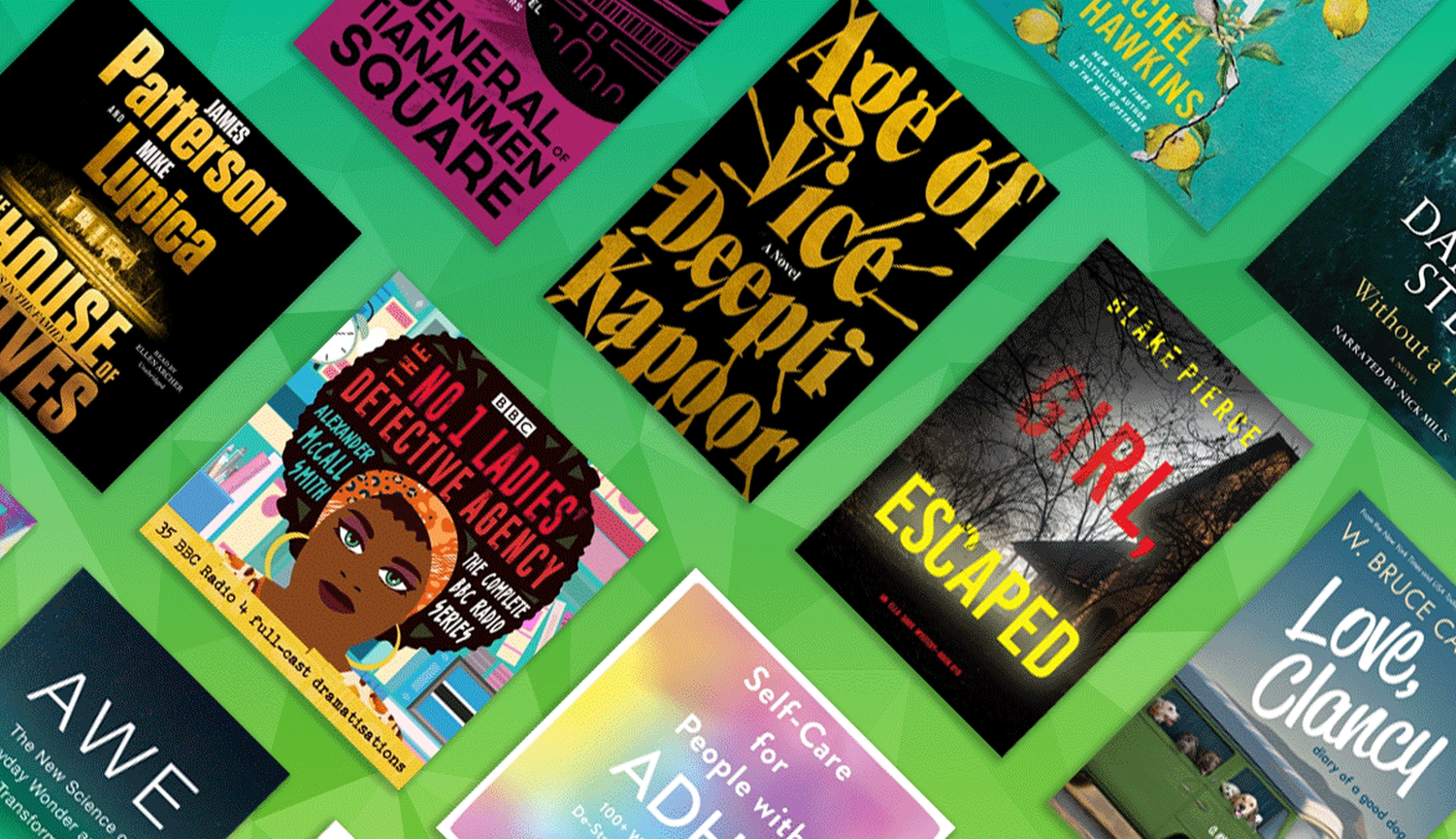 36 new eBooks and audiobooks coming out January 3 - 9, 2023
New eBooks and audiobooks out at the top of the New Year
Alexander McCall Smith's No. 1 Ladies Detective Agency was published 25 years ago and has become one of the most beloved cozy mystery series ever. Mma Precious Ramotswe is the plucky protagonist and the founder of the eponymous detective agency, whose cases are often overshadowed by the colourful characters who enlist Mma Ramotswe's investigative services. Colour and charm abound in the BBC's full-cast radio production of the series, which is now available as an audiobook spanning 35 episodes. All were adapted by Alexander McCall Smith from stories featured in the books, and the soundtrack includes music from sub-Sahara African musicians.
In Deepti Kapoor's novel Age of Vice, the Wadias are a famous family whose wealth and power unlock every door and make all things possible. Which is the only way to explain how one of their Mercedes crashes into a crowd in the early hours of the morning leaving five dead and yet no member of the Wadia family is found at the scene—just a servant who seems not to know what's happened. Over its 500+ pages, the novel shifts perspectives in time and character painting a portrait of a family who respects no boundary and the people surrounding them who are trying to carve off a slice of Wadia power, understand the family's inner workings, or just survive.
Attention Deficit Hyperactivity Disorder, aka. ADHD, has been getting an increasing amount of attention over the past few years, possibly due to our shared experience of isolation and its impact on our attention spans. While many seek professional diagnoses in order to begin a course of treatment, others are merely curious whether their cognitive quirks are symptomatic of this often misunderstood condition—and they're open to help with managing their minds. Self Care for People with ADHD by Dr. Sasha Hamdani aims to help readers reduce stress levels and look after themselves in ways that mitigate the downsides of ADHD. At the same time, Dr. Hamdani helps readers find ways to leverage the strength of their non-standard neurochemistry to live a healthier life with more self-acceptance. Sounds like a great way to kick off 2023.
More books coming out January 3 – 9, 2023
🧰 Help and How-to
Self-Care for People with ADHD: 100+ Ways to Recharge, De-Stress, and Prioritize You! by Sasha Hamdani
Happy Skin Kitchen: Over 100 recipes to nourish your skin from the inside out by Elisa Rossi
The Taste of Joy: Mediterranean Wisdom for a Life Worth Savoring by Emily A. Francis
No-Regret Decisions: Making Good Choices During Difficult Times by Shannon Lee Simmons
The Fun Habit: How the Pursuit of Joy and Wonder Can Change Your Life by Mike Rucker, PhD
💡 Big Ideas
Sh*t Joe Rogan Says: An Unauthorized Collection of Quotes and Common Sense from the Man Who Talks to Everybody by Mary Wood
Graduating from the Electoral College by Tomas McIntee
Awe: The New Science of Everyday Wonder and How It Can Transform Your Life by Dacher Keltner
💘 Romance
Without a Trace by Danielle Steel
Sleep No More by Jayne Ann Krentz
Deserving Henley by Susan Stoker
Highly Suspicious and Unfairly Cute by Talia Hibbert
Token by Beverley Kendall
🗡️ Action, Crime, and Mystery
The General of Tiananmen Square by Ian Hamilton
Girl, Escaped (An Ella Dark FBI Suspense Thriller—Book 10) by Blake Pierce
The House of Wolves by James Patterson and Mike Lupica
The No.1 Ladies' Detective Agency: The Complete BBC Radio Series by Alexander McCall Smith
The House in the Pines by Ana Reyes
The Villa by Rachel Hawkins
🖊️ Literary & Contemporary Fiction
Love, Clancy by W. Bruce Cameron
Age of Vice by Deepti Kapoor
The Bandit Queens by Parini Shroff
Brotherless Night by V. V. Ganeshananthan
✨ Fantasy, Horror, Sci-Fi, and Speculative Fiction
Duality by G. S. Jennsen
Lost Cause by Z.J. Cannon
Chicks in Tank Tops by Jason Cordova
A Diamond Dream by Eli K. P. William
The Stolen Heir by Holly Black
The Claw and the Crowned by Sarah M. Cradit
Song of Silver, Flame Like Night by Amélie Wen Zhao
Unseelie by Ivelisse Housman
💬 Manga & Graphic Novels
The Unwanted Undead Adventurer: Volume 10 by Yu Okano
Captain America: The Ghost Army (Original Graphic Novel) by Alan Gratz
Lady Rose Just Wants to Be a Commoner! Volume 1 by Yura Kiyose
My Love Mix-Up!, Vol. 6 by Wataru Hinekure
The Librarian of Auschwitz: The Graphic Novel by Antonio Iturbe
Check out even more new eBooks & audiobooks here