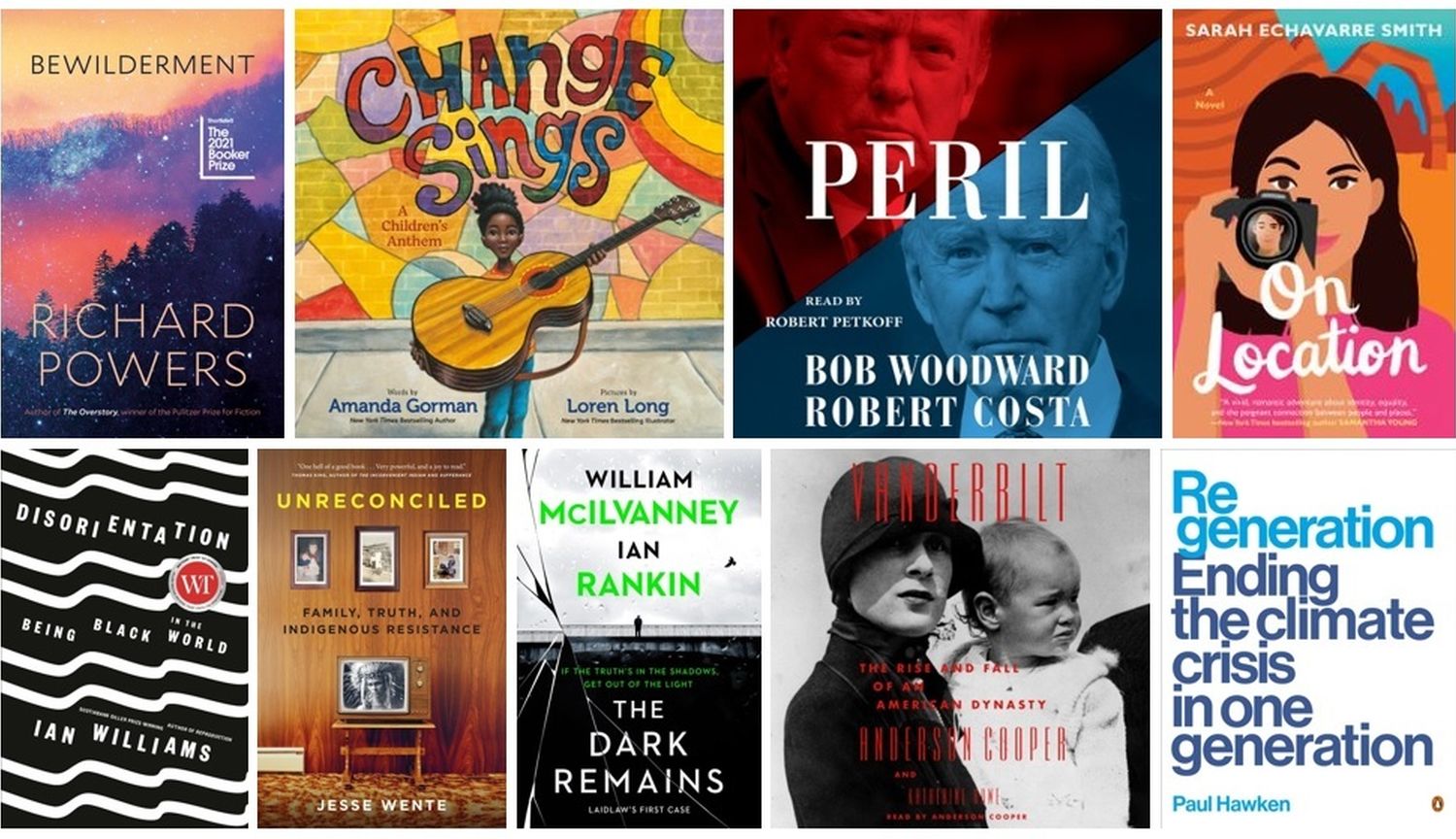 38 new eBooks and audiobooks coming out September 21 - 27, 2021
Welcome back to New & Hot Reads, where we present some of the best eBooks and audiobooks coming out now.
With Peril, legendary Washington Post reporter Bob Woodward, assisted by his colleague Robert Costa, cap Woodward's trilogy of books on the Trump presidency. We've said elsewhere that we think both Fear and Rage are key to understanding the term of the 45th president of the United States. If as former Washington Post publisher Philip Graham says, "[journalism is] a first rough draft of history", those books read as thoughtful second drafts, fit for future generations to learn from. Many readers coming to Peril may be drawn by the now-widely reported revelation that General Mark Milley, chairman of the Joint Chiefs of Staff, spoke directly with his Chinese military counterpart to calm fears of the president ordering an attack ahead of the election and again just before the inauguration earlier this year; and he also conferred with House Speaker Nancy Pelosi after the January 6 attack on the Capitol about invoking the 25th amendment, which is the means of removing a mentally unfit president from office. That alone is a story worthy of an entire book, but Costa and Woodward also cover the response to the pandemic and consequent economic turmoil, as well as the social unrest sparked in the summer of 2020. It's remarkable to look back on the period covered by this trilogy and see that it's just 5 years, or in terms of the work of Bob Woodward (and Robert Costa), nearly 1500 pages.
It's become almost to be expected that when a popular genre fiction author dies another popular author will pick up their unfinished work to keep a storyline going. The late Tom Clancy, Vince Flynn, and Clive Cussler come most readily to mind. But with The Dark Remains, a very much alive Ian Rankin flips the expectation on its head: this novel is his fleshing out of manuscript notes by the late Scottish crime fiction writer William McIlvanney about the first case worked by his beloved character Detective Inspector Jack Laidlaw. Set in the 1970s, it's classic Scottish police procedural crime fiction, with the brainy and sardonic Laidlaw showing what he's made of. Fans of Rankin eager to see him try on a new voice, as well as fans of McIlvanney looking to reconnect with a beloved character, would do well to pick up this slim page-turner.
If mention of the 2021 inauguration above sparked a vague and perhaps confusing feeling of optimism (and perhaps also a mental image of the colour yellow), you may be thinking of Amanda Gorman, composer and performer of the poem The Hill We Climb. The rousing young poet has released her first children's book, Change Sings. It's about children learning, as Gorman herself must have not so long ago, that they have the power to make changes of all kinds in the world and in themselves. It's as lyrical and uplifting as you expect it to be, and with an audiobook available, you need only turn the pages as Gorman performs it for you with grace and style. (Gorman's first collection of poems, Call Us What We Carry, will be out later this year.)
More books coming out September 21 - 27, 2021
✍ Poetry

🗣 True Stories

💘 Romance

🗡️ Crime, Action, and Mystery

🖊️ Literary Fiction

✨ Fantasy and Speculative Fiction
Check out even more new eBooks & audiobooks here