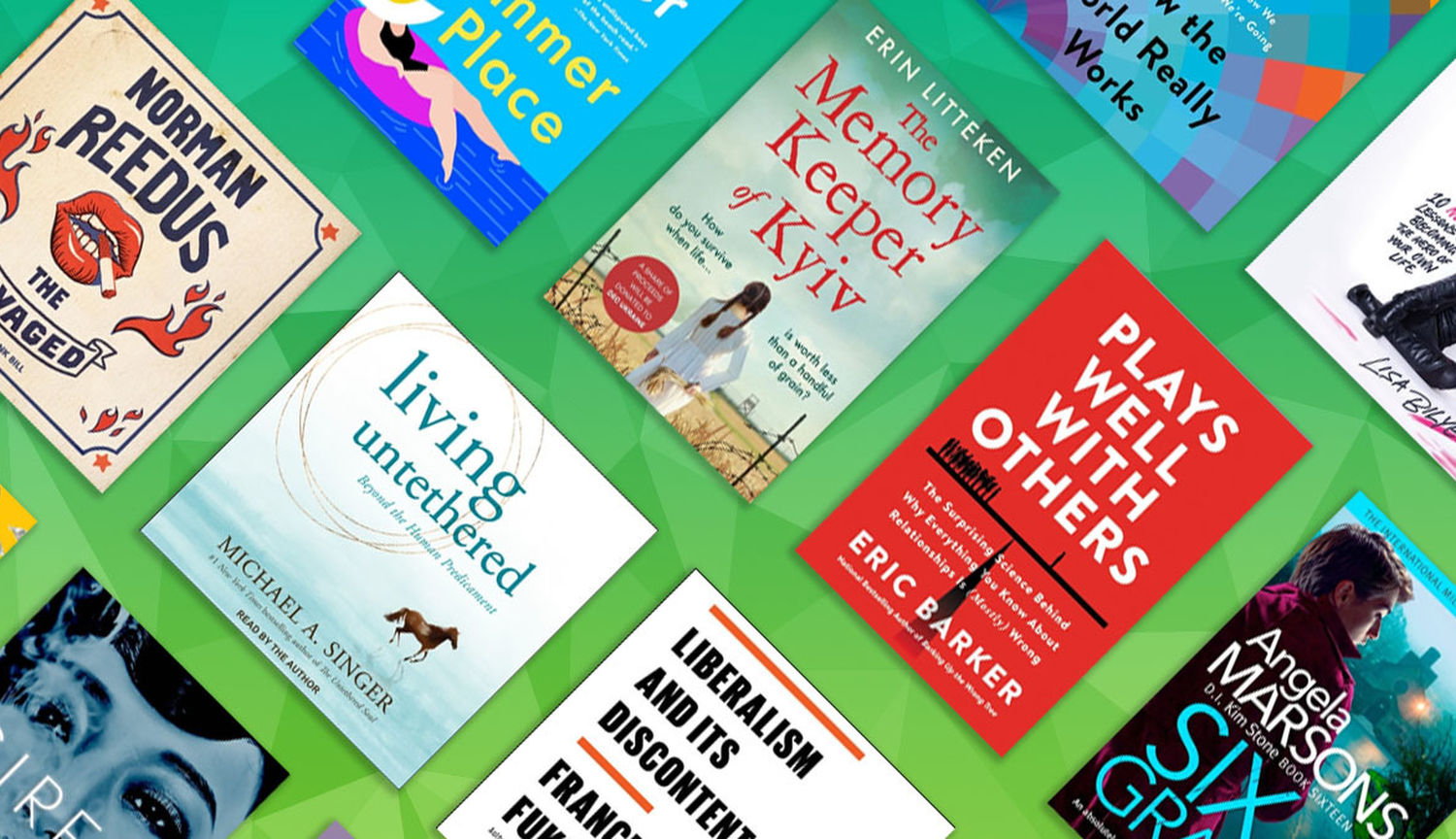 40 new eBooks and audiobooks coming out May 10 - 16, 2022
The best eBooks and audiobooks coming out this week
People talk about "monstrous behaviour" in Hollywood, but in Nghi Vo's new novel Siren Queen a young actress named Luli Wei coming up in pre-Code Hollywood encounters actual supernatural beasts—as well as conjurers who draw their power from the sacrifice of innocents like Luli. This is part of a new wave of speculative historical fiction (P. Djèlí Clark's Ring Shout comes to mind as a strong recent example) where authors reimagine a story set in a specific time and place, and inject elements of science fiction and fantasy to accentuate themes, often horrific ones.
Jennifer Weiner has been called "the undisputed boss of the beach read" by the New York Times, and it's a title she wears easily—especially with her new book The Summer Place. It's a propulsive story heading towards the wedding of Ruby and her pandemic boyfriend told from the perspective of her stunned stepmother Sarah. The big event is scheduled, to Sarah's surprise, to happen at her family's Cape Cod beach house thanks to Ruby's close relationship with Veronica, Sarah's mother. And that's not even half of the web of connections woven through this book. Whether you make it to the beach or not this summer, you'll want to spend some time with Weiner's The Summer Place.
As your summer social calendar fills up, check out Eric Barker's Plays Well with Others: The Surprising Science Behind Why Everything You Know About Relationships Is (Mostly) Wrong to learn why Dale Carnegie didn't have the last (or correct) word on making friends or influencing people, how to actually get someone close to you to change their behaviour, and—incredibly—how social media can make some relationships better (yes, this book is non-fiction). It's a fun and breezy book, informed by the latest in psychology and social science. Even if none of the ideas work for you, that's still something you can talk about during a lull in small talk at the next party you attend.
More books coming out May 10 - 16, 2022
🧰 Help and How-to
Plays Well with Others: The Surprising Science Behind Why Everything You Know About Relationships Is (Mostly) Wrong by Eric Barker
Living Untethered: Beyond the Human Predicament by Michael A. Singer
Radical Confidence: 10 No-BS Lessons on Becoming the Hero of Your Own Life by Lisa Bilyeu
Don't Trust Your Gut: Using Data to Get What You Really Want in LIfe by Seth Stephens-Davidowitz
💭 Big Ideas
How the World Really Works: The Science Behind How We Got Here and Where We're Going by Vaclav Smil
There Are Places in the World Where Rules Are Less Important Than Kindness: And Other Thoughts on Physics, Philosophy and the World by Carlo Rovelli
The Other Side of Nothing: The Zen Ethics of Time, Space, and Being by Brad Warner
Liberalism and Its Discontents by Francis Fukuyama
🗣 True Stories
Lily's Promise: Holding On to Hope Through Auschwitz and Beyond—A Story for All Generations by Lily Ebert
Ali's Well That Ends Well: Tales of Desperation and a Little Inspiration by Ali Wentworth
A Sacred Oath: Memoirs of a Secretary of Defense During Extraordinary Times by Mark T. Esper
No Escape: The True Story of China's Genocide of the Uyghurs by Nury Turkel
Back to the Prairie: A Home Remade, A Life Rediscovered by Melissa Gilbert
Miss Chloe: A Memoir of a Literary Friendship with Toni Morrison by A. J. Verdelle
💘 Romance
A Greene Family Vacation by Piper Rayne
JOKER by Jaime Lewis
Everything for You by Chloe Liese
Starry-Eyed Love by Helena Hunting
Set on You by Amy Lea
🗡️ Crime, Action, and Mystery
Six Graves by Angela Marsons
Rogue Force (A Troy Stark Thriller—Book #1) by Jack Mars
Run For Cover by Graeme Hampton
The Silver Serpent (Ben Hope, Book 25) by Scott Mariani
Bad Actors by Mick Herron
🖊️ Literary & Contemporary Fiction
The Summer Place by Jennifer Weiner
The Memory Keeper of Kyiv by Erin Litteken
The Last White Rose by Alison Weir
The Lioness by Chris Bohjalian
Such Big Dreams by Reema Patel
The Ravaged by Norman Reedus
Mansions of the Moon by Shyam Selvadurai
The Summer of Bitter and Sweet by Jen Ferguson
✨ Fantasy and Speculative Fiction
Restitution by J.J. Green
Star Wars: Brotherhood by Mike Chen
A Sh*tload of Crazy Powers by Jackson Ford
Child Zero by Chris Holm
Siren Queen by Nghi Vo
Misrule by Heather Walter
Kagen the Damned by Jonathan Maberry
City of Wolves by Kat Ross
Check out even more new eBooks & audiobooks here