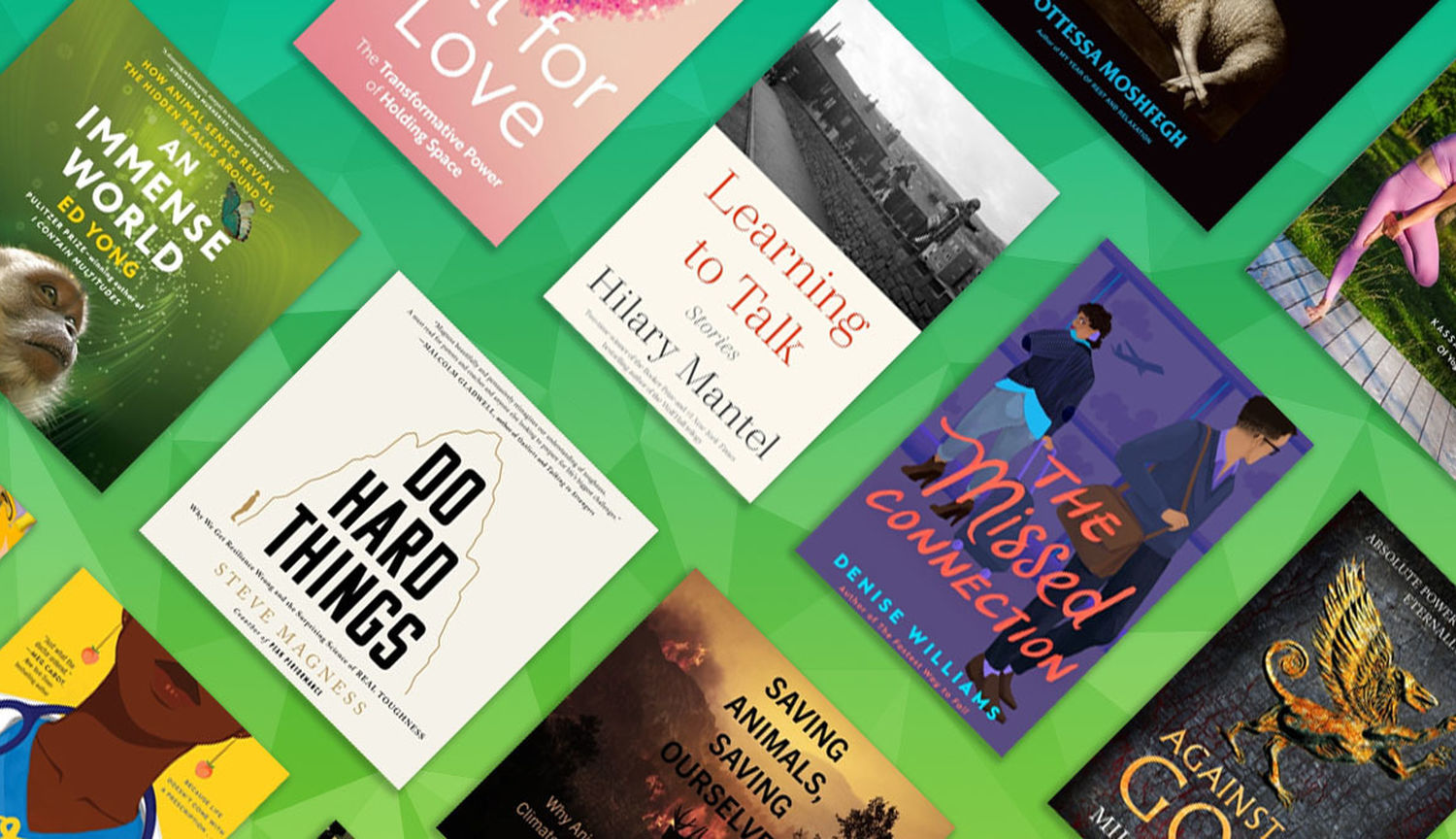 41 new eBooks and audiobooks coming out June 21 – 27, 2022
The best eBooks and audiobooks coming out this week
Ottessa Moshfegh's new novel Lapvona, is about a blind village midwife named Ida, and Marek, a shepherd's son, set in a medieval village. Ida lives outside of the village in the woods and has supernatural powers that allow her to communicate with nature and gain sacred knowledge. As you might expect, the local priest Father Barnabas and feudal lord Villiam are both gravely concerned by Ida's gifts and potential to accrue power among the villagers, especially in a year of famine during which they thrive on secretly horded riches. It's a book that speaks to our time of growing wealth inequality as well as competing narratives about truth and power.
In Denise Williams' new novella The Missed Connection, the cut-throat world of academia serves as the backdrop for an enemies-to-lovers rom-com with a twist: this pair shared a delightful New Year's Eve as strangers stuck in an airport, months before their work brought them together as long-standing rivals meeting in person for what was intended to be the first time. Orderly Felix and bubbly Gia couldn't be more different, and they're not thrilled about being thrown together on a multi-stop business trip. And over several days of airports and hotel rooms they're going to have to decide what to do about the future of their relationship in light of that serendipitous event in the past.
Pulitzer Prize-winning science writer Ed Yong's new book An Immense World: How Animal Senses Reveal the Hidden Realms Around Us drops us into the animal kingdom in a perspective that's the inverse from the usual Attenborough-narrated view. Yong gives us insights into how animals perceive the world (note I didn't say "view" because often it's not about sight) including how animals navigate their environments, find food, find mates, and live their animal lives. They do so through senses humans can relate to like smell, sight, and sound, but often with sensitivities far greater than ours or tuned to extremes of the human-perceivable spectrum; and also using astonishing senses like ability to detect electromagnetic fields or to "see" subtle differences in the temperature of nearby objects. Along the way, he speaks with humans who have developed their own senses far beyond what most of us would recognize as "normal", such as people who navigate their surroundings with bat-like sonar. Strongly recommended to those with four-legged companions as a walk-accompanying audiobook.


More books coming out June 21 - 27, 2022
🧰 Help and How-to
Wonder Drug: 7 Scientifically Proven Ways That Serving Others Is the Best Medicine for Yourself by Stephen Trzeciak M.D.
All for Love: The Transformative Power of Holding Space by Matt Kahn
Do Hard Things: Why We Get Resilience Wrong and the Surprising Science of Real Toughness by Steve Magness
The Lord Is My Courage: Stepping Through the Shadows of Fear Toward the Voice of Love by K.J. Ramsey
Trust Your Vibes (Revised Edition): Live an Extraordinary Life by Using Your Intuitive Intelligence by Sonia Choquette
💡 Big Ideas
An Immense World: How Animal Senses Reveal the Hidden Realms Around Us by Ed Yong
How Minds Change: The Surprising Science of Belief, Opinion, and Persuasion by David McRaney
Ways of Being: Animals, Plants, Machines: The Search for a Planetary Intelligence by James Bridle
Saving Animals, Saving Ourselves: Why Animals Matter for Pandemics, Climate Change, and other Catastrophes by Jeff Sebo
🗣 True Stories
Sisters in Resistance: How a German Spy, a Banker's Wife, and Mussolini's Daughter Outwitted the Nazis by Tilar J. Mazzeo
Cabin Fever: The Harrowing Journey of a Cruise Ship at the Dawn of a Pandemic by Michael Smith
When the Moon Turns to Blood: Lori Vallow, Chad Daybell, and a Story of Murder, Wild Faith, and End Times by Leah Sottile
Year of Yoga: Rituals for Every Day and Every Season by Kassandra Reinhardt
Until I Meet My Husband (Essay Novel) by Ryousuke Nanasaki
💘 Romance
HOT Courage by Lynn Raye Harris
The Missed Connection by Denise Williams
Luke's Touch by Lisa Renee Jones
Don't Go Baking My Heart by N.G. Peltier
Lucie Yi Is Not a Romantic by Lauren Ho
🗡️ Crime, Action, and Mystery
A Fatal End (Ryder and Loveday, Book 8) by Faith Martin
The House Across the Lake by Riley Sager
A Harvest Murder by Frances Evesham
The Key to Deceit by Ashley Weaver
In the Dark We Forget by Sandra SG Wong
The Self-Made Widow by Fabian Nicieza
🖊️ Literary & Contemporary Fiction
On Rotation by Shirlene Obuobi
Lapvona by Ottessa Moshfegh
Gilt by Jamie Brenner
Long Way Home by Lynn Austin
Learning to Talk: Stories by Hilary Mantel
✨ Fantasy and Speculative Fiction
Against All Gods by Miles Cameron
In the Shadow of Lightning by Brian McClellan
Hell Divers IX: Radioactive by Nicholas Sansbury Smith
Speaking Bones by Ken Liu
The Final Strife by Saara El-Arifi
The Ballad of Perilous Graves by Alex Jennings
The Seed of Cain by Agnes Gomillion
💬 Manga & Graphic Novels
So I'm a Spider, So What?, Vol. 14 (light novel) by Okina Baba
Jujutsu Kaisen, Vol. 16 by Gege Akutami
The World's Finest Assassin Gets Reincarnated in Another World as an Aristocrat, Vol. 5 (light novel) by Rui Tsukiyo
Our Colors by Gengoroh Tagame
Check out even more new eBooks & audiobooks here