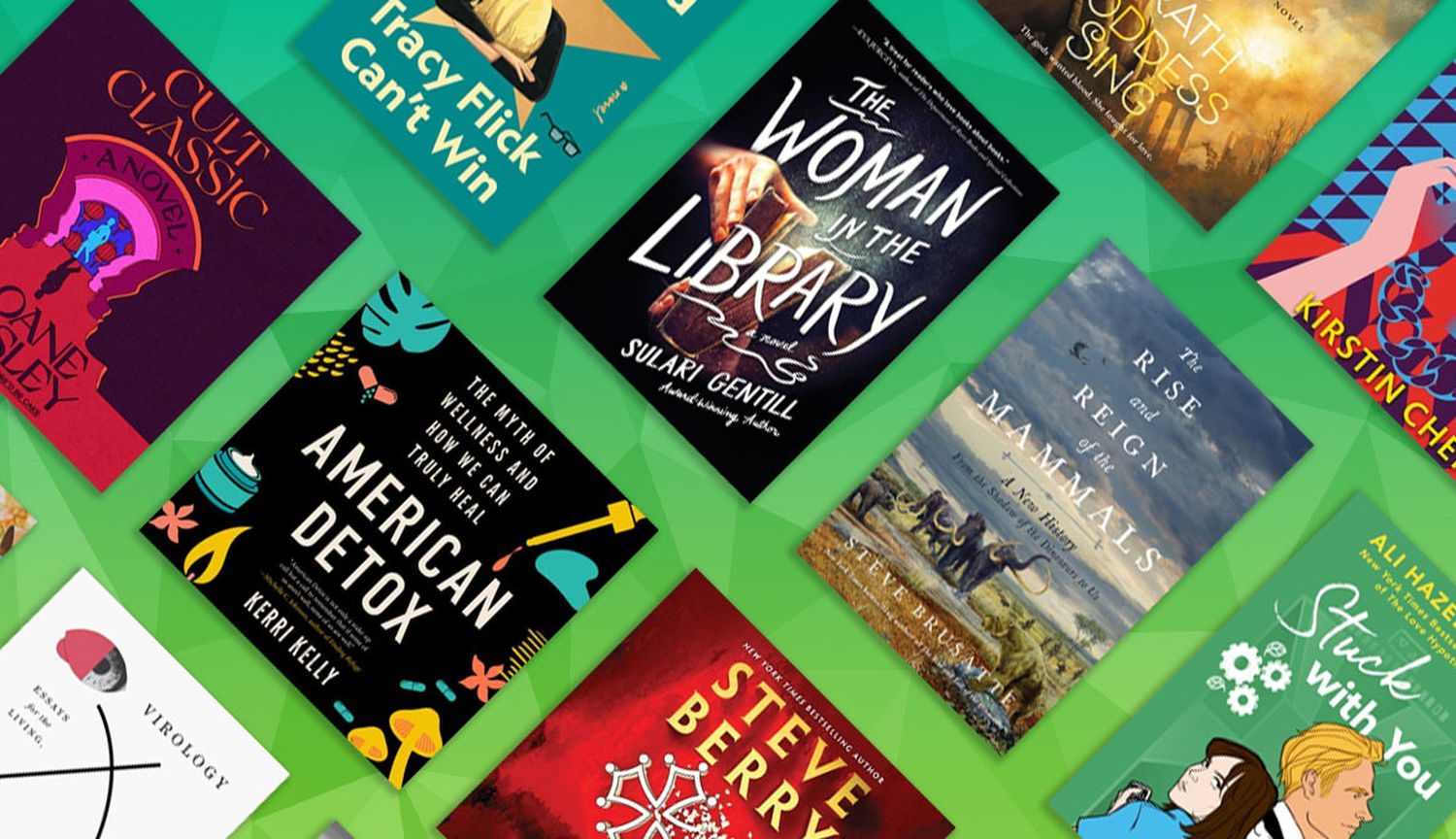 41 new eBooks and audiobooks coming out June 7 - 13, 2022
The best eBooks and audiobooks coming out this week
Before she was a book club-convening media mogul, Reese Witherspoon was a young movie star who portrayed characters including the unforgettably ambitious high schooler Tracy Flick in the film Election. That film was based on a novel by the same name by Tom Perotta (who also penned the TV and film-spawning books Mrs. Fletcher, The Leftovers, and Little Children, by the way) and in the sequel Tracy Flick Can't Win readers get to catch up with now-Principal Flick (actually it's "assistant" principal—but not for long if she can position herself correctly at the time of Principal Weede's retirement!) and learn that no matter our childhood ambitions, the disappointments and frustrations of adulthood come for us all.
When we had paleontologist Steve Brusatte on Kobo in Conversation we could tell he was just itching to keep telling the story of prehistoric land animals, past the extinction of the dinosaurs. And with The Rise and Reign of the Mammals he charts that history right up until modern humans. Whether you're a hardcore paleo-nerd who can't wait for another Jurassic World movie, or are completely over the franchise, or you were wowed by Apple TV+'s Prehistoric Planet docu-series, this might be just the scientific escape into under-explored parts of prehistory you're looking for.
Sulari Gentill's new novel The Woman in the Library represents a departure for the author of the Rowland Sinclair Mysteries of historical whodunits. This new book is a closed-door mystery-within-a-mystery but with twists along a literary line. First, we're getting this story of four strangers in the Boston Public Library from Hannah, a writer from whose imagination four characters have sprung, and who's writing the story of their cooperative sleuthing to determine the identity of a woman whose scream they all heard. Hannah is corresponding with Leo, another author, who's offering feedback (a lot of it not terribly constructive; some of it disturbing) about Hannah's writing. The novel reveals itself over time to be a fascinating clockwork that'll have you wanting to re-read it just to see how the pieces came together.
More books coming out June 7 - 13, 2022
🧰 Help and How-to
The Self-Healing Mind: An Essential Five-Step Practice for Overcoming Anxiety and Depression, and Revitalizing Your Life by Gregory Scott Brown M.D.
Eat It! The Most Sustainable Diet and Workout Ever Made: Burn Fat, Get Strong, and Enjoy Your Favorite Foods Guilt Free by Jordan Syatt
Us: Getting Past You and Me to Build a More Loving Relationship by Terrence Real
Your Daily Phil: 100 Days of Truth and Freedom to Heal America's Soul by Phil Robertson
American Detox: The Myth of Wellness and How We Can Truly Heal by Kerri Kelly
💭 Big Ideas
After the Rapture: An End Times Guide to Survival by Dr. David Jeremiah
The Rise and Reign of the Mammals: A New History, from the Shadow of the Dinosaurs to Us by Steve Brusatte
Virology: Essays for the Living, the Dead, and the Small Things in Between by Joseph Osmundson
Battling the Big Lie: How Fox, Facebook, and the MAGA Media Are Destroying America by Dan Pfeiffer
Maiden to Mother: Unlocking Our Archetypal Journey into the Mature Feminine by Sarah Durham Wilson
🗣 True Stories
Did Ye Hear Mammy Died? A Memoir by Séamas O'Reilly
Wastelands: The True Story of Farm Country on Trial by Corban Addison
The Facemaker: A Visionary Surgeon's Battle to Mend the Disfigured Soldiers of World War I by Lindsey Fitzharris
An Extravagant Life: An Autobiography Incorporating Blue Water, Green Skipper by Stuart Woods
The Pope at War: The Secret History of Pius XII, Mussolini, and Hitler by David I. Kertzer
Inside the Montreal Mafia: The Confessions of Andrew Scoppa by Félix Séguin and Eric Thibault
💘 Romance
Stuck with You by Ali Hazelwood
Jenner by Dale Mayer
Out of the Clear Blue Sky by Kristan Higgins
Wicked Beauty by Katee Robert
A Proposal They Can't Refuse by Natalie Caña
🗡️ Crime, Action, and Mystery
When the Night Ends by M J Lee
Her Frozen Cry by Carolyn Arnold
Murder at the Dressmaker's Salon by C.J. Archer
Tom Clancy Zero Hour by Don Bentley
The Omega Factor by Steve Berry
The Woman in the Library by Sulari Gentill
Counterfeit by Kirstin Chen
🖊️ Literary & Contemporary Fiction
More Than You'll Ever Know by Katie Gutierrez
Cult Classic by Sloane Crosley
Tracy Flick Can't Win by Tom Perrotta
Just by Looking at Him by Ryan O'Connell
The Lovers by Paolo Cognetti
Greenland by David Santos Donaldson
✨ Fantasy and Speculative Fiction
Buffalo Is the New Buffalo by Chelsea Vowel
The City Inside by Samit Basu
For the Throne by Hannah Whitten
Ordinary Monsters by J. M. Miro
Farilane by Michael J. Sullivan
Wrath Goddess Sing by Maya Deane
Aurora by David Koepp
Check out even more new eBooks & audiobooks here