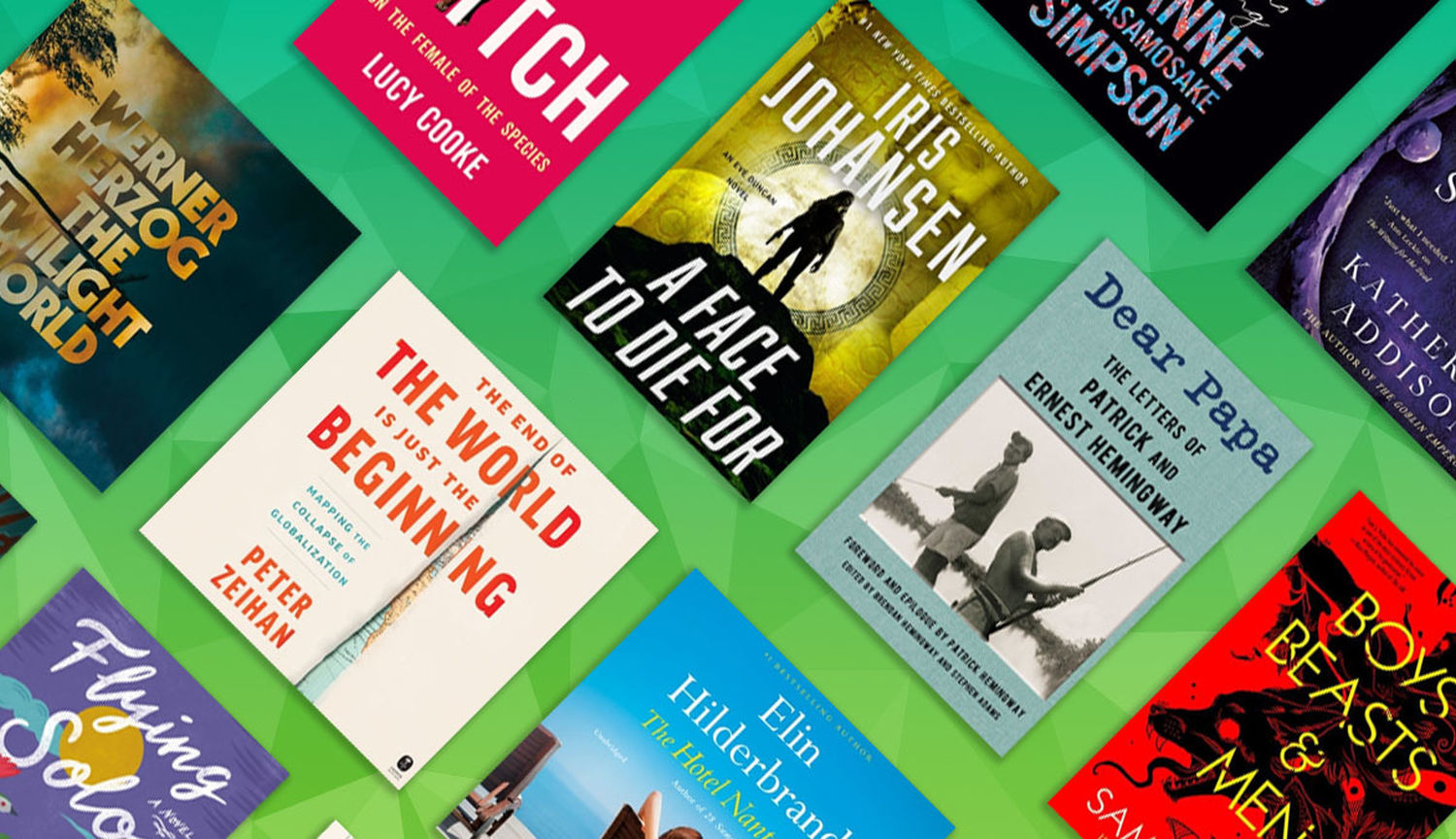 43 new eBooks and audiobooks coming out June 14 - 20, 2022
The best eBooks and audiobooks coming out this week
New this week we're featuring some of the most hotly-anticipated new releases in Manga and graphic novels. And one graphic novel that we'd like to call out is the second installment in Rainbow Rowell's Fangirl series, based on her novel by the same name, which was the springboard to Rowell's surprise hit series, the Simon Snow Trilogy.
Werner Herzog is many things. He's the celebrated documentarian behind Grizzly Man and Little Dieter Needs to Fly, the groundbreaking filmmaker of Fitzcarraldo and Aguirre, the Wrath of God, and the on-screen baddie trying to get his hands on the little green being he calls "the baby" in the Star Wars western series The Mandalorian. Now Herzog adds "novelist" to his roster of identities, with The Twilight World. Years ago, Herzog befriended Japanese WWII veteran Hiroo Onoda and learned about the decades Onoda spent isolated on an island in the Philippines still upholding his orders not to surrender long past the end of the war. This novel is Herzog's imagining of Onoda's years of struggle, mixing fact and fiction, and artfully conveying both. And yes, he does read the audiobook.
Among the many conversations sparked in summer 2020, one of the most fascinating was an exchange of letters between activist and author of Policing Black Lives, Robyn Maynard, and artist and writer Leanne Betasamosake Simpson, author of Noopiming: The Cure for White Ladies. Their correspondence is collected in the new book Rehearsals for Living, where readers can follow along as two formidable minds build upon and challenge one another, working through their thoughts on the history of slavery and colonization, and formulating what they want for the future.
More books coming out June 14 - 20, 2022
🧰 Help and How-to
Becoming the One: Heal Your Past, Transform Your Relationship Patterns, and Come Home to Yourself by Sheleana Aiyana
Happy Mind, Happy Life: The New Science of Mental Well-Being by Dr. Rangan Chatterjee
Building a Second Brain: A Proven Method to Organize Your Digital Life and Unlock Your Creative Potential by Tiago Forte
How to Raise an Antiracist by Ibram X. Kendi
Anxiously Attached: Becoming More Secure in Life and Love by Jessica Baum

💡 Big Ideas

The End of the World is Just the Beginning: Mapping the Collapse of Globalization by Peter Zeihan
I'd Like to Play Alone, Please: Essays by Tom Segura
Butler to the World: The Book the Oligarchs Don't Want You to Read - How Britain Helps the World's Worst People Launder Money, Commit Crimes, and Get Away with Anything by Oliver Bullough
Bitch: On the Female of the Species by Lucy Cooke
Rehearsals for Living by Robyn Maynard and Leanne Betasamosake Simpson
🗣 True Stories

The Divorce Colony: How Women Revolutionized Marriage and Found Freedom on the American Frontier by April White
If We Break: A Memoir of Marriage, Addiction, and Healing by Kathleen Buhle
Blood Orange Night: My Journey to the Edge of Madness by Melissa Bond
Dear Papa: The Letters of Patrick and Ernest Hemingway by Patrick Hemingway and Ernest Hemingway
Hemingway's Widow: The Life and Legacy of Mary Welsh Hemingway by Timothy Christian

💘 Romance

Trouble with the Cursed by Kim Harrison
Miss Desirable by Grace Burrowes
The Friendship Pact by Jill Shalvis
Jock Wanted: A Fake Relationship Hockey Romance by Kate Meader
Curses and Faith by Whitney Hill
Thank You, Next by Andie J. Christopher
🗡️ Crime, Action, and Mystery

The Guilty Girl by Patricia Gibney
A Face to Die For by Iris Johansen
Escape by James Patterson and David Ellis
Cold Silence by Toni Anderson
Local Gone Missing by Fiona Barton
🖊️ Literary & Contemporary Fiction

The Hotel Nantucket by Elin Hilderbrand
Flying Solo by Linda Holmes
City of Likes by Jenny Mollen
Horse by Geraldine Brooks
In the City of Pigs by André Forget
The Twilight World by Werner Herzog
✨ Fantasy and Speculative Fiction

The Grief of Stones by Katherine Addison
The Blood Traitor by Lynette Noni
A Mirror Mended by Alix E. Harrow
January Fifteenth by Rachel Swirsky
Boys, Beasts & Men by Sam J. Miller
Clockwork Destiny by Kevin J. Anderson and Neil Peart
💬 Manga & Graphic Novels

Ascendance of a Bookworm: Part 4 Volume 7 by Miya Kazuki
Mushoku Tensei: Jobless Reincarnation (Light Novel) Vol. 17 by Rifujin na Magonote
Komi Can't Communicate, Vol. 19 by Tomohito Oda
Call of the Night, Vol. 8 by Kotoyama
Fangirl, Vol. 2 by Rainbow Rowell
Check out even more new eBooks & audiobooks here