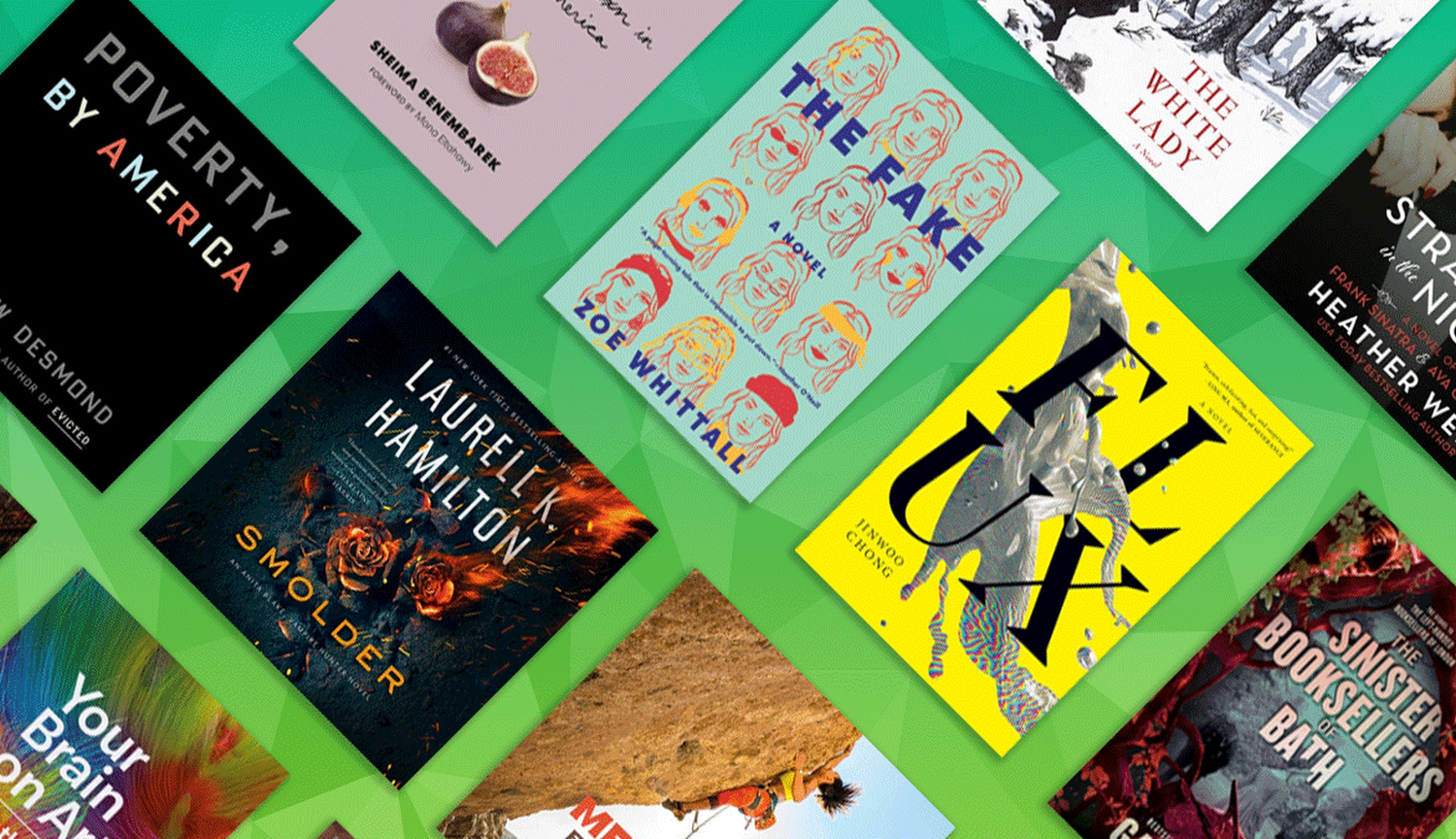 43 new eBooks and audiobooks coming out March 21 – 27, 2023
New eBooks and audiobooks out this week
Novelist and screenwriter Zoe Whittall's The Fake is about a young woman, Cammie, who may or may not be a liar (the title makes us take everything she says with more than a grain of salt)—but she's awfully charming and hard to resist, though pieces of her self-described biography don't seem to add up. The question is whether Shelby, the woman Cammie befriends in grief group therapy, or Gibson, the middle-aged man Cammie is having an affair with (to Gibson's confused delight), will unravel Cammie's fabricated narrative first—and how. Zoe Whittall is the author of the Giller-shortlisted novel The Best Kind of People and was a writer on the TV show Schitt's Creek, which gives you a sense of her range and calibre if nothing else. The Fake reads not as a stepping stone to a streaming series but as a fully-realized novel, with characters' often conflicted inner motivations factoring into their decisions in a way that seldom works well on screen—a testament to Whittall's ability as an artist to play upon the unique attributes of her medium.
Skydiver Danielle Williams founded the online community Melanin Base Camp to provide a place for people of colour ranging from "outdoorsy" to "thrill-seeking" to gather and enjoy not being "the only one" in the context of their favourite recreational activities. In the book Melanin Base Camp: Real-Life Adventurers Building a More Inclusive Outdoors, Williams profiles dozens of adventurers who are out in the world pushing the boundaries of inclusion in the outdoors and redefining what we think of when we think of an outdoor adventure sports enthusiast. Helpfully, the book also includes some tips on being a good ally, to ensure that every community can make itself welcoming to everyone who wants to join in.
Since his 1995 debut with the novel Sabriel, Garth Nix has been a mainstay of YA fantasy, spinning out book after book in several different series. His latest series, The Left-Handed Booksellers of London, was launched by a book of that name in 2020 and features a world in which magical fighting booksellers (the "left-handed" ones being those skilled in combat) whose duties include keeping the mythical Old World of England in check. When the booksellers' business intrudes into the modern world, young Susan Arkshaw is given cause to suspect that the obscurity of her family origins has more to do with secret magical associations than her absent father's negligence. In the second installment, The Sinister Booksellers of Bath, Susan teams up with left-handed bookseller Merlin and his right-handed (intellectual) sister Vivien to stop a magical serial killer whose trail of blood goes back centuries. The two questions we're left with are, what other synonyms will Nix employ for left-handedness through the rest of the series, and might this signal the start of a trend of action-oriented depictions of booksellers?
More books coming out March 21 – 27, 2023
🧰 Help and How-to
Change Your Brain Every Day: Simple Daily Practices to Strengthen Your Mind, Memory, Moods, Focus, Energy, Habits, and Relationships by Daniel G. Amen, MD
Spiritual Activator: 5 Steps to Clearing, Unblocking, and Protecting Your Energy to Attract More Love, Joy, and Purpose by Oliver Nino
Eat to Beat Your Diet: Burn Fat, Heal Your Metabolism, and Live Longer by William W Li, MD
Halal Sex: The Intimate Lives of Muslim Women in North America by Sheima Benembarek
💡 Big Ideas
Poverty, by America by Matthew Desmond
Foolproof: Why Misinformation Infects Our Minds and How to Build Immunity by Sander van der Linden
Design for a Better World: Meaningful, Sustainable, Humanity Centered by Donald A. Norman
Your Brain on Art: How the Arts Transform Us by Susan Magsamen and Ivy Ross
All the Time in the World by John Gierach
🗣 True Stories
Ghosts of the Orphanage: A Story of Mysterious Deaths, a Conspiracy of Silence, and a Search for Justice by Christine Kenneally
Did I Ever Tell You This? A Memoir by Sam Neill
Melanin Base Camp: Real-Life Adventurers Building a More Inclusive Outdoor by Danielle Williams
💘 Romance

Smolder by Laurell K. Hamilton
Dante's Decision by Dale Mayer
The Girl in the Woods by Kristen Ashley
Smolder by Laurell K. Hamilton
The Witch and the Vampire by Francesca Flores
🗡️ Action, Crime, and Mystery
What the Shadows Hide by M J Lee
The White Lady by Jacqueline Winspear
A Rather Dastardly Death by Anthony Slayton
Lilacs and Liability by London Lovett
A Mansion for Murder by Frances Brody
The Girl by the Bridge by Arnaldur Indridason
🖊️ Literary & Contemporary Fiction
The Fake by Zoe Whittall
Beyond That, the Sea by Laura Spence-Ash
Strangers in the Night: A Novel of Frank Sinatra and Ava Gardner by Heather Webb
American Mermaid by Julia Langbein
Old God's Time by Sebastian Barry
Wandering Souls by Cecile Pin
✨ Fantasy, Horror, Sci-Fi, and Speculative Fiction
Redeemer by J.J. Green
Beyond the Reach of Earth by Ken MacLeod
The Sinister Booksellers of Bath by Garth Nix
We Dream of Gods by Devin Madson
Final Fantasy VII Remake: Traces of Two Pasts by Kazushige Nojima
The Lies of the Ajungo by Moses Ose Utomi
The Strange by Nathan Ballingrud
Ten Planets by Yuri Herrera
Flux by Jinwoo Chong
🗯 Manga & Graphic Novels
Overlord, Vol. 15 (light novel) by Kugane Maruyama
Spy x Family, Vol. 9 by Tatsuya Endo
Solo Leveling, Vol. 7 (novel) by Chugong
Hirano and Kagiura, Vol. 2 (manga) by Shou Harusono
Check out even more new eBooks & audiobooks here