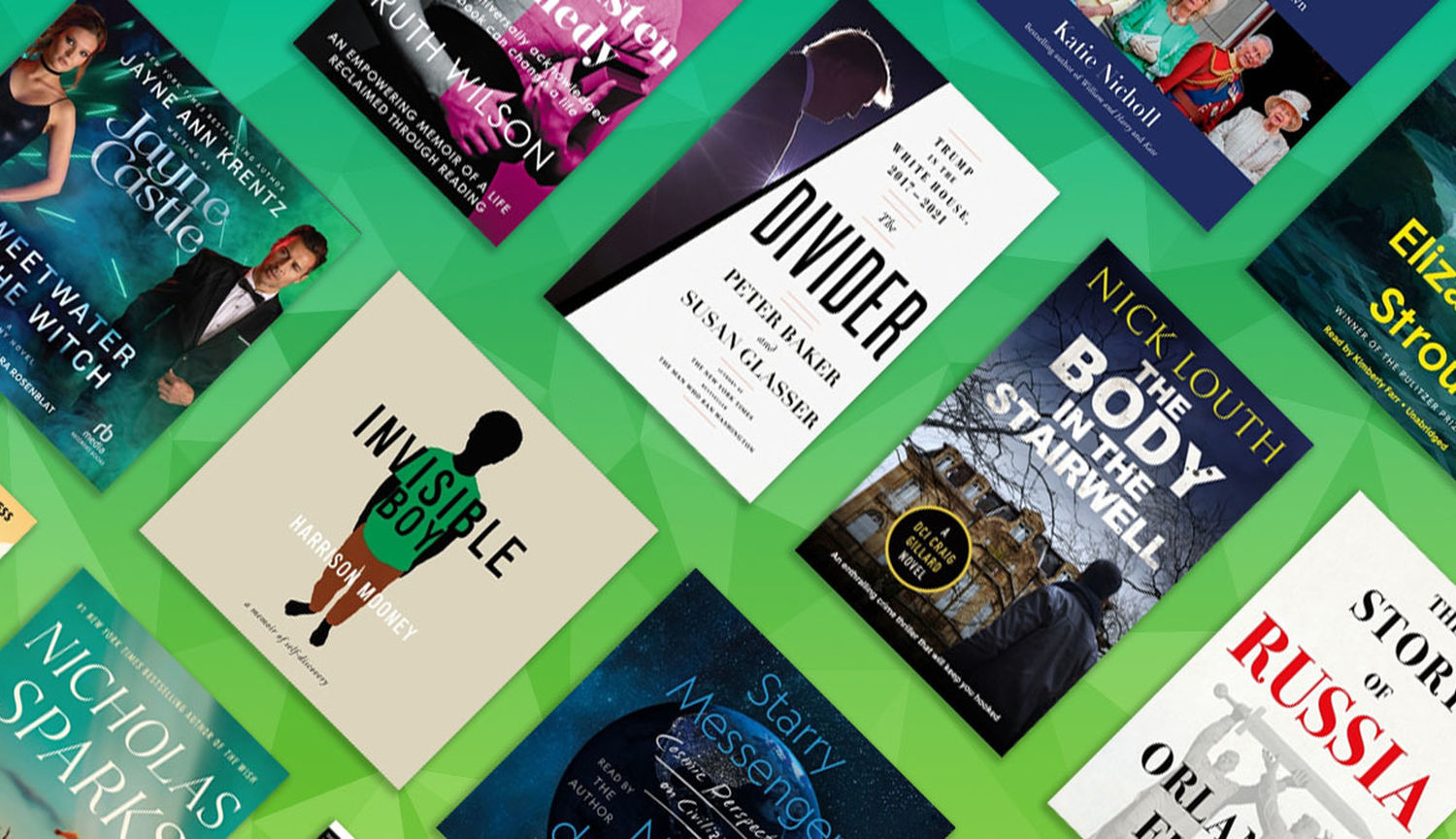 46 new eBooks and audiobooks coming out September 20 – 26, 2022
Must-read books coming out this week
With the memorials of the late Queen Elizabeth II now winding down, readers looking for a consideration of her reign from a contemporary perspective may want to take a look at Vanity Fair correspondent Katie Nicholl's The New Royals: Queen Elizabeth's Legacy and the Future of the Crown. Nicholl examines the seven decades of Queen Elizabeth during which generations came to see her as synonymous with the crown, as well as the scandals and rifts that have plagued the Royal Family, especially in recent years.
Orlando Figes is among the most popular historians writing today, with books like A People's Tragedy: The Russian Revolution finding readers in the general public. His new book, titled simply The Story of Russia, attempts to explain the country today in the context of the ideas as well as people and events that shaped it. Figes' approach is not without controversy, as ideas—especially ones with geopolitical significance—are as delicate as deep-sea creatures that struggle to survive when examined outside of their context. But it's also vital work, as Figes' book takes pains to set that context so the reader can better understand the "why" behind the who and what of Russian history—and breaking news. (Readers seeking a more traditional and tightly circumscribed work of Russian history may want to check out Antony Beevor's Russia: Revolution and Civil War, 1917 – 1921, also out this week.)
Astronomer Neil deGrasse Tyson offers his own lens through which readers might view the world in Starry Messenger: Cosmic Perspectives on Civilization. He argues that most social divisions—war, politics, religion, race—can be grounds for unity if approached with the spirit of scientific inquiry and the grand perspective of the cosmos. It's a book that owes a debt to another cosmological reflection on human culture, Carl Sagan's Billions & Billions: Thoughts on Life and Death at the Brink of the Millennium. But deGrasse Tyson, regarded by many as the heir to Sagan's reputational legacy as a communicator on the science of cosmology, brings a fresh point of view to these complex cultural problems while drawing on the wisdom that birthed science as we know it.
We'll admit we need almost no sales pitch whatsoever for Ruth Wilson's The Jane Austen Remedy: An Empowering Memoir of a Life Reclaimed Through Reading. Wilson earned her PhD at the age of 88(!), nearly half a century after discovering Jane Austen through a cinematic adaptation of Pride and Prejudice. Wilson is a committed re-reader: it's fundamental to her area of study, as re-reading uncovers new meanings as the reader grows and matures, finding their alignments to themes and characters shifting over time. In this memoir she recounts the story of a life where Austen's works have been a constant companion, with the experience of repeated readings revealing the author's own growth to herself. Hers is an inspiring story on so many levels, for us late-bloomers, whether we're Austenites past, present, or future, and for anyone who just knows their greatest achievements are still in the works.
More books coming out September 20 – 26, 2022
🧰 Help and How-to
Death Interrupted: How Modern Medicine Is Complicating the Way We Die by Blair Bigham, MD
How to Lose Weight for the Last Time: Brain-Based Solutions for Permanent Weight Loss by Katrina Ubell
The 6 Phase Meditation Method: The Proven Technique to Supercharge Your Mind, Manifest Your Goals, and Make Magic in Minutes a Day by Vishen Lakhiani
The Jane Austen Remedy: An Empowering Memoir of a Life Reclaimed Through Reading by Ruth Wilson

Smart Brevity: The Power of Saying More with Less by Jim VandeHei, Mike Allen, and Roy Schwartz
💡 Big Ideas
Starry Messenger: Cosmic Perspectives on Civilization by Neil deGrasse Tyson
Lady Secrets: Real, Raw, and Ridiculous Confessions of Womanhood by Keltie Knight, Jac Vanek, and Becca Tobin
Lady Justice: Women, the Law, and the Battle to Save America by Dahlia Lithwick
The Biggest Ideas in the Universe: Space, Time, and Motion by Sean Carroll
Cannibal Capitalism: How our System is Devouring Democracy, Care, and the Planet and What We Can Do About It by Nancy Fraser
🗣 True Stories
The Divider: Trump in the White House, 2017-2021 by Peter Baker and Susan Glasser
Russia: Revolution and Civil War, 1917-1921 by Antony Beevor
The Story of Russia by Orlando Figes
Invisible Boy: A Memoir of Self-Discovery by Harrison Mooney
The New Royals: Queen Elizabeth's Legacy and the Future of the Crown by Katie Nicholl
💘 Romance
State of the Union by Marie Force
Sweetwater and the Witch by Jayne Castle
The Viper by J.R. Ward
Dreamland by Nicholas Sparks
Drunk on Love by Jasmine Guillory
Vanessa Jared's Got a Man by LaQuette
🗡️ Action, Crime, and Mystery
The Body in the Stairwell by Nick Louth
The Bullet That Missed by Richard Osman
Done Deal by Ty Hutchinson
A Truth to Lie For by Anne Perry
Murder in the Eternal City by Ashley Gardner
Her Last Breath (A Rachel Gift FBI Suspense Thriller—Book 6) by Blake Pierce
🖊️ Literary & Contemporary Fiction
Lucy by the Sea by Elizabeth Strout
Until We Break by Matthew Dawkins
Less Is Lost by Andrew Sean Greer
The Old Place by Bobby Finger
The American Adventuress by C. W. Gortner
Valley of Shadows by Rudy Ruiz
✨ Fantasy and Speculative Fiction
The Witch and the Tsar by Olesya Salnikova Gilmore
The Night and Its Moon by Piper CJ
Imperium Restored by Walter Jon Williams
Only Bad Options by Jennifer Estep
Hell House by Kory M. Shrum
The Last Dreamwalker by Rita Woods
Beyond the Burn Line by Paul McAuley
💬 Manga & Graphic Novels
Spy x Family, Vol. 8 by Tatsuya Endo
Black Summoner: Volume 10 by Doufu Mayoi
On or Off, Volume 2 by A1
Reborn as a Space Mercenary: I Woke Up Piloting the Strongest Starship! (Light Novel) Vol. 5 by Ryuto
Solo Leveling, Vol. 5 (comic) by Chugong