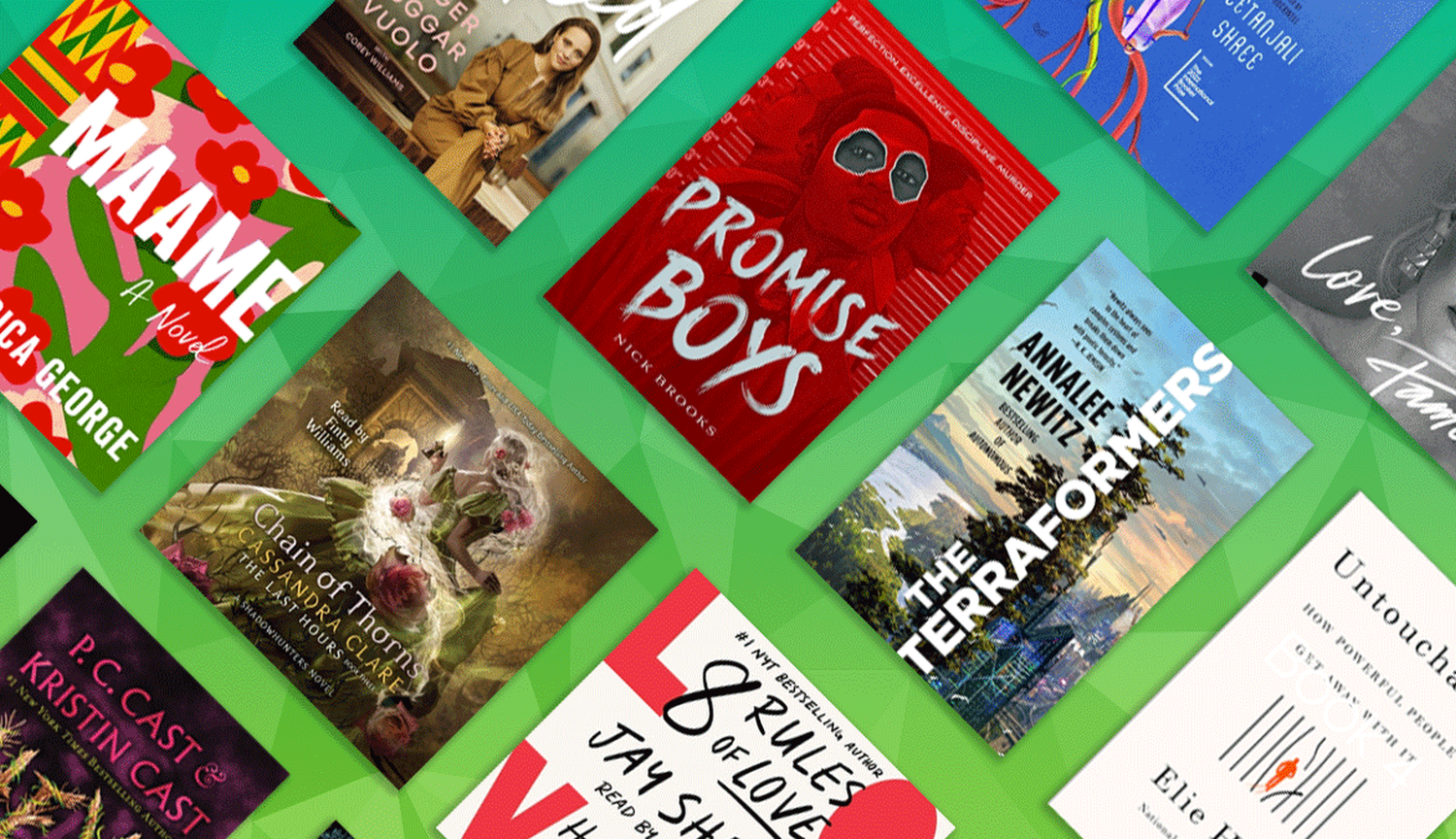 47 new eBooks and audiobooks coming out January 31 – February 6, 2023
New eBooks and audiobooks out this week
Though only now being released for readers on this side of the Atlantic, Tomb of Sand by Geetanjali Shree won the International Booker Prize last year. The "International" is an offshoot of the prestigious British Booker literary award which recognizes literary achievements outside of eligibility for the main prize—such as books in translation. This is the story of Ma, a woman who falls into an immovable depression following the death of her husband. Her children, in-laws, and grandchildren all try to rouse her, but only a gift from her most stern-faced grandson can lift her spirits—a golden cane, which may have magical powers. Ma becomes adventurous and decides to walk from the family home in Northern India to Pakistan. This is a big, playful novel, that touches on contemporary and timeless themes, and will inevitably draw comparisons to the early work of the renowned English-language novelist Salman Rushdie. American translator Daisy Rockwell's adaptation has been lauded for cleverly preserving much of the wordplay and musicality found in the original Hindi novel.
In Nick Brooks' novel Promise Boys a charter school, "The Urban Promise Prep School," turns the boys who follow its rigorous "program" into upstanding, college-bound young men. That's the promise made by Principal Moore, who enforces the extreme discipline necessary to steer boys away from the fates that their neighbourhoods have in store for them. But when Principal Moore ends up murdered and three boys come under police suspicion, J. B., Ramón, and Trey decide that the best way to clear their names is to hunt down the real killer themselves. The question is how far their investigation will get before the cops take them away in cuffs. This is a short, snappy debut for Brooks in the YA crime fiction genre following the launch of his Ethan Fairmont middle-grade series last year.
Between the endless tabloid coverage through the 90s and the recent miniseries Pam & Tommy, it's easy fall into the belief that Pamela Anderson's life story is pretty much an open book and a matter of public record. But in fact we've heard precious little from Anderson herself. In Love, Pamela Anderson attempts to set the record straight and take back her story. She writes of her Vancouver Island childhood, the rocketship acceleration of her modelling career, and what it felt like to have the paparazzi peering into her life through even the tiniest pinhole. While she inevitably spends less time discussing some events than perhaps her readership would like, it's still a welcome self-accounting from a much-observed but little-heard celebrity.
More books coming out January 31 – February 6, 2023
🧰 Help and How-to
8 Rules of Love: How to Find It, Keep It, and Let It Go by Jay Shetty
How to Be a (Young) Antiracist by Ibram X. Kendi & Nic Stone
Hope this Helps: How to be Kinder to Yourself and Others by Benjy Kusi
Mind Your Mindset: The Science That Shows Success Starts with Your Thinking by Michael Hyatt
💡 Big Ideas
Untouchable: How Powerful People Get Away with It by Elie Honig
The Fault in Our SARS: COVID-19 in the Biden Era by Rob Wallace
HBR Guide to Critical Thinking by Harvard Business Review
Bet on Black by Eboni K. Williams
🗣 True Stories
Becoming Free Indeed: My Story of Disentangling Faith from Fear by Jinger Vuolo
Love, Pamela by Pamela Anderson
Walk the Blue Line: No right, no left—just cops telling their true stories to James Patterson. by James Patterson
The Wild Boy of Waubamik: A Memoir by Thom Ernst
The Tastemaker: My Life with the Legends and Geniuses of Rock Music by Tony King
Cobalt Red: How the Blood of the Congo Powers Our Lives by Siddharth Kara
💘 Romance
Protective Impulse by Kaylea Cross
Flack by Kris Michaels
Thrust & Throttle by Emma Slate
Interview with the Billionaire by J. Kenner
Sorry, Bro by Taleen Voskuni
The Davenports by Krystal Marquis
🗡️ Action, Crime, and Mystery
The Dying Season by Rachel Amphlett
Exiles by Jane Harper
Finlay Donovan Jumps the Gun by Elle Cosimano
Never Pretend (A May Moore Suspense Thriller—Book 10) by Blake Pierce
The Black Queen by Jumata Emill
Promise Boys by Nick Brooks
🖊️ Literary & Contemporary Fiction
Tomb of Sand by Geetanjali Shree
The Paris Sister (The Three Fry Sisters, Book 2) by Adrienne Chinn
Strange Loops by Liz Harmer
My Father's House by Joseph O'Connor
River Sing Me Home by Eleanor Shearer
Central Places by Delia Cai
Maame by Jessica George
✨ Fantasy, Horror, Sci-Fi, and Speculative Fiction
Chain of Thorns by Cassandra Clare
Hex You by P. C. Cast
Vampire Weekend by Mike Chen
The Bloodstained Shade by Cass Morris
One Girl In All The World (Volume 2) by Kendare Blake
Critical Mass by Daniel Suarez
The Terraformers by Annalee Newitz
Village in the Sky by Jack McDevitt
🗯 Manga & Graphic Novels
My Dress-Up Darling 07 by Shinichi Fukuda
Cherry Magic! Thirty Years of Virginity Can Make You a Wizard?! 06 by Yuu Toyota
Min-Maxing My TRPG Build in Another World: Volume 5 by Schuld
Critical Role: The Mighty Nein Origins--Nott the Brave by Sam Maggs
Ogi's Summer Break, Volume 1 by Koikawa
Murder Inc. Volume 1: Valentine's Trust by Brian Michael Bendis
Check out even more new eBooks & audiobooks here