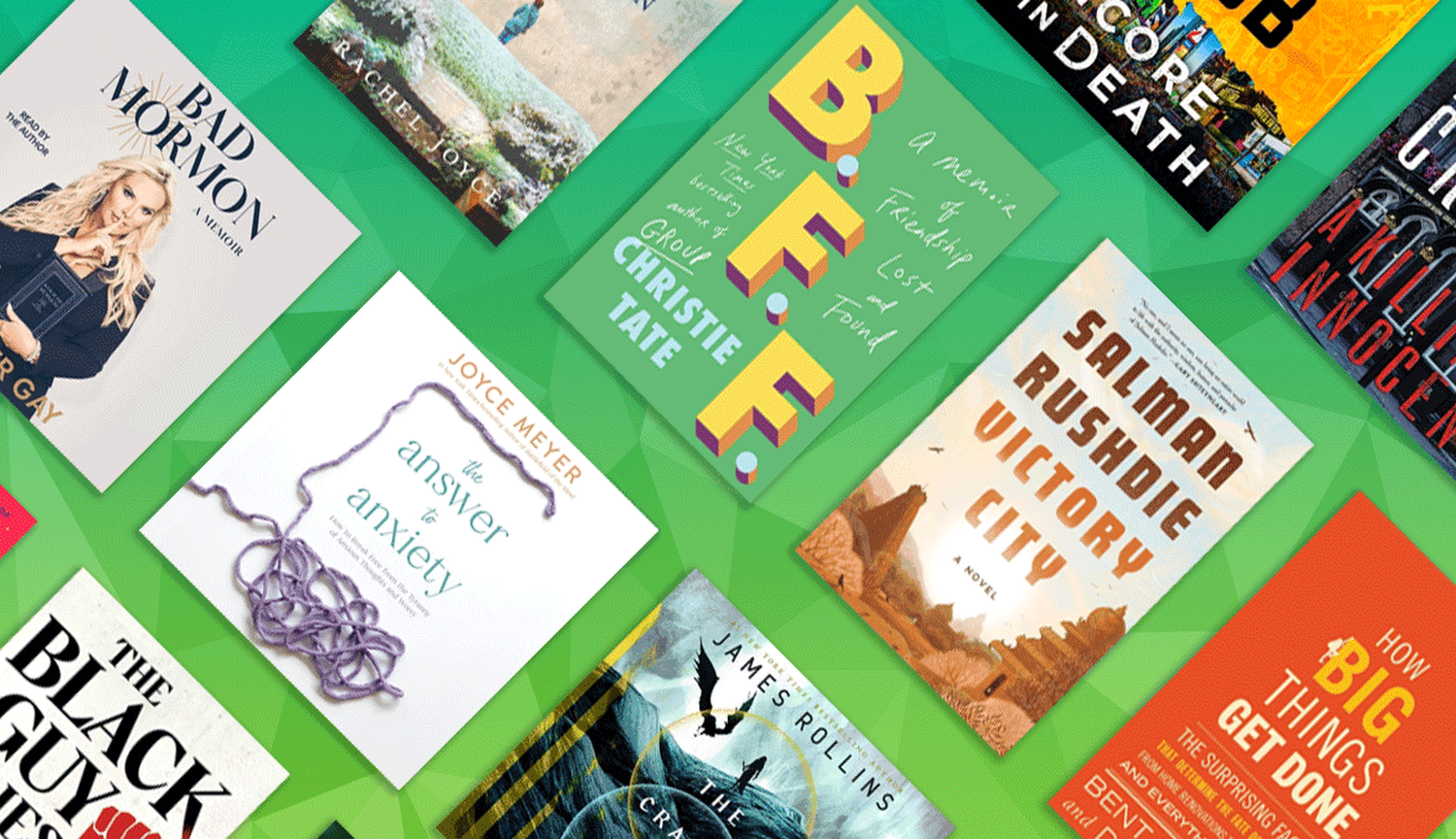 48 new eBooks and audiobooks coming out February 7 – 13, 2023
New eBooks and audiobooks out this week
Victory City, Salman Rushdie's 13th novel, is a story of supernatural beings walking among mortals and altering the course of history. Pampa Kampana is a nine-year-old girl whose shock over the death of her mother brings about a kind of possession by a goddess who speaks through the girl—and allows her to live for centuries. And during that time she oversees and profoundly influences a place called Bisnaga, known as "victory city," as it rises to greatness. This is Rushdie in top form, unspooling an epic tale with his trademark irreverence and wit, juxtaposed against scenes of terror and beauty.
If you've ever wondered how complex things get done—or undone, or flatly defeated—then How Big Things Get Done by Oxford economic geographer Bent Flyvbjerg and journalist Dan Gardner may unlock some mysteries for you. The pair address projects of all kinds, from home renovations plagued by a stream of new (and costly) problems, to the miraculously swift journey of the iPod from napkin sketch to product launch. And they look at the boondoggles that anyone who lives in a big city can point to, the "big new thing" that never delivered what it was supposed to and cost an order of magnitude more than it was supposed to. They identify the factors that drive a project to success from the start as well as the forces that pull projects off course into oblivion. In his academic work studying large scale projects, Flyvbjerg developed something he calls "The Iron Law of Megaprojects," ("over time, over budget, under benefits"), observing time and again that projects that get approved are the ones that are most appealing in presentation, which seldom correlates to having a realistic budget or a sound plan for execution. For his part, Gardner's track record on explainer-type books is sterling, with the 2009 ever-relevant bestseller Risk: The Science and Politics of Fear to his credit. Anyone who's ever been involved in a big enterprise software project or just tried to spruce up their laundry room will find relatable flashes of insight here.
Both B.F.F.: A Memoir of Friendship Lost and Found and The Friendship Breakup tell a kind of love story that's too seldom explored in art: the love shared, and often lost, between friends. B.F.F. is writer Christie Tate's examination of her own sense of disconnection in non-romantic relationships. She writes about one relationship that she especially values, the friendship of Meredith, who speaks plainly to Christie and challenges her to examine herself in ways that her many well-documented hours in group therapy (she's the author of the bestselling memoir Group) never quite drilled into. The result is a deeper and more lasting bond and an understanding of what binds true friends. Billed as a "mom-com," The Friendship Breakup is about Fallon Monroe, whose bestie Beatrice starts to ghost her and gives her cause to wonder what she did wrong—and if she can win back Beatrice and all the friends she's taken with her. At the same time, Fallon tries to make new friends through an app, which goes about as well as you might expect. We hope this isn't the last novel about friendship with a "rom-com"-type tone (though we think "mom-com" could be improved upon) and that the time has come to engage through fiction with this near-universal and sorely under-examined type of relationship.
More books coming out February 7 – 13, 2023
🧰 Help and How-to
Sex Talks: The Five Conversations That Will Transform Your Love Life by Vanessa Marin, LMFT with Xander Marin
The Answer to Anxiety: How to Break Free from the Tyranny of Anxious Thoughts and Worry by Joyce Meyer
We Over Me: The Counterintuitive Approach to Getting Everything You Want from Your Relationship by Devale Ellis
Fake Meat: Real Food for Vegan Appetites by Isa Chandra Moskowitz
💡 Big Ideas
How Big Things Get Done: The Surprising Factors That Determine the Fate of Every Project, from Home Renovations to Space Exploration and Everything In Between by Bent Flyvbjerg and Dan Gardner
The Crisis of Democratic Capitalism by Martin Wolf
A Compendium of Enigmatic Species by Practical Fantasists
The Black Guy Dies First: Black Horror Cinema from Fodder to Oscar by Robin R. Means Coleman and Mark H. Harris
It's Always Been Ours: Rewriting the Story of Black Women's Bodies by Jessica Wilson, MS, RD
🗣 True Stories
Bad Mormon: A Memoir by Heather Gay
Strange Bewildering Time: Istanbul to Kathmandu in the Last Year of the Hippie Trail by Mark Abley
B.F.F.: A Memoir of Friendship Lost and Found by Christie Tate
I Know Who You Are: How an Amateur DNA Sleuth Unmasked the Golden State Killer and Changed Crime Fighting Forever by Barbara Rae-Venter
People vs. Donald Trump: An Inside Account by Mark Pomerantz
Hijab Butch Blues: A Memoir by Lamya H
💘 Romance
Magnus by Dale Mayer
Finding Ashlyn by Susan Stoker
Radiant Sin by Katee Robert
Secretly Yours by Tessa Bailey
The Phantom by Gena Showalter
Not the Plan by Gia De Cadenet
🗡️ Action, Crime, and Mystery
A Killing of Innocents by Deborah Crombie
Unnatural History by Jonathan Kellerman
More Than Meets the Eye by Iris Johansen and Roy Johansen
Agent in the Shadows by Alex Gerlis
Code Name Sapphire by Pam Jenoff
No Chance (A Valerie Law FBI Suspense Thriller—Book 6) by Blake Pierce
🖊️ Literary & Contemporary Fiction
Someone Else's Shoes by Jojo Moyes
Love Will Tear Us Apart by C. K. McDonnell
Stone Blind by Natalie Haynes
Victory City by Salman Rushdie
Maureen: A Harold Fry Novel by Rachel Joyce
The House of Eve by Sadeqa Johnson
A Spell of Good Things by Ayobami Adebayo
The Friendship Breakup by Annie Cathryn
✨ Fantasy, Horror, Sci-Fi, and Speculative Fiction
The Cradle of Ice by James Rollins
These Infinite Threads by Tahereh Mafi
Stardust in Their Veins by Laura Sebastian
Don't Fear the Reaper by Stephen Graham Jones
Our Share of Night by Mariana Enriquez
The Spite House by Johnny Compton
Cold People by Tom Rob Smith
🗯 Manga & Graphic Novels
My Hero Academia, Vol. 33 by Kohei Horikoshi
Skeleton Knight in Another World (Light Novel) Vol. 10 by Ennki Hakari
Monster Tamer: Volume 12 by Minto Higure
Snow White with the Red Hair, Vol. 23 by Sorata Akiduki
My Dear Agent, Volume 1 by Ebino Bisque
Check out even more new eBooks & audiobooks here