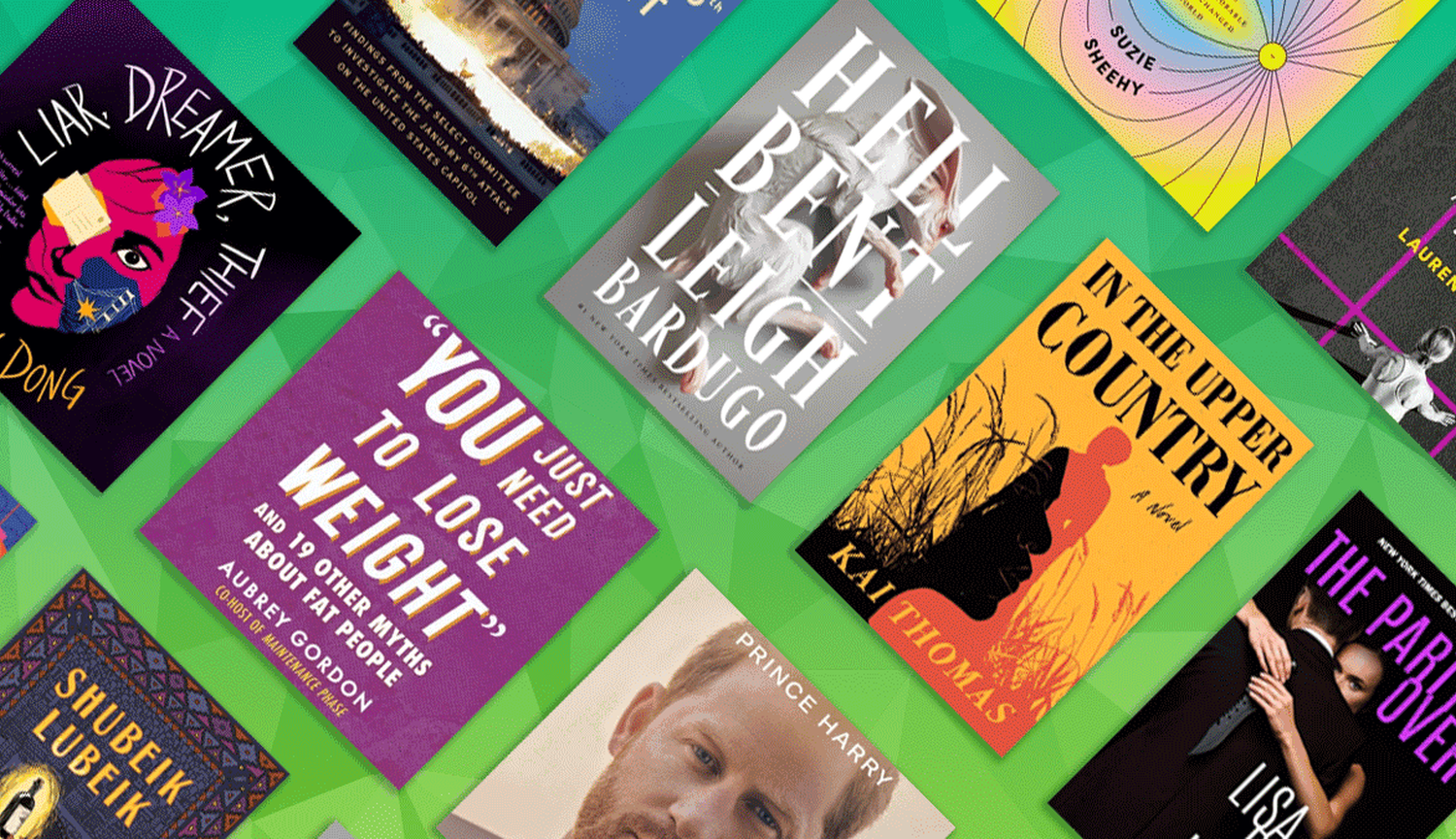 48 new eBooks and audiobooks coming out January 10 - 16, 2023
New eBooks and audiobooks out this week
While coverage of the British royal family has never been in short supply, readers have seen very little in the way of first-hand accounts from the members of the family itself. The late Queen Elizabeth II was famously strict about keeping intimate family business out of the public eye, so the most curious among us gleaned what we could from loose-lipped and often anonymous Buckingham Palace staff. Aside from a book-length TED Talk and a recent children's book we haven't had many opportunities to engage with the words of the royals first-hand. With Prince Harry's new memoir Spare, royal-curious readers finally get the kind of no-holds-barred insider account they've been waiting for. Harry speaks about his late mother Diana, his strained relationship with his brother Prince William, and the racism his wife Meghan Markle faced as she joined the family that once presided over the British Empire. What remains to be seen is whether Harry's frankness represents a mere aberration from a long-standing tradition of confidentiality or the start of a more open royal family.
Aubrey Gordon's 2020 book What We Don't Talk About When We Talk About Fat was a ground-breaking and eye-opening essay on the cultural significance of fatness and how entrenched anti-fatness is in society. With "You Just Need to Lose Weight" and 19 Other Myths About Fat People she distills anti-fatness into 19 discrete beliefs—which she grapples with individually, armed with the latest research and of course the trademark sense of humour she's become known for as co-host of the podcast Maintenance Phase. Gordon's book joins "They Take Our Jobs!" and 20 Other Myths about Immigration and other books in the Myths Made In America series, which aims to advance social justice by identifying and debunking popular beliefs using facts and argument.
Kai Thomas' debut novel In the Upper Country is a challenging work of historical fiction set in southern Ontario just a short time before the US Civil War broke out. Set in a fictional town at the end of the Underground Railroad, the story is set in motion by the arrival of a bounty hunter seeking several people fleeing slavery. What follows is an interwoven narrative told by two women, one was among those pursued by the bounty hunter, and the other writes for an abolitionist newspaper in pre-confederation Canada. Though it may sound like a book that readers have seen before, it's unique for its focus on Black life in a world where legal slavery exists and is held back only by invisible borders and laws, and how interactions with Indigenous Peoples were vital to the development of Black communities.
More books coming out January 10 – 16, 2023
🧰 Help and How-to
The Galveston Diet: The Doctor-Developed, Patient-Proven Plan to Burn Fat and Tame Your Hormonal Symptoms by Mary Claire Haver MD
Take Command: Find Your Inner Strength, Build Enduring Relationships, and Live the Life You Want by Joe Hart and Michael A. Crom
Attention Span: A Groundbreaking Way to Restore Balance, Happiness and Productivity by Gloria Mark
The Joy of Saying No: A Simple Plan to Stop People Pleasing, Reclaim Boundaries, and Say Yes to the Life You Want by Natalie Lue
Unoffendable: How Just One Change Can Make All of Life Better (updated with two new chapters) by Brant Hansen
🗣 True Stories
Spare by Prince Harry, The Duke of Sussex
The Nazi Conspiracy: The Secret Plot to Kill Roosevelt, Stalin, and Churchill by Brad Meltzer
Good for a Girl: A Woman Running in a Man's World by Lauren Fleshman
The January 6th Report: Findings from the Select Committee to Investigate the January 6th Attack on the United States Capitol by The January 6 Select Committee
💡 Big Ideas
"You Just Need to Lose Weight" And 19 Other Myths About Fat People by Aubrey Gordon
The Good Life: Lessons from the World's Longest Scientific Study of Happiness by Robert Waldinger, M.D.
Women, Leadership, and Saving the World: Why Everything Gets Better When Women Lead by Belinda Clemmensen
The Matter of Everything: How Curiosity, Physics, and Improbable Experiments Changed the World by Suzie Sheehy
On BTS by Lenika Cruz
💘 Romance
String of Tears by Dale Mayer
Coercion by Amelia Wilde
Charming CEO by Lila Monroe
Wild Irish Moon by Tricia O'Malley
Mated in Chaos by Carrie Ann Ryan
Lunar Love by Lauren Kung Jessen
🗡️ Action, Crime, and Mystery
The Party Is Over by Lisa Renee Jones
All the Dangerous Things by Stacy Willingham
Unsaid (A Cora Shields Suspense Thriller—Book 4) by Blake Pierce
Just the Nicest Couple by Mary Kubica
The Game is a Footnote by Vicki Delany
Pay the Price by Sam Tobin
Liar, Dreamer, Thief by Maria Dong
🖊️ Literary & Contemporary Fiction
The Night Travelers by Armando Lucas Correa
The Deluge by Stephen Markley
Bad Cree by Jessica Johns
In the Upper Country by Kai Thomas
Creative Differences and Other Stories by Graeme Simsion
Moonrise Over New Jessup by Jamila Minnicks
✨ Fantasy, Horror, Sci-Fi, and Speculative Fiction
Hell Bent by Leigh Bardugo
Lost in the Moment and Found by Seanan McGuire
The Sapphire Altar by David Dalglish
Cracked Palace by Dave Walsh
Tress of the Emerald Sea by Brandon Sanderson
Son of the Poison Rose by Jonathan Maberry
Percy Jackson and the Sword of Hades by Rick Riordan
Replika: Coherence by Hugo Bernard
Of Civilized, Saved and Savages: Coronam Book II by Johnny Worthen
🗯 Manga & Graphic Novels
Given, Vol. 7 (Yaoi Manga) by Natsuki Kizu
Kaiju No. 8, Vol. 5 by Naoya Matsumoto
Hell Mode: Volume 5 by Hamuo
My Happy Marriage 02 (Manga) by Akumi Agitogi
Caste Heaven, Vol. 8 (Yaoi Manga) by Chise Ogawa
Shubeik Lubeik by Deena Mohamed
Check out even more new eBooks & audiobooks here