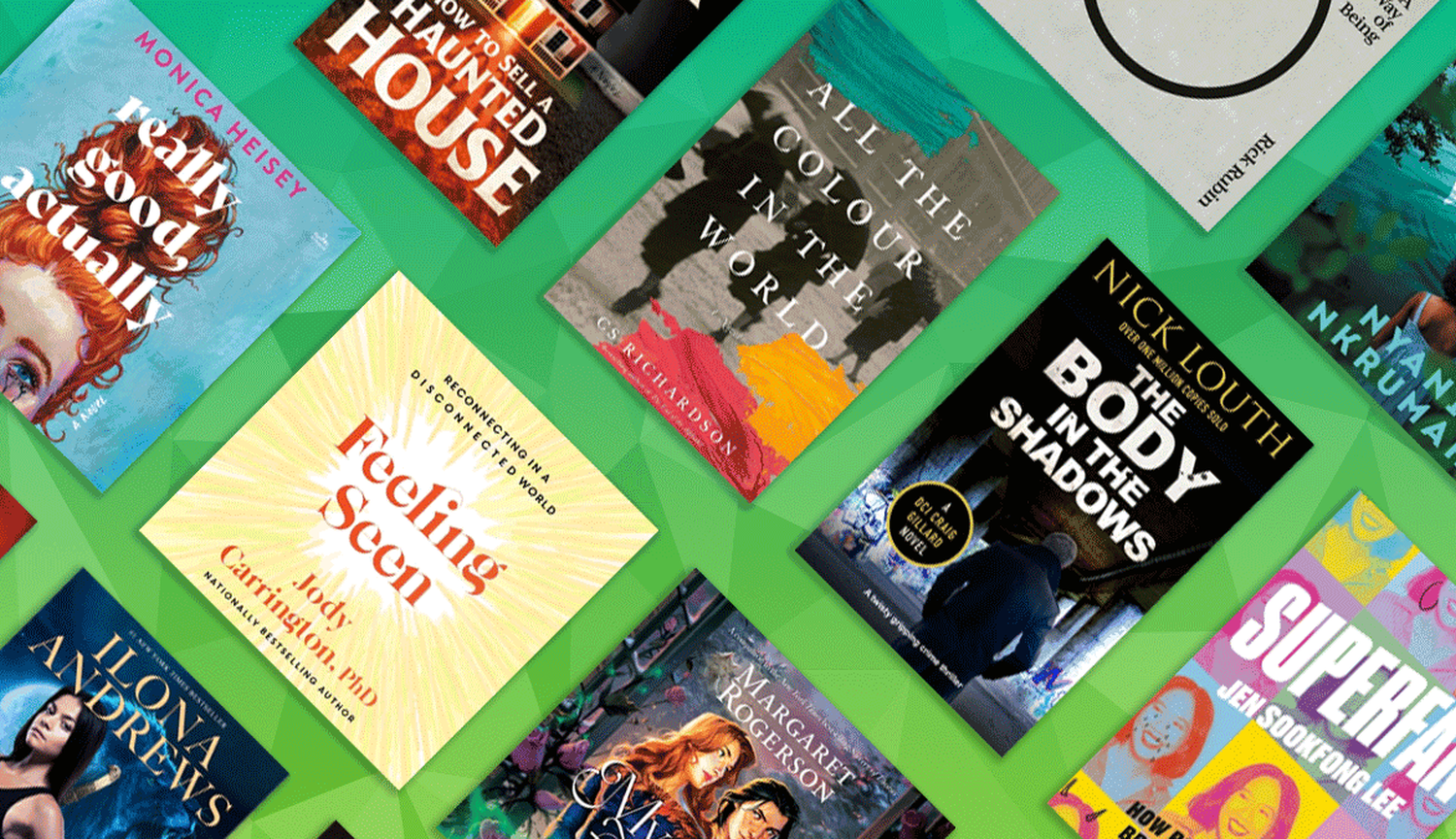 48 new eBooks and audiobooks coming out January 17 - 23, 2023
New eBooks and audiobooks out this week
If you don't know the name Rick Rubin, you certainly recognize some of the music he produced over the last 40 years with The Beastie Boys, Red Hot Chili Peppers, Johnny Cash, Run-DMC, and many, many other artists. It's safe to say Rick Rubin knows a thing or two about the creative process. In his new book The Creative Act: A Way of Being he outlines his views about creativity. Whether you've picked up a new hobby recently or are trying to get unstuck, Rubin's advice might be just the thing to help you reconnect with that most innocent part of yourself, which would put you in the company of some very talented and accomplished artists. For starters, he doesn't see volume of output as having any relationship to one's creative capacity: as the subtitle says, creativity to Rubin is about how you exist in the world, not the stuff you fill the world with. It's a brief book, enough to fill a quiet afternoon, which will leave you plenty of time to put its wisdom into practice.
In Superfan: How Pop Culture Broke My Heart, novelist Jen Sookfong Lee reflects on her relationship to the popular culture that shaped her as an adolescent and young adult. Though she found comfort in iconic real-life and fictional figures like Princess Diana and Anne of Green Gables, with a maturing perspective she realized that as the daughter of Chinese immigrants determined to fit into a foreign society, she wasn't exactly the intended audience for these cultural products. While the themes are substantial, her sense of humour keeps the book from getting weighed down. At a time when there's never been more abundant diversity in popular culture (setting aside for a moment the question of how much would be enough) this is a book that provides an enlightening and extremely personal context for how we got here.
Grady Hendrix' How to Sell a Haunted House tackles one of the most unsettling and least-explored themes in contemporary horror novels: real estate. Louise and Mark are siblings with a troubled relationship, but the death of their parents throws them together as they ready the family home in Charleston for sale. Louise is flying in, putting her successful life on pause to handle her parents' affairs; but Mark never left their hometown, stumbling from job to job with no real direction. There are memories for both of them in this house, buried amongst their father's academic detritus and their mother's puppet collection, and the house isn't going to let them forget a thing. Hendrix has proven his talent for scaring readers, and in this book he gets hearts racing while tapping into deep-set feelings.
More books coming out January 17 – 23, 2023
🧰 Help and How-to
Feeling Seen: Reconnecting in a Disconnected World by Jody Carrington
Making Great Relationships: Simple Practices for Solving Conflicts, Building Connection, and Fostering Love by Rick Hanson PhD
The Creative Act: A Way of Being by Rick Rubin
Buy Back Your Time: Get Unstuck, Reclaim Your Freedom, and Build Your Empire by Dan Martell
Remember Me Now: A Journey Back to Myself and a Love Letter to Black Women by Faitth Brooks
🗣 True Stories
And Finally: Matters of Life and Death by Henry Marsh
Superfan: How Pop Culture Broke My Heart by Jen Sookfong Lee
Hidden Mountains: Survival and Reckoning After a Climb Gone Wrong by Michael Wejchert
We Go Where They Go: The Story of Anti-Racist Action by Shannon Clay, Michael Staudenmaier, and Kristin Schwartz
Straight Shooter: A Memoir of Second Chances and First Takes by Stephen A. Smith
💡 Big Ideas
Where To from Here: A Path to Canadian Prosperity by Bill Morneau
You Are A Global Citizen: A Guided Journal for the Culturally Curious by Damon Dominique
A Guest at the Feast: Essays by Colm Tóibín
I'm No Philosopher, But I Got Thoughts: Mini-Meditations for Saints, Sinners, and the Rest of Us by Kristin Chenoweth
Immeasurable Outcomes: Teaching Shakespeare in the Age of the Algorithm by Gayle Greene
💘 Romance
Magic Tides by Ilona Andrews
The Long and Winding Road by Marie Force
Just Another Spark by Carly Phillips
The Backup Plan by Jill Shalvis
Cute But Psycho by Lani Lynn Vale
The Year of Cecily by Lisa Lin
As You Walk On By by Julian Winters
🗡️ Action, Crime, and Mystery
The Body in the Shadows by Nick Louth
The Cabinet of Dr. Leng by Douglas Preston and Lincoln Child
The Girl He Watched (A Paige King FBI Suspense Thriller—Book 6) by Blake Pierce
Everyone in My Family Has Killed Someone by Benjamin Stevenson
Those People Next Door by Kia Abdullah
🖊️ Literary & Contemporary Fiction
Really Good, Actually by Monica Heisey
The Mitford Affair by Marie Benedict
The Flame Tree by Siobhan Daiko
The Shards by Bret Easton Ellis
All the Colour in the World by CS Richardson
Wade in the Water by Nyani Nkrumah
✨ Fantasy, Horror, Sci-Fi, and Speculative Fiction
How to Sell a Haunted House by Grady Hendrix
Mysteries of Thorn Manor by Margaret Rogerson
The Raven's Revenge by Kevin Sands
The Keeper's Six by Kate Elliott
Mysteries of Thorn Manor by Margaret Rogerson
In a Lonely Place by Karl Edward Wagner
Mr. Breakfast by Jonathan Carroll
Karma of the Sun by Brandon Ying Kit Boey
🗯 Manga & Graphic Novels
Now I'm a Demon Lord! Happily Ever After with Monster Girls in My Dungeon: Volume 3 by Ryuyu
Bottom-Tier Character Tomozaki, Vol. 9 (light novel) by Yuki Yaku
Sugar Apple Fairy Tale, Vol. 2 (light novel) by Miri Mikawa
Cheeky Brat, Vol. 5 by Mitsubachi Miyuki
Tsubaki-chou Lonely Planet, Vol. 2 by Mika Yamamori
Bungo Stray Dogs: Beast, Vol. 4 by Kafka Asagiri
Bride of the Barrier Master, Vol. 1 by Kureha
Check out even more new eBooks & audiobooks here