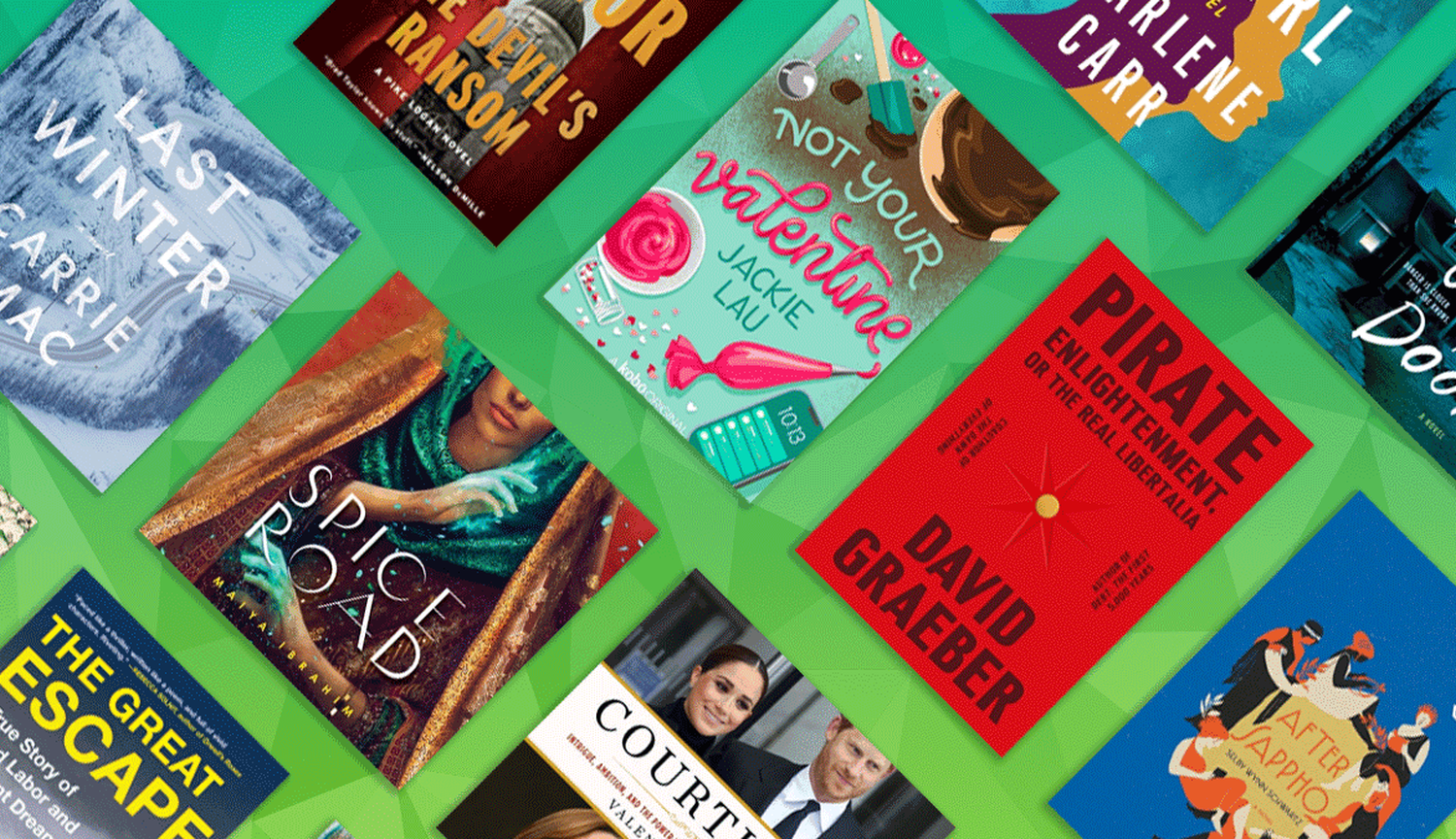 48 new eBooks and audiobooks coming out January 24 - 30, 2023
New eBooks and audiobooks out this week
Speculative fiction fans might think of Frank Herbert's Dune series when they think of "spice," but in Maiya Ibrahim's Spice Road spice is a secret kind of magic that awakens innate affinities in those who drink a tea infused with it. Imani, a sixteen-year-old girl to whom the spice has revealed a dagger-wielding affinity for iron, fights to find her disgraced brother who stands accused of stealing the spice and selling it to outsiders. This is the first in a new epic fantasy series that promises to deliver action and intrigue with rich worldbuilding that draws on Arab traditions and myths.
What is a pirate? Really think about it: beyond the movies and Halloween costumes, who takes up a life of criminality on the high seas? In Pirate Enlightenment, or the Real Libertalia by the late activist and intellectual David Graeber, readers learn about the Zana-Malata, an ethnic group descended from pirates who settled in Madagascar 200 years ago, and in whose traditions Graeber finds deep roots of democracy and libertarianism. Not only that, but there's some evidence that these practices influenced European cultures, challenging the notion of Enlightenment innovations in political systems being strictly "Western" in origin. Graeber, whose thought-provoking bestselling books include Bullsh*t Jobs, The Dawn of Everything (co-authored with David Wengrow), and Debt: The First 5,000 Years, passed away in 2020.
In Jackie Lau's new romance novella Not Your Valentine, Helen Tsang is approaching the anniversary of a messy and public (as in, "viral video") breakup that was supposed to have been a Valentine's Day dinner. As February 14th nears, friends and family start checking in with increasing frequency and intensity, and Helen finds herself reliving the humiliation of it all. To put a stop to it she enlists the help of her friend Taylor to pose as her new boyfriend. But Helen didn't expect that Taylor, a Valentine's Day-loving romantic at heart, would fit so easily into this role—which Helen must remind herself constantly, is just a role. Or is it? It's a classic of the "fake-dating" genre, with our protagonist's artificial arrangement producing increasingly genuine emotions.
More books coming out January 24 – 30, 2023
🧰 Help and How-to
Shut Up and Write the Book: A Step-by-Step Guide to Crafting Your Novel from Plan to Print by Jenna Moreci
The Selfish Romantic: How to date without feeling bad about yourself by Michelle Elman
Walking Free: Taking Small Steps to a Big God by Micah Tyler
Be More: 18 practical steps for more peace, success, and happiness in YOUR life...beginning today! by Alison Plaut
🗣 True Stories
Pirate Enlightenment, or the Real Libertalia by David Graeber
Courtiers: Intrigue, Ambition, and the Power Players Behind the House of Windsor by Valentine Low
On Savage Shores: How Indigenous Americans Discovered Europe by Caroline Dodds Pennock
The Great Escape: A True Story of Forced Labor and Immigrant Dreams in America by Saket Soni
💘 Romance
Recovery Road by Christine Feehan
Jasper Vale by Devney Perry
Insatiable by Darcy Burke
Forever Paired by Kathleen Brooks
Not Your Valentine by Jackie Lau
🗡️ Action, Crime, and Mystery
Don't Open the Door by Allison Brennan
The Devil's Ransom by Brad Taylor
Mydworth Mysteries - A Deadly Match by Matthew Costello
Aida Time by ACF Bookens
Trace Evidence by Diane Capri
Against the Currant by Olivia Matthews
🖊️ Literary & Contemporary Fiction
Elsie's Wartime Wish by Carol MacLean
The Girls Are Good by Ilaria Bernardini
Last Winter by Carrie Mac
Hold My Girl by Charlene Carr
After Sappho by Selby Wynn Schwartz
The Chinese Groove by Kathryn Ma
✨ Fantasy, Horror, Sci-Fi, and Speculative Fiction
Blood in the Clouds by Angela Kulig
The Gorgon Agenda by Lisa Shearin
Episode Thirteen by Craig DiLouie
Spice Road by Maiya Ibrahim
The Complete Alien Collection: The Shadow Archive (Out of the Shadows, Sea of Sorrows, River of Pain) by Tim Lebbon
The Infinite by Ada Hoffmann
Lost Souls by Noah Chinn
🗯 Manga & Graphic Novels
The Strongest Sage with the Weakest Crest 10 by Shinkoshoto
Full Clearing Another World under a Goddess with Zero Believers: Volume 6 by Isle Osaki
I Got Caught Up In a Hero Summons, but the Other World was at Peace! (Manga) Vol. 5 by Jiro Heian
Mob Psycho 100 Volume 10 by ONE
Polar Bear Cafe: Collector's Edition Vol. 1 by Aloha Higa