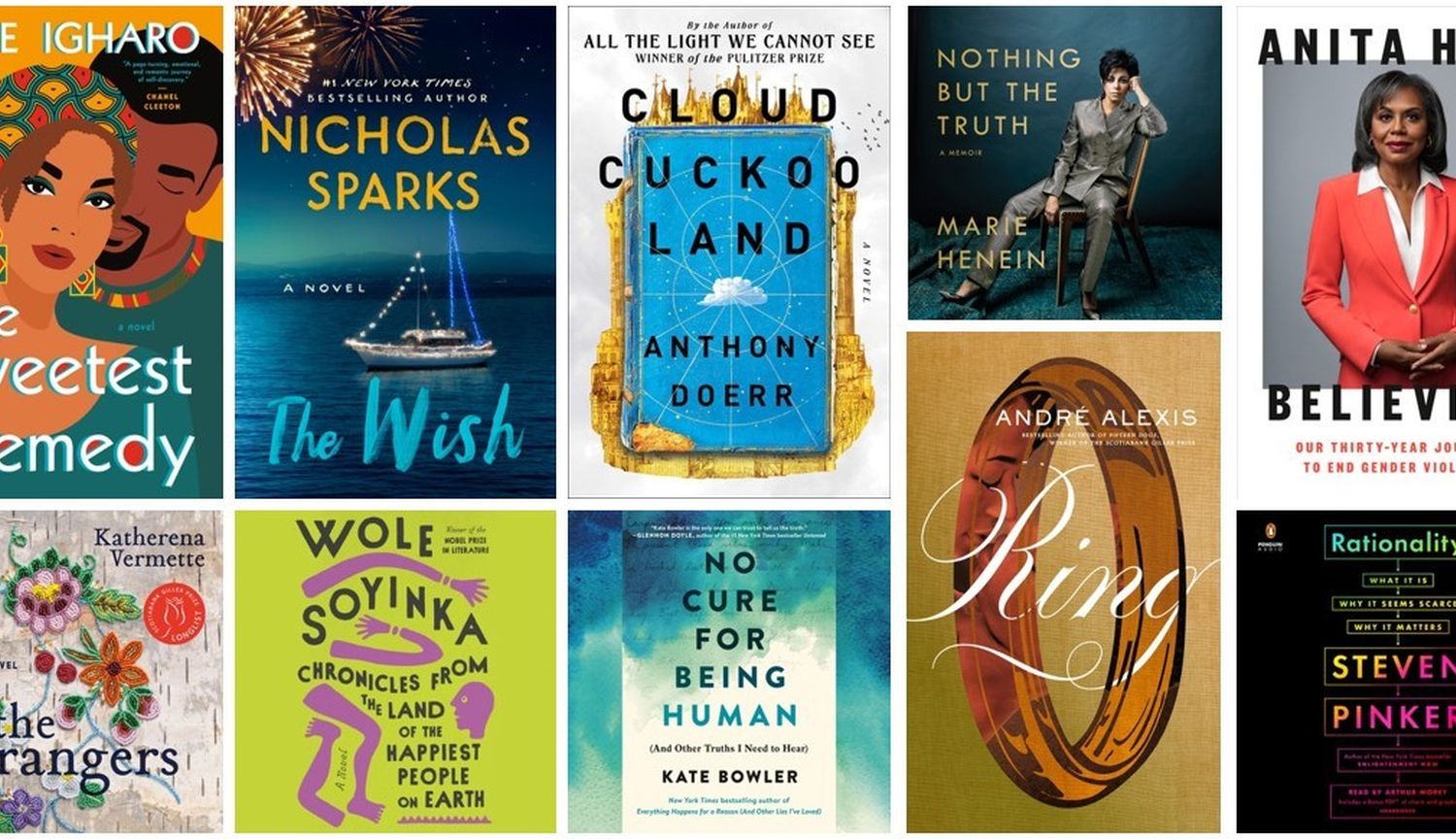 48 new eBooks and audiobooks coming out September 28 – October 4, 2021
Welcome back to New & Hot Reads, where we present some of the best eBooks and audiobooks coming out now.
While some fans of Anthony Doerr's 2014 blockbuster bestseller All the Light We Cannot See went back to his earlier novel About Grace to satisfy their hunger for more of Doerr's fiction, what readers really wanted was a new book: and with Cloud Cuckoo Land they finally have it. It's a story that reaches across centuries, with parts of the story happening in 15th century Constantinople, present day Idaho, and in space a few decades from now. As with All the Light's Marie-Laure and Werner, characters' stories are interwoven dramatically in ways that make this book fly by faster than its page count would suggest. Expect this book to come up frequently in get-togethers among booklovers this winter season.
André Alexis' new book is also long-awaited, but not because he's been silent since attracting a mass audience with Fifteen Dogs, his 2015 Giller Prize-winning novel of canine society on the streets of Toronto. With Ring, Alexis concludes what he's calling his Quincunx, a genre-hopping project encompassing 5 books, that includes Pastoral, The Hidden Keys, Days by Moonlight as well as Fifteen Dogs—with the new book at its centre (it's being designated #3 in the series). Unlike most series with recurring characters and themes, each book in Alexis' project can serve as an entry point into the cycle, or be the only volume a perfectly-satisfied reader ever picks up. Ring is a romance, but it's no bodice-ripper or rom-com (not that there's anything wrong with either) but rather a play on the genre in which an heirloom magical ring allows a woman to wish away problems with her lover—and in doing so creates new problems she couldn't have imagined.
In her new memoir Nothing But the Truth, criminal defence lawyer Marie Henein offers a look inside her life, her upbringing, and her philosophy of law. Famous for successfully defending CBC radio personality Jian Ghomeshi, Nova Scotia premier Gerald Regan, and former Ontario attorney general Michael Bryant, Henein's perspective on the ethics of advocating for clients accused of violent acts offers us a unique window into a world normally obscured by social media fervour.
Anita Hill knows all too well how one can be obscured by frenzied media coverage. Hill, a professor, scholar, and advocate, was compelled to testify before the US senate about sexual harassment by then-nominee to the Supreme Court Clarence Thomas after a private interview with the FBI had leaked. Media coverage of the hearing glossed over her lack of choice in testifying and her own considerable professional credentials, portraying her instead as a woman lashing out at a man on the brink of achieving his life's dream. Hill learned a great deal from the experience and went on to advocate for victims of gender-based harassment and violence. In her new book Believing: Our Thirty-Year Journey to End Gender Violence Hill lays out a framework that accounts for what gender-based violence costs society, and what she sees are the necessary steps to ending it. After a spate of books about the drama and the fallout of the #MeToo movement, Hill's book attempts to take the discussion past how society will deal with offenses of the present, to what is required to create a future without victimization.
More books coming out September 28 – October 4, 2021
💭 Big Ideas
🗣 True Stories
💘 Romance
🗡️ Crime, Action, and Mystery
🖊️ Literary Fiction
✨ Fantasy and Speculative Fiction
Check out even more new eBooks & audiobooks here