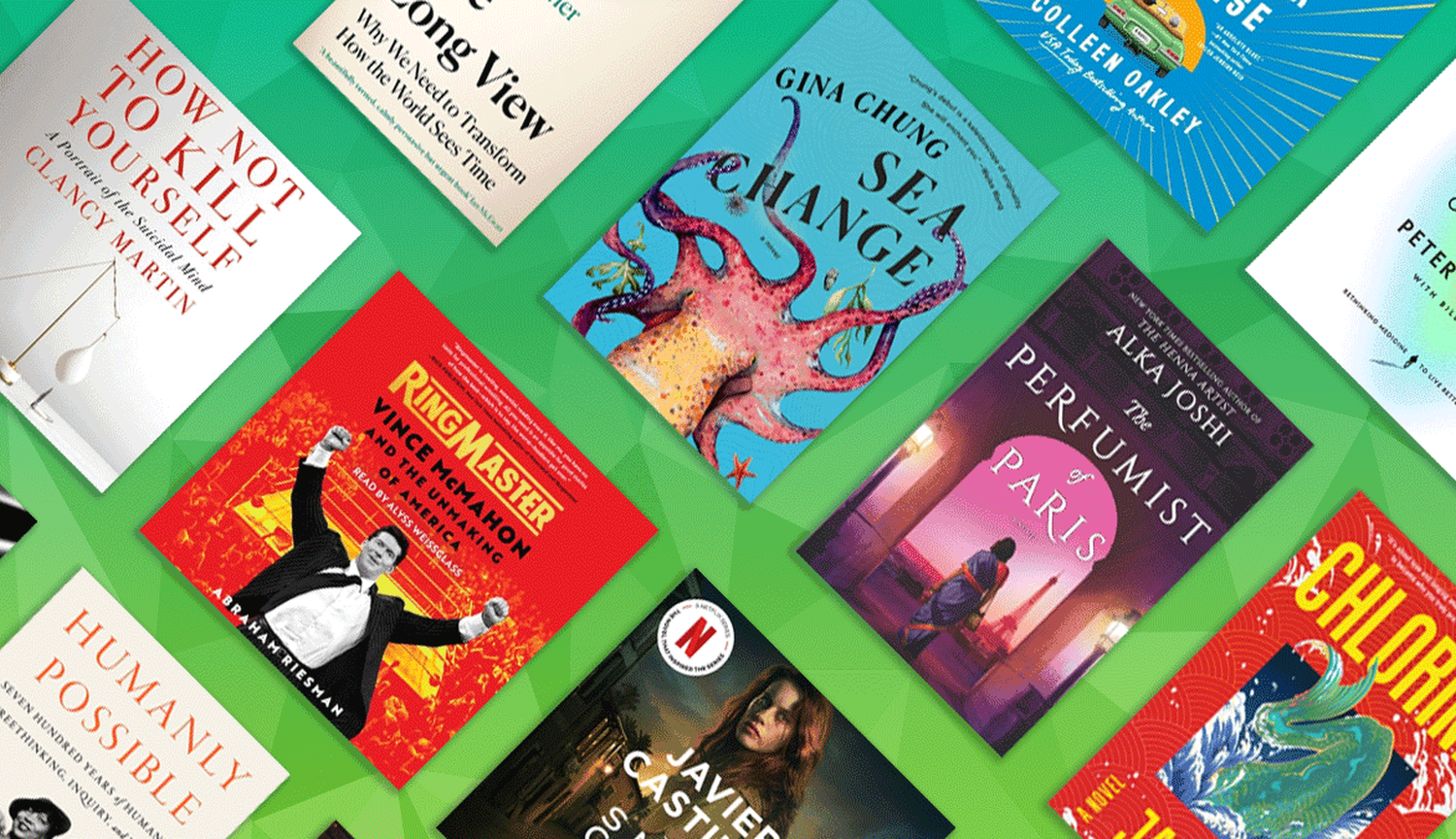 50 new eBooks and audiobooks coming out March 28 – April 3, 2023
New eBooks and audiobooks out this week
Year after year we read about the shortening runway for us to avert catastrophic impacts of climate change, and yet we continue to fail to act with urgency, even if we agree that the scenarios are credible. Why? Is it just human nature to think in the very short term? Richard Fisher doesn't think so, and in his new book The Long View: Why We Need to Transform How the World Sees Time he reminds readers that it wasn't always so. Cathedrals were constructed when the average human lifespan made it a certainty that no worker would witness more than a fraction of progress, and many indigenous cultures conceive of relationships that span generations far beyond an individual's lifetime. Fisher traces our bias towards only the foreseeable future as a product of capitalist systems that value the well-being of existing human below economic growth quarter by quarter, let alone the well-being of humans not yet born. But he also speaks with businesspeople, artists, technologists, and scholars whose work connects them to the long-ago past and offers ways to perceive time far beyond our lifetimes in ways that affect the decisions we make today.
In a similar vein, Sarah Bakewell's Humanly Possible: Seven Hundred Years of Humanist Freethinking, Inquiry, and Hope guides contemporary readers through the work of thinkers going back as far as the Renaissance scholar Erasmus and 18th century novelist Voltaire, up to the writings of 20th century figures such as philosopher Bertrand Russell and novelist and anthropologist Zora Neale Hurston. Bakewell is a staunch advocate for the study of the Humanities, where we learn about thought itself and gain an understanding of history, philosophy, and what it meant in any given historical context to be human. One of the driving forces in Bakewell's advocacy is how hope is a factor in the work of so many great minds who sought to understand humanity, and to share their vision of progress—especially in dark times, when the values of inquiry and open-mindedness are under threat.
Ro, the protagonist of Gina Chung's new novel Sea Change, is a young woman entirely without hope. She's in her 30s and working a dead-end job at a local aquarium where the closest thing she has to a friend is a giant pacific octopus named Dolores who's outlived every known specimen of her kind, likely due to having lived in a toxic zone called the Bering Vortex where mutations of all kinds are common. Ro is estranged from her mother, and Ro's father was a marine biologist who disappeared there after capturing Dolores many years ago, making the cephalopod her only link to him. News of Dolores' pending sale to a Mars-bound billionaire devastates Ro—but it also shakes her out of the trance she's been walking around in for more than a decade, maybe clearing a path for her to deal with her grief and mature past the hurt teenager stage she seems to be stuck at.
Jade Song's novel Chlorine is similar in that it's also a coming-of-age story that involves ocean life—except here it's the protagonist herself, Ren, who wants more than anything to be a mermaid. And not a Disney princess-mermaid: Ren's mermaid vision is more mythologically classical, and involves luring sailors to their doom at the bottom of the sea. In the meantime, Ren enthusiastically attends practice for her high school's swim team—though these human concerns of swim meets, parental approval, and scholarships leave her empty inside. The question is what Ren will do to satisfy her hunger to become a creature of nautical nightmares?
More books coming out March 28 – April 3, 2023
🧰 Help and How-to
Outlive: The Science and Art of Longevity by Peter Attia MD
Prescription for Nutritional Healing, Sixth Edition: A Practical A-to-Z Reference to Drug-Free Remedies Using Vitamins, Minerals, Herbs, & Food Supplements by Phyllis A. Balch CNC
How Not to Kill Yourself: A Portrait of the Suicidal Mind by Clancy Martin
Life Worth Living: A Guide to What Matters Most by Miroslav Volf, Matthew Corasmun, and Ryan McAnnally-Linz
Writing Archetypal Character Arcs: Beyond the Hero's Journey by K.M. Weiland
💡 Big Ideas
Women Without Kids: The Revolutionary Rise of an Unsung Sisterhood by Ruby Warrington
Humanly Possible: Seven Hundred Years of Humanist Freethinking, Inquiry, and Hope by Sarah Bakewell
Black Holes: The Key to Understanding the Universe by Brian Cox and Jeff Forshaw
The Long View: Why We Need to Transform How the World Sees Time by Richard Fisher
The Great Tradition: Classic Readings on What It Means to Be an Educated Human Being by Richard M. Gamble
An Anthology of Monsters: How Story Saves Us from Our Anxiety by Cherie Dimaline
🗣 True Stories
Ringmaster: Vince McMahon and the Unmaking of America by Abraham Riesman
The Woman Who Would Be King: The MADUSA Story by Debrah Miceli and Greg Oliver
British Columbiana: A Millennial in a Gold Rush Town by Josie Teed
The Greatest Summer in Baseball History: How the '73 Season Changed Us Forever by John Rosengren
I'm Into Something Good: My Life Managing 10cc, Herman's Hermits and Many More! by Harvey Lisberg
💘 Romance
Forever by J.R. Ward
Final Shot by Kaylea Cross
Chance by Helen Hardt
Alpha by Rebecca Zanetti
Glory and the Master of Shadows by Grace Callaway
The Build Up by Tati Richardson
🗡️ Action, Crime, and Mystery
The Arsenal by J. Robert Kennedy
Four Charming Spells by Lynn Cahoon
Terms of Extraction by Ethan Jones
Murder Under a Red Moon by Harini Nagendra
The Snow Girl by Javier Castillo
A Death in Denmark by Amulya Malladi
🖊️ Literary & Contemporary Fiction
The Perfumist of Paris by Alka Joshi
Hang the Moon by Jeannette Walls
The Mostly True Story of Tanner & Louise by Colleen Oakley
Sea Change by Gina Chung
Chlorine by Jade Song
The Human Origins of Beatrice Porter and Other Essential Ghosts by Soraya Palmer
✨ Fantasy, Horror, Sci-Fi, and Speculative Fiction
Rubicon by J. S. Dewes
And Put Away Childish Things by Adrian Tchaikovsky
The New One by Evie Green
Infinity Gate by M. R. Carey
Made of Stars by Jenna Voris
A House With Good Bones by T. Kingfisher
Water Borne: Book Ten of The Circle of Ceridwen Saga by Octavia Randolph
Lone Women by Victor LaValle
White Cat, Black Dog by Kelly Link
The Valkyrie by Kate Heartfield
🗯 Manga & Graphic Novels
Trapped in a Dating Sim: The World of Otome Games is Tough for Mobs (Light Novel) Vol. 9 by Yomu Mishima
Classroom of the Elite: Year 2 (Light Novel) Vol. 4.5 by Syougo Kinugasa
Seirei Gensouki: Spirit Chronicles Volume 22 by Yuri Kitayama
The Strongest Sage with the Weakest Crest 11 by Shinkoshoto
Dai Dark Vol. 5 by Q Hayashida
Why Don't You Eat Me, My Dear Wolf? by Ao Koishikawa