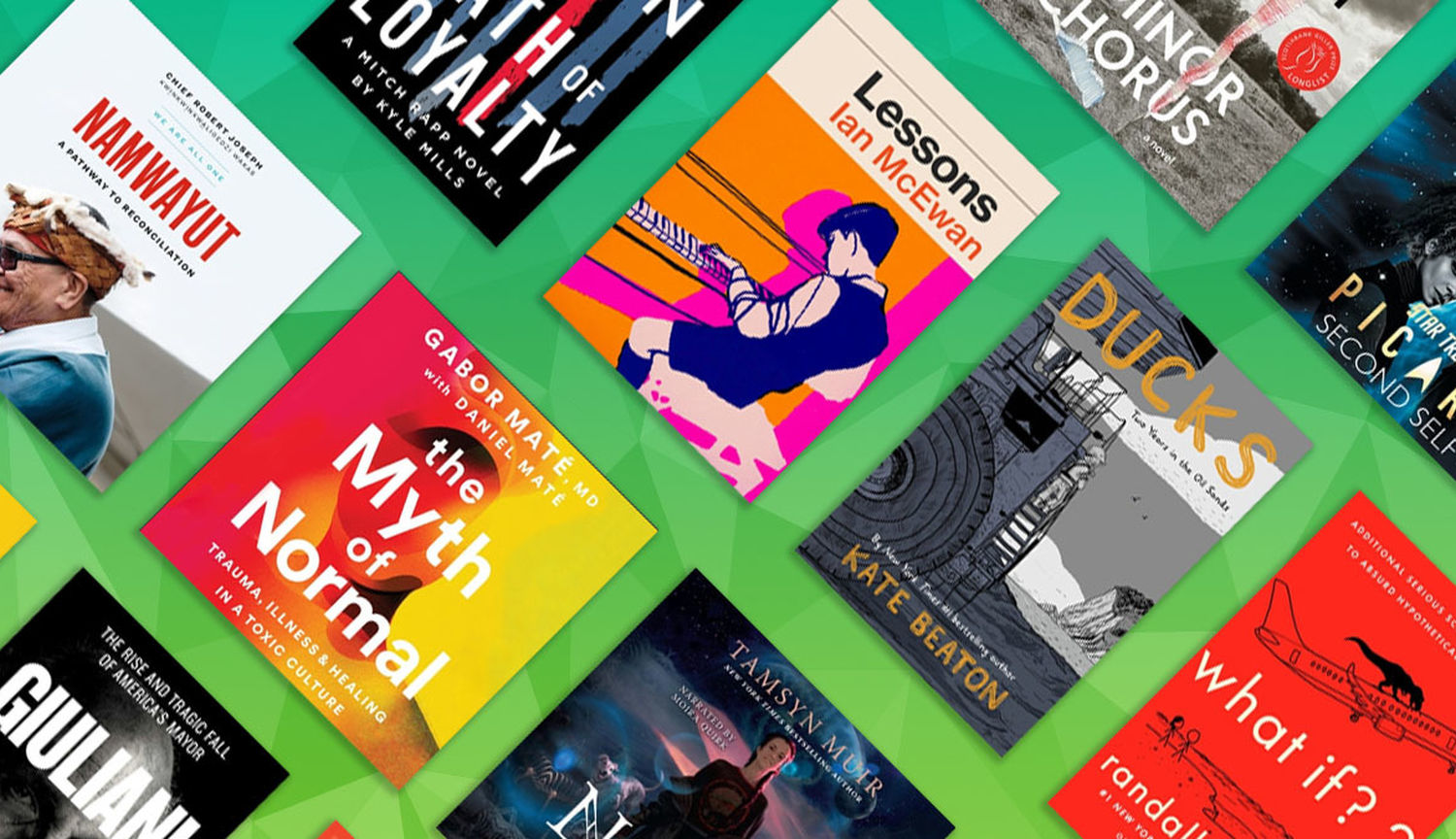 50 new eBooks and audiobooks coming out September 13 – 19, 2022
Must-read books coming out this week
Ducks: Two Years in the Oil Sands by cartoonist Kate Beaton, best known for her work in the book Hark! A Vagrant, is the artist's story of leaving her east coast home of Cape Breton to earn some post-university money working in the oil sands of Alberta. Hers is a well-trodden path, resulting in a unique culture where young people far from home engage in hard, dangerous work for a period of months or a couple of years before taking their pay and heading back to the Atlantic side of the country. This is Beaton's first full-length narrative work, and it draws on her cartooning skills without rendering characters and places cartoonishly. Readers get a view into a contradictory slice of Canadian life, where people gather in the name of exploitation of natural resources amidst beautiful landscapes, relying on one another for community while not speaking of the everyday traumas happening all around them and to them.
Poet and scholar Billy-Ray Belcourt's first novel, A Minor Chorus, also set in Alberta, tells the story of a nameless narrator who flees his doctoral program to return to his hometown and figure out what kind of novel he's meant to write. While "books about writers trying to write a book" are a well-worn subgenre of literary fiction, very few if any concern themes of colonization and indigeneity that challenge the notion of what a novel even is. This brief book is already under consideration for the Scotiabank Giller Prize, and prospective readers may wish to check out the conversation we had with its author back in 2020 after the release of his unforgettable memoir, A History of My Brief Body.
As our awareness of mental illness grows, it seems almost everybody has some kind of disorder, ranging from ADHD to anxiety or depression—without which they'd presumably be "normal." Dr. Gabor Maté's new book The Myth of Normal: Trauma, Illness, and Healing in a Toxic Culture challenges the notion that the problem is the condition of individual psyches, rather than the circumstances they're forced to react to. He looks at Western countries where health outcomes aren't improving overall and asks what societal causes there might be for a variety of stress-induced illnesses. In doing so, he attempts to entirely reframe our conception of mental and physical illness. It's an ambitious task, but it follows naturally from his larger project of spreading scientifically informed compassion which he embarked on in 2009 with In the Realm of Hungry Ghosts, where he gave readers insight into the forces that drive addiction.
More books coming out September 13 – 19, 2022
✍🏼 Poetry
The Best American Poetry 2022 by Matthew Zapruder and David Lehman
🧰 Help and How-to
Good Inside: A Guide to Becoming the Parent You Want to Be by Dr. Becky Kennedy
On Repentance And Repair: Making Amends in an Unapologetic World
by Danya Ruttenberg
How to make the best coffee at home by James Hoffmann
You Owe You: Ignite Your Power, Your Purpose, and Your Why by Chris Paul
Thinking 101: How to Reason Better to Live Better by Woo-kyoung Ahn
For Fork's Sake: A Quick Guide to Healing Yourself and the Planet Through a Plant-Based Diet by Rachael Brown
💡 Big Ideas
The Myth of Normal: Trauma, Illness and Healing in a Toxic Culture by Gabor Maté MD and Daniel Maté
What If? 2: Additional Serious Scientific Answers to Absurd Hypothetical Questions by Randall Munroe
They Knew: How a Culture of Conspiracy Keeps America Complacent by Sarah Kendzior
Namwayut: We Are All One: A Pathway to Reconciliation by Chief Robert Joseph
The Transgender Issue: Trans Justice Is Justice for All by Shon Faye


🗣 True Stories
Prisoners of the Castle: An Epic Story of Survival and Escape from Colditz, the Nazis' Fortress Prison by Ben Macintyre
The Ghosts That Haunt Me: Memories of a Homicide Detective by Steve Ryan
Please Give My Baby Back by Maggie Hartley
Lifesavers and Body Snatchers: Medical Care and the Struggle for Survival in the Great War by Tim Cook
Giuliani: The Rise and Tragic Fall of America's Mayor by Andrew Kirtzman


💘 Romance
No Time to Lie by Lexi Blake
The Boyfriend Comeback by Lauren Blakely
A Rancher's Christmas Kiss by Vivian Arend
Mine To Cherish by Natasha Madison
Two for the Show by Skye Warren
Rough and Ready by Mari Carr
🗡️ Action, Crime, and Mystery
Oath of Loyalty by Vince Flynn
The Butcher and The Wren by Alaina Urquhart
Marple: Twelve New Mysteries by Agatha Christie
The Girl He Wished (A Paige King FBI Suspense Thriller—Book 4) by Blake Pierce
Hands Down by Felix Francis
All That's Left Unsaid by Tracey Lien
🖊️ Literary & Contemporary Fiction
Lessons by Ian McEwan
The Theory of Crows by David A. Robertson
People Person by Candice Carty-Williams
A Minor Chorus by Billy-Ray Belcourt
How Not to Drown in a Glass of Water by Angie Cruz
As Long as the Lemon Trees Grow by Zoulfa Katouh
Bliss Montage: Stories by Ling Ma
✨ Fantasy and Speculative Fiction
The Origin of Enoch by Megan Einarson
The Creeper by A.M. Shine
Silver Under Nightfall by Rin Chupeco
Nona the Ninth by Tamsyn Muir
Among Hidden Stars by John Coon
Signal To Noise by Silvia Moreno-Garcia
Star Trek: Picard: Second Self by Una McCormack
Bindle Punk Bruja by Desideria Mesa
💬 Manga & Graphic Novels
My Happy Marriage 01 by Akumi Agitogi
The Apothecary Diaries 06 by Natsu Hyuuga
Call of the Night, Vol. 9 by Kotoyama
Love Nest, Vol. 1 by Yuu Minaduki
Dinosaur Sanctuary Vol. 1 by Itaru Kinoshita
Ducks: Two Years in the Oil Sands by Kate Beaton
Check out even more new eBooks & audiobooks here