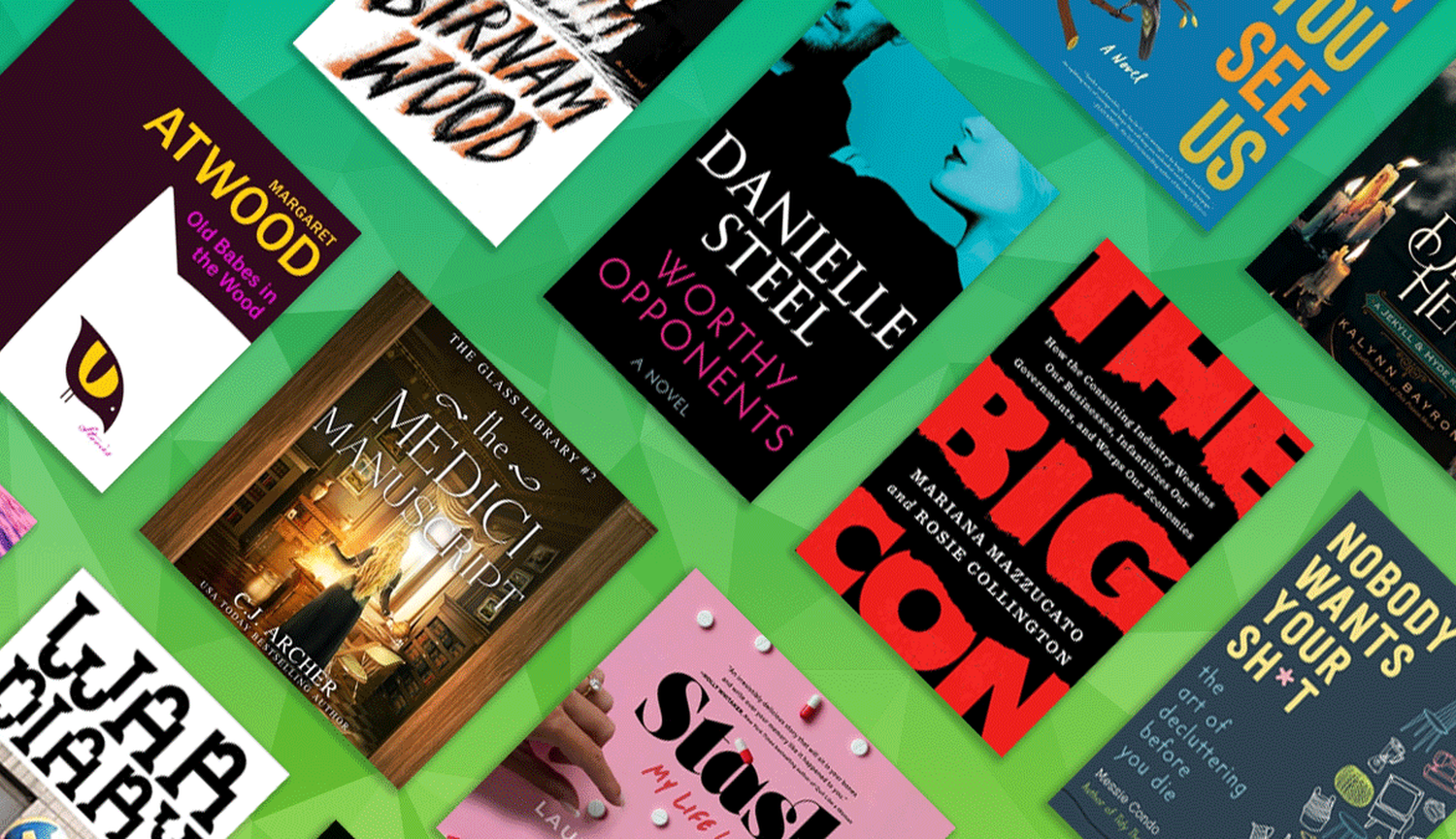 51 new eBooks and audiobooks coming out March 7 – 13, 2023
New eBooks and audiobooks out this week
Kalynn Bayron's breakout hit Cinderella is Dead offered a clever twist on the famous tale by speculating on the consequences of how the prince found his princess that one magical night; for the next two centuries, men select brides at Annual Ball based on the appeal of teenage girls' finery, and after which the unchosen girls are never heard from again—until a rebellion topples the social order. Bayron's new book My Dear Henry, the 6th installment in the Remixed Classics series, plays with the story of Robert Louis Stevenson's The Strange Case of Dr. Jekyll & Mr. Hyde by telling the tale from the perspective of Dr. Henry Jekyll's friend, a law clerk named Gabriel Utterson. Gabriel and Henry were once very close, but a scandal led to events that pushed them apart; as Gabriel seeks out Henry to rebuild the relationship (since his letters to Henry have stopped being answered) he meets Mr. Hyde. Hyde seems to know Henry well, sparking jealousy in Henry, but also a haunting sense of familiarity. It's a clever twist on a story that has resonance for contemporary audiences, drawing parallels to the hurtfulness of "ghosting" and how individuals craft different personae while processing trauma.
Marie Kondo's The Life Changing Magic of Tidying Up: the Japanese Art of Decluttering and Organizing came out in 2014, and instantly it seemed to be everywhere, sparking several other books as well as a Netflix series. Her rules-based method of keeping only those objects that "spark joy" and discarding the rest sparked some controversy—notably for us, her unsentimental perspective on keeping just a small number of books (fortunately, she never weighed in on the contents of eReaders). And while it opened the floodgates for imitators, it also spawned parodies such as Tidy the F*ck Up: The American Art of Organizing Your Sh*t in 2019 by the presumably pseudonymous author Messie Condo. Readers who picked up that book looking to see the all-too-perfect Kondo skewered by a less tidy approach were often surprised by how genuinely useful the advice was, often aligned with Kondo's but offered in a less precious tone. Condo's (not Kondo's) new book Nobody Wants Your Sh*t: The Art of Decluttering Before You Die addresses the problem of how the Baby Boomer generation can gracefully downsize through their golden years, relieving their children of the burden of sorting through mountains of possessions accumulated over decades. It's inspired by the very real Swedish tradition of "death cleaning," whereby the elderly, in consultation with the loved ones to whom the burden of sorting through their things will fall, get rid of the possessions they don't need or want to have around anymore by either handing them off to people who want them, donating them to charity, or throwing them away. Since Marie Kondo has "kind of given up" on the KonMarie method (adding 3 children to a household has a way of adjusting one's expectations of order) perhaps the future of cleaning coaching belongs to Messie Condo.
It's been just over a year since Russia launched its "special military operation" against Ukraine. And while readers have sought out books to understand the perspective of the Ukrainian people, few books come quickly out of a warzone—normally this is the specialty of journalism. Yevgenia Belorusets is an artist and writer in the Ukrainian capital city of Kyiv whose writing of the daily experience of an unfolding military conflict was published last year in the German newspaper Der Spiegel and translated for a variety of media. War Diary is that writing collected into a single volume. It's brief and bracing, offering readers a view into what happens when war becomes a backdrop to daily life, changing everything from how you interact with neighbours to what you do with your free time.
More books coming out March 7 – 13, 2023
🧰 Help and How-to
Push Off from Here: Nine Essential Truths to Get You Through Sobriety (and Everything Else) by Laura McKowen
STFU: The Power of Keeping Your Mouth Shut in an Endlessly Noisy World by Dan Lyons
Nobody Wants Your Sh*t: The Art of Decluttering Before You Die by Messie Condo
The Book of Animal Secrets: Nature's Lessons for a Long and Happy Life by David B. Agus, M.D.
To My Sisters: A Guide to Building Lifelong Friendships by Courtney Daniella Boateng
💡 Big Ideas
The Big Con: How the Consulting Industry Weakens Our Businesses, Infantilizes Our Governments, and Warps Our Economies by Mariana Mazzucato and Rosie Collington
Who Gets Believed? When the Truth Isn't Enough by Dina Nayeri
The Wonder Paradox: Embracing the Weirdness of Existence and the Poetry of Our Lives by Jennifer Michael Hecht
Saving Time: Discovering a Life Beyond the Clock by Jenny Odell
Black Chameleon: Memory, Womanhood, and Myth by Deborah D.E.E.P. Mouton
🗣 True Stories
The Watchmaker's Daughter: The True Story of World War II Heroine Corrie ten Boom by Larry Loftis
The Greatness Mindset: Unlock the Power of Your Mind and Live Your Best Life Today by Lewis Howes
Stash: My Life in Hiding by Laura Cathcart Robbins
Hold on Tight: A Parent's Journey Raising Children with Mental Illness by Jan Stewart
War Diary by Yevgenia Belorusets
💘 Romance
Worthy Opponents by Danielle Steel
Dr. Perfect by Louise Bay
The Sister Effect by Susan Mallery
The Secret Lives of Country Gentlemen by KJ Charles
Conquer the Kingdom by Jennifer Estep
Tropical Storm by Skye Warren and Amelia Wilde
Real Love by Rachel Lindsay
🗡️ Action, Crime, and Mystery
Now You See Me by D.K. Hood
Toes up in the Tulips by Dale Mayer
A Sinister Revenge by Deanna Raybourn
The Dying Place by Charly Cox
Her Last Desire (A Rachel Gift FBI Suspense Thriller—Book 8) by Blake Pierce
Now You See Us by Balli Kaur Jaswal
🖊️ Literary & Contemporary Fiction
Lessons at the School by the Sea by Jenny Colgan
Old Babes in the Wood by Margaret Atwood
Birnam Wood by Eleanor Catton
This Other Eden by Paul Harding
What Happened to Ruthy Ramirez by Claire Jimenez
Rootless by Krystle Zara Appiah
✨ Fantasy, Horror, Sci-Fi, and Speculative Fiction
Star Wars Jedi: Battle Scars by Sam Maggs
The Cognomina Codex by D. Eric Maikranz
The Trees Grew Because I Bled There: Collected Stories by Eric LaRocca
Gorgons Deserve Nice Things by Tansy Rayner Roberts
The Medici Manuscript by C.J. Archer
Backpacking through Bedlam by Seanan McGuire
The Queen's Price by Anne Bishop
Blood in the Clouds by Angela Kulig
The Faithless by C. L. Clark
My Dear Henry: A Jekyll & Hyde Remix by Kalynn Bayron
The Medici Manuscript by C.J. Archer
The Curator by Owen King
🗯 Manga & Graphic Novels
On or Off, Volume 4 by A1
Reincarnated as a Sword (Light Novel) Vol. 12 by Yuu Tanaka
Kubo Won't Let Me Be Invisible, Vol. 6 by Nene Yukimori
Five Nights at Freddy's: Fazbear Frights Graphic Novel Collection #2 by Scott Cawthon
Grandmaster of Demonic Cultivation: Mo Dao Zu Shi (The Comic / Manhua) Vol. 1 by Mo Xiang Tong Xiu
Check out even more new eBooks & audiobooks here