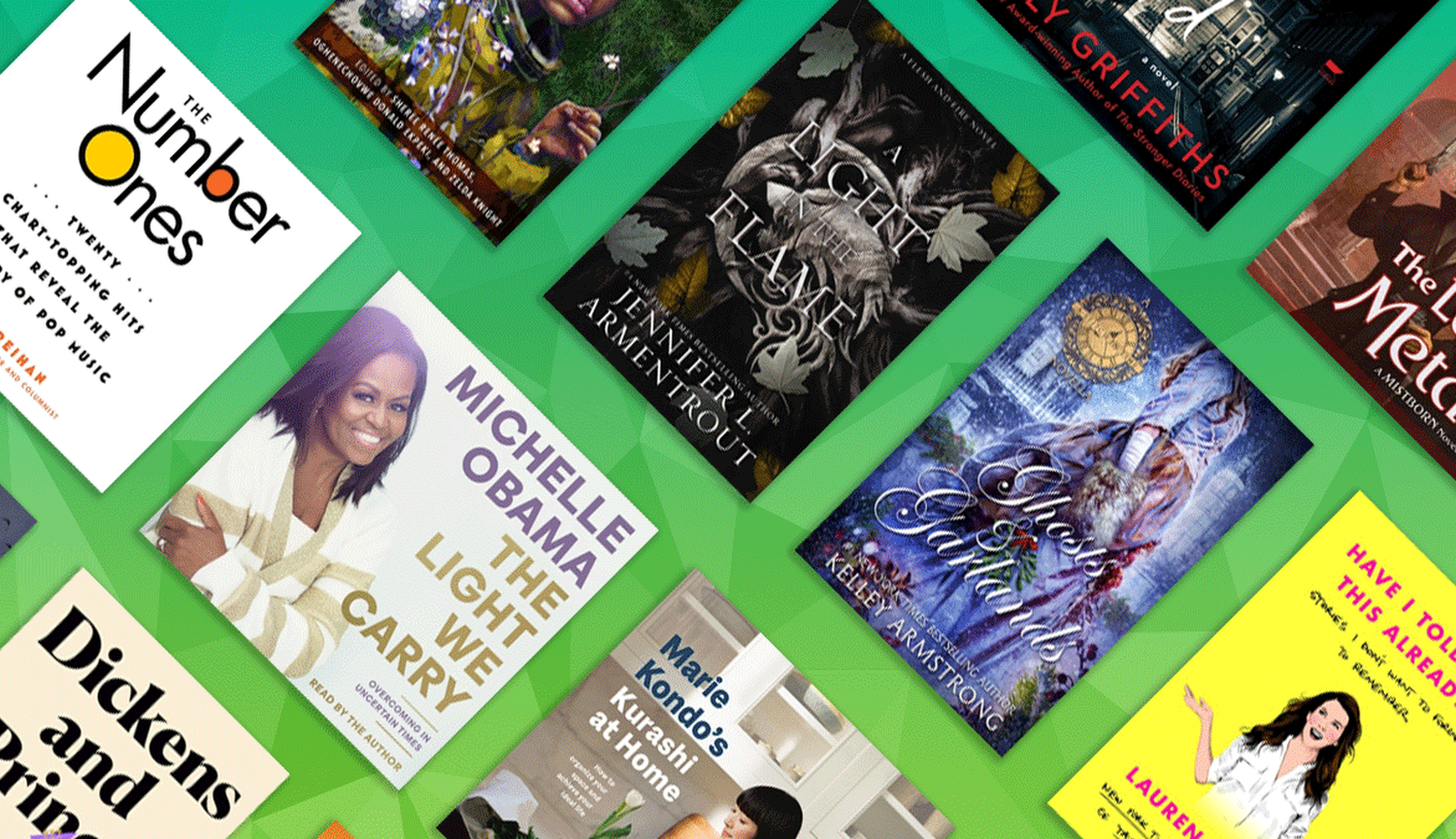 52 new eBooks and audiobooks coming out November 15 – 21, 2022
More essential new books for late Fall 2022
Michelle Obama's Becoming was a bestselling phenomenon when it came out in 2018. It was her story, not just as First Lady, but as a woman who grew up on the south side of Chicago, earned a law degree, and married an ambitious young man who became President of the United States. Becoming was frank, bracing, and gave readers insight into the mind of a woman who knows who she is and where she's going. If there was one thing readers wanted more of, it was to hear the author speaking about how she handles regular day-to-day problems and makes decisions that a lot of us can relate to. The Light We Carry: Overcoming in Uncertain Times is a book of exactly that: Michelle Obama offering advice on relationships, managing conflict, overcoming self-doubt, and a variety of other things that are probably manifest very differently for her, but would be recognizable to any of us. But don't mistake the former FLOTUS in self-help mode for an Oprah-like sage: this author is more than willing to get into hard discussions about how the options available to us and how much it takes for us to forge our path depends on race, gender, and our sense of being seen—and how "starting kind" doesn't have to mean that's how you'll finish.
Nick Hornby is best known as the British author of charming novels like About a Boy and Juliet, Naked, which are often about relationships but aren't quite romance novels for reasons we don't have space to get into here (not that there's anything wrong with anybody writing or reading romance novels). But his most ardent fans also know him as a positively delightful essayist, especially on the topic of creativity, as he demonstrated in his "Stuff I've Been Reading" column that ran in The Believer magazine from 2003 until the magazine went on hiatus at the end of last year. Hornby's new book Dickens and Prince: A Particular Kind of Genius is a book-length discussion of the parallels between the late American musician Prince and Victorian novelist Charles Dickens. Feeling overwhelmed by an expanded posthumous re-release of Prince's already-sprawling album Sign o' the Times, Hornby wondered if there was any precedent in Western art for such productivity and the answer that came to him was none other than Charles Dickens. Despite their disparate artistic arenas and more than a century between their careers, to Hornby the two men knew similar personal struggles and shared a lot in their attitudes towards creative output. It's the kind of argument perhaps only Hornby, or a character in a Nick Hornby novel, would make. And we'll read it with pleasure.
The rise of Black writers in Africa and the African diaspora redefining speculative fiction is already a well-documented phenomenon. So the publication of Africa Risen: A New Era of Speculative Fiction edited by Oghenechovwe Donald Ekpeki, Sheree Renée Thomas, and Zelda Knight comes at an opportune moment. The title sets out the editors' position: this isn't a "rising" new trend, nor is it a developing movement. Rather, it has happened, and these are some of the top practitioners of the art. There are thirty-two works of short fiction here, of every type imaginable, from alternate histories, to tech-focused hard sci-fi, to more conventionally "literary" stories with speculative elements lightly interwoven. Published by Tor, whose novellas make up a large part of the foundation of contemporary speculative fiction movements, we should take authors' inclusion here as a sign not only of the worthiness of their work in this collection but of the promise of more fascinating writing to come. Readers overwhelmed by the sheer volume of work here might want to take it slow, dip in and read a story between other books and let favourite stories linger in the imagination, where the best speculative fiction sinks deep roots.
More books coming out November 15 - 21, 2022
🧰 Help and How-to
The Light We Carry: Overcoming in Uncertain Times by Michelle Obama
Smitten Kitchen Keepers: New Classics for Your Forever Files by Deb Perelman
Marie Kondo's Kurashi at Home: How to Organize Your Space and Achieve Your Ideal Life by Marie Kondo
The Bezos Blueprint: Communication Secrets of the World's Greatest Salesman by Carmine Gallo
Eat Plants, B*tch: 91 Vegan Recipes That Will Blow Your Meat-Loving Mind by Pinky Cole
💡 Big Ideas
Dickens and Prince: A Particular Kind of Genius by Nick Hornby
China After Mao: The Rise of a Superpower by Frank Dikötter
The Capital Order: How Economists Invented Austerity and Paved the Way to Fascism by Clara E. Mattei
Power and Prediction: The Disruptive Economics of Artificial Intelligence by Ajay Agrawal
The Number Ones: Twenty Chart-Topping Hits That Reveal the History of Pop Music by Tom Breihan
🗣 True Stories
Have I Told You This Already?: Stories I Don't Want to Forget to Remember by Lauren Graham
The Queen: Her Life by Andrew Morton
No Filter: The Good, the Bad, and the Beautiful by Paulina Porizkova
In Sickness: A Memoir by Barrett Rollins
The Art of Misadventure: The Outtakes and Mistakes Of An Adventurous Photographer by Dave Brosha
A Time of Light and Shadow: To Asia, Africa, and the Long Way Home by Ella Harvey
💘 Romance
A Light in the Flame by Jennifer L. Armentrout
Searching for Bristol by Susan Stoker
Someone to Hold (Wild Widows Series, Book 2) by Marie Force
Terkel's Twist by Dale Mayer
Ghosts & Garlands by Kelley Armstrong
Before I Let Go by Kennedy Ryan
Pride and Protest by Nikki Payne
🗡️ Action, Crime, and Mystery
Last One To Know by Barbara Freethy
Bleeding Heart Yard by Elly Griffiths
The Twist of a Knife by Anthony Horowitz
Iron and Gold by S.J.A. Turney
Already His (A Laura Frost FBI Suspense Thriller—Book 9) by Blake Pierce
No Quarter (A Valerie Law FBI Suspense Thriller—Book 5) by Blake Pierce
The Perfect Assassin by James Patterson
🖊️ Literary & Contemporary Fiction
The Lindbergh Nanny by Mariah Fredericks
Before Your Memory Fades by Toshikazu Kawaguchi
Margot Mertz for the Win by Carrie McCrossen
A Wartime Summer by Rosie Meddon
How to Survive Everything by Ewan Morrison
Strega by Johanne Lykke Holm
Idol, Burning by Rin Usami
✨ Fantasy, Horror, Sci-Fi, and Speculative Fiction
The Lost Metal by Brandon Sanderson
Heart of the Sun Warrior by Sue Lynn Tan
The Serpent in Heaven by Charlaine Harris
The Killing God by Stephen R. Donaldson
Rise of the Demon by Diana Rowland
Tread of Angels by Rebecca Roanhorse
Africa Risen: A New Era of Speculative Fiction edited by Oghenechovwe Donald Ekpeki, Sheree Renée Thomas, and Zelda Knight
Wayward by Chuck Wendig
To Each This World by Julie E. Czerneda
💬 Manga & Graphic Novels
Berserk Volume 41 by Kentaro Miura
Reincarnated as a Sword (Light Novel) Vol. 11 by Yuu Tanaka
Oversummoned, Overpowered, and Over It! Volume 2 by Saitosa
Black Hammer Volume 7: Reborn Part Three by Jeff Lemire
Something is Killing the Children #26 by James Tynion IV
Zom 100: Bucket List of the Dead, Vol. 8 by Haro Aso
Check out even more new eBooks & audiobooks here