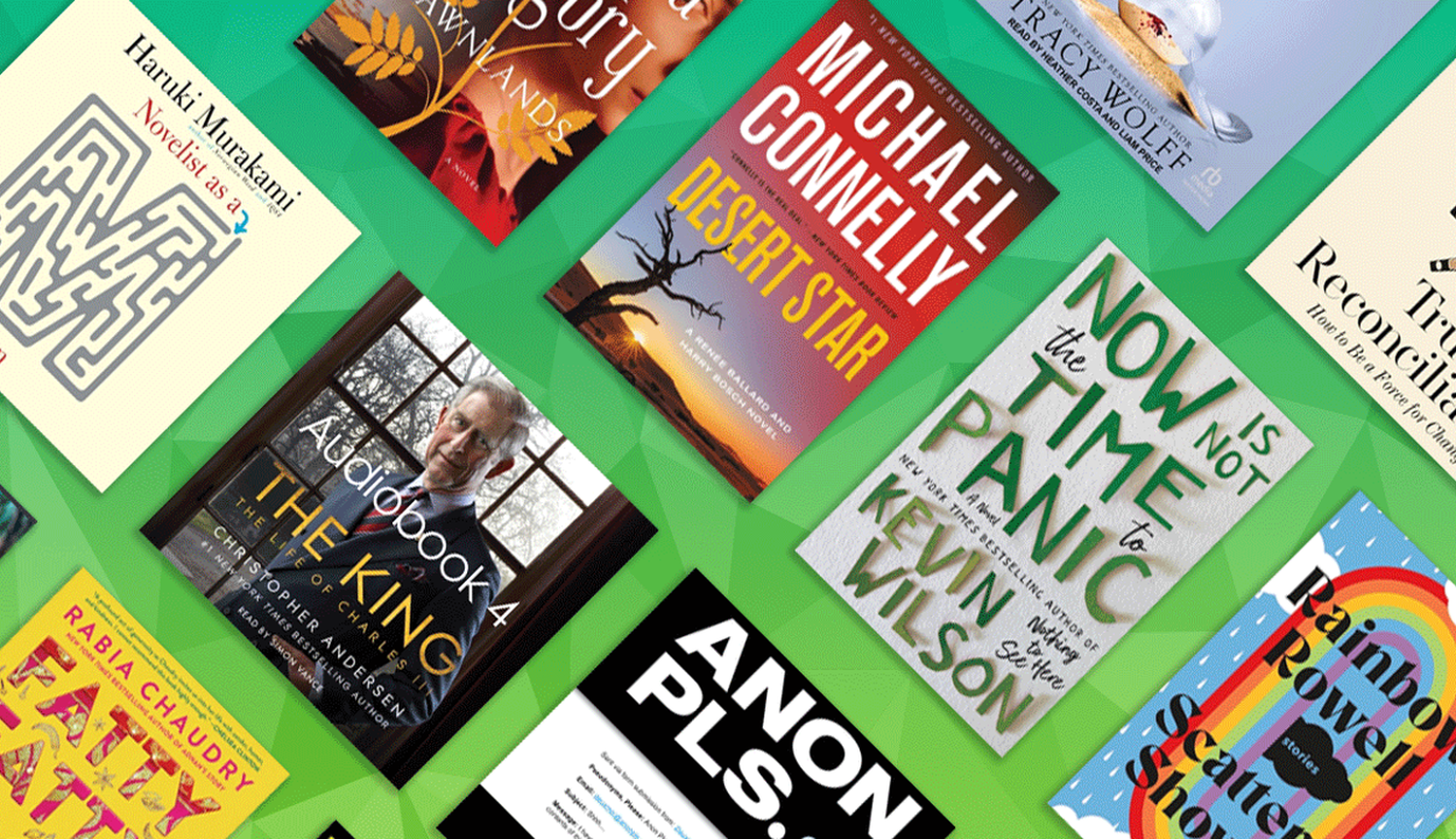 54 new eBooks and audiobooks coming out November 8 – 14, 2022
Novels and stories to keep us reading until spring!
The publication of Rabia Chaudry's Fatty Fatty Boom Boom: A Memoir of Food, Fat & Family is one of those things an author can never plan, but we're so glad it turned out this way. When she signed the deal to write it, and when she turned in the final draft, she was probably best known as an attorney and family friend of Adnan Syed, the now-exonerated subject of the first season of the landmark true crime podcast Serial. There isn't space to get into Syed's case here, but it's enough to say that Chaudry's efforts had a lot to do with overturning his conviction and she's been doing a fair bit of media lately on that subject. Chaudry is also great on Twitter and with such a strong fanbase and rekindled interest in her, the timing for a memoir couldn't be better. Fatty Fatty Boom Boom is a memoir of the author's body and her relationship to food, both the highly engineered and irresistible foods of America, and the cuisine of Pakistan, from which her family emigrated when she was a toddler. She writes of always being some degree of fat, but never free of that label, and how that teasing shaped her thinking about her body and what she and others expected of it. But unlike so many memoirs of weight struggles, Chaudry also writes of her deep love of the foods of her heritage, and of the pleasure of learning to cook surrounded by family. In the movement of body positivity and fat acceptance, it's refreshing to have this book speaks to the genuine pleasures of food while acknowledging the difficulties and injustices of size.
In the novel Hell Sans by Ever Dundas, in a fictional UK it's mandatory to use the HellSans typeface for all communications—no exceptions. For most, the effect of reading HellSans is blissful, imbuing them with a state of peace and well-being; but for the HellSans Allergic, lawful written communication of any kind is painful and the only place to escape the pain is in a run-down ghetto where mere survival is the best-case scenario. We suspect there's a certain symmetry illustrated by the novel: most readers will hear this synopsis, feel instantly bemused, and not take another step towards HellSans—whereas other readers, perhaps the type (excuse the pun) who cringe at Comic Sans and bristle at bad kerning (we can probably extend this boundary to include anybody who knows what kerning even is) will regard HellSans as a unique moment of representation for them in speculative fiction.
Rainbow Rowell, author of the heart-achingly beautiful YA novel Eleanor and Park as well as the Simon Snow Trilogy (and the novel that spawned it), has been very busy with a graphic novel career, writing a reboot of Marvel's Runaways series and now a new She-Hulk series. Over the years she's dropped a short story here and there, proving she can do her YA rom-com-but-with-crying thing at any wordcount. As much as we want another standalone full-length novel from her, true fans know that this ache we're feeling is the best part. And so now we have Scattered Showers: Stories, which includes several love stories, and picks up a few characters that fans will know from her other books—yes, including Simon Snow. We're left wanting more, and we're happy about it.
The novels of Haruki Murakami seem to spring from some alternate reality, with no discernable trace of inspiration from the world as we know it. That's what's special about Novelist as Vocation, a work of non-fiction in which the author shares his thoughts about creativity and his own origins as a writer. The question no author likes to be asked is, "where do your ideas come from?" And yet we readers wonder; maybe this is as close as Murakami will ever come to answering it.
More books coming out November 8 - 14, 2022
🧰 Help and How-to
Good Boundaries and Goodbyes: Loving Others Without Losing the Best of Who You Are by Lysa TerKeurst
The Pasta Queen: A Just Gorgeous Cookbook: 100+ Recipes and Stories by Nadia Caterina Munno
Two Old Broads: Stuff You Need to Know That You Didn't Know You Needed to Know by Whoopi Goldberg and Dr. M. E. Hecht
How We Heal: Uncover Your Power and Set Yourself Free by Alexandra Elle
What's for Dessert: Simple Recipes for Dessert People: A Baking Book by Claire Saffitz
365 Ways to Save the Planet: A Day-by-day Guide to Living Sustainably by Nergiz De Baere
💡 Big Ideas
True Reconciliation: How to Be a Force for Change by Jody Wilson-Raybould
Bully Pulpit: Confronting the Problem of Spiritual Abuse in the Church by Michael J Kruger
Novelist as a Vocation by Haruki Murakami
Heritage: A History of How We Conserve Our Past by James Stourton
Ride or Die: A Feminist Manifesto for the Well-Being of Black Women by Shanita Hubbard
🗣 True Stories
The Lion House: The Coming of a King by Christopher de Bellaigue
The Stories We Tell: Every Piece of Your Story Matters by Joanna Gaines
A Very Canadian Coup: The Rise and Demise of Prime Minister Mackenzie Bowell, 1894–1896 by Ted Glenn
The King: The Life of Charles III by Christopher Andersen
Fatty Fatty Boom Boom: A Memoir of Food, Fat, and Family by Rabia Chaudry
Unbought and Unbossed by Shirley Chisholm
💘 Romance
Wyoming Homecoming by Diana Palmer
Take Me To The Mountain by Kaci Rose
The Next Best Day by Sharon Sala
Sugar Plum Spies by Jennifer Estep
Love You More by Julia Kent
Better than Fiction by Alexa Martin
A Sweet Lowcountry Proposal by Preslaysa Williams
🗡️ Action, Crime, and Mystery
Desert Star by Michael Connelly
Hidden Scars by Angela Marsons
Sudden Death by Rachel Lynch
Peril in Paris by Rhys Bowen
Clive Cussler The Sea Wolves by Jack Du Brul
Murder at Black Oaks by Phillip Margolin
Blackwater Falls by Ausma Zehanat Khan
🖊️ Literary & Contemporary Fiction
Dawnlands by Philippa Gregory
An Italian Girl in Brooklyn by Santa Montefiore
Now Is Not the Time to Panic by Kevin Wilson
Anon Pls. by Deuxmoi
We All Want Impossible Things by Catherine Newman
The Magic Kingdom by Russell Banks
Scattered Showers: Stories by Rainbow Rowell
Saha by Cho Nam-Joo
✨ Fantasy, Horror, Sci-Fi, and Speculative Fiction
Charm by Tracy Wolff
Stellarlune by Shannon Messenger
Bloodmarked by Tracy Deonn
The Fall of Númenor: and Other Tales from the Second Age of Middle-earth by J.R.R. Tolkien
Even Though I Knew the End by C. L. Polk
Gleanings by Neal Shusterman
Blood Moon by Heather Graham
Aliens: Vasquez by V. Castro
HellSans by Ever Dundas
💬 Manga & Graphic Novels
Isekai Tensei: Recruited to Another World Volume 2 by Kenichi
Banished from the Hero's Party, I Decided to Live a Quiet Life in the Countryside, Vol. 7 (light novel) by Zappon
Sleepy Princess in the Demon Castle, Vol. 19 by Kagiji Kumanomata
Love Nest, Vol. 2 (Yaoi Manga) by Yuu Minaduki
Suppose a Kid from the Last Dungeon Boonies Moved to a Starter Town 06 (Manga) by Toshio Satou
Monster Tamer: Volume 11 by Minto Higure
Check out even more new eBooks & audiobooks here