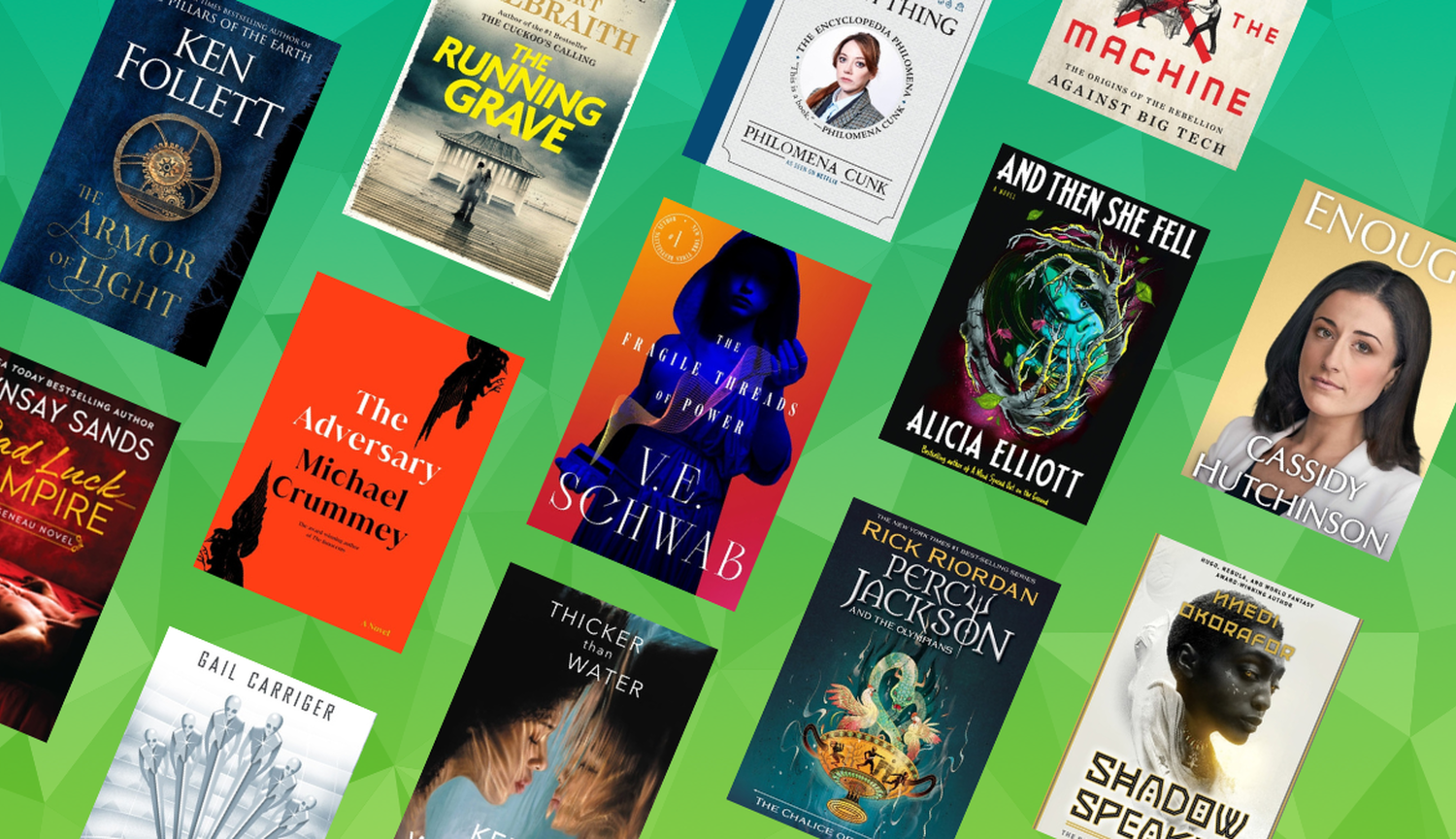 56 new eBooks and audiobooks coming out September 26 – October 2, 2023
Fall is big book season! Here are some of the most anticipated books coming out September 26 – October 2, 2023
When Ken Follett's The Pillars of the Earth was published in 1989, it was a surprise to all, including Follett. To that point he'd become well known as a skilled writer of spy thrillers including the 1978 bestseller The Eye of the Needle. There was no need for him to try his hand at a nearly 1000-page novel set in England in the Middle Ages with the construction of a grand cathedral serving to drive the plot: it was the kind of indulgence publishers give a successful author after they've proven themselves capable of delivering bestsellers on a schedule, and no doubt Follett's publishers expected this one-off to be followed by more of his suspenseful espionage stories after he got it out of his system. Instead, Pillars became a perennial bestseller, winning the hearts of several generations of readers with its vividly-depicted setting and its open-hearted drama—it was the kind of book that makes people fall in love with reading. 18 years later Follett published a sequel, World Without End, and what's come to be known as the Kingsbridge series was born. With the 4th installment, The Armor of Light, it's fair to say that this saga is now what the author is best known for. Set in 1770 as the spinning jenny allowed textiles to be manufactured (and therefore sold) at a scale that was unimaginable just a few decades prior, Follett weaves several narrative strands together to tell the story of a world suddenly obsessed with the possibility of wealth at an industrial scale, giving way to economic booms—and mass bloodshed.
We'd be remiss if we didn't note that this week also sees publication of Brian Merchant's Blood in the Machine: The Origins of the Rebellion Against Big Tech. It's the story of the Luddites, a 19th century movement of English textile workers who protested against the displacement of human labour by cost-saving machines, often smashing the machines in the streets. This was long before the existence of such things as unemployment benefits or colleges where one might retrain for a new skill. The movement named after the 18th century (likely apocryphal) machine-smashing figure named Ned Ludd was eventually put down with military force. Merchant's book draws parallels between the Luddite uprising and our own era of automation and labour market upheaval. The Luddites won support among popular cultural figures including the poet Lord Byron, and their movement sparked the creation of the science fiction genre of literature, in which authors including Mary Shelley, author of Frankenstein, explored the possible consequences of technological advancement. While the ultimate fate of the Luddites was for the name of their movement to become a modern-day pejorative for people who can't get along with new technology, perhaps with writers like Merchant (and Follett for that matter) shining light on the past, readers today can put themselves in the Luddites' (hand-cobbled) shoes.
Somehow tying this all together, V. E. Schwab's The Fragile Threads of Power (threads!) marks the start of a new series for the author of perennial reader favourite, The Invisible Life of Addie LaRue, one of her few standalone novels. Threads spins out from Schwab's Shades of Magic series, which concluded (for now?) with A Conjuring of Light in 2017—or The Rebel Army in 2020 if we're counting the graphic novel trilogy. Fragile Threads takes place in the four Londons, each variant separated from the other by doors sealed with magic so powerful there's just a single living mage in each of Red, Grey, and White London who can open them. (Little is known about Black London, the fourth variant.) Rebellions against their respective crowns are brewing in both Red London and White London, but despite shared interests the imperiled monarchs can neither receive nor solicit help from one another. So when Tes, a girl with unusual magical gifts, arrives on the scene in possession of an object of unknown but potentially world(s)-altering power, we have the makings of a story as vast in scope as anything Schwab has written.
More books coming out this week
🧰 Help and How-to
Wild Hope: Healing Words to Find Light on Dark Days (Poetry Wisdom that Comforts, Guides, and Heals) by Donna Ashworth
Goodbye Hello: Processing Grief and Understanding Death through the Paranormal by Adam Berry
Old-Fashioned on Purpose: Cultivating a Slower, More Joyful Life by Jill Winger
Energy Rising: The Neuroscience of Leading with Emotional Power by Dr. Julia DiGangi
Think Faster, Talk Smarter: How to Speak Successfully When You're Put on the Spot by Matt Abrahams
Lucky Girl: Lessons on Overcoming Odds and Building a Limitless Future by Scout Bassett
💡 Big Ideas
What About Men? A Feminist Answers the Question by Caitlin Moran
The Identity Trap: A Story of Ideas and Power in Our Time by Yascha Mounk
Democracy Awakening: Notes on the State of America by Heather Cox Richardson
Our Fragile Moment: How Lessons from Earth's Past Can Help Us Survive the Climate Crisis by Michael E. Mann
Blood in the Machine: The Origins of the Rebellion Against Big Tech by Brian Merchant
Cunk on Everything: The Encyclopedia Philomena by Philomena Cunk
🗣 True Stories
Enough by Cassidy Hutchinson
Pax: War and Peace in Rome's Golden Age by Tom Holland
Killing the Witches: The Horror of Salem, Massachusetts by Bill O'Reilly and Martin Dugard
Cracking the Nazi Code: The Untold Story of Canada's Greatest Spy by Jason Bell
Thicker than Water: A Memoir by Kerry Washington
My Name Is Not Harry: A Memoir by Haroon Siddiqui
💘 Romance
Bad Luck Vampire by Lynsay Sands
Something like Hate by Piper Rayne
Destiny by Helen Hardt
Guarding Teagan by Kaylea Cross
Crossover by Carson Mackenzie
Wrapped with a Beau by Lillie Vale
🗡️ Action, Crime, and Mystery
The Running Grave by Robert Galbraith
Below Ground (DCI Matilda Darke Thriller, Book 11) by Michael Wood
Traitors Gate (William Warwick Novels) by Jeffrey Archer
Murder at the Merton Library by Andrea Penrose
The Sword of Doom by J. Robert Kennedy
Murder Most Royal by SJ Bennett
Double Eagle by Thomas King
🖊️ Literary & Contemporary Fiction
Spider and Frost by Jennifer Estep
Devil's Battle by Taylor Anderson
Dome 6 by Gail Carriger

Hot Iron and Cold Blood by Jeff Strand
The Armor of Light by Ken Follett
The Adversary by Michael Crummey
And Then She Fell by Alicia Elliott
Land of Milk and Honey by C Pam Zhang
The Museum of Failures by Thrity Umrigar
The Unsettled by Ayana Mathis
The Most Secret Memory of Men by Mohamed Mbougar Sarr
✨ Fantasy, Horror, Sci-Fi, and Speculative Fiction
The Wild Robot Protects by Peter Brown
Percy Jackson and the Olympians: The Chalice of the Gods by Rick Riordan
The Fragile Threads of Power by V. E. Schwab
The Hexologists by Josiah Bancroft
Across the Sorrow Sea by Anthony Ryan
Mermaids Never Drown by Zoraida Córdova
Shadow Speaker by Nnedi Okorafor
Savage Tales Short Fiction - Conan: Lord of the Mount by Stephen Graham Jones
🗯 Manga & Graphic Novels
Sasaki and Miyano, Vol. 9 by Shou Harusono
A Man and His Cat 09 by Umi Sakurai
The Heroes of Olympus, Book Three: The Mark of Athena, The Graphic Novel by Rick Riordan
Send Them a Farewell Gift for the Lost Time by Cocomi
Ayakashi Triangle Vol. 5 by Kentaro Yabuki
I Can't Refuse S Vol. 1 by Ai Hibiki
Check out even more new eBooks & audiobooks here