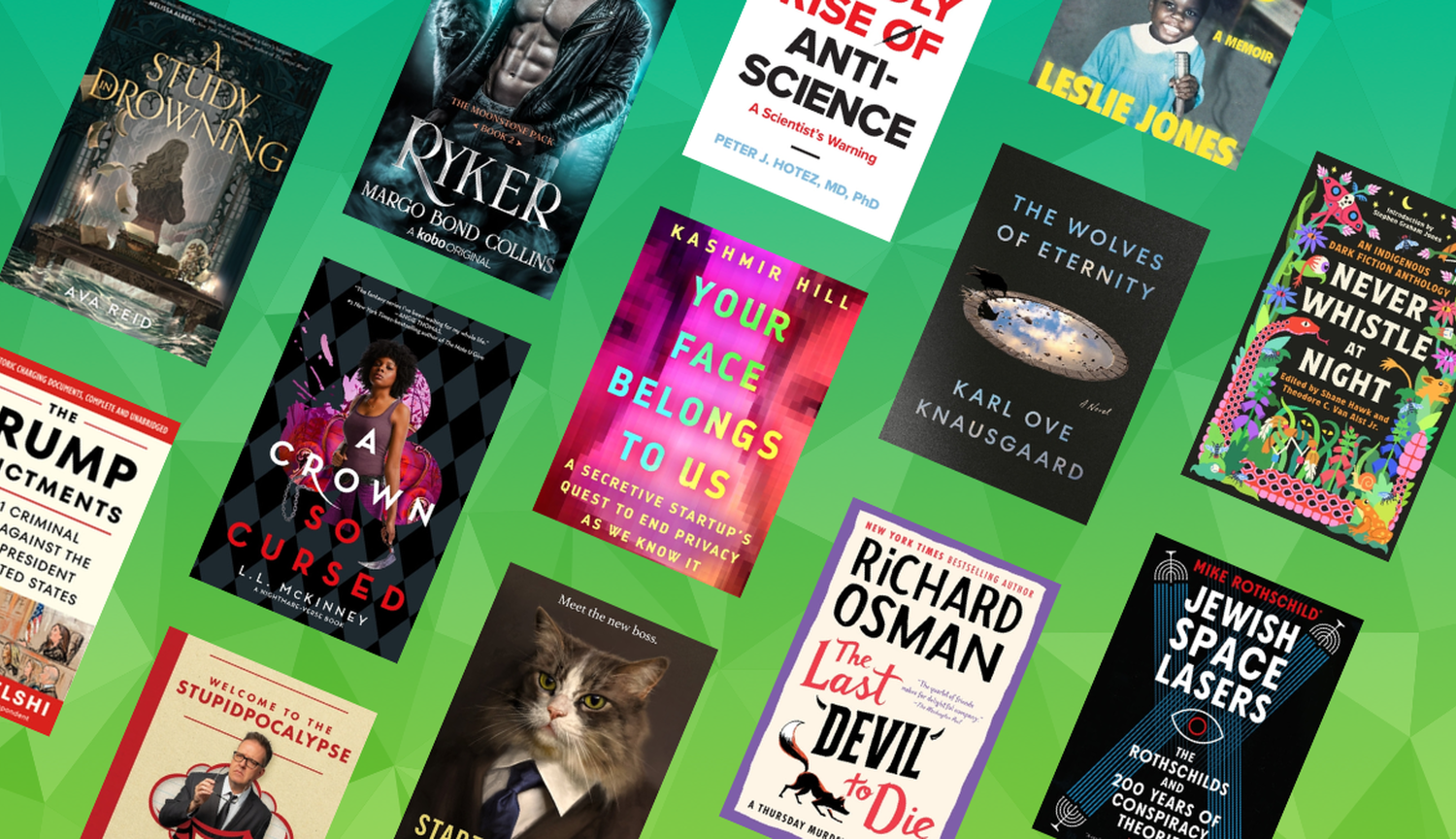 58 new eBooks and audiobooks coming out September 19 - 25, 2023
Here are some of the most anticipated books coming out September 19 - 25, 2023
With his 3rd book, (following The World's Worst Conspiracies and 2021's The Storm Is Upon Us, How QAnon Became a Movement, Cult, and Conspiracy Theory of Everything) journalist and conspiracy theory expert Mike Rothschild addresses the elephant in the room, namely his surname. 18th century banker Mayer Amschel Rothschild is referred to by economic historians as a "founding father of international finance," and by conspiracy theorists as the patriarch of a wealthy cabal that secretly controls the world to this day. In Jewish Space Lasers: The Rothschilds and 200 Years of Conspiracy Theories, (Mike) Rothschild digs into the facts and fantasies around the family. Readers learn what's known about the family's wealth and what influence the living Rothschilds exert today, as well as what conspiracy theorists over centuries have accused them of (eg., sinking the Titanic, causing COVID, encircling the world in a network of laser-equipped satellites, etc.), and how it reflects a long-running strain of antisemitic paranoia.
Also out this week, The Deadly Rise of Anti-science: A Scientist's Warning by infectious disease and public health expert Dr. Peter J. Hotez, who spells out the damage done by misinformation (and outright falsehoods), amplified in some areas of the media about diseases such as COVID and vaccines with no basis in science, sowing confusion where medical science is clear and causing needless harm. See also, social media darling Brittlestar's Welcome to the Stupidpocalypse: Survival Tips for the Dumbageddon.
Your Face Belongs to Us: A Secretive Startup's Quest to End Privacy as We Know It is the story of something that sounds like a conspiracy theory, but is actually happening, involving a company called Clearview AI, whose technology claims to be able to identify anybody (literally anybody) from a single photo. Though the technology was seen by the likes of both Facebook and Google to be too radical for public use (it turns out they do have a boundary with respect to user privacy) Clearview found support from libertarian entrepreneur Peter Thiel and figures surrounding former president Donald Trump, and has been embraced by law enforcement agencies around the world. Expanding on a 2020 New Yorker article, journalist Kashmir Hill fills out the picture of this company in our contemporary context, where one branch of government pushes back against big tech overreach while another seeks cutting edge tools of surveillance.
Comedian Leslie Jones is identifiable by anyone who's seen a recent episode of SNL, even in the baby photo that graces the cover of her new book, Leslie F*cking Jones: A Memoir. She is careful to note though, that while she strives for honesty, being now in her mid-fifties and having used cannabis recreationally for years, her best efforts at honesty might not always lead to verifiable reality. In any case, hilarity is guaranteed.
If, despite an abundance of excellent non-fiction coming out this week, you absolutely must hear about a work of fiction: then behold Karl Ove Knausgaard's The Wolves of Eternity. Though it continues the story of 2021's apocalyptic novel The Morning Star, it's being billed as a standalone work. A standalone sequel? Is that possible? It's worth bearing in mind that paradox is nothing new to Knausgaard, who launched onto the literary scene a decade ago with his 6-volume work, My Struggle, which readers were meant to read as fiction—that happened to feature a protagonist named Karl Ove whose life largely paralleled the life of the author. Whether this story will carry across more than just two books—which are not a series—remains to be seen.
More books coming out this week
🧰 Help and How-to
Welcome to the Stupidpocalypse: Survival Tips for the Dumbageddon by Stewart "Brittlestar" Reynolds
Hope for the Best, Plan for the Rest: 7 Keys for Navigating a Life-Changing Diagnosis by Hsien Seow
The Love Everybody Wants by Madison Prewett Troutt
The Home Edit: Stay Organized by Clea Shearer
Psych2Go Presents the Psychology of People: A Little Book of Psychology & What Makes You You by Psych2Go
Power: A Woman's Guide to Living and Leading Without Apology by Kemi Nekvapil
💡 Big Ideas
Against Technoableism: Rethinking Who Needs Improvement (A Norton Short) by Ashley Shew
Justice Is Coming: How Progressives Are Going to Take Over the Country and America Is Going to Love It by Cenk Uygur
The Democrat Party Hates America by Mark R. Levin
Jewish Space Lasers: The Rothschilds and 200 Years of Conspiracy Theories by Mike Rothschild
The Deadly Rise of Anti-science: A Scientist's Warning by Peter J. Hotez
The Book of (More) Delights: Essays by Ross Gay
🗣 True Stories
The Girl Who Survived Auschwitz: A True Story by Eti Elboim
Birdie & Harlow: Life, Loss, and Loving My Dog So Much I Didn't Want Kids (…Until I Did) by Taylor Wolfe
Astor: The Rise and Fall of an American Fortune by Anderson Cooper and Katherine Howe
Two Roads Home: Hitler, Stalin and the Miraculous Survival of My Family by Daniel Finkelstein
The Farmer's Wife: My Life in Days by Helen Rebanks
The Trump Indictments: The 91 Criminal Counts Against the Former President of the United States by Ali Velshi
Black AF History: The Un-Whitewashed Story of America by Michael Harriot
Your Face Belongs to Us: A Secretive Startup's Quest to End Privacy as We Know It by Kashmir Hill
Misfit: Growing Up Awkward in the '80s by Gary Gulman
Down the Hill: My Descent into the Double Murder in Delphi by Susan Hendricks
Love in a Time of Hate: Art and Passion in the Shadow of War by Florian Illies
Leslie F*cking Jones: A Memoir by Leslie Jones
Far from the Tree: A Memoir by Elena Winn
💘 Romance
Love the Way You Spy by Lexi Blake
A Stitch in Time by Leeanna Morgan
Dirty Little Vow by Lisa Renee Jones
Freak Show by Lani Lynn Vale
A Nobleman's Guide to Seducing a Scoundrel by KJ Charles
Ryker by Margo Bond Collins
🗡️ Action, Crime, and Mystery
The Last Devil to Die by Richard Osman
Her Hidden Shadow by Carla Kovach
Legend by Dale Mayer
Target Six (The Spy Game—Book #6) by Jack Mars
Murder in the Family by Cara Hunter
Not A Safe Place by Ty Hutchinson
Murder and Mamon by Mia P. Manansala
🖊️ Literary & Contemporary Fiction
Forever Home by Graham Norton
Wellness by Nathan Hill
Wild Hope by Joan Thomas
Untamed Shore by Silvia Moreno-Garcia
The Land of Lost Things by John Connolly
The Wolves of Eternity by Karl Ove Knausgaard
✨ Fantasy, Horror, Sci-Fi, and Speculative Fiction
A Study in Drowning by Ava Reid
Never Whistle at Night: An Indigenous Dark Fiction Anthology by Shane Hawk
A Crown So Cursed by L.L. McKinney
Champion of Fate by Kendare Blake
Nightbreaker by Coco Ma
Starter Villain by John Scalzi
The Murderbot Diaries by Martha Wells
🗯 Manga & Graphic Novels
One-Punch Man, Vol. 26 by ONE
Death March to the Parallel World Rhapsody, Vol. 19 (light novel) by Hiro Ainana
Chained Soldier, Vol. 5 by Takahiro
King's Proposal, Vol. 3 (light novel) by Koushi Tachibana
CALL TO ADVENTURE! Defeating Dungeons with a Skill Board (Manga) Vol. 6 by Aki Hagiu
Hitomi-chan is Shy With Strangers Vol. 6 by Chorisuke Natsumi

Check out even more new eBooks & audiobooks here