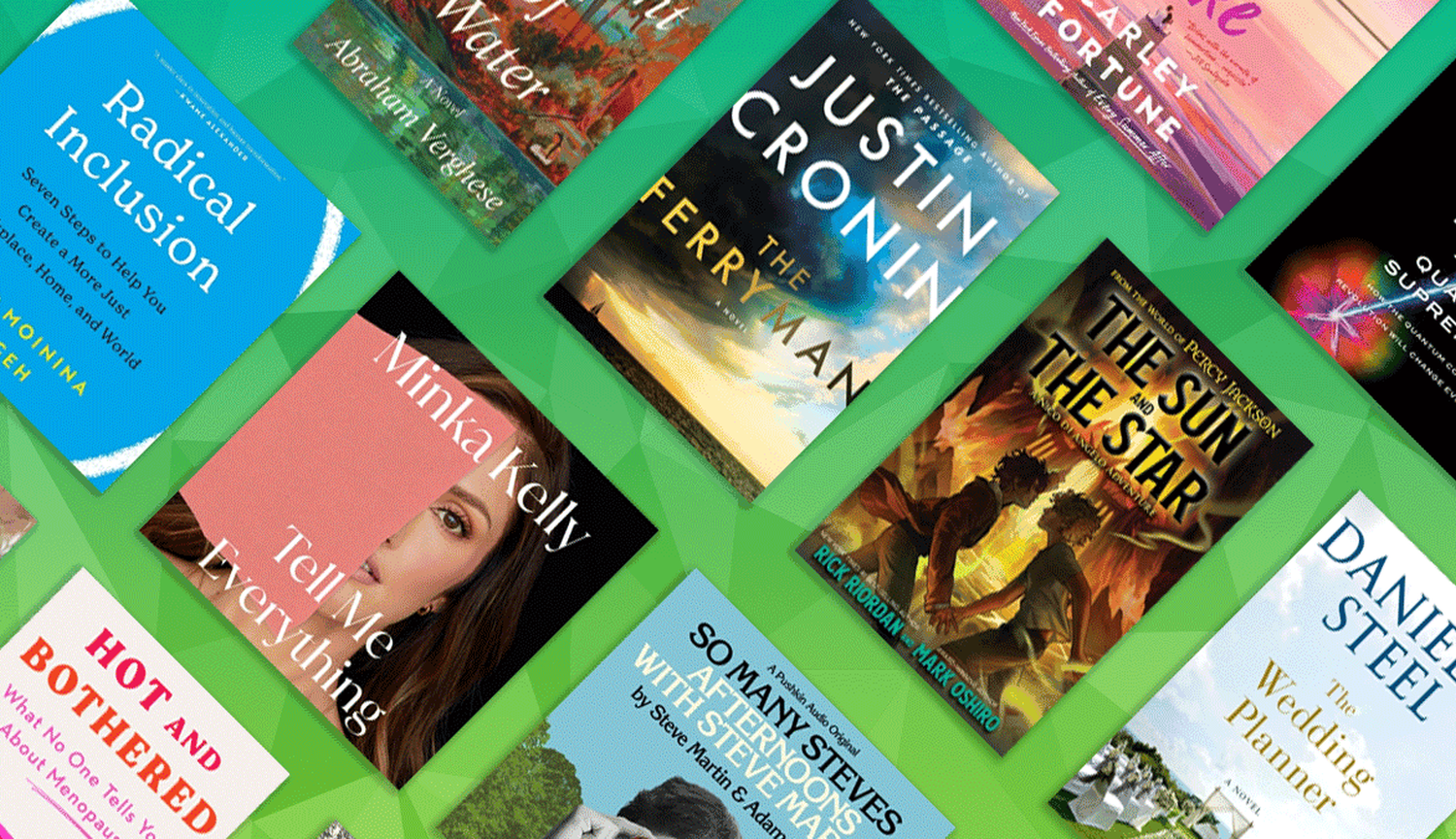 59 new eBooks and audiobooks coming out May 2 – 8, 2023
It's been a while since we heard from a few of these authors, and we're so glad to have them back
Abraham Verghese's Cutting for Stone was an international literary sensation when it was released in 2009. The Stanford-tenured, ethnically Indian, Ethiopian-born Professor for the Theory and Practice of Medicine whose medical experience has taken him all over the United States did not fit the profile of the typical debut novelist. Maybe that's got something to do with why it's taken until now to get another novel from him. The Covenant of Water is set in the southern Indian state of Kerala (coincidentally the setting for The God of Small Things, another novel by a writer who kept a rapt readership waiting years for a second work of fiction) and spans three generations who each suffer the loss of a family member to drowning. At the centre of the book is Big Ammachi, the matriarch who was married off to a 40-year-old man when she was just 12, and through whose eyes we witness an India that changes in unimaginable ways. This being a long book is somehow comforting, given how long we may have to wait for another gift of fiction from Verghese.
Justin Cronin's speculative Passage trilogy was a big hit when the eponymous first installment came out in 2010, spinning with literary skill a tale of post-apocalyptical predators, evoking Stephen King's Dark Tower and Cormac McCarthy's The Road. The final book, The City of Mirrors, came out in 2016, and a short-lived TV adaptation, also called "The Passage" came and went in 2019. At last, Cronin is back with The Ferryman, a chillingly dystopian novel about a an island paradise called Prospera which provides long fulfilling lives to its residents—until their electronically-measured health is deemed sufficiently low that they must take a trip by ferry to a place called the Nursery. There they find renewal and are prepared to make a fresh start at life. But then a ferryman, technically an employee of the Department of Social Contracts, starts to question the nature of his job, and when his own measured health seems suspect, the underpinnings of Prospera itself. It's a provocative and timely concept, speculating darkly on how an aging generation could be cared for—and what ethical concessions that might demand from those providing care.
Theoretical physicist Michio Kaku has been explaining difficult concepts to interested readers for decades. Most know him from his books Physics of the Impossible and Hyperspace: A Scientific Odyssey Through Parallel Universes, Time Warps, and the Tenth Dimension, so he's well-suited to his latest mind-bending topic, quantum computing. In Quantum Supremacy: How the Quantum Computer Revolution Will Change Everything Kaku posits that we may be in the waning days of the microchip-based era of computing, as a new generation of computing machines based on principles of quantum physics stand to tackle familiar problems in ways that were unimaginable a generation ago. In this book he takes readers through the fundamentals of how quantum computing differs from the vacuum tube/transistor/microchip-based machines that have been in use since the 1950s (including the modern one on which you're reading this) and how scaling down computing switches to the atomic level can achieve levels of performance as astonishing to us today as our smartphones would have been to NASA engineers working on the Apollo program.
More books coming out May 2 – 8, 2023


🧰 Help and How-to
Excellent Advice for Living: Wisdom I Wish I'd Known Earlier by Kevin Kelly
Live Learn Love Well: Lessons from a Life of Progress Not Perfection by Emma Lovewell
The Glucose Goddess Method: The 4-Week Guide to Cutting Cravings, Getting Your Energy Back, and Feeling Amazing by Jessie Inchauspe
Unlocked: Embrace Your Greatness, Find the Flow, Discover Success by George Mumford
Addicted to Drama: Healing Dependency on Crisis and Chaos in Yourself and Others by Dr. Scott Lyons
Hot and Bothered: What No One Tells You About Menopause and How to Feel Like Yourself Again by Jancee Dunn
💡 Big Ideas
In Search of Perfumes: A Lifetime Journey to the Source of Nature's Scents by Dominique Roques
Quantum Supremacy: How the Quantum Computer Revolution Will Change Everything by Michio Kaku
Park Cruising: What Happens When We Wander Off the Path by Marcus McCann
For the Culture: The Power Behind What We Buy, What We Do, and Who We Want to Be by Marcus Collins
The Pink Tax: Dismantling a Financial System Designed to Keep Women Broke by Janine Rogan
Radical Inclusion: Seven Steps to Help You Create a More Just Workplace, Home, and World by David Moinina Sengeh
🗣 True Stories
Tell Me Everything: A Memoir by Minka Kelly
Ghost Towns of Ontario's Cottage Country by Andrew Hind
Alphonso Davies: A New Hope by Farhan Devji
To the End of the Earth: The US Army and the Downfall of Japan, 1945 by John C. McManus
Tell Me Everything: A Memoir by Minka Kelly
So Many Steves: Afternoons with Steve Martin by Steve Martin and Adam Gopnik
Soil: The Story of a Black Mother's Garden by Camille T Dungy
💘 Romance
The Wedding Planner by Danielle Steel
Ghostly Game by Christine Feehan
The Bride Wore White by Amanda Quick
Meet Me at the Lake by Carley Fortune
Summer on Sag Harbor by Sunny Hostin
Jana Goes Wild by Farah Heron
Sugar, Spice, and Can't Play Nice by Annika Sharma
Love Buzz by Neely Tubati-Alexander
🗡️ Action, Crime, and Mystery
Close Her Eyes by Lisa Regan
To Track a Traitor by Iona Whishaw
Dressed to Drill by Kate Carlisle
Eagle of Mercia by MJ Porter
No Grace (A Valerie Law FBI Suspense Thriller—Book 8) by Blake Pierce
Fire and Rain by Julie Mulhern
Those Empty Eyes by Charlie Donlea
Laws of Wrath by Eriq La Salle
🖊️ Literary & Contemporary Fiction
The Island Villa by Sarah Morgan
The Secret Book of Flora Lea by Patti Callahan Henry
No Two Persons by Erica Bauermeister
A History of Burning by Janika Oza
Chain Gang All Stars by Nana Kwame Adjei-Brenyah
The Covenant of Water by Abraham Verghese
The Nigerwife by Vanessa Walters
The East Indian
by Brinda Charry
✨ Fantasy, Horror, Sci-Fi, and Speculative Fiction
The Sun and the Star by Rick Riordan and Mark Oshiro
The Stolen Throne by Abigail Owen
City of Dawn by Kat Ross
Fourth Wing by Rebecca Yarros
Fae's End by M. Lynn
The Salt Grows Heavy by Cassandra Khaw
The Ferryman by Justin Cronin
The Marriage Act by John Marrs
Path of Vengeance by Cavan Scott
Into the Dark Dimension: A Marvel: Crisis Protocol Novel by Stuart Moore
🗯 Manga & Graphic Novels
My Hero Academia, Vol. 34 by Kohei Horikoshi
Skip・Beat!, Vol. 48 by Yoshiki Nakamura
Kubo Won't Let Me Be Invisible, Vol. 7 by Nene Yukimori
One-Punch Man, Vol. 25 by ONE
I Survived the Great Chicago Fire, 1871 (I Survived Graphic Novel #7) by Lauren Tarshis
Blood on the Tracks 13 by Shuzo Oshimi