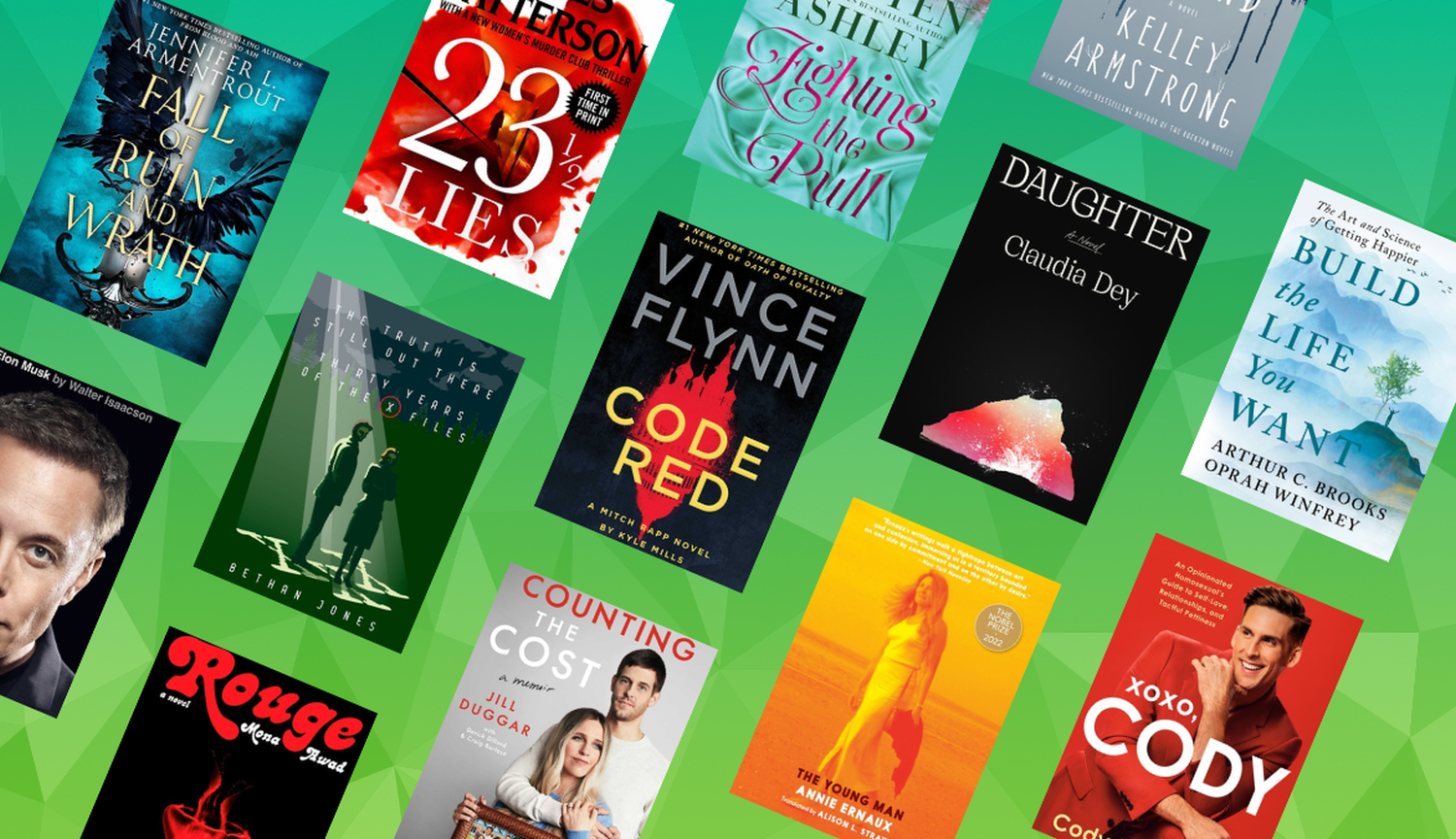 62 new eBooks and audiobooks coming out September 12 - 18, 2023
Here are some of the most anticipated books coming out September 12 - 18, 2023
Jennifer L. Armentrout's Blood and Ash series is a favourite among fans of fantasy-romance: A Soul of Ash and Blood, the 5th installment, was published earlier this summer—and the next is already expected to land next year. Despite this prolific output (or perhaps because of the reported 8 hours per day the author spends writing, switching between typing and writing longhand) her new series Awakening kicks off with Fall of Ruin and Wrath. Nine cities, isolated from one another since the gods spared them while laying waste to the rest of the world, are governed by malevolent royals who "feed on mortal pleasure." A young woman serving as a baron's courtesan crosses paths with a prince and sparks fly in every direction. It's certain sparks will lead to flames—and the only question is how many books will this story burn through?
French author Annie Ernaux won the Nobel Prize for Literature in 2022, causing a spike in interest among English readers for her many short works, many blending fiction and memoir in a way that only French novelists can. When the award was announced, Ernaux' latest book at the time was The Young Man, about a passionate love affair the author had in her 50s with a man less than half her age. That book is now available in an English translation by Alison L. Strayer, whose work on Ernaux' The Years dazzled English readers around the world.
In the coming days, speculation about who'll be named the 2023 winner of the Nobel Prize for Literature will reach a boiling point—and then on October 5, the Swedish Academy will announce the winner. Julius Taranto's debut novel is not about that prize. Rather, How I Won A Nobel Prize is a comic campus novel with a couple Helen and Hew, at its heart. Helen, a physicist working in potentially world-changing semiconductor research, follows her disgraced adviser to work at a university founded by a libertarian billionaire actively recruiting academics cast out of the world's most prestigious schools. Located on an island just off Connecticut, with a tower tall enough to look down on Yale (including a telescope built for this purpose), it's an institution that prides itself on contrariness and provocation, right down to the names of campus shops and restaurants. Offended at every turn, Hew joins the island's protest movement and engages in street brawls with a Proud Boys-like group of the institution's supporters; meanwhile Helen throws herself into her work, trying to keep above the politics of the place while working at the sub-atomic level, and falling into an affair with a controversial novelist.
When Walter Isaacson started interviewing Elon Musk over two years ago for the biography he was writing about the polarizing billionaire, Musk hadn't yet attempted to buy Twitter (which he's owned since 2022 and renamed "X") and the publicly available count of known Musk offspring was in single-digits. Which is to say, Musk presented a unique challenge to even a biographer as accomplished as Isaacson, whose bestselling books Benjamin Franklin: An American Life, Einstein: His Life and His Universe, and Leonardo da Vinci told the stories of lives lived to completion; and Isaacson finished working on Steve Jobs during the Apple founder's final months. But Musk, still in his early 50s, is involved in running about half a dozen companies and it's not at all clear how history will remember him—as the pioneer of mainstream space travel via SpaceX, the visionary behind revolutionary human-computer interfaces via Neuralink, the overwhelmed owner left holding the bag when Twitter finally collapsed—or the misunderstood genius who transformed the social media platform into something beyond present imagining. Therefore, we advise readers to instead look to Isaacon's Elon Musk for insight into the upbringing of an all-too-public figure—and to expect some of what they learn to be challenged in public (on X, no doubt) by the book's subject.


More books coming out this week

🧰 Help and How-to
XOXO, Cody: An Opinionated Homosexual's Guide to Self-Love, Relationships, and Tactful Pettiness by Cody Rigsby
Build the Life You Want: The Art and Science of Getting Happier by Arthur C. Brooks and Oprah Winfrey
Grow Up: Becoming the Parent Your Kids Deserve by Gary John Bishop
Right at Home: How Good Design Is Good for the Mind: An Interior Design Book by Bobby Berk
Ten Times Calmer: Beat Anxiety and Change Your Life by Dr Kirren Schnack
Soberish: The Science-Based Guide to Taking Your Power Back from Alcohol by Kayla Lyons
It's Not Your Fault: Why Childhood Trauma Shapes You and How to Break Free by Alex Howard
Plantcakes: Fancy + Everyday Vegan Cakes for Everyone by Lyndsay Sung
💡 Big Ideas
The Mosaic Effect: How the Chinese Communist Party Started a Hybrid War in America's Backyard by Scott McGregor and Ina Mitchell
Proof of Life after Life: 7 Reasons to Believe There Is an Afterlife by Raymond A. Moody Jr., M.D., Ph.D. and Paul Perry
Take Back the Magic: Conversations with the Unseen World by Perdita Finn
The X-Files The Truth is Still Out There: Thirty Years of The X-Files by Bethan Jones
Optimal Illusions: The False Promise of Optimization by Coco Krumme
Tyranny of the Minority: Why American Democracy Reached the Breaking Point by Steven Levitsky and Daniel Ziblatt
Punished for Dreaming: How School Reform Harms Black Children and How We Heal by Bettina L. Love
🗣 True Stories
Counting the Cost: A Memoir by Jill Duggar
Doppelganger: A Trip into the Mirror World by Naomi Klein
Elon Musk by Walter Isaacson
One Sunny Afternoon: A Memoir of Trauma and Healing by Rowan Jette Knox
Passionate Mothers, Powerful Sons: The Lives of Jennie Jerome Churchill and Sara Delano Roosevelt by Charlotte Gray
Number Go Up: Inside Crypto's Wild Rise and Staggering Fall by Zeke Faux
The Young Man by Annie Ernaux
Glossy: Ambition, Beauty, and the Inside Story of Emily Weiss's Glossier by Marisa Meltzer
💘 Romance
Fighting the Pull by Kristen Ashley
Seabreeze Honeymoon by Jan Moran
Man Scape by Vanessa Vale
A Home for Love by Kris Michaels
Heart of Glass by Donna Grant
Gabriel's Vanishing Light by W.J. May
Thank You for Sharing by Rachel Runya Katz
🗡️ Action, Crime, and Mystery
Code Red by Vince Flynn and Kyle Mills
23 1/2 Lies by James Patterson
Foul Play at the Seaview Hotel by Glenda Young
The Other Emily by Barbara Freethy
The Traitor Among Us by Anne Perry
Cover the Bones by Rachel Amphlett
The Enchanters by James Ellroy
🖊️ Literary & Contemporary Fiction
Rouge by Mona Awad
The Vaster Wilds by Lauren Groff
The Wren, The Wren by Anne Enright
The Observer by Marina Endicott
Daughter by Claudia Dey
Normal Rules Don't Apply: Stories by Kate Atkinson
Those Pink Mountain Nights by Jen Ferguson
How I Won a Nobel Prize by Julius Taranto
Idlewild by James Frankie Thomas
✨ Fantasy, Horror, Sci-Fi, and Speculative Fiction
Fall of Ruin and Wrath by Jennifer L. Armentrout
Hemlock Island by Kelley Armstrong
Mammoths at the Gates by Nghi Vo
Godkiller by Hannah Kaner
Chasm by Stacey McEwan
Court of Blades by Tanya Bird
Witch of Wild Things by Raquel Vasquez Gilliland
Marvel's Secret Invasion Prose Novel by Paul Cornell
NieR Replicant ver.1.22474487139… by Jun Eishima and Yoko Taro
The Free People's Village by Sim Kern




🗯 Manga & Graphic Novels
My Happy Marriage 04 (Manga) by Akumi Agitogi
Seirei Gensouki: Spirit Chronicles Volume 23 by Yuri Kitayama
Call of the Night, Vol. 13 by Kotoyama
Lullaby of the Dawn, Volume 2 by Ichika Yuno
Fly Me to the Moon, Vol. 19 by Kenjiro Hata
Check out even more new eBooks & audiobooks here