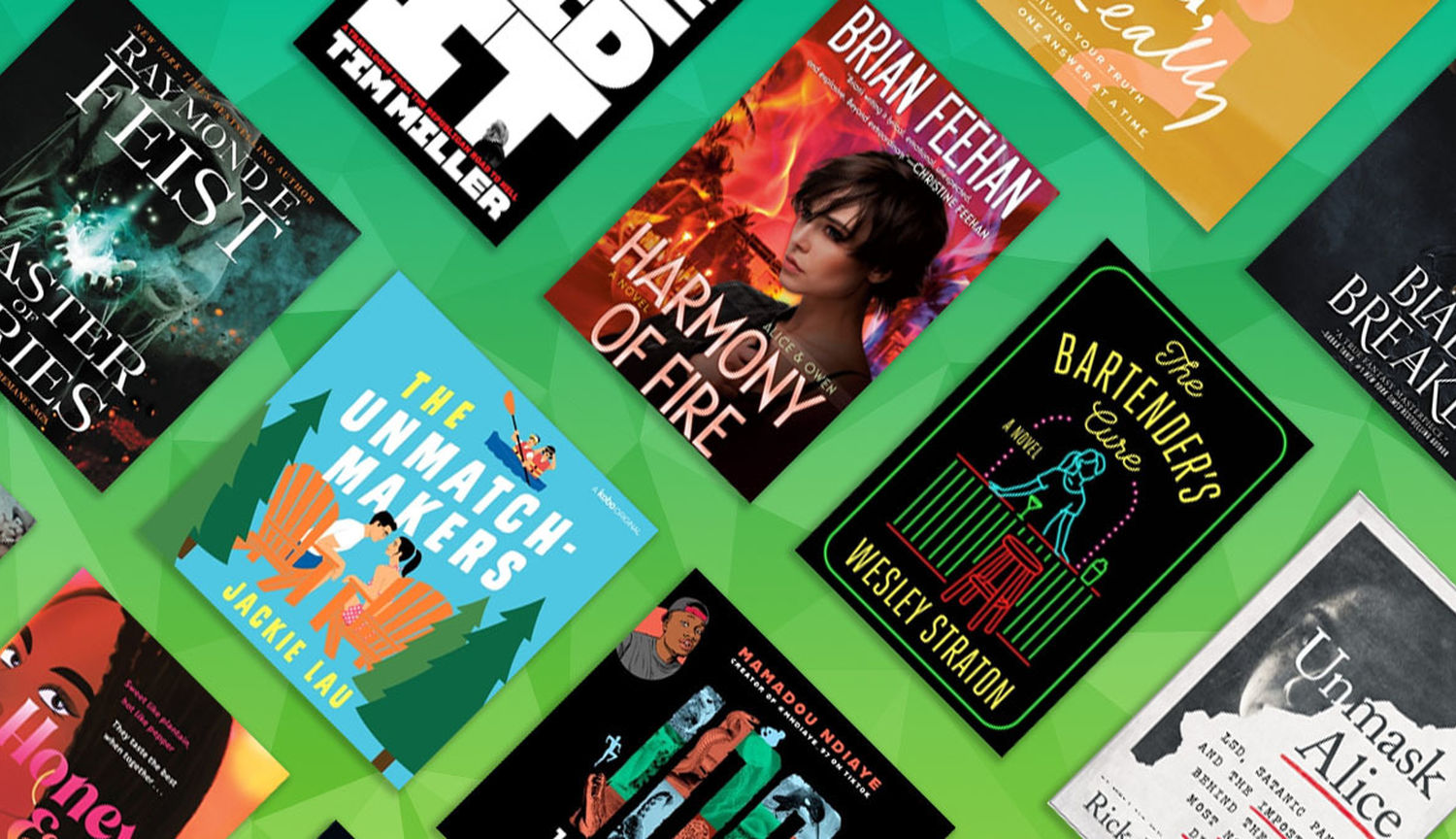 72 new eBooks and audiobooks coming out June 28 – July 11, 2022
A rapid-fire roundup of the best eBooks and audiobooks coming out this week and next to fill up your beach-bound eReader
In Jackie Lau's The Unmatchmakers the protagonist would surely snag the object of her affection, the dashing Neil Choy, if only she can outmaneuver her fiercely independent and staunchly single mother—and his mother too—during a vacation in cottage country in Ontario.
Brian Feehan, son of paranormal romance genre juggernaut Christine Feehan, is aiming to join his mother on the bestseller lists with the release of his first novel, the epic paranormal romance Harmony of Fire. This first installment in the Alice & Owen series is notable both for not shying away from the elder Feehan's legacy in paranormal romance (she even blurbs the cover) as well as Brian Feehan being one of very, very few men writing in the genre under their own name.
Bolu Babalola also followed an unusual path to becoming a romance novelist. Her first book Love in Color retold mythic love stories from around the world—most genre fiction writers toil for years before a publisher green lights such a high concept project. With the release of her debut novel Honey and Spice the author gives us something more familiar: a fake relationship romance in which independent and outspoken Kiki and free-wheeling player Malakai have to pretend to be a thing, or risk losing everything.
How Are You, Really? by Jenna Kutcher is a self-help book that puts a lot of weight on a comma. What she wants readers to learn is how they really feel—about their accomplishments, about their relationships, about their commitments, and about how they're spending their precious time and energy. The folks busy enough to benefit from this probably need the audiobook, and might just find that pressing play on Chapter 1 leads them to pressing pause on everything else.
If you love the idea of visiting Jurassic Park, but you wish the park was the entire planet and you can't tell which animals will kill you just by looking at them, check out 100 Animals That Can F*cking End You by Mamadou Ndiaye. The TikTok star takes readers on a tour of the animal kingdom to get to know some (surprisingly) lethal members of the animal kingdom, including ones that you might not be fearing as widely and deeply as you should (did you know a sperm whale can kill you with their voice? or that hyenas don't kill their prey until it dies because they've eaten too much of its body to go on living?). He's like a Gen-Z David Attenborough who grew up watching MMA fights.
Tim Miller worked for the Republican party as a political strategist for years, and in his new book Why We Did It: A Travelogue from the Republican Road to Hell he attempts to explain why nice, normal people can be seduced by hateful and anti-democratic messaging. As a gay man working for the party that historically worked to limit LGBTQ+ rights, he has unique insights into the mindset required to employ dehumanizing rhetoric against a variety of minority groups to build political support, and how party operatives who don't personally hold those views explain their actions to themselves.
Teenagers over the last 50 years have been learning about addiction and drug use by reading the anonymously-penned 1971 bestseller Go Ask Alice, the supposedly actual diaries of a young woman whose life unravels when she starts using illegal drugs. In 1979 another bestselling diary was published: Jay's Journal didn't achieve the literary impact of Alice but it did spark the "satanic panic" of the 80s, a wave of fear of demonic possession in suburban teenagers. In Rick Emerson's Unmasking Alice: LSD, Satanic Panic, and the Imposter Behind the World's Most Notorious Diaries, we learn that both of these books were written by the same woman, Beatrice sparks, a con artist who fooled everyone with her fabricated teenage protagonists. For Gen Xers and Millennials who grew up in the shadow of these books, Emerson's exposé is a fascinating and shocking story.
Finally, Wesley Straton's The Bartender's Cure is a good old-fashioned story about a young woman who tries bartending as a way to get back on her feet after a rough patch, and finds a way of life that gives her things she didn't know she wanted. Plus it includes recipes so you might actually learn how to make an old-fashioned as the same time.
More books coming out June 28 – July 11, 2022
🧰 Help and How-to
How Are You, Really? Living Your Truth One Answer at a Time by Jenna Kutcher
Radical Love: Learning to Accept Yourself and Others by Zachary Levi
Her True Worth: Breaking Free from a Culture of Selfies, Side Hustles, and People Pleasing to Embrace Your True Identity in Christ by Brittany Maher and Cassandra Speer
The Happiness Trap: How to Stop Struggling and Start Living (Second Edition) by Russ Harris
SOLO: What running across mountains taught me about life by Jenny Tough
💡 Big Ideas
Why We Did It: A Travelogue from the Republican Road to Hell by Tim Miller
100 Animals That Can F*cking End You by Mamadou Ndiaye
The Last Resort: A Chronicle of Paradise, Profit, and Peril at the Beach by Sarah Stodola
The Rise of the New Puritans: Fighting Back Against Progressives' War on Fun by Noah Rothman
The Book of Minds: How to Understand Ourselves and Other Beings, from Animals to AI to Aliens by Philip Ball
Leadership: Six Studies in World Strategy by Henry Kissinger
The Future is Degrowth: A Guide to a World Beyond Capitalism by Aaron Vansintjan, Andrea Vetter, and Matthias Schmelzer



🗣 True Stories
Rogues: True Stories of Grifters, Killers, Rebels and Crooks by Patrick Radden Keefe
Traitor King: The Scandalous Exile of the Duke & Duchess of Windsor by Andrew Lownie
Hemingway's Widow: The Life and Legacy of Mary Welsh Hemingway by Timothy Christian
Red Sky Morning: The Epic True Story of Texas Ranger Company F by Joe Pappalardo
George Michael: A Life by James Gavin
Nightmare Scenario: Inside the Trump Administration's Response to the Pandemic That Changed History by Yasmeen Abutaleb
Unmask Alice: LSD, Satanic Panic, and the Imposter Behind the World's Most Notorious Diaries by Rick Emerson
The NBA in Black and White: The Memoir of a Trailblazing NBA Player and Coach by Ray Scott with Charley Rosen



💘 Romance
Below Zero by Ali Hazelwood
Suspects by Danielle Steel
Searching for Elsie by Susan Stoker
Inked Temptation by Carrie Ann Ryan
A Newport Christmas by Cindy Nichols
The Last Summer by Karen Swan
Harmony of Fire by Brian Feehan
The Unmatchmakers by Jackie Lau
Honey and Spice by Bolu Babalola
American Royalty by Tracey Livesay



🗡️ Crime, Action, and Mystery
Old Bones Lie by Marion Todd
Cold, Cold Bones by Kathy Reichs
Lethal Game by John Gilstrap
Rising Tiger by Brad Thor
The Locked Room by Elly Griffiths
Finale by Ian Hamilton
The Wife Before by Shanora Williams
Harlem Sunset by Nekesa Afia
The Black Girls Left Standing by Juliana Goodman
Death by Bubble Tea by Jennifer J. Chow



🖊️ Literary & Contemporary Fiction
The German Wife by Kelly Rimmer
Reputation by Sarah Vaughan
Joan: A Novel of Joan of Arc by Katherine J. Chen
The Heart of Summer by Felicity Hayes-McCoy
The Angel of Rome And Other Stories by Jess Walter
The Scent of Burnt Flowers by Blitz Bazawule
The Bartender's Cure by Wesley Straton
Kaleidoscope by Cecily Wong



✨ Fantasy and Speculative Fiction
Resolute by Jack Campbell
Star Wars: Shadow of the Sith by Adam Christopher
Sands of Dune: Novellas from the Worlds of Dune by Brian Herbert
Shall Machines Bite the Sun by Benjanun Sriduangkaew
Invisible Things by Mat Johnson
Flying the Coop by Lucinda Roy
The Martyr by Anthony Ryan
Master of Furies by Raymond E Feist
Blade Breaker by Victoria Aveyard
Wicked Nights by M.J. Scott
Two Dragons: Book Nine of The Circle of Ceridwen Saga by Octavia Randolph
Warrior Lord by Paul J Bennett
Locklands by Robert Jackson Bennett
The Psion of Darkness by Kyle West



💬 Manga & Graphic Novels
In Another World With My Smartphone: Volume 25 by Patora Fuyuhara
My Love Mix-Up!, Vol. 4 by Aruko
Black or White, Vol. 4 (Yaoi Manga) by Sachimo
My Hero Academia, Vol. 31 by Kohei Horikoshi
Hyperventilation by Bboong Bbang Kkyu
Magic Artisan Dahlia Wilts No More (Manga) Vol. 2 by Hisaya Amagishi and Megumi Sumikawa
Record of Wortenia War: Volume 15 by Ryota Hori
Catch These Hands!, Vol. 2 by murata
The Demon Sword Master of Excalibur Academy, Vol. 6 (light novel) by Yu Shimizu and Asagi Tosaka
The Girl I Saved on the Train Turned Out to Be My Childhood Friend, Vol. 1 (manga) by Kennoji and Yoh Midorikawa
Check out even more new eBooks & audiobooks here