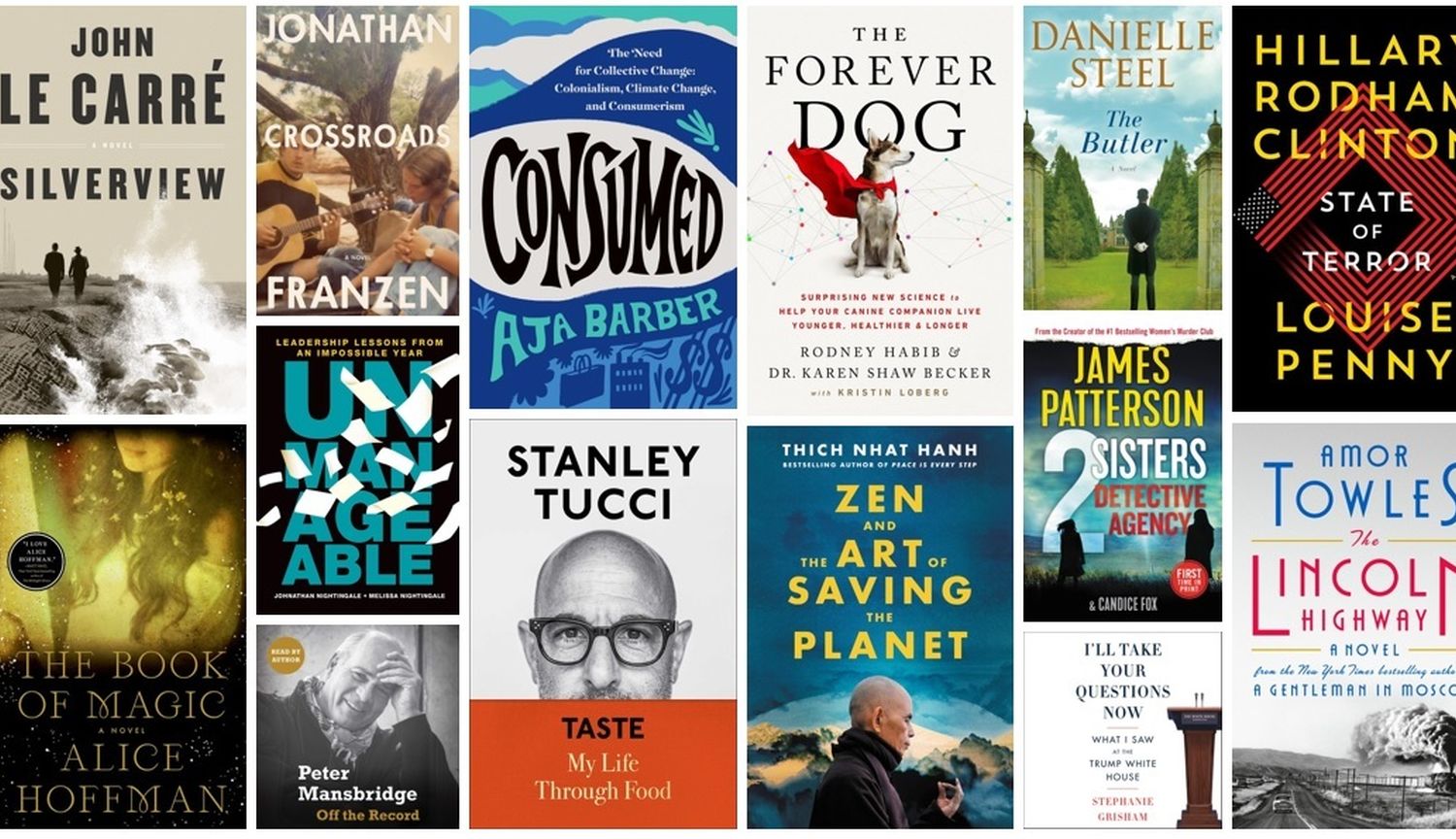 77 new eBooks and audiobooks coming out October 5 - 18, 2021
In this double-edition of New & Hot, we're loading up 2 weeks' worth of new releases to help get you ready for this jam-packed release season and make sure you've got all your pre-orders in before (Canadian) Thanksgiving weekend.
We're also doing a lightning round-style highlights section to pack in even more notices of can't-miss books.
Onetime presidential candidate and former First Lady and Secretary of State Hillary Clinton has co-authored State of Terror, a thriller with her friend Canadian mystery novelist Louise Penny. It's about a series of terrorist attacks and the Secretary of State trying to untangle the conspiracy behind them.
Speaking of thrillers with surprising authors, Cmdr. Chris Hadfield's The Apollo Murders is set in 1973 where a top-secret lunar mission turns out to have been infiltrated by the Soviets: but which of the 3 men in the capsule is the double-agent?
And beloved spy novelist John LeCarré's final novel, Silverview, is a suitably reflective work from the master of the genre.
James Patterson has 2 books out: 2 Sisters Detective Agency is (allegedly) a standalone novel co-authored with Candice Fox. Time will tell if they can stop themselves from writing a sequel. Patterson's other book is a work of non-fiction: E. R. Nurses: True Stories from America's Greatest Unsung Heroes (co-authored by Matt Eversmann, who previously worked with Patterson on Walk in my Combat Boots: True Stories from America's Bravest Warriors) is a collection of stories from nurses throughout the US.
Unmanageable: Leadership Lessons from an Impossible Year by Melissa Nightingale and Johnathan Nightingale collects the duo's writing on management that they've been publishing on their popular blog. This collection is specifically focused on the challenges of managing through the COVID-19 crisis, as well as how managers need to change in order to land gracefully on the other side of the pandemic.
Aja Barber's Consumed: The Need for Collective Change: Colonialism, Climate Change, and Consumerism exposes the brutal underbelly of the fashion industry as one particularly horrendous area of damaging consumerism, and then flips the discussion over to why we even feel the need to buy so much stuff in the first place.
See also: Zen Buddhist monk Thich Nhat Hanh's Zen and the Art of Saving the Planet.
Sonya Lalli's Holly Jolly Diwali is a) delightful to say, and b) a very cute romance taking place between Diwali, the Hindu festival of lights coming up soon, and Christmas morning. [Check out this list of some of Sonya's favourite South Asian rom-coms: 2021's best romances by South Asian authors | Kobo Blog]
Crossroads is Jonathan Franzen's first novel in almost a decade. We're being told it's the first in a trilogy, so hopefully we'll see a lot more from Franzen soon.
Amor Towles, author of A Gentleman in Moscow is a literary novelist who's never left his readership waiting: The Lincoln Highway is his third novel, a story set on the highways of 1950s America.
Readers who fell in love with Aristotle and Dante, of Benjamin Alire Sáenz' Aristotle and Dante Discover the Secrets of the Universe can begin the next chapter of their love affair with Aristotle and Dante Dive into the Waters of the World.
The Vinyl Cafe Celebrates by the late radio broadcaster Stuart McLean collects 10 of his most beloved stories and 10 stories that haven't previously been published. Though we don't get an audiobook performance to go with it, readers are sure to have his droll voice in mind when they pick up the new collection.

More books coming out October 5 - 18, 2021
💭 Big Ideas
🗣 True Stories

💘 Romance
🗡️ Crime, Action, and Mystery

🖊️ Literary Fiction


✨ Fantasy and Speculative Fiction
Check out even more new eBooks & audiobooks here