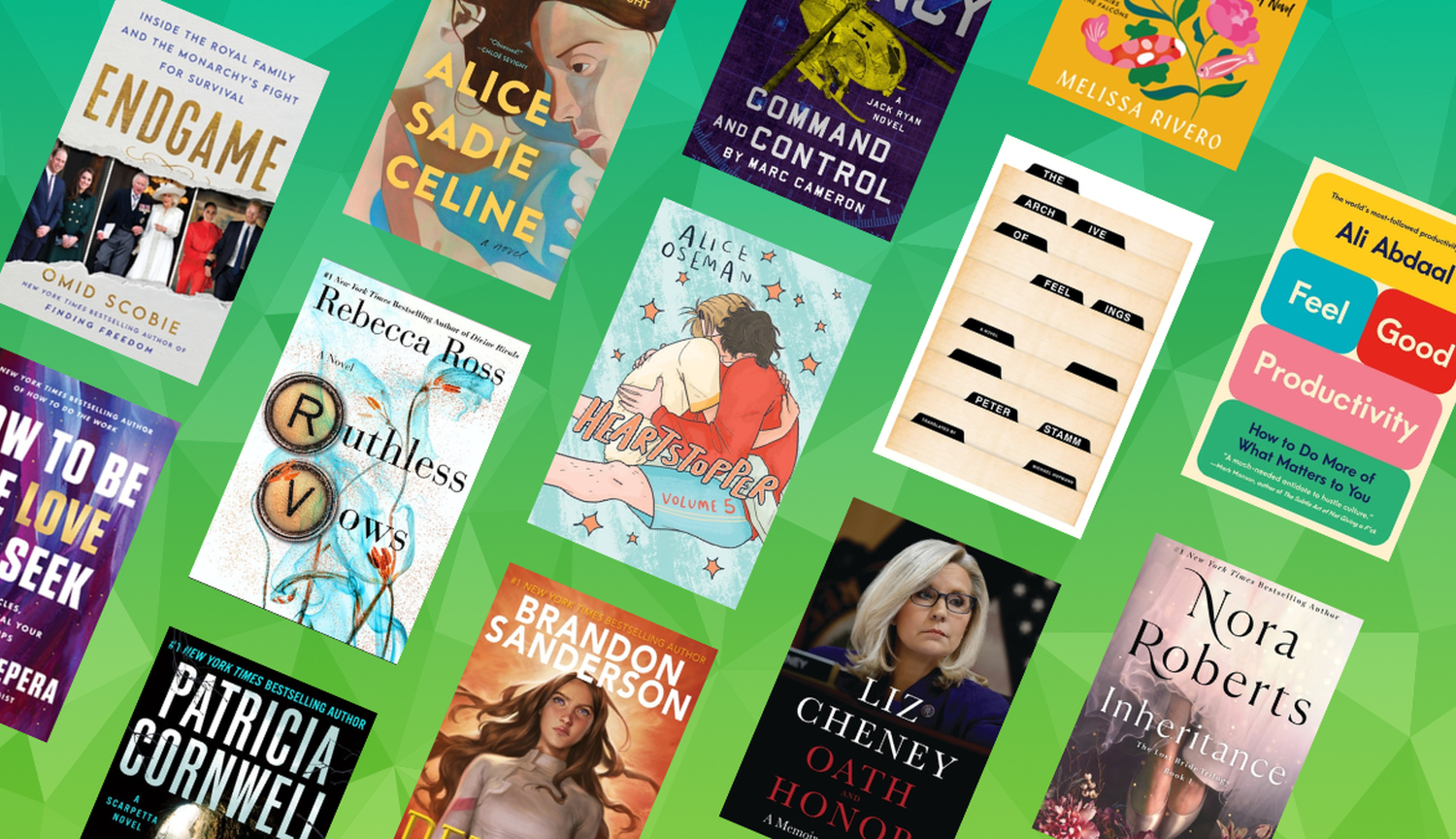 85 new eBooks and audiobooks coming out November 21, 2023 – January 1, 2024
Here are some of the most anticipated books coming out before the end of 2023
When Netflix' hit teen series Heartstopper debuted in 2022 the 4th volume in the graphic novel series by Alice Oseman had been out for several months, allowing fans from both media to steep themselves in repeated viewing and readings while they awaited more episodes and another book. The 2nd season came out this past summer to swoons and sighs—and at long last the 5th installment in the achingly sweet graphic novel series is here.
As the holiday shopping season revs up, it's worth bearing in mind that after the gifts are given the credit card bill comes, and for some that's a moment of confusion and despair. So TikTok personal finance star Vivan Tu (aka. "Your Rich BFF") is here with Rich AF: The Winning Money Mindset That Will Change Your Life to share the lessons she learned on Wall Street about how wealthy people think about money differently. For readers skeptical of Lu's promises of riches, there's financial educator Tiffany "the Budgetnista" Aliche's Made Whole: The Practical Guide to Reaching Your Financial Goals; her no-nonsense approach involves demystifying financial jargon, providing readers with worksheets and checklists they can put to work immediately, and tips for making the most of whatever you've got. Whichever route you choose, once you've got your finances in order, celebrate by making something from Single AF Cocktails: Drinks for Bad B*tches.
Readers who've look longingly over the ocean towards the UK and Europe every award season, wondering when all the Booker Prize-nominated books will be available here can now get their hands on the long-listed novel Little Bird-Hearts by Viktoria Lloyd-Barlow, about a mother and daughter who are suddenly (and suspiciously) befriended by the boundary-disintegrating albeit extremely charismatic couple that just moved in next door; as well as Prophet Song by Paul Lynch, which was a finalist for the prize and tells the story of a near-future fascist Ireland.
And because the state of the world right now is mentally taxing in a way that evolution never prepared our hominid brains for, it's a good time for Jon Kabat-Zinn's Wherever You Go, There You Are: Mindfulness Meditation in Everyday Life, the classic guide to meditation that was first published in 1994 and has been revised to reflect research findings on the neuroscience of meditation and mindfulness practice.
More books coming out now
🧰 Help and How-to
Feel-Good Productivity: How to Do More of What Matters to You by Ali Abdaal
How Not to Age: The Scientific Approach to Getting Healthier as You Get Older by Michael Greger M.D., FACLM
How to Be the Love You Seek: Break Cycles, Find Peace, and Heal Your Relationships by Dr. Nicole LePera
I Didn't Know I Needed This: The New Rules for Flirting, Feeling, and Finding Yourself by Eli Rallo
Rich AF: The Winning Money Mindset That Will Change Your Life by Vivian Tu
Single AF Cocktails: Drinks for Bad B*tches by Ariana Madix
ADHD for Smart Ass Women: How to Fall in Love with Your Neurodivergent Brain by Tracy Otsuka
The Old Gays Guide to the Good Life: Lessons Learned About Love and Death, Sex and Sin, and Saving the Best for Last by Mick Peterson, Bill Lyons, Robert Reeves, and Jessay Martin
Wherever You Go, There You Are: Mindfulness Meditation in Everyday Life by Jon Kabat-Zinn, PhD
A Dirty Guide to a Clean Home: Housekeeping Hacks You Can't Live Without by Melissa Dilkes Pateras
Choose Your Enemies Wisely: Business Planning for the Audacious Few by Patrick Bet-David
Made Whole: The Practical Guide to Reaching Your Financial Goals by Tiffany "the Budgetnista" Aliche


💡 Big Ideas
Technofeudalism: What Killed Capitalism by Yanis Varoufakis
How Canada Works: The People Who Make Our Nation Thrive by Peter Mansbridge and Mark Bulgutch
A Short History of Medicine by Steve Parker
Listen: On Music, Sound, and Us by Michel Faber
How Migration Really Works: The Facts About the Most Divisive Issue in Politics by Hein de Haas
🗣 True Stories
Endgame: Inside the Royal Family and the Monarchy's Fight for Survival by Omid Scobie
A Brilliant Life: My Mother's Inspiring True Story of Surviving the Holocaust by Rachelle Unreich
What Really Happens in Vegas: True Stories of the People Who Make Vegas, Vegas by James Patterson and Mark Seal
Dirtbag: Essays by Amber A'Lee Frost
The Lost Tomb: And Other Real-Life Stories of Bones, Burials, and Murder by Douglas Preston
Gilded Youth: A History of Growing Up in the Royal Family: From the Tudors to the Cambridges by Tom Quinn
The Palace: From the Tudors to the Windsors, 500 Years of British History at Hampton Court by Mr. Gareth Russell
Welcome to the O.C.: The Oral History by Josh Schwartz, Stephanie Savage, and Alan Sepinwall
Oath and Honor: A Memoir and a Warning by Liz Cheney
Songs on Endless Repeat: Essays and Outtakes by Anthony Veasna So
When I Was Your Age: Life Lessons, Funny Stories & Questionable Parenting Advice from a Professional Clown by Kenan Thompson
💘 Romance
Inheritance by Nora Roberts
The Ball at Versailles by Danielle Steel
Born to Be Badger by Shelly Laurenston
State of Bliss by Marie Force
Rock Bottom by Fern Michaels
Finding the Road to Us by Carrie Ann Ryan
Ruthless Vows by Rebecca Ross
Something like Lust by Piper Rayne
The Breaking Point by Marci Bolden
Technically Yours by Denise Williams
Every Time You Go Away by Abigail Johnson
Godly Heathens by H.E. Edgmon
The Ruined by Renée Ahdieh
Our Cursed Love by Julie Abe
🗡️ Action, Crime, and Mystery
Unnatural Death by Patricia Cornwell
Murder at the Polo Club by C.J. Archer
Tom Clancy Command and Control by Marc Cameron
Whispers in the Wisteria by Dale Mayer
Cocktails & Chloroform by Kelley Armstrong
The Watchmaker's Hand by Jeffery Deaver
A Gentleman in Challenging Circumstances by Grace Burrowes
Sentinel by Estelle Ryan
Murder at the Matterhorn by T A Williams
Assassin's Mark by Ward Larsen
The Final Curtain by Keigo Higashino
The Chickasaw Nation Mysteries: Books 1–4 by Kris Lackey
Gaslight by Femi Kayode
#CrimeTime by Jeneva Rose and Drew Pyne
🖊️ Literary & Contemporary Fiction
Alice Sadie Celine by Sarah Blakley-Cartwright
Prophet Song by Paul Lynch
Flores and Miss Paula by Melissa Rivero
A Song of War: A Novel of Troy by Kate Quinn, Vicky Alvear, Simon Turney, Russell Whitfield, Stephanie Thornton, Libbie Hawker, and David Alexander Blixt
The Wildest Sun by Asha Lemmie
Here in the Dark by Alexis Soloski
The Archive of Feelings by Peter Stamm
All the Little Bird-Hearts by Viktoria Lloyd-Barlow
Medusa by Jessie Burton
✨ Fantasy, Horror, Sci-Fi, and Speculative Fiction
Defiant by Brandon Sanderson
Valdemar by Mercedes Lackey
Warrior Prince by Paul J Bennett
Shards of Glass by Michelle Sagara
All the Hidden Paths by Foz Meadows
The Bitter Crown by Justin Lee Anderson
Chains of the Earth by David Mealing
This Cursed Light by Emily Thiede
A River of Golden Bones by A.K. Mulford
Warrior of the Wind by Suyi Davies Okungbowa
Homecoming by Luke Mitchell
Crucible of Victory (A Frontier Saga Novel) by Steve P. Vincent
Grievar's Blood by Alexander Darwin
Kingdom of Without by Andrea Tang
Aliens: Bishop by T.R. Napper
Aurora: Atlas (Aurora 8) by Amanda Bridgeman
Sleigh Bells and Starships by M.C.A. Hogarth
Beyond the Fringe by Miles Cameron
After World by Debbie Urbanski
The Autobiography of Benjamin Sisko by Derek Tyler Attico
Rebel Moon Part One - A Child Of Fire: The Official Novelization by V. Castro
Liberty's Daughter by Naomi Kritzer
🗯 Manga & Graphic Novels
Heartstopper #5: A Graphic Novel by Alice Oseman
Winter Turning (Wings of Fire Graphic Novel #7) by Tui T. Sutherland
That Time I Got Reincarnated as a Slime, Vol. 17 (light novel) by Fuse
The Apothecary Diaries 10 (Manga) by Natsu Hyuuga
Jujutsu Kaisen, Vol. 21 by Gege Akutami
Cherry Magic! Thirty Years of Virginity Can Make You a Wizard?! 09 by Yuu Toyota
Chainsaw Man, Vol. 13 by Tatsuki Fujimoto
Claudia and the Bad Joke: A Graphic Novel (The Baby-sitters Club #15) by Ann M. Martin
Hirano and Kagiura, Vol. 4 (manga) by Shou Harusono
Check out even more new eBooks & audiobooks here