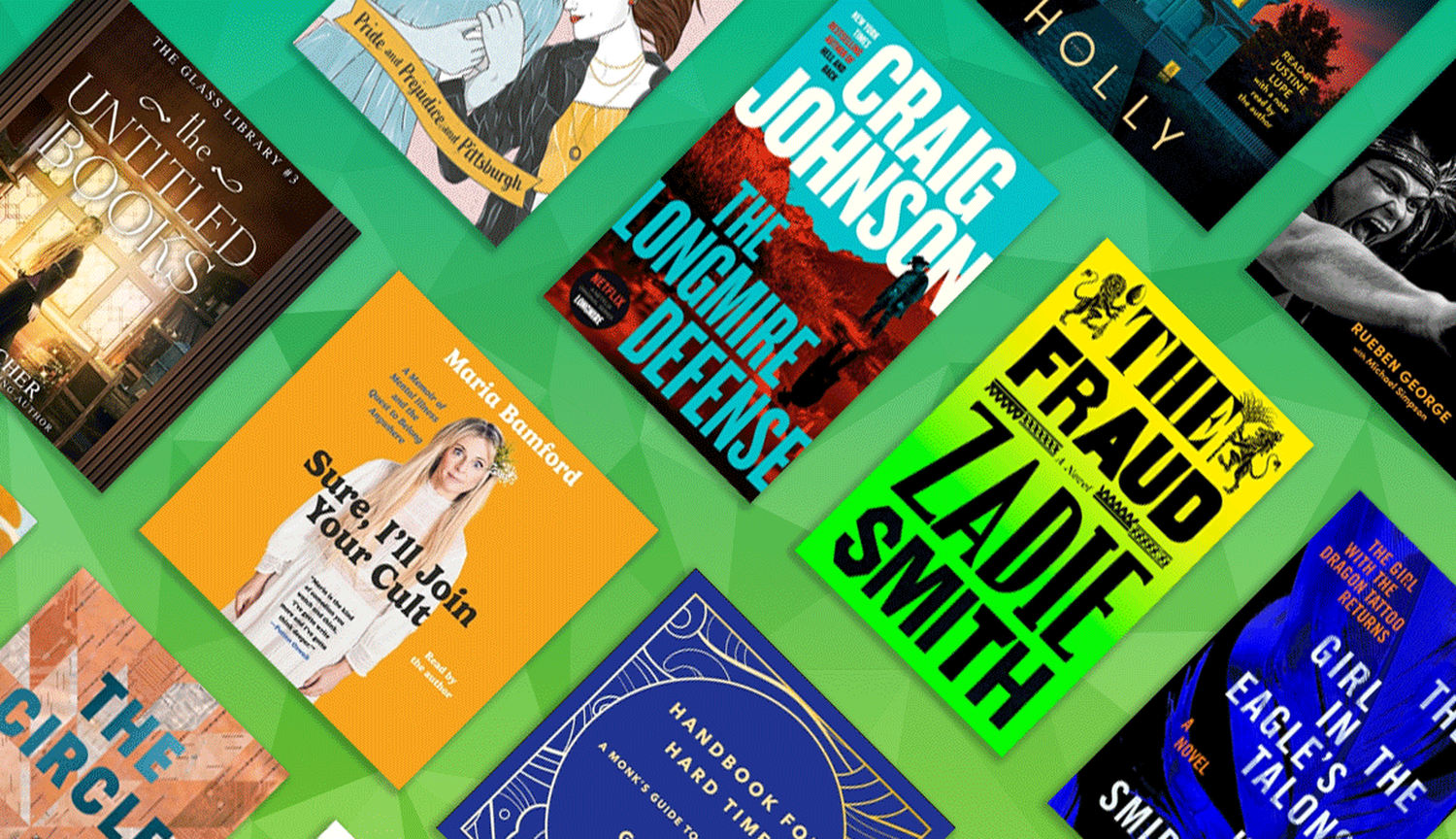 92 new eBooks and audiobooks coming out August 29 – September 11, 2023
A rapid-fire roundup of the most anticipated books coming out August 29 – September 11, 2023
John Ronald Reuel Tolkien, better known as J. R. R. Tolkien, author of The Hobbit and The Lord of the Rings, died 50 years ago, on September 2nd 1973, at the age of 81. A death is a strange anniversary to note for a figure whose major work was accomplished decades before their passing, but maybe it's reason enough for two books on Tolkien's work to come out this week. Bradley J. Birzer's J.R.R. Tolkien's Sanctifying Myth: Understanding Middle Earth was originally published 20 years ago, when Peter Jackson's trilogy of movies based on The Lord of the Rings was dominating the box office, but this edition includes a new introduction by the author. Tolkien in the Twenty-First Century: The Meaning of Middle-Earth Today by Nick Groom builds on Birzer's book to explain what it is about Middle-Earth that still captures our imaginations, whether we're reading the books or watching any of the screen adaptations of Tolkien's works. Groom draws connections between Tolkien's writing and our current cultural concerns about the environment, companionship, risk, and diversity of thought and identity and argues ultimately that his work is as relevant today as it ever was.
In Helen Knott's 2019 memoir In My Own Moccasins the poet and social worker from the Prophet River First Nation shared her story of growing up amidst addiction, intergenerational trauma, and a number of other all-too-familiar hardships borne by too many Indigenous communities. With her new memoir Becoming a Matriarch, Knott picks up the story to tell of her journey through grief brought on by the devastating loss of her mother and grandmother in just a few months, and how she found her way, as the title says, to becoming a matriarch.
Activist Rueben George, member of the Tsleil-Waututh Nation, has been a leading figure in the movement opposing the Trans Mountain Pipeline expansion. In It Stops Here: Standing Up for Our Lands, Our Waters, and Our People he tells both the story of his own and his family's stories, illustrating his own beginnings in activism, and makes a stirring call to action against the relentless drive of the fossil fuel industry. After a summer of record wildfires, George's voice is one worth listening to as we try to imagine how to turn the tide of climate change.
A pair of memoirs, Maria Bamford's Sure, I'll Join Your Cult: A Memoir of Mental Illness and the Quest to Belong Anywhere and Meg Kissinger's While You Were Out: An Intimate Family Portrait of Mental Illness in an Era of Silence, each address mental illness in very different ways. Kissinger is an award-winning journalist who has written about the failures of the American healthcare system, especially as it pertains to mental health. In her memoir, she reveals he difficulty of growing up in a household with a depressed mother and a father prone to violence, as one of eight children—many of which were themselves suffering with inherited and trauma-induced mental illness of their own. As an investigative journalist, Kissinger is extremely well-equipped to tell this story from the details of daily life up to the systemic issues framing it. Bamford, by contrast, is a comedian and actor whose book tells of the many "anonymous fellowships" (think Debtors Anonymous, Overeaters Anonymous, etc.) that she's joined to try to solve the problems created in her life by mental illness. Bamford's wit is on full display here, even if you choose to forego the author-narrated audiobook and experience her story as the written word—but either way it's as profound and profoundly hilarious as fans of her work would expect.
Stieg Larsson's The Girl with the Dragon Tattoo was a global phenomenon of the 00s that the author never experienced, since he passed away in 2004 shortly after completing and selling the first three books in the series. The original trilogy extended into an ongoing series with books written by David Lagercrantz, a Swedish journalist who hadn't yet published fiction prior to being named as Larsson's successor—and now after three entries of his own, Lagercrantz has bowed out. The Girl in the Eagle's Talons is by yet another Swedish writer, crime novelist Karin Smirnoff. In the series' seventh installment, computer hacker Lisbeth Salander and beleaguered magazine publisher Mikael Blomkvist head to Sweden's north, where a lucrative run on natural resources is drawing the attention and ambitions of some extremely unsavoury characters. Considering that the Swedish title for the very first book in the series translates to "men who hate women," it's notable that Smirnoff is the first woman to write for this series—and this is to be the first of three Salander books from her.
The unstoppable YA fantasy author Elizabeth Lim returns (can we say that if she's always got a new book out?) with Her Radiant Curse, a "beauty and the beast" story of two sisters—Channi, cursed by the Demon Witch to appear with a serpent's face to anyone but her sister, the beautiful Vanna, to whom Channi is the sister she's always loved. When Vanna is to be married off to an awful man, Channi steps up to protect her and makes a powerful enemy in the process. Fans of Lim know what to expect here: deft parallels to mythology and folklore from a variety of sources, sweeping battles, thrilling romance, and high emotion to the very end.
Stephen King's Bill Hodges trilogy is widely regarded as one of the prolific author's late-career high points, and in his new novel Holly he turns his attention fully to a character from that series (as well as The Outsider), one who the author says "was supposed to be a walk-on character in Mr. Mercedes and she just kind of stole the book and stole my heart." And you really can't ask for much more of a sales pitch for a Stephen King novel than that.
British novelist Zadie Smith turns her attention to the Victorian England at the time of the "Tichborne Trial" in her latest novel The Fraud. Based on real events (an Australian butcher makes a claim to an estate and title, relying on the testimony of a young man born enslaved on a Jamaican plantation), it's a novel that delights in our tendency to believe in and be deceived by stories of all kinds and all sizes, whether a con man's pitch, the moralizing tales of Charles Dickens (who makes an appearance), claims of ownership, or myths of nation and empire.
Katherena Vermette's The Circle is a novel in many voices about a community dealing with the stew of emotions around a young woman's release from prison, where she served a sentence for assault. This is a novel about transgression, hurt and healing, how communities break—and unexpected ways they might hold together. Featuring characters from Vermette's novels The Break and The Strangers, this is a "companion" to those earlier books, not exactly part of a series, so readers not yet familiar with her work can start here if they like.
As we head to school, whether to return or begin, or roll into workplaces buzzing with energy post-vacation, it's a good time to hone some skills for meeting challenges with resilience. Master of Change: How to Excel When Everything Is Changing – Including You by coach Brad Stulberg offers advice about handling change from the perspective that change isn't a threat to mitigate, or a storm to weather, but an inherent part of existence. He counsels readers to see the change constantly happening within themselves and at their own direction, and how external forces pushing for change call for a mindset of "rugged flexibility." Gelong Thubten's Handbook for Hard Times: A monk's guide to fearless living speaks to similar themes, but from a more meditative perspective, teaching readers how to lean into suffering rather than constantly struggling to avoid it. And he directs us to look within for inner strength and the insight to see opportunities for growth in every challenge.

More books coming out in the first half of September


🧰 Help and How-to
The Diary of a CEO: The 33 Laws of Business and Life by Steven Bartlett
Seed to Plate, Soil to Sky: Modern Plant-Based Recipes using Native American Ingredients by Lois Ellen Frank, PhD
Raise The Bar: How to Push Beyond Your Limits and Build a Stronger Future You by Ben Alldis
Handbook for Hard Times: A monk's guide to fearless living by Gelong Thubten
Master of Change: How to Excel When Everything Is Changing – Including You by Brad Stulberg
Naked Money Meetings: Ending Money Fights with Your Partner Forever by Erin Skye Kelly
Well at Work: Creating Wellbeing in any Workspace by Esther M. Sternberg, MD
Setting Boundaries: 100 Ways to Protect Yourself, Strengthen Your Relationships, and Build the Life You Want…Starting Now! by Krystal Mazzola Wood
Eat So What! The Science of Fat-Soluble Vitamins: Everything You Need to Know About Vitamins A, D, E and K by La Fonceur
💡 Big Ideas
Interstellar: The Search for Extraterrestrial Life and Our Future in the Stars by Avi Loeb
J.R.R. Tolkien's Sanctifying Myth: Understanding Middle Earth by Bradley J. Birzer
The Age of Insecurity: Coming Together as Things Fall Apart by Astra Taylor
How Elites Ate the Social Justice Movement by Fredrik deBoer
The Coming Wave: Technology, Power, and the Twenty-first Century's Greatest Dilemma by Mustafa Suleyman
Tolkien in the Twenty-First Century: The Meaning of Middle-Earth Today by Nick Groom
🗣 True Stories
Becoming a Matriarch by Helen Knott
Landbridge: life in fragments by Y-Dang Troeung
It Stops Here: Standing Up for Our Lands, Our Waters, and Our People by Rueben George with Michael Simpson
Hope – How Street Dogs Taught Me the Meaning of Life: Featuring Rodney, McMuffin and King Whacker by Niall Harbison
The Weimar Years: Rise and Fall 1918–1933 by Frank McDonough
Beyond the Wall: A History of East Germany by Katja Hoyer
Sure, I'll Join Your Cult: A Memoir of Mental Illness and the Quest to Belong Anywhere by Maria Bamford
While You Were Out: An Intimate Family Portrait of Mental Illness in an Era of Silence by Meg Kissinger
Bismarck's War: The Franco-Prussian War and the Making of Modern Europe by Rachel Chrastil
Living My Best Life, Hun: Following Your Dreams Is No Joke by London Hughes

💘 Romance
Joshua by Kathy Ivan
Protecting Rebel by Katie Reus
House of Marionne by J. Elle
Pride and Prejudice and Pittsburgh by Rachael Lippincott
Mine To Promise by Natasha Madison
The Untitled Books by C.J. Archer
Darius by J.R. Ward
A Queen of Thieves and Chaos by K.A. Tucker
Full Moon Over Freedom by Angelina M. Lopez
The Art of Desire by Stacey Abrams
How (Not) to Have an Arranged Marriage by Dr Amir Khan
🗡️ Action, Crime, and Mystery
A Chateau Under Siege by Martin Walker
Victim in the Violets by Dale Mayer
The Girl in the Eagle's Talons by Karin Smirnoff
Mrs. Jeffries Aims to Win by Emily Brightwell
The Raging Storm by Ann Cleeves
Payback in Death by J. D. Robb
Tom Clancy Weapons Grade by Don Bentley
Clive Cussler Condor's Fury by Graham Brown
Death in the Romance Aisle by Lynn Cahoon
The Longmire Defense by Craig Johnson
My Child is Missing by Lisa Regan
🖊️ Literary & Contemporary Fiction
The Breakaway by Jennifer Weiner
A New Season by Terry Fallis
Learned By Heart by Emma Donoghue
Rage the Night by Donna Morrissey
Empty Spaces by Jordan Abel
Where There Was Fire by John Manuel Arias
Holly by Stephen King
The Circle by Katherena Vermette
The Fraud by Zadie Smith
Holly by Stephen King
Into the Bright Open: A Secret Garden Remix by Cherie Dimaline
Evil Eye by Etaf Rum
What You Are Looking For Is in the Library by Michiko Aoyama
Others Were Emeralds by Lang Leav
✨ Fantasy, Horror, Sci-Fi, and Speculative Fiction
The Brothers Hawthorne by Jennifer Lynn Barnes
Guardian of Torment by Michelle Manus
The Lightstruck by Sunya Mara
Never a Hero by Vanessa Len
Her Radiant Curse by Elizabeth Lim
The Phoenix King by Aparna Verma
I Feed Her to the Beast and the Beast Is Me by Jamison Shea
The Blue, Beautiful World by Karen Lord
A Tall Dark Trouble by Vanessa Montalban
Sleep No More by Seanan McGuire
All the Dead Shall Weep by Charlaine Harris
The Royal Ranger: Arazan's Wolves by John Flanagan
The Gates of Time by Kyle West
From a Certain Point of View: Return of the Jedi (Star Wars) by Olivie Blake
Where Peace Is Lost by Valerie Valdes
Devil's Gun by Cat Rambo
Space Colony One Books 7 - 9 by J.J. Green
Surviving the Zombie Apocalypse: Family by Shawn Chesser
Exadelic by Jon Evans
Star Wars: The High Republic: Tales of Light and Life by Zoraida Córdova
🗯 Manga & Graphic Novels
Associate Professor Akira Takatsuki's Conjecture, Vol. 1 (manga) by Mikage Sawamura
Weird Tales Magazine No. 367 by Jonathan Maberry
Loner Life in Another World (Light Novel) Vol. 7 by Shoji Goji
Bergamot & Sunny Day by LoveLove
Enough with This Slow Life! I Was Reincarnated as a High Elf and Now I'm Bored: Volume 3 by Rarutori
My Hero Academia, Vol. 35 by Kohei Horikoshi
I Survived the American Revolution, 1776 (I Survived Graphic Novel #8) by Lauren Tarshis
Trinity Seven, Vol. 28 by Akinari Nao
Dragon Ball Super, Vol. 19 by Akira Toriyama
Ima Koi: Now I'm in Love, Vol. 7 by Ayuko Hatta
Send Them a Farewell Gift for the Lost Time by Cocomi
Check out even more new eBooks & audiobooks here