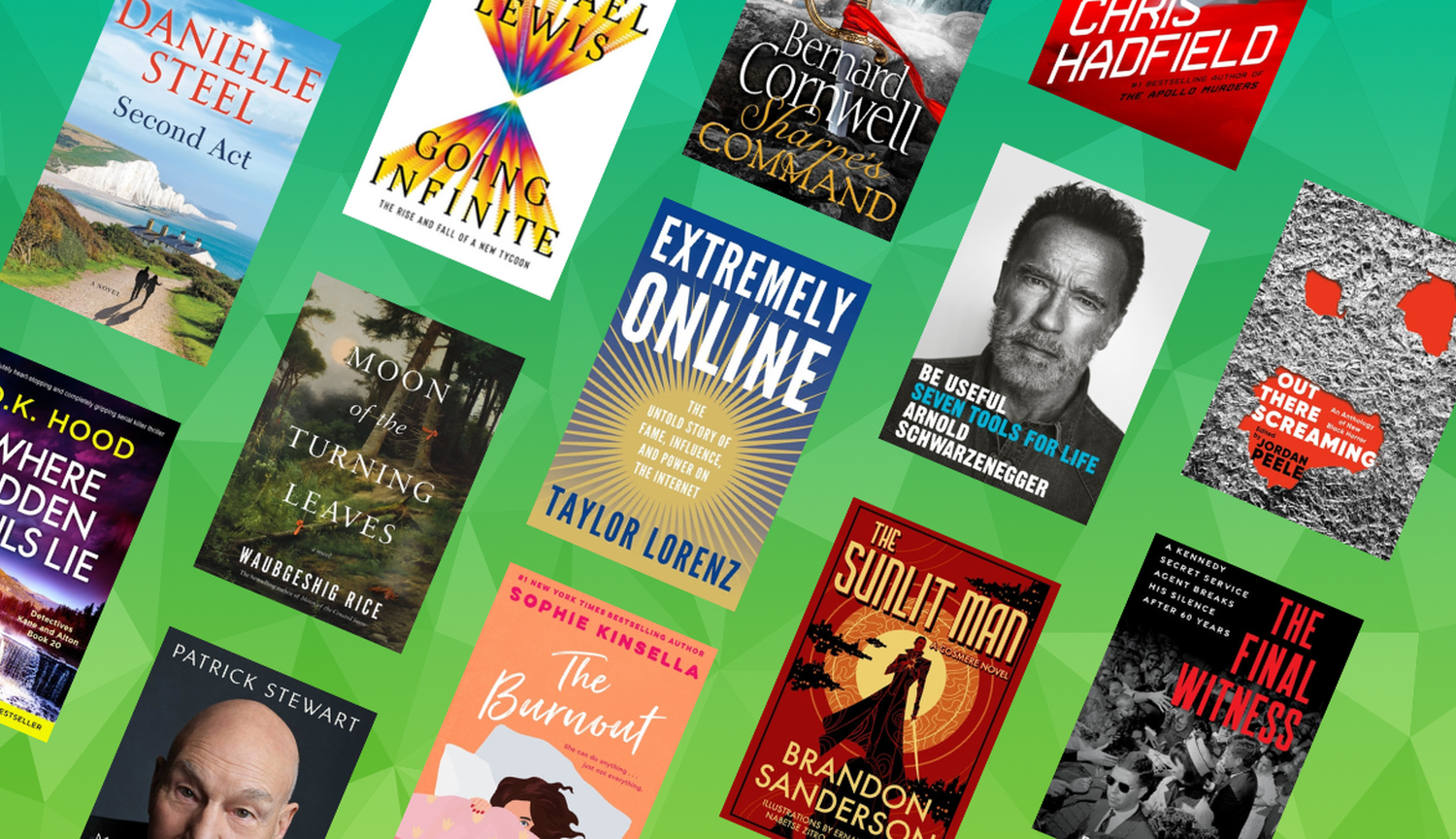 92 new eBooks and audiobooks coming out October 3 – 16, 2023
This week we're covering two weeks of big book releases! Here are some of the most anticipated books coming out October 3 – 16, 2023
Some hard-headed self-help from movie star and former California governor Arnold Schwarzenegger on How to be Useful, feminist scholar Sara Ahmed on how to be the best Feminist Killjoy you can be, and attorney Rebecca Zung on negotiating with narcissists.
Some big ideas about current-day political conservatism from former Republican strategist Stuart Stevens on The Conspiracy to End America and conservatism of the past in a new edition of Russell Kirk's classic The Politics of Prudence.
True tales of ambition, power, and hubris, in Michael Lewis' Going Infinite: The Rise and Fall of a New Tycoon, MCU: The Reign of Marvel Studios, Unruly: The Ridiculous History of England's Kings and Queens by (the comedian, not the novelist) David Mitchell, and Stephen Brown's history of Canada's railway.
Memoirs from icons Patrick Stewart and Reba McEntire. And personal stories of adversity and triumph from poet Safiya Sinclair, comedian Sarah Cooper, and Indigenous NHL player turned coach, then outcast, then once again coach Ted Nolan.
New looks at history from a secret service agent with a unique perspective on the assassination of JFK, and a history of Indigenous men and women in the US armed forces.
Danielle Steel tells the story of a romance between a movie executive and a writer, which presently feels no more firmly rooted in the real world as Christine Feehan's 37th installment in her Carpathian series. Whereas Sophie Kinsella's The Burnout, about two burnt out professionals trying to restore their spirits at a seaside resort, seems like the story of now.
Astronaut Chris Hadfield returns with the next book in his Apollo Murders series, and Bernard Cornwell brings back Major Sharpe.
Novelist Bryan Washington brings us another aching story of intimacy between wounded characters. Waubgeshig Rice's sequel to Moon of the Turning Leaves is a sequel coming just five years after its predecessor, but it takes place 12 years after its conclusion. Dutch-born Chilean novelist (and international literary sensation of 2020) Benjamin Labatut has a new novel too.
Brandon Sanderson's 4th book in his "secret projects" series is another novel in his Cosmere universe. Samit Basu's The Jinn-Bot of Shantiport is being hailed as a Murderbot/Aladdin mash-up, but we're getting more of a P Djèlí Clark impression. Speaking of Clark, he's got a new story in the horror anthology Out There Screaming, edited by sketch comedian turned horror auteur, Jordan Peele.
More books coming out this week
✍🏼 Poetry
The Way Forward by Yung Pueblo
🧰 Help and How-to
Be Useful: Seven Tools for Life by Arnold Schwarzenegger
Clear Thinking: Turning Ordinary Moments into Extraordinary Results by Shane Parrish
Mind Shift: It Doesn't Take a Genius to Think Like One by Erwin Raphael McManus
Natasha's Kitchen: 100+ Easy Family-Favorite Recipes You'll Make Again and Again by Natasha Kravchuk
The Feminist Killjoy Handbook: The Radical Potential of Getting in the Way by Sara Ahmed
SLAY the Bully: How to Negotiate with a Narcissist and Win by Rebecca Zung Esq.
Tiny Humans, Big Emotions: How to Navigate Tantrums, Meltdowns, and Defiance to Raise Emotionally Intelligent Children by Lauren Elizabeth Stauble
Activate Your Greatness by Alex Toussaint
💡 Big Ideas
Extremely Online: The Untold Story of Fame, Influence, and Power on the Internet by Taylor Lorenz
The Great Disappearance: 31 Ways to be Rapture Ready by Dr. David Jeremiah
What's So Amazing About Grace? Revised and Updated by Philip Yancey
The Blue Machine: How the Ocean Works by Helen Czerski
You're Gonna Die Alone (& Other Excellent News) by Devrie Brynn Donalson
The Politics of Prudence by Russell Kirk
Old Town Road by Chris Molanphy
The Conspiracy to End America: Five Ways My Old Party Is Driving Our Democracy to Autocracy by Stuart Stevens
🗣 True Stories
Making It So: A Memoir by Patrick Stewart
Where the Falcon Flies: A 3,400 Kilometre Odyssey From My Doorstep to the Arctic by Adam Shoalts
The Final Witness: A Kennedy Secret Service Agent Breaks His Silence After Sixty Years by Paul Landis
Grimoire Girl: A Memoir of Magic and Mischief by Hilarie Burton Morgan
Not That Fancy: Simple Lessons on Living, Loving, Eating, and Dusting Off Your Boots by Reba McEntire
MCU: The Reign of Marvel Studios by Gavin Edwards
Going Infinite: The Rise and Fall of a New Tycoon by Michael Lewis
Dominion: The Railway and the Rise of Canada by Stephen Bown
Unruly: The Ridiculous History of England's Kings and Queens by David Mitchell
Life in Two Worlds: A Coach's Journey from the Reserve to the NHL and Back by Ted Nolan
Foolish: Tales of Assimilation, Determination, and Humiliation by Sarah Cooper
How to Say Babylon: A Memoir by Safiya Sinclair
Why We Serve: Native Americans in the United States Armed Forces by NMAI, Kevin Gover and Debra A. Haaland
💘 Romance
Second Act by Danielle Steel
Searching for Finley by Susan Stoker
Dark Memory by Christine Feehan
Warrior's Hope by Rebecca Zanetti
Cinder by Chelle Bliss
I'm Your Guy by Sarina Bowen
Single Dad in a Kilt by Kait Nolan
The Burnout by Sophie Kinsella
Sunshine Avenue by Jan Moran
The Hurricane Wars by Thea Guanzon
Stars in Your Eyes by Kacen Callender
The Holiday Mix-Up by Ginny Baird
The Mis-Arrangement of Sana Saeed by Noreen Mughees
🗡️ Action, Crime, and Mystery
Judgment Prey by John Sandford
Where Hidden Souls Lie by D.K. Hood
Simon Says... Forgive by Dale Mayer
The Defector by Chris Hadfield
Obsession by Stuart Woods
Let It Crow! Let It Crow! Let It Crow! by Donna Andrews
Sharpe's Command by Bernard Cornwell
A Cold Highland Wind by Tasha Alexander
The Mystery of the Missing Heiress by Patricia Rice
A Frightfully Fatal Affair by Hannah Hendy
The Honeymoon Heist by Brad Taylor
🖊️ Literary & Contemporary Fiction
Moon of the Turning Leaves by Waubgeshig Rice
The Leftover Woman by Jean Kwok
Becoming the Boogeyman by Richard Chizmar
The MANIAC by Benjamin Labatut
The List by Yomi Adegoke
The Blackwoods by Brandy Colbert
Bloom by Delilah S. Dawson
Roman Stories by Jhumpa Lahiri
Mister, Mister by Guy Gunaratne
Family Meal by Bryan Washington
What We Kept to Ourselves by Nancy Jooyoun Kim
✨ Fantasy, Horror, Sci-Fi, and Speculative Fiction
The Sunlit Man: Secret Projects Book 4 by Brandon Sanderson
Sword Catcher by Cassandra Clare
The Gates of Time by Kyle West
Princess of Dune by Brian Herbert and Kevin J. Anderson
Long Past Dues by James J. Butcher
The Jinn-Bot of Shantiport by Samit Basu
The Night House by Jo Nesbo
Curious Tides by Pascale Lacelle
An Inheritance of Magic by Benedict Jacka
The Quiet Room by Terry Miles
The Dead Take the A Train by Richard Kadrey and Cassandra Khaw
Menewood by Nicola Griffith
What Hides in the Cellar by Graham Masterton
A Past Unearthed by Jin Yong
Out There Screaming: An Anthology of New Black Horror by Jordan Peele
The Autobiography of Benjamin Sisko by Derek Tyler Attico
Replika: Terra Firma by Hugo Bernard
The Iron Hammer Series Boxed Set by Cameron Cooper
🗯 Manga & Graphic Novels
Chainsaw Man, Vol. 12 by Tatsuki Fujimoto
Komi Can't Communicate, Vol. 27 by Tomohito Oda
My Love Mix-Up!, Vol. 9 by Wataru Hinekure
Kaiju No. 8, Vol. 8 by Naoya Matsumoto
My Isekai Life 09 by Shinkoshoto
Given, Vol. 8 (Yaoi Manga) by Natsuki Kizu
Hunter x Hunter, Vol. 37 by Yoshihiro Togashi
The King's Beast, Vol. 11 by Rei Toma
Moriarty the Patriot, Vol. 13 by Ryosuke Takeuchi


Check out even more new eBooks & audiobooks here