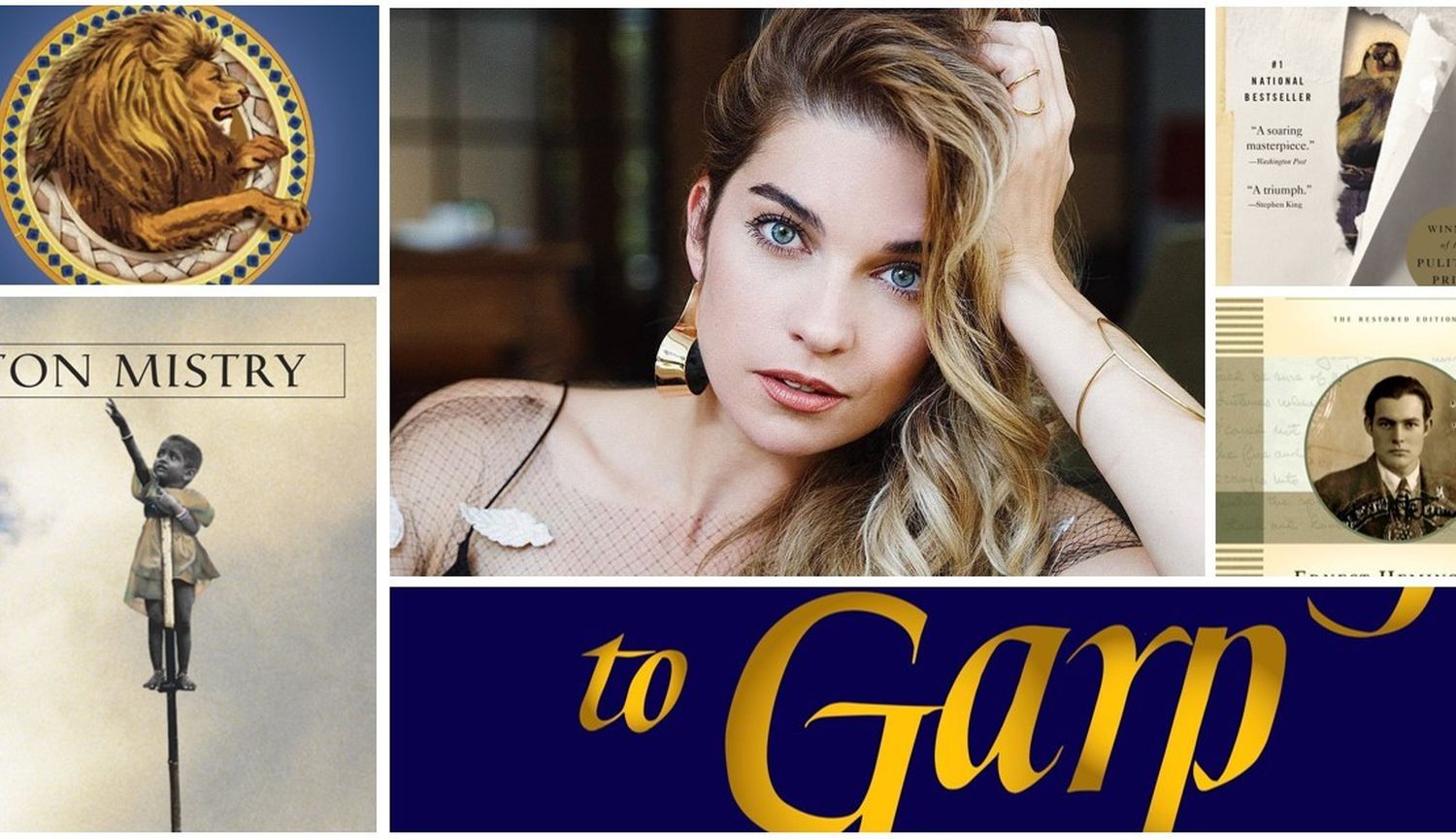 Annie Murphy of Schitt's Creek: playful personality that's a little bit irresistible
"Follow The Reader" is our series featuring unconventional leaders and trailblazers. This month: actress Annie Murphy, from TV's beloved Schitt's Creek.
Even six seasons in, she can't believe she got the job.
If you're a fan of Schitt's Creek, you know that Annie Murphy plays fallen socialite Alexis Rose masterfully. She's a delight to watch – especially opposite Dan Levy, her hilariously bitter onscreen brother, David – and is equally delightful in person.
I met Annie, a high-school-play junkie and graduate of Concordia University's Theatre program, in a quiet coffee shop on a snowy Toronto spring day. Her sudden rise to fame on CBC's wildly successful sitcom, which is now shooting its final season, is what most young actors dream of (I'm assuming).
Canadian comedy legends Eugene Levy and Catherine O'Hara play Annie's parents, and it's a fact she still can't get over. She has no idea how she got so lucky and this endearing state of incredulity is the vibe throughout our conversation.
"What the hell is my life?" she wonders aloud. Celebrities: they're just like us.
The show was recently described as "one of the greatest comedies ever created in this country". Not a big deal at all. What, in your opinion, makes it so good?
I think, at its core, the show is about love, family, community and acceptance. In this garbage-fiery climate (accurate description), those are really human and appealing qualities. It's a lovely escape, it's well written, it's funny and it's thoughtful. It's just something that people can identify with, especially in this day and age.
What has been the most surprising part of the whole experience?
I'm still shocked every single day that I go in and realize that I'm working with Eugene Levy and Catherine O'Hara. I catch myself watching them act and getting lost in it, then have to snap back to reality to say my lines.
Have you picked up tidbits from them along the way?
Of course! What's most apparent is their sense of play because they come from improv backgrounds. It's insane to watch them work – they have so much fun together – and they're not in their heads or in their characters all the time. They really need that feedback and energy from the other person.
The other thing is how they are as people. They're so down to earth. They treat everybody on set with the same amount of respect and kindness. They're just really, really good role models on and offscreen, so I'm trying to soak up as much as I possibly can from both of them. It's all downhill from here [laughs].
Looking back over the last five seasons, what's your fondest memory of the whole experience? Can you even pin it down to one?
That's a really hard one. The scenes with the four of us (Eugene, Catherine, Dan and herself) are so special because we really have become this bizarre onscreen family. The scenes where I get to fight with Dan are great too because we know how to get under each other's skin.
It seems like you and Dan have become more in synch over the seasons, and your mannerisms are starting to mirror each other. Is that deliberate or has it been a natural progression? Who inspires Alexis' mannerisms?
Ha! The mannerisms are hard to ignore. There are a lot of hands, lots of face. (At this point she's doing the hands and the face, and I'm just trying to keep it together and be a professional).
In season one we were still getting to know each other and the show. I think I started slowly adopting Dan's facial expressions and he started adopting some of my insane broken, limp wrists just to get those similarities that siblings have.
I also sat down and watched the Kardashians, the Olsen twins, Lindsay Lohan…that kind of thing. A lot of socialite behaviour. And that's where I got, like, my voice (she's now doing the voice), which is just the laziest way of speaking. Sometimes I bring it home and it's very aggravating.
[The socialites] actually kind of helped with the wrist thing. They all carry their handbags over their wrists, then one night I was like, "What if there was no handbag and I just flipped my wrist this way…" So, I definitely owe those strong, crazy women.
What's your favourite Alexis quote?
Oh my God, there are so many. "Ew, David!" is the one that follows me and Dan everywhere. It's shouted at him at the gym, which I can't imagine is too uplifting for the old ego.
I mean, the things that have come out of her mouth over the last five seasons, just her adventures and who they've been with… she's always spouting something incredibly surprising or shocking. I'm going to miss her.
What's in Alexis' future? She's about to do some travelling, but if she were to write a book, what would it be about?
Her career is going really well, and I'm actually quite proud of the arc the writers have taken. When we started out, she was very dependent on money and men to define who she was, but she now has her high school diploma and a degree in PR. She's really starting to find her independence and I think that's going to continue.
Book wise, that will probably be a three-part saga starting from age four to age 32.
So, an autobiography?
Oh, 100 per cent. That's some riveting shit right there. She has 20 lifetimes worth of adventures to report on. But maybe it's ghostwritten by somebody because I don't really see her sitting down and committing to writing thousands and thousands of pages by herself.
As fascinating as the topic may be…
YEAH. (We're cracking up and having a great time at this point, tbh). She'll dictate, but the actual work… that's a bit much.
Are you or have you ever been a member of a book club? What makes a good "book-club" book?
I have not been a member of a book club, but I was actually asked last week to become a member.
Are you going to do it?
I'm gonna do it! Yeah. Because I think it's… see… OK, I'm dithering. Half of me thinks it's really great because you have to have read a book by this specific time. But then I'm like, oh shit…you're going to have to have read a book by this specific time [laughs]. I don't want to be the one showing up having not done my homework.
No, you definitely don't want to be the weakest book-club link.
No! I'm a little stressed, but also very pleased to have been invited.
Is it with friends?
Yeah, so it's chill. But what makes a good book-club book? I don't know!
If your friends asked you to pick the book for this club, what kind of book are you going for?
Nothing too dense. Something short, sweet and uplifting.
Is there anything you've read that meets that criteria?
No, but I will tell you what I've just read and am absolutely in love with: The Goldfinch by Donna Tartt. It's one of my very faves of late. It's not uplifting at all and it's not short [laughs]. I think it would be a great book-club book if you had three months to read it.
Can you do that in book clubs? Can you have a long-term goal and a short-term goal?
You set the rules!
Alright, cool. That's good.
Have you read A Moveable Feast by Ernest Hemingway? It's so wonderful. It's basically just an account of his time as a lush in Paris. Plus it's Hemingway, so it's beautifully written. It paints such an incredible picture of Paris in the 20s. I would pitch that one to book club.
Oh, A Fine Balance by Rohinton Mistry is probably my favourite book. It's a real thick, epic novel. I would highly recommend it. It's another heartbreaker, but it's so beautiful to read.
What's your favourite book turned movie?
Ohhhhh boyyyyyy… The only thing I can think of is The Chronicles of Narnia by C.S. Lewis. I loved The Lion, the Witch and the Wardrobe.
I also love The World According to Garp by John Irving, but the movie didn't blow my face off.
Given that next year's sixth season will be the show's last, what's on the horizon for you?
I'm gonna have so much fucking time to read [laughs]. I don't know. It's wide open at this point.
Is that exciting for you? Or nerve wracking?
I'm trying to look at it as an exciting thing. I hope to write some of my own stuff for TV. I have a couple of ideas floating around that I've just been putting off because of work, but I'd love to plunk down and give writing a shot.
I mean, I want to have a job… [leans into my phone mic] I really want to have a job, please hire me, thank you so much, but I'm actually really looking forward to having time to read and write. You don't have a lot of time when you're shooting. Your schedule is so sporadic and you've got your mind on other things, but we'll see what happens. ◼

This interview has been edited for length and clarity.