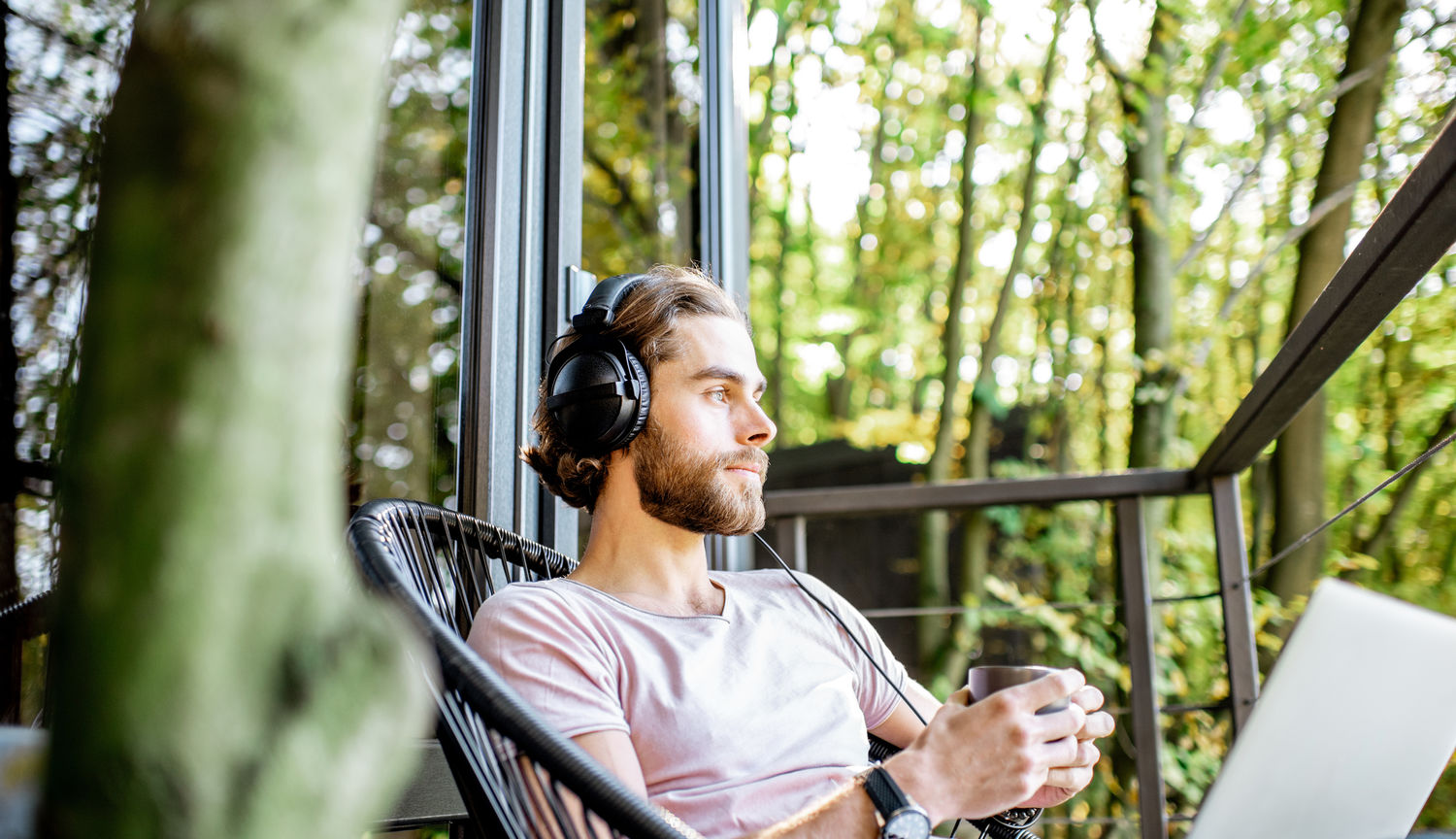 Audiobooks 101: what you need to know about reading with your ears
Audiobooks are having a moment. A big moment. As the popularity of audiobooks grows, more publishers are investing in producing them. It's no wonder that more people than ever are turning to Kobo to give audiobook listening a try.
Here are a few things that you need to know about listening to audiobooks.
1. Your first book is free
Now is a great time to begin exploring audiobooks. If you're on the fence, or curious about whether audiobook listening is for you … you're in luck. Your first audiobook won't cost you anything. Sign up for an audiobook subscription and get your first audiobook for free. If it's not your thing, you can cancel anytime. What are you waiting for?
2. Read while you do other things
Audiobook lovers tell us that they love audiobooks because it allows them to read while they're doing other things: commuting, working out, walking the dog, cooking, doing housework and taking epic road trips. In my case, I've powered through a lot of audiobooks while bouncing a newborn baby for hours on end...
We did some consumer research and discovered that audiobook listening doesn't replace other forms of reading - it supplements it. It allows people to squeeze reading into more moments in their day. This is certainly true for me. I've more than doubled my reading since getting into audiobooks. In fact, now that I'm in the daily habit of audiobook listening, I find that I'm reading more eBooks as well. Reading and listening have replaced much of the time that I once spent streaming video and scrolling.
3. Take your audiobooks with you everywhere you go
One of the great things about audiobooks is how portable they are. You don't need a special device to listen to audiobooks. Just download the free Android or iOS app and start listening. The Kobo app is a one-stop-shop for all of your eBooks and audiobook content. Read, listen, and explore. In the app, you can browse our store and pick out your next great listen.
"Now that I'm in the daily habit of audiobook listening, I find that I'm reading more eBooks as well."
4. Save money with a monthly subscription
If you visit the Kobo store, you may find that individual audiobooks can induce a touch of sticker shock. Many of Kobo's best-selling audiobook titles are listed for upwards of $30. But you're in luck.
With an audiobook subscription, you pay just $12.99 monthly. Each month, you'll receive a credit on your account, which you can use on almost any book, regardless of the store price.
We did the math: with an audiobook subscription, you save an average of 39% on the sticker price of an audiobook, every single month. If you're a regular - or even semi-regular - audiobook reader, that amounts to huge savings over the course of the year.
And if you find you're powering through a lot of books, you can also top up your account by purchasing a 3-credit pack, or shop the great audiobook deals we offer.
5. Listening is reading
At Kobo, we believe that listening is reading. From time to time, I'm asked, "Isn't listening to audiobooks cheating?"
A number of studies have indicated that the same parts of your brain are activated when you listen to an audiobook as when you read an eBook. And there are no significant differences in comprehension.
What we care about is making peoples' reading lives better. And one of the ways we can do that is by offering a format you can read while you're in the car, out for a run, or getting ready for bed.
6. Enjoy the performance.
Do you remember being read to as a child? That immersive feeling of being told a story is timeless. And it can be enhanced by an amazing narration. There are some incredible performances out there. Some audiobooks are narrated by the author; others by a professional voice actor. Some audiobooks have full-cast recordings with multiple actors, music and sound effects, while others rely on the dynamic between two voices - often male and female - to drive the narrative.

The narration can make or break an audiobook experience. Fortunately, we have so many tremendous performances, and our books offer a sample clip of audio so you can try before you buy!
It seems like everyone is getting into audiobooks these days. So, why not give it a try?
Start your Kobo audiobook trial to get your first free book. You'll like what you hear!
Related content: