The best audiobooks for road trips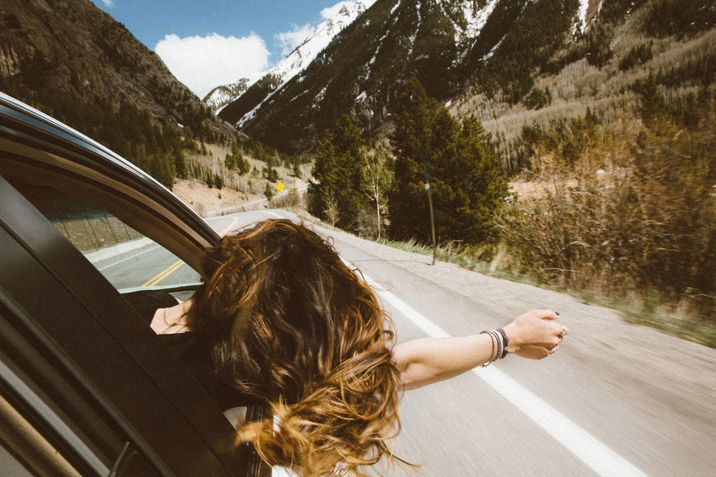 Summer was made for road trips, and road trips were made for audiobooks. Radio can only take you so far – games of "Eye Spy" wear thin after a while, and conversation can lag after a few hundred miles.
The open road is in fact the perfect place to catch up on your "reading".
The first rule of the road, though, is to determine what kind of mind-trip you want. Maybe the road is the place to learn something new, untangle a few of life's mysteries, or a place to indulge in the simple joy of being told a story.
Here are our suggestions for the road trips most taken:
Caution: Kids Aboard
Keep the kids happy without losing your own mind with some great audiobooks aimed at them, but complex enough for adult ears.
If you haven't tried the Harry Potter series yet, you're in for a treat. Sure, the kids have probably read the series backwards and forwards and you've all seen the movies, but have you actually experienced the story as it was meant to be heard?
Actor Jim Dale took his assignment to heart, and reads the stories with 117 different voices to depict and distinguish Harry, his pals, Dumbledore, Snape and the rest of the gang. Start with Harry Potter and the Sorcerer's Stone and go from there.
Some other not-just-for-kids options include:
We Were Liars by E. Lockhart, narrated by Ariadne Meyers
This is a subtly creepy story of kids on summer vacation on the family island, but with a killer plot twist at the end.


The Incorrigible Children of Ashton Place by Maryrose Wood, narrated by Katherine Kellgren
A librarian told us about this delightful series, and recommended it even for grownups. The children in question more closely resemble wild animals than actual children; they were rescued, if that is the word, by the wealthy and well-meaning owners of Ashton Place. Luckily there's a plucky young governess to handle matters appropriately. Or not.

Miss Peregrine's Home for Peculiar Children by Ransom Riggs, narrated by Jesse Bernstein
A mysterious island. An abandoned orphanage. And a strange collection of very curious photographs. It all waits to be discovered in Miss Peregrine's Home for Peculiar Children.
Long Road Ahead
A long trip is a great time to get a full helping of a long audiobook. We recommend these as a starting point:
I Am Pilgrim by Terry Hayes, narrated by Christopher Raglan, 22.7 hours
This book is simply marvelous. Fast-paced, smart and surprising, it ties several seemingly unrelated evil acts together in a race against time and a puzzle only one man can solve: The Pilgrim.

The Pillars of the Earth by Ken Follett, 44 hours
The Pillars of the Earth tells the story of Philip, prior of Kingsbridge, a devout and resourceful monk driven to build the greatest Gothic cathedral the world has known. If you love it and there's still road ahead, we have good news: it's part of a trilogy.

The Passage by Justin Cronin, narrated by Edward Hermann, 14.9 hours
This is also the first of a trilogy. An epic and gripping tale of catastrophe and survival, The Passage is the story of Amy—abandoned by her mother at the age of six, pursued and then imprisoned by the shadowy figures behind a government experiment of apocalyptic proportions.

The Straight and Narrow
Is the road ahead pretty boring? Well then, what you need are thrillers – something to ensure you're at the edge of your seat and not falling asleep.
The Outsider by Stephen King, narrated by Will Patton
Pretty much anything by Stephen King will do the trick, but this one has had some special accolades, with some critics calling this one of King's most unsettling stories yet.

Blonde Faith by Walter Mosley, narrated by Michael Boatman
It's easy to fall in love with Rawlins. Easy Rawlins, L.A.'s most reluctant detective, comes home one day to find Easter, the daughter of his friend, Christmas Black, left on his doorstep. Easy knows that this could only mean that the ex-marine Black is probably dead, or will be soon.

I'll Be Gone in the Dark by Michelle McNamara, narrated by Patton Oswalt, Gabra Zackman and Gillian Flynn
This is all the more creepy and thrilling because it is the haunting, true account of one woman's obsessive search for the Golden State Killer, the elusive serial rapist turned murderer who terrorized California for over a decade.
The Road to Enlightenment
Use the journey to expand your thinking or change your mind.
Big Magic: Creative Living Beyond Fear by Elizabeth Gilbert, narrated by the author
You remember Elizabeth Gilbert – she is the one who ate, prayed and loved. In this book, she discusses how to live your best, most creative self without fear.

The Subtle Art of Not Giving a F*ck by Mark Manson, narrated by Roger Wayne
Stop trying so hard to be happy. There are only so many things we can give a f**k about so we need to figure out which ones really matter, says Manson. While money is nice, caring about what you do with your life is better, because true wealth is about experience.

How to Change Your Mind by Michael Pollan, narrated by the author
This is a brilliant and brave investigation into the medical and scientific revolution taking place around psychedelic drugs – and the spellbinding story of Pollan's own life-changing psychedelic experiences.
The Road Less Travelled
Books can take you places, without question. Here are some that will allow you to virtually explore entirely new worlds.
Neither Here Nor There by Bill Bryson, read by the author
Bryson brings his special brand of humour to travel writing as he shoulders his backpack, keeps a tight hold on his wallet and heads for Europe, wandering from Hammerfest in the far north, to Istanbul on the cusp of Asia.

​Bangkok 8 by John Burdett, narrated by B.D. Wong
Electrifying, darkly comic and razor-edged, this is a thriller unlike any other. It's thick with the authentic—and hallucinogenic—atmosphere of Bangkok and crowded with astonishing characters, each peculiarly smart and strange.

The Lost City of the Monkey God by Douglas Preston, narrated by Bill Mumy
Here are the elements of your trip: A five-hundred-year-old legend. An ancient curse. A stunning medical mystery. And a pioneering journey into the unknown heart of the world's densest jungle.
This is just a small list of the many terrific audiobooks that will help time, and the miles, fly by.
Want more road trip content? Read Reading on the road: California editon.