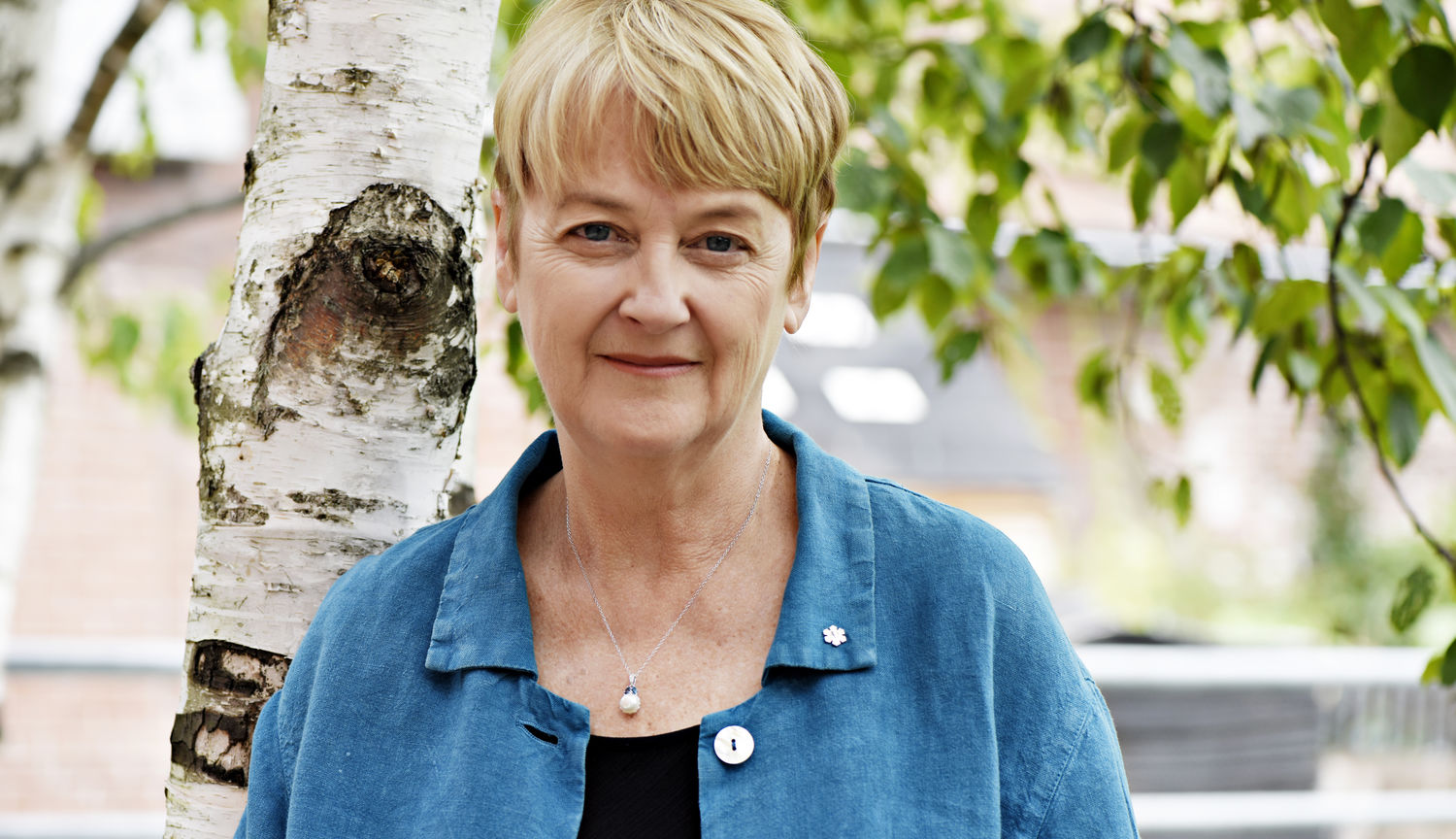 Cathy Crowe: homelessness activist, health advocate, street nurse
"Follow The Reader" is our series featuring unconventional leaders and trailblazers. This month: author, educator, and homelessness activist Cathy Crowe.
When I met Cathy Crowe, she held out her hand and asked me to pick a marble. The Street Nurse, who specializes in Canada's homelessness crisis, credited a man nicknamed Duckie with its symbolism.
She was just coming from the Toronto Homeless Memorial, a monthly event at which Duckie asks the same of all attendees. It's a nod to his good friend who lived on the streets – when things got really bad, they would joke about losing their marbles.
The one I chose was a moody black and blue. "Put it in your pocket to remember someone you've lost," she said. I was grateful for the gesture.
The marble still sits on my nightstand and, when I look at it, I'm also reminded of our conversation.
Tell me about today's Homeless Memorial.
It's a very minimalist event that we've been doing since the year 2000. Years ago, we used to hold a press conference or go to City Hall after a homeless death, but then the numbers increased so much we couldn't keep up. So the Church of the Holy Trinity volunteered to host.
Every month there are between two and 10 new people added to the Memorial.
Who typically goes?
There are always a lot of homeless people who go, but the general population is encouraged to come out. Sometimes you'll see politicians, or students who are studying these kinds of issues. We see people who are formerly homeless and relatives of those who have died. Sometimes musicians come and play.
What's the significance of the term "Street Nurse"?
It's a term that was coined by a homeless man over 30 years ago when we were running nursing clinics. A homeless person might call their best friend their "street brother" or "street sister", so it was seen as a compliment. It's a term of endearment and acceptance within the community.
How did you become one?
I found other places a bit limiting, depending on who the doctors or Boards of Directors were. The politics were always changing.
Nobody wanted to do homeless healthcare when I started. There was a lot of stigma. I think if you're non-white or non-middle-class, there are huge levels of discrimination in the system. Homeless people were lobbying for street-nurse clinics to gain better access to healthcare.
"I think if you're non-white or non-middle-class, there are huge levels of discrimination in the system."
What are the most pressing issues that Toronto's homeless population face? How did we get here?
My eyes were opened today. I hadn't been to the Memorial in a couple of months, but I saw way more homeless people in the area than usual...in construction zones, in alleyways, around the Church.
Even though the Church doesn't mind people being out front, it only owns 10 inches of property beyond its walls. The City of Toronto gives eviction notices to all of the homeless people sleeping there, so I think the number-one issue is finding any kind of shelter. It gets worse almost weekly. It's quite desperate.
In your opinion, how is Toronto handling the homelessness crisis?
Toronto is handling it horribly. For 30 years we've been relying on Out of the Cold, a volunteer faith-based program that opens in the winter. People who are not in the real shelter system use it, but they have to move to a different place every night. We've had respite sites available for the last couple of years, though, and people can be at those 24/7.
Are people kicked out of the respite sites after a certain number of days?
Theoretically no, but I was told that, at one of them, people have to report back every two hours to say they still want their bed. We always go and check up on these things. They're essentially like one big gym where 100 people sleep on cots and there's no separation by gender, unless they've changed that.
Is that a step in the right or wrong direction?
Initially I liked it, but I begged the city to only house 60 people at a time, not 100. Secret video footage of the locations shows that they can be worse than refugee camps. Of course, with the opioid crisis now, it's just hell. Normally we're able to protest and rally to convince the City to open more sites, but I worry that people are going to be there forever. There's no next step.
In the summer, the city used to operate cooling centres (essentially mini shelters with air conditioning, snacks, water and staff trained to work with people who are homeless or vulnerable), but they cancelled that program this year. We really fought back against it, but we lost. Instead, people were given a website where they could put in their postal code and, based on a 300-agency network of community centres, libraries and other locations, they'd get options for where to go to cool off.
So, a homeless person would need to find a computer to go to a website and input their postal code (...????). There are some barriers there.
Yes, there are a few barriers. Plus, splash pads and swimming pools were some of the recommended locations, but they're for children. When homeless people went, the police were called. It was a nightmare.
Is this a result of Toronto city council's vote last year against declaring homelessness an emergency?
I think so.
"I think it's important to show other activists that you can still speak out. Do not let yourself be punished, blamed or slandered by doing what's right."
How has that nuance shaped where we are today?
It means that city council can no longer use the emergency declaration to ask the government for help. We need the release of buildings; we need emergency funding for more shelters...The declaration meant public health nurses, mental health professionals and social workers could be reassigned to do more outreach. The decision suggests that the issue isn't being taken seriously.
What do you say to people who are dismissive about the seriousness of the issue or who try to discredit your efforts?
I think it's important to show other activists that you can still speak out. Do not let yourself be punished, blamed or slandered by doing what's right. I saw some unflattering media coverage earlier this year and had had enough. Journalists in particular need to do justice to the problem.
Tell me about your book, A Knapsack Full of Dreams: Memoirs of a Street Nurse.
I wrote it while I was unemployed for four years. I had just finished an Atkinson Fellowship (she was the recipient of the Economic Justice Fellowship Award from the Atkinson Charitable Foundation in 2004) and after it ended in 2009, no one would hire me.
Why?
Two close friends confided separately that I was blacklisted because of my advocacy.
During that time, I would get the odd teaching contract or speaking engagement. Nobody knew I was unemployed because I kept doing the work: I was the volunteer coordinator at the Toronto Disaster Relief Committee; I was still in the media doing interviews; students were contacting me all the time. It was those interactions that validated my experiences.
My whole life is built around being a nurse, and I realized that I had a lot to pass on. At that time, I literally had an enormous black knapsack that held all of my outreach supplies. It weighed about 35 pounds and is now in the Canadian Museum of History.
What do you hope people take away from your memoir?
I hope they understand the history of this problem because it wasn't always this bad.
Advocacy matters. The reason we once had a national housing program is because World War II veterans across the country protested for one. The end of that program is why we now have a housing shortage and a homelessness crisis. We have to change this.

"For any issue you care about, think about allocating one third of your energy, time or resources to the organization that helps people directly; one third to upstream the solution; and one third to advocacy."
This job must take its toll on you. What books do you read to nourish your soul?
I read a lot. Mostly fiction, but I like Toronto history too. My mother has a little book where she keeps track of what she's reading. She stars the good ones so she can recommend them to people, and I do that too.
I just finished The Love and Lies of Rukhsana Ali by Sabina Khan and loved it.
I'm just about to start Ducks, Newburyport by Lucy Ellmann, which is a bit daunting because it's over 1,000 pages and written in one sentence! It's perfect for an eReader, though. I'm sure the actual book is heavy.
This past year, because of my memoir, I read a lot of other people's books:
Finally, what small things can everyone do to make a difference?
Educate yourself. Try to learn more however you can. That could mean following people or groups on social media; or getting on the newsletter lists of your local city councillor, MPP and MP because it will help you become informed and engaged in local politics.
There's a formula I stole from a friend called, "A Third, A Third, A Third". For any issue you care about, think about allocating one third of your energy, time or resources to the organization that helps people directly; one third to upstream the solution; and one third to advocacy.
So, when it comes to homelessness, don't just throw old clothes into the Goodwill box. Call and find out what different places in your area need. The really strong advocacy groups don't get any government funding and they make all the difference. ◼
This interview has been edited for length and clarity.