Christina Lauren, author(s) of Something Wilder
Christina Lauren is the combined pen name of long-time writing partners and best friends Christina Hobbs and Lauren Billings. Their newest book is Something Wilder.
Kobo: Something Wilder is a bit of a departure from your previous rom-coms, with more action and adventure mixed in with the romance. What inspired this?
Christina Lauren: The pandemic, actually! The story itself was one that we had been tinkering with for a couple of years; we'd initially planned to write it as a screenplay. But when the pandemic hit and we were all stuck at home, we knew we didn't want to write a book that primarily took place inside—in an office, an apartment, a coffee shop, whatever the indoor setting might be. We decided to go back to the stories we loved when we were younger—the Indiana Jones, Romancing the Stone, Goonies, National Treasure levels of caper and fun—with a CLo romance spin.

Kobo: TikTok has played a huge role in the continuing popularity of rom-coms. Do you ever think about tailoring your writing to what's trending or what readers are gravitating toward on the platform? 

CL: TikTok has done wonders for romance, it's true, and we marvel at the power of the platform every day. Of course, we want our books to feel fresh and current, and we do that by trying to fully experience the world we live in—by traveling, exploring online spaces, and spending time with people in our lives. But as far as whether we'll ever try to write to a trend, the answer is absolutely not. One of the first things we learned in publishing is the moment you are chasing a trend, you're already behind. We just have to write the stories that make us excited to get to our desks every day and hope that readers follow us where our inspiration takes us.

Kobo: What is your favorite rom-com trend at the moment?

CL: The big swings. Books like Just Like Magic by Sarah Hogle, Partners in Crime by Alisha Rai, A Caribbean Heiress in Paris by Adriana Herrera, and Angelika Frankenstein Makes Her Match by Sally Thorne are doing things differently. They're doing something fun and brave and sometimes irreverent, and although we will always settle down with comfort reads too, the only way the genre grows is by these forays into something new and magical.

Kobo: Who has been your favourite female character to write over the years and why?

CL: This is a bit like asking a parent to choose their favourite child—we love them each in unique and fierce ways. That said, our upcoming book The True Love Experiment is probably our favourite thing we've ever done, and its heroine, Fizzy, is hands-down our current favourite. She is funny and honest, and she packs a punch, but also isn't afraid to own her vulnerabilities. We hope readers absolutely fall in love with her in May.

Kobo: Who would you like to see cast as Lily and Duke in an adaptation of Something Wilder?

CL: We are consistently terrible at casting our own characters. Even if we start with someone in mind, very quickly they morph into their own person as we write them, with features that are vivid in our imaginations that aren't entirely captured by anyone in the media. That said, because there are two of us, we do need a common starting point. Lily started out as young Jennifer Garner, the model Hideo Muraoka was the inspiration for Leo, and Duke was a scruffy Jeff Bridges/Sam Elliott combination.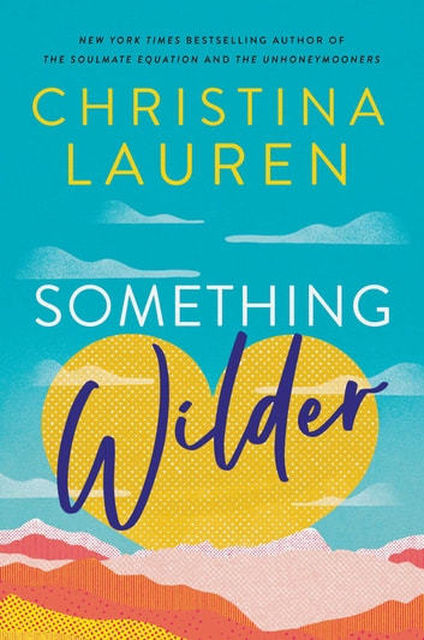 Something Wilder
The "reigning romance queens" (PopSugar) and New York Times bestselling authors of The Soulmate Equation and The Unhoneymooners present a charming and laugh-out-loud funny novel filled with adventure, treasure, and, of course, love.

View eBook
View Audiobook