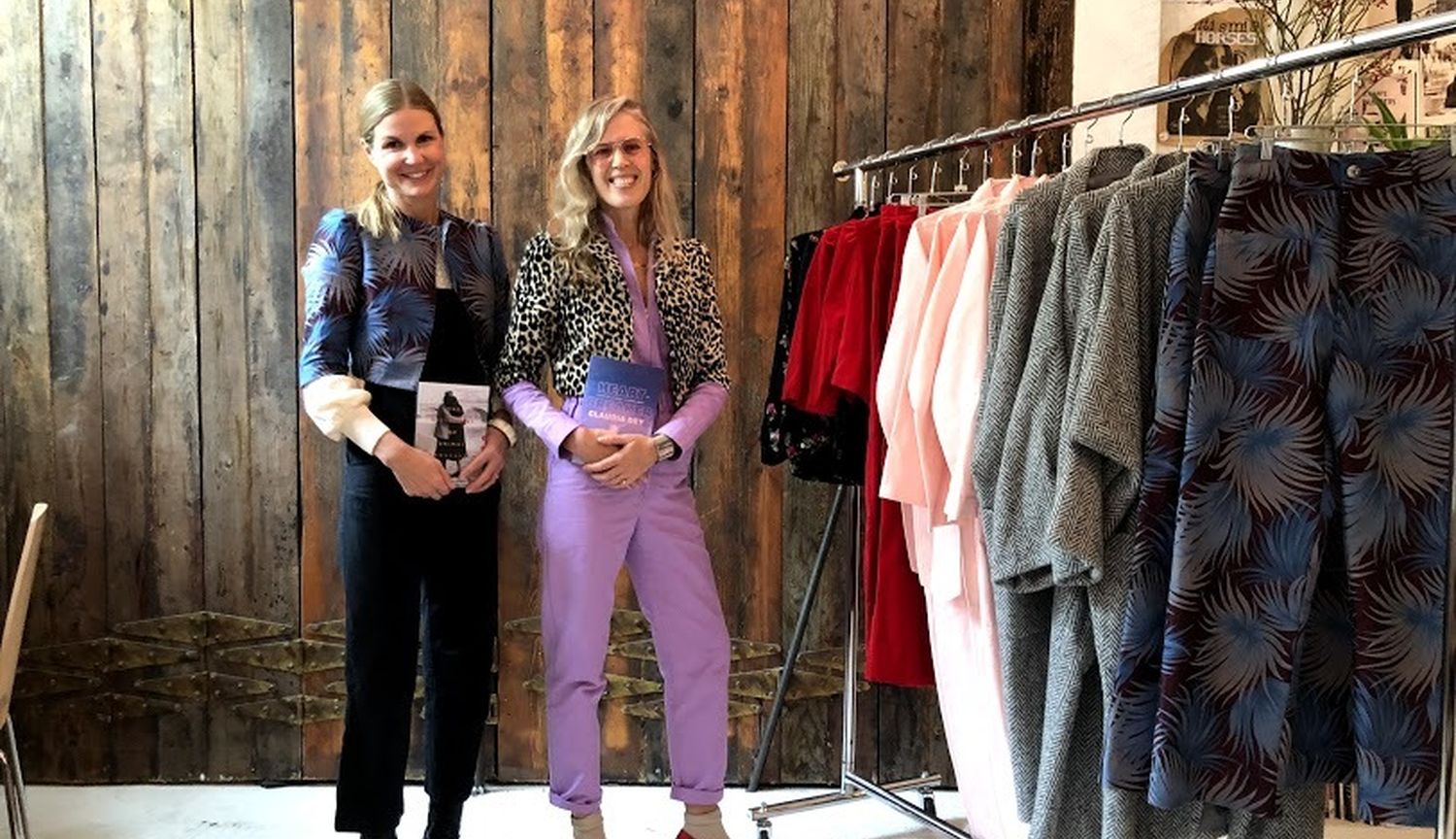 An intimate discussion with Claudia Dey and Heidi Sopinka: designer-novelists, and the duo behind Horses Atelier
"I think all women carry something of a rebellion inside them that often goes unexpressed." - The Dictionary of Animal Languages
Venture slightly off the main drag of what is considered Toronto's coolest street and you will find the mothership of Horses Atelier, the Toronto-made womenswear label that has been described as a "soft armor sisterhood" by their loyal followers. One look at the fanbase of their feminine workwear and luscious dresses, and you can see that their clothing speaks to women who truly know themselves, and who you in turn want to get to know.
Located directly behind the flagship shop is the studio where the two women behind the brand, Claudia Dey and Heidi Sopinka, have been designing clothes and developing this cult following. They consider clothing as costume; a message you are transmitting to the world. This approach isn't surprising when you consider that they are also accomplished novelists. Words, visuals and thread are their tools of expression and they move fluidly between them.
In a world of multidisciplinary practices, designer-novelist is still completely unheard of, but this is the path the two best friends have forged for themselves. I sat down for an intimate conversation in their Queen West design studio to talk about Sopinka's first novel The Dictionary of Animal Languages, which came out in early 2018 and Dey's latest novel Heartbreaker, which was released this past summer. From there we spoke about multi-tasking, feminism and the concept of getting closer.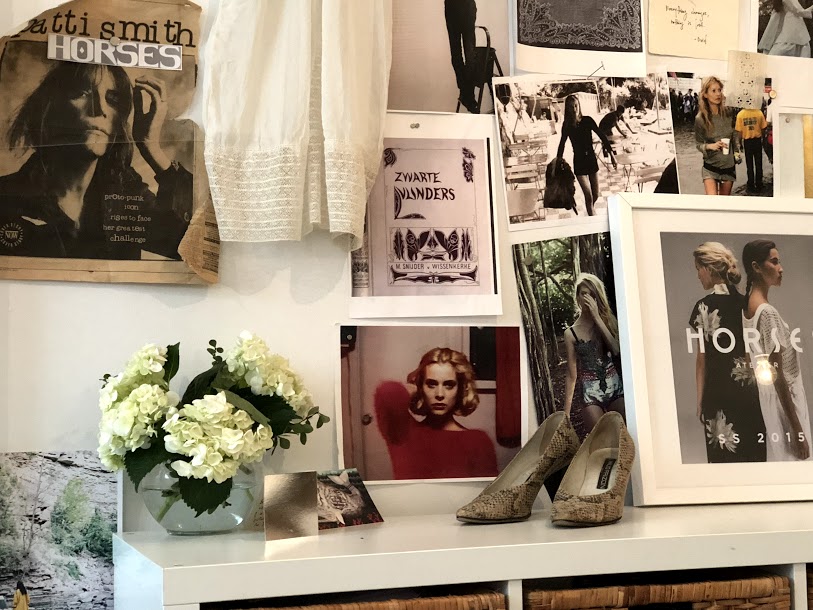 Horses Atelier, the Toronto-made womenswear label, has been described as a "soft armour sisterhood" by their loyal followers.
How did you both meet and form this creative partnership?
Claudia: We met in a folklore class at McGill University and months later we cooked together in lumber camp. We were bush cooks just outside of Timmins.
Heidi: It's a really intense, grueling kind of relentless work and thank God we had each other there.
Claudia: We had a very instant and profound kinship, a lot of laughter and that feeling of having the other person in your corner.
Heidi: We also traded books because you know, we met as literature students.
Claudia: Right, we were both in the same undergraduate program at McGill studying English Literature, we're voracious readers, and we got to have that conversation as well; that form of kinship and bonding.
How did you both individually begin to pursue writing independently and personally?
Claudia: After McGill I went to the National Theatre School, graduated from the playwriting program, and went on to be a playwright-in-residence at the Factory Theatre. I wrote three full length plays there. They toured, were translated, and one was nominated for a Governor General's Award. I then went on to write my first novel Stunt, followed by How To Be A Bush Pilot which is a nonfiction book about sex, and then Heartbreaker.
Heidi: I was a bit of a late bloomer as a writer because I started off as an editor for books and magazines. And then I started freelance writing as a journalist; I had an environmental column at The Globe. A large part of my book has an environmental edge to it. Leftover things that I never got to explore in my weekly column. I had an idea that wouldn't go away so it became my book.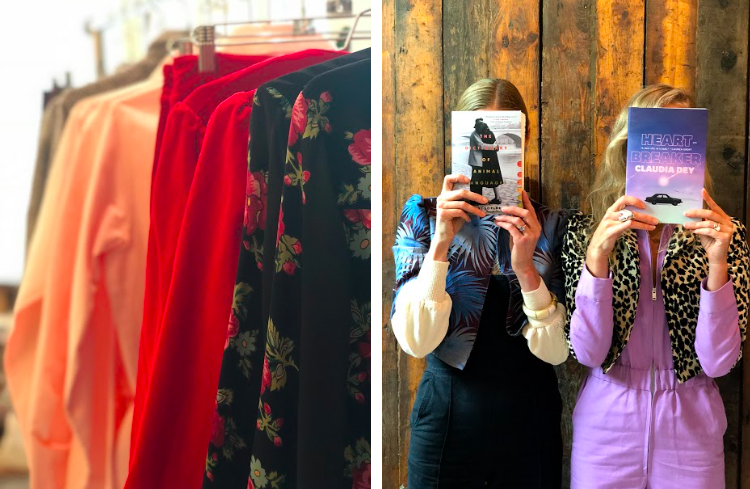 "We had a very instant and profound kinship, a lot of laughter and that feeling of having the other person in your corner."
I love the idea of late-blooming into something. Examples of it are important and challenge notions of age and what the trajectory of our lives should look like.
Claudia: Heidi and I talked about this in terms of the formation of our business. We felt that everything we'd done up until that time accumulated into the expression of the story that is Horses. It all mattered. All the strange part-time jobs. All those hours spent in the bush.
Heidi: All the hours in Value Village or vintage shops.
Claudia: DIY outfits, bad tailoring; all of it ended up mattering.
That's a beautiful way to look at it. I remember turning 30 and the idea of your 20s being when you're the most desirable, or when everything should be happening.
Claudia: That's a myth imposed on women though.
Absolutely. It doesn't serve anyone and I'm only feeling better and better as I continue to progress through life.
Claudia: What's that Rachel Cusk quote? It's something like "I'm not getting older, I'm getting closer."
Heidi: I mean there's a flipside to that too. It's like God damn it, why does it take women until they are in their 80s to get noticed when they're artists? When you're a woman artist, your career starts really late. It's like after all the men have died out or something. On the other side, they're slowly working and finally that body of work really speaks for itself.
Yeah, I feel like there's been an influx of these retrospective lately, and repositioning women artists.
Heidi: It's chilling. I'm obsessed with this thing in the New York Times - it's an obituary of women who never got obituaries. They're incredible writers and artists and you just cannot believe they didn't even get a mention when they died.
Claudia: We're going to pull death into everything, wherever we can.
Heidi: Death and Feminism. Here we go. That's the name of our band, actually.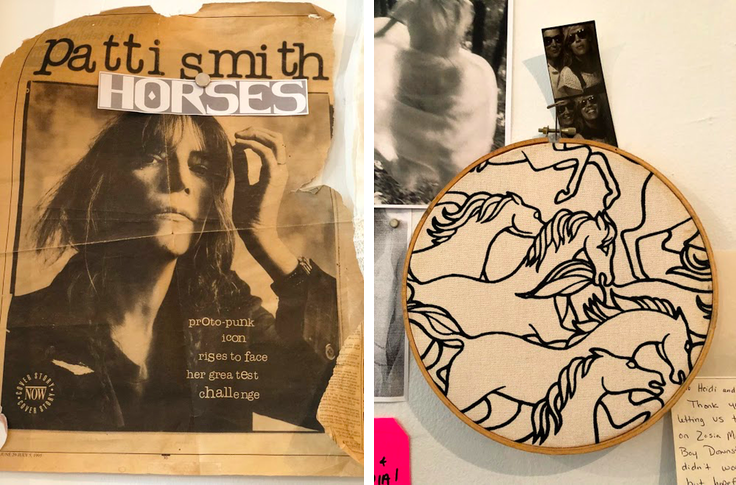 "Death and Feminism. Here we go. That's the name of our band, actually."
With the protagonist Ivory in The Dictionary of Animal Languages, there is the sense of everyone trying to put her to bed throughout the story, despite the fact that she is vibrant and has so much to offer as an older woman.
Heidi: That's the case particularly with older women because they're classically invisible in our society. But sometimes when people have been devoted to a practice their whole life, they just get more radical as they get older.
Claudia: I love that expression you told me of Leonora Carrington's and it applies so beautifully to Ivory: female human animal. How she encapsulates all of that. She's also brilliantly self-sufficient which is such a surprise with someone at that age. Her relationship to time, I think, is interesting. It's so open.
Heidi: Yeah, I also think you experience time differently when you're in isolation. It's harder for women to be isolated; yet you need to be isolated to create really profound work.
Claudia: Her real companionship is in the animals too. What was the quote from the book about anarchy residing within?
Heidi: Oh, something like: all women carry inside of them a kind of rebellion that often goes unexpressed.
Claudia: What is the exact quote? It's so good. I want to get it on a t-shirt.
For Horses Atelier, you need to emblazon lines from your books onto the clothes.
Claudia: What? You're so right! Why didn't we hustle harder?!
They could be the lines we've discussed from Dictionary but also all of the statements the youth have on their clothes in Heartbreaker.
Claudia: Great call. New business venture.
How do you balance Horses Atelier while finding the time to pursue independent writing projects?
Heidi: Our hope from the beginning with Horses was to have a multidisciplinary design studio; that was really important to us. In a way we've gone against all of the advice we were given which is was: fashion is a singular pursuit and it's about volume. We resisted that. As the business grew, we became more interested in the story of the woman who was wearing the clothing - which was a much more personal story. And we also resisted giving up our lives for it. So we work with artists.
Claudia: Everyone has come to us from mostly non-fashion backgrounds. Heidi and I wanted to create a space where we could pursue everything. We could sponsor theater productions. We could design costumes for theater productions. We could both disappear and make our own worlds. And so the way that happens, is from the foundational philosophy that is Horses, but also the strength in the partnership. We have a really good baton pass.
"Fashion is fantasy. It's also self-expression, a form of autobiography."
Does literature or the act of writing influence the clothing you design?
Claudia: Yeah, it does, because we're the ones who design it and literature shaped us. Books for both of us were sentient. We've been in conversation with them our whole lives. And so, for example, we did one collection that was entirely inspired by Nedra from Light Years, because she was a woman who radically scripted her life. She was a lone wolf and we're forever inspired by that.
Do you find that clothing and design finds its way into your writing?
Claudia: We've talked about this a lot at Horses: fashion as a form of autobiography. For Heartbreaker the fashion came out of the scarcity. It's all about ingenuity. So much of the fashion for the teenagers is about what they can put together, having thieved. And it's the kind of bombastic aesthetics of the 1980s which for me were really important because I knew at the center of the book it had a dark heart, so I wanted the glitter and the redemptive quality of that glitter, the hopefulness of it, the fantasy. Fashion is fantasy. It's also self-expression. And then for the women in the novel, I was influenced by the prairie dresses of the FLDS because I never used the word 'cult' in the book. So [the clothing] was my way of indicating where we were without commenting on it.
What role did each of you play in the writing of one another's book? How did you support one another?
Heidi: A big part of supporting each other was by giving each other full isolation and time.
Claudia: Heidi also has a brilliant editor/reader brain, so I gave her a draft. We went out for dinner and we talked about it. I got on my bicycle and ended up falling off because I was in this complete dreamscape of our situation. So it was that too. It was material support in terms of thinking.
Heidi: Yeah, I trust Claudia and her brain and everything, so really there can't be a better place from which to receive comments and commentary on your work.
To wrap up our conversation, can we play a "game of wanting" like the young women in Heartbreaker?
Claudia: Aside from my home, I also want a permanent hotel room.
Heidi: I want the alternative where I live alone in a cabin. I want the cabin alone in the woods. What about you?
I want that leopard two piece suit. I want certain men to stop contacting me and I want my radiators to be on full blast when I get home.
Claudia: I want the cure for cancer. I want Donald Trump to evaporate with all of the hate that he spreads. And I want women to be taken seriously.
Heidi: That's a perfect way to end.
This interview has been edited for clarity and length.
For more author interviews, read Author Robyn Harding on "Her Pretty Face"