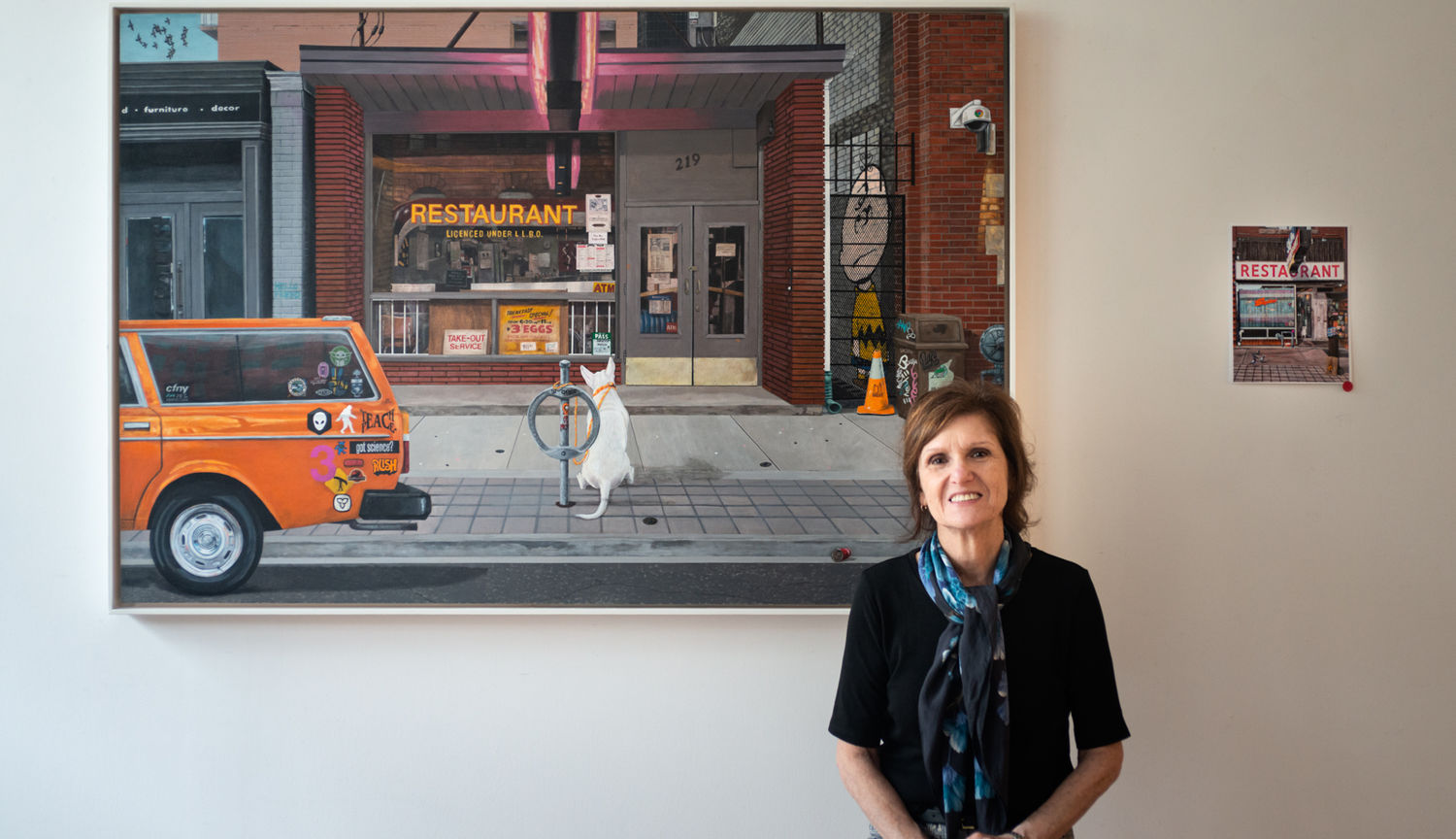 Elaine Fleck: in the company of artists, art, and books
Even in the midst of a global pandemic, when social interaction of any kind is a precious resource, Elaine Fleck has found a way to do her favourite thing: be around artists.
Actually, "favourite" might not quite do the experience justice for Fleck. Being surrounded by art and the people who make it seems less like a thing she does than the thing she is. It certainly underlies the success of her eponymous Queen West gallery, where she regularly hosts everyone from OCAD up-and-comers to world-selling superstars, offering her eye for the deepest portfolio review they're likely to get or her mentorship through a world that is as brutal as it is beautiful.

But if it's given her a living, it also seems to give her life: even behind the flat screen of a Zoom call, her vitality shines through, especially when she begins to talk about things like a fortuitous meeting with gallery star Kathy Kissik, or skipping out on dance classes as a kid so she and her friends could get a chance to indulge their ya-yas while sneaking peeks at the Rolling Stones, who were staying in the hotel next to the studio where she practiced. No wonder, then, that the first thing she looks for in a work is the artist, what she calls the "spirit" of a great work.
"There's no secret to this: the artist has to be present in the piece. The person behind the art is the originality of it," explains Fleck, who sits lithely in between two hefty canvases: an intricate floral display by Kissik and Mike Rachlis's clever reimagining of Thomas Gainsborough's Blue Boy. "If we were all the same, I wouldn't be in this business, because it would be very boring."
Boredom does not seem to be something Fleck suffers gladly. Before she was one of the pioneers of the Queen West gallery scene, she was growing up and out in New York, spending her time as — well, as just about any kind of artist you could name.
"I've acted, I've performed as a child. Well, I was a performer as an adult, too, you know, I had an 11 piece band play at CBGBs. I'm an interesting person!" she exclaims, as if she needed further proof. "I've been there and I've done that."
She picks up copies of two of her favourite books, to illustrate the milieux she was steeped in: Bob Gruen's John Lennon: The New York Years, and Bob Dylan's Chronicles: Volume One (referring to both artists as "my man.") Partly, for Fleck, it's because she can see herself in the background of these big tales, recounting the time when she saw John and Yoko eating at a basement café, or when Dylan lived next door to a friend. Perhaps because of that, she's even more drawn to their example.
"Biographies like this are beautiful examples of tenacity, persistence and goals achieved," she explains. "I feel I have accomplished that as well, so there is a connection for me with these individuals — along with the plenty I've learnt from their experiences, hardships and successes."

Being a gallery owner requires a curator's eye and a carnival barker's flair for publicity
Though there are times she walked — and performed — more closely in those particular footsteps, it is as a gallery maven where Fleck feels most at home, she admits.

Being a gallery owner requires a curator's eye and a carnival barker's flair for publicity, and if you can add in the charm of a diplomat, the work ethic of a corner store owner and the flair of a rock star, well, you just might be able to make a go of it for 16-plus years.
She was drawn to the stories of people like Leo Castelli, the world-famous gallerist who played key roles in the careers of artists like Jasper Johns and in events like the Venice Biennale, well before she ever had her name on a building. Anecdotes like showing Johns' first show in his daughter's bedroom — as detailed in Leo and His Circle: The Life of Leo Castelli, by Annie Cohen-Solal — and selling one of his paintings for $1-million to the MoMa suggested a world that was equal parts hustle and glamour, a place where personality met tenacity.
"And of course, he never went to school for any of this," Fleck points out. "The most recognized all over the world — just repeating that to you!"
Her biggest inspiration in the gallery world, though, is Edith Halpert, whose incredible story is captured beautifully by Lindsay Pollock's The Girl With The Gallery — a book Fleck found, appropriately enough, at a coffee shop meeting with Kissik. Halpert was the first person, let alone woman, to open a gallery in Greenwich Village — the Downtown Gallery, in 1926. Fleck is practically giddy recounting Halpert's exploits, which ranged from clever marketing tactics to reorienting the world's opinion of American art.
Halpert was among the first New York gallerists to set up shop close to where artists lived, ensuring first access to the freshest works. She built her name by hand-writing letters to wealthy patrons whose addresses she found in the phone book. She set up shows in the lobbies of theatres. Most notably, she displayed American Folk Art as fine art at a time when everything good was thought to come from Europe.
But Fleck's favourite story about Halpert contains a lesson she still shares with artists to this day, and concerns how the art pioneer managed to survive in a fickle and chaotic business.
"A woman happened to park her Rolls Royce outside of the shop because she saw a painting in the window as she was driving by. [Halpert] took the time to explain American Folk Art to her, and ended up setting up shows in her home," Fleck says. "The person's name was Abby Aldrich Rockefeller, and her support took the gallery through the Depression."
"I once had an artist, during a meeting, explain to me that she didn't like galleries that rely on people just walking off the street," Fleck continues. "Well, I've had cars stop in the middle of Queen Street so people could come in and buy the piece … because it was so incredible." ◾

More of Elaine's favourite reads:
Maria Callas, An Intimate Biography by Anne Edwards
Born to Run by Bruce Springsteen
Patti Smith: A biography by Nick Johnstone
Famous For 15 Minutes by Ultra Violet
Notes on a Life by Eleanor Coppola
John by Cynthia Lennon
Portrait of an Artist: A Biography of Georgia O'Keeffe by Laurie Lisle
Photo by Gary Ray Rush
Painting "The Patrician" by Brandon Steen