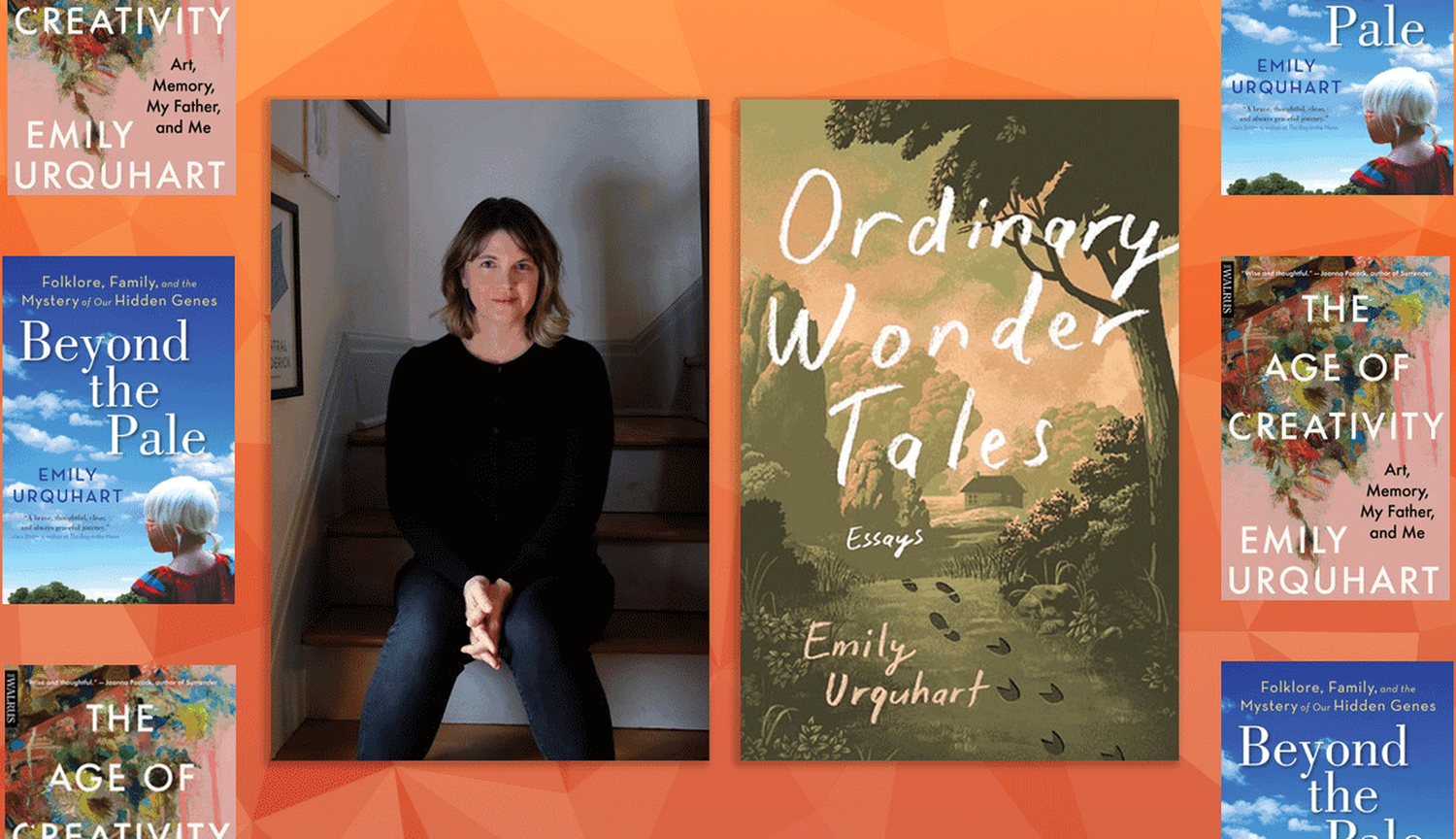 Emily Urquhart on folklore, family, and creativity
Kobo: Your first book Beyond the Pale, which was shortlisted for the Emerging Writer Prize, was about albinism which is a condition that affects your daughter Sadie. It's a thoughtful and intellectually rigorous book, almost like a highly readable doctoral dissertation—except driven by the care and concern of a parent. What do you remember about writing it?
Emily Urquhart: It's funny that you put it that way because at the time I was working on my dissertation, which had nothing to do with the subject of Beyond the Pale.
But initially, I didn't know I was writing a book. I was a new parent, so I knew nothing about raising a child, let alone a child with a genetic condition. I really knew nothing about genetics either, nothing about albinism. But because I was an academic and had worked as a journalist, my brain switched into that mode when I was interacting with medical professionals. So I was taking notes, because these were important details for managing home life, but I would also be noting the colour of the wall and what kind of shirt the geneticist was wearing. While I was learning about things like what my child's visual acuity might be, how she might progress through the normal stages of childhood development, how recessive genes work, and those things, I was also noting my surroundings and my feelings. I think it helped me in the moment to separate from what was happening, which was scary and upsetting, and I often didn't know how to respond.
But the result was I had all of these notes on recipe cards. And because I was studying folklore, I was constantly thinking about stories, and just out of curiosity I started looking into the kind of folktales that have been told about people with albinism around the world and throughout history.
Kobo: And a lot of that folklore is unsettling.
EU: It is, but it's what I needed to know. I felt I needed to know everything.
I was taking notes, because these were important details for managing home life, but I would also be noting the colour of the wall and what kind of shirt the geneticist was wearing.
I realized after a while that I wanted to write about it, so I pitched a piece to The Walrus magazine. The editor at the time, John Macfarlane, was interested in the folklore angle so I played that up a bit for the piece. But as I worked on this article, I quickly knew I had more than I could fit into a 5,000-word piece. By the time I submitted my first draft to the magazine, I knew I was also writing a book. A book I needed to write.
Kobo: Your second book, The Age of Creativity, also draws on an intimate relationship: it's about your father, the artist Tony Urquhart.
EU: I was visiting the Art Gallery of Ontario with him—I spent a lot of time throughout my entire life visiting art galleries with my dad—and he took me to a room on the second floor and he asked me to try to identify the paintings in the room. I do have a degree in art history so I do okay, even if I don't always shine at it. He was a master at it though, he had an encyclopedia of art in his head. But on this day at the AGO we're going around the room and I'm doing my best, saying, you know, I think that's the guy from Montreal, and just trying to keep up with him.
Then he shows me this one particular painting and says, "Well, what about this?" And I had no idea. And he tells me it's a painting of his, from when he was 22. And I had a light bulb moment there, realizing that this painting wasn't his best work—and he said so as well. I thought that was so interesting because when we think of the stars in creative arts, they're young and hot and they're in a period of their life where a lightning bolt has struck them—and that was my dad once, and that's why it was this painting that was hanging on the wall in this gallery, in recognition of my dad at a time when he was one of those stars.
My dad was in his eighties then and I wondered, could it be possible that he's at his peak now, with all of that time spent honing his craft, all of that learning through trial and error, and that encyclopedic knowledge of the history of art that he builds on year by year? It only makes sense that you'd reach your peak later in life—but I hadn't considered that before. I spent the train ride home googling "visual artists better in old age" and "does creativity decline with age" and that quick search session led to a lot more research which became my book.
Kobo: Did you end up discovering substantial research beyond that quick googling?
EU: Yes, there was some work in the 1950s and 60s about creative decline, which found different ages in different disciplines. Poets peaked in their mid-30s; architects in their 40s—that kind of thing.
But observing how that research was conducted led me to another insight: creativity doesn't need to be about a product. It's an act. The very old artist may not be making paintings anymore, but maybe their creative act is what they see when they look out their window.
Creativity doesn't need to be about a product. It's an act.
Kobo: It's often said that a writer's second book is the hardest, since the first can take their entire life until then to write, and the third (if there is one) comes from what the writer learns about craft in writing the second. So the question of creative growth over time is an interesting one for a second book.
EU: Yes, I've heard that too about the second book being harder. But that didn't occur to me. Both Beyond the Pale and The Age of Creativity started out as articles in The Walrus, so I've been really fortunate in that way. When the second article came out in 2017, Sarah MacLachlan of House of Anansi reached out because they had a program, Walrus Books, for which they give writers a grant to develop an article into a book. It's a brilliant program.
When Sarah suggested it I hadn't thought of turning the article into a book. And at that time, I was really eager to be working on Ordinary Wonder Tales, the book I just published a few months ago. But I thought it over through a weekend and decided, I think this is just an opportunity where you say yes. And Sarah's very convincing! [laughs]
I talked to my dad about it and told him, if this is going to be a book, you're going to have to be a part of it. I need your blessing, and I need your participation. Ultimately it was such a beautiful gift that Sarah gave me, having that book to work on, because I spent a lot of special quality time with my dad in what turned out to be the last years of his life.
Kobo: I think it's interesting that with both of your parents being well-known creative artists, your mother being poet and novelist Jane Urquhart, you haven't done the obvious thing and become a painter or a novelist or poet. You've carved out a space that's just adjacent, where you observe the creative process at work. Were you an analytical, observant child, or did this scholarly, critical inclination come later?
EU: There's quite a large age gap between my parents, and I was my dad's fifth child and my mom's only child, so from about age seven I was an only child. I'd be with my parents and whoever was in their orbit, but there were long stretches without any children in the house but me, so without anyone to play with I was kind of forced into that observing role. Not that I could observe my mom writing—I know myself, there's no way my kids could sit beside me while I wrote something. [laughs] But my dad didn't have any problem with interruptions, and I'd go out to him in his big studio in the backyard of our house in a town called Wellesley. A little corner of it was my own space to create, so I could observe him, or I could create on my own. I think that opened me up to my own capacity for creativity.
Kobo: Though you didn't pursue painting?
EU: I'm a bookish person, I was a bookish child, and I like to say that reading is the only thing I'm really, truly 100% good at.
I'm a bookish person, I was a bookish child, and I like to say that reading is the only thing I'm really, truly 100% good at.
Kobo: What are you reading now?
EU: I'm doing a lot of research on the folklore of plants and trees, so I've got the Oxford Book of Plant-Lore always at hand lately. I just finished The Overstory by Richard Powers, and I started a novel called Scatterlings by the South African novelist Resoketswe Martha Manenzhe. I'm teaching now, and I've been dipping into Lynda Barry's Syllabus which is this wonderful book full of her notes as she was teaching cartooning, and I'm finding it inspirational. And because I listen to the Poetry Unbound podcast with Pádraig Ó Tuama, I splurged on the hardcover book of poems collected from the podcast, Poetry Unbound: 50 Poems to Open Your World; I've been trying to read a selection from that each morning instead of looking at my phone. It's been a nice way to shape the day.
And the last book I want to mention is Bora Chung's Cursed Bunny because I just read the first story in it and it's the weirdest story that I've ever read—but it's amazing, and I'm so excited to keep going. But I need to figure out how to balance it against Scatterlings.
Kobo: I understand your daughter uses some special technology to facilitate her reading life. Can you tell me about that?
EU: Because Sadie has low vision that isn't correctable with glasses, she can't read regular-size print, and she can't read what we normally-sighted people would consider large print. Prior to her getting a Kobo Forma she used a CCTV desktop machine with a heavy base that magnifies whatever you put under it onto an enormous screen. When her books from school would come home while she was learning to read, we'd have to use the CCTV to magnify them. Fortunately, books for kids learning to read have fairly large and clear font already, but as she started to progress into chapter books she'd want to read on her own. And sitting at the desk under the looming CCTV screen, it's just not conducive to the kind of reading she wanted to do, in comfortable spaces like her bed or on the couch.
I went to Indigo to try out a few Kobo devices, and I liked the Forma for having the tactile buttons along the side. I thought for someone with a visual impairment that would be a helpful feature. So for Christmas that year when my mom Jane asked what she could get Sadie, that was the gift. And I remember that night seeing her read in bed for the first time, and she's been doing that ever since. She even brought it with her to summer camp. It's been life-changing for her.
When she's reading on it she'll blow up the font to where there are only a few dozen words on the page, because that's what works for her. And she just whips through the books that way—if she's nearby I can hear her clicking the button to advance the page every few seconds.
Kobo: Do audiobooks play a role for her, or is she all about cuddling up with the words on the screen?
EU: Audiobooks were how she was reading chapter books early on. We started with Puffin Classics, and it was something my younger son Rory enjoyed as well. I think audiobooks are great for kids of all ages, especially when their comprehension is enough to follow a complicated story aloud, even if their sight-reading isn't at the level where they can get it from the page.
I'm a big audiobook listener too.
I love audio. I love listening to brilliant narrators—I seldom find one that doesn't work for me. And as a folklorist, since our stories have been told aloud far longer than they were ever written down, I see the novel as a relatively new form.
Kobo: Really? What do you like to listen to?
EU: Almost always it's the book I'm also reading. It's about being able to read at different times of day, not just when I'm in bed at night. Sometimes I'm just so into a book and I don't want to ever not be reading it. I try to use the library as much as I can so I'm not buying every book twice.
But some writers like Samantha Irby I'll just listen to, since her written voice is so strong and her delivery in narration is brilliant. I enjoy her reading her books so much. [laughs]
I love audio. I love listening to brilliant narrators—I seldom find one that doesn't work for me. And as a folklorist, since our stories have been told aloud far longer than they were ever written down, I see the novel as a relatively new form. The printing press wasn't invented all that long ago.◼
This interview has been edited for clarity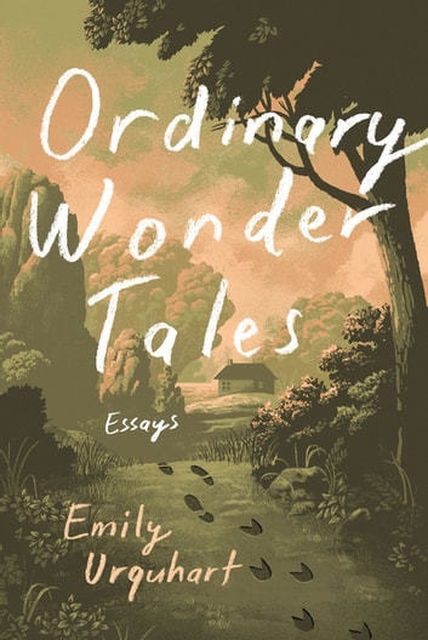 Ordinary Wonder Tales
A journalist and folklorist explores the truths that underlie the stories we imagine—and reveals the magic in the everyday.
View eBook