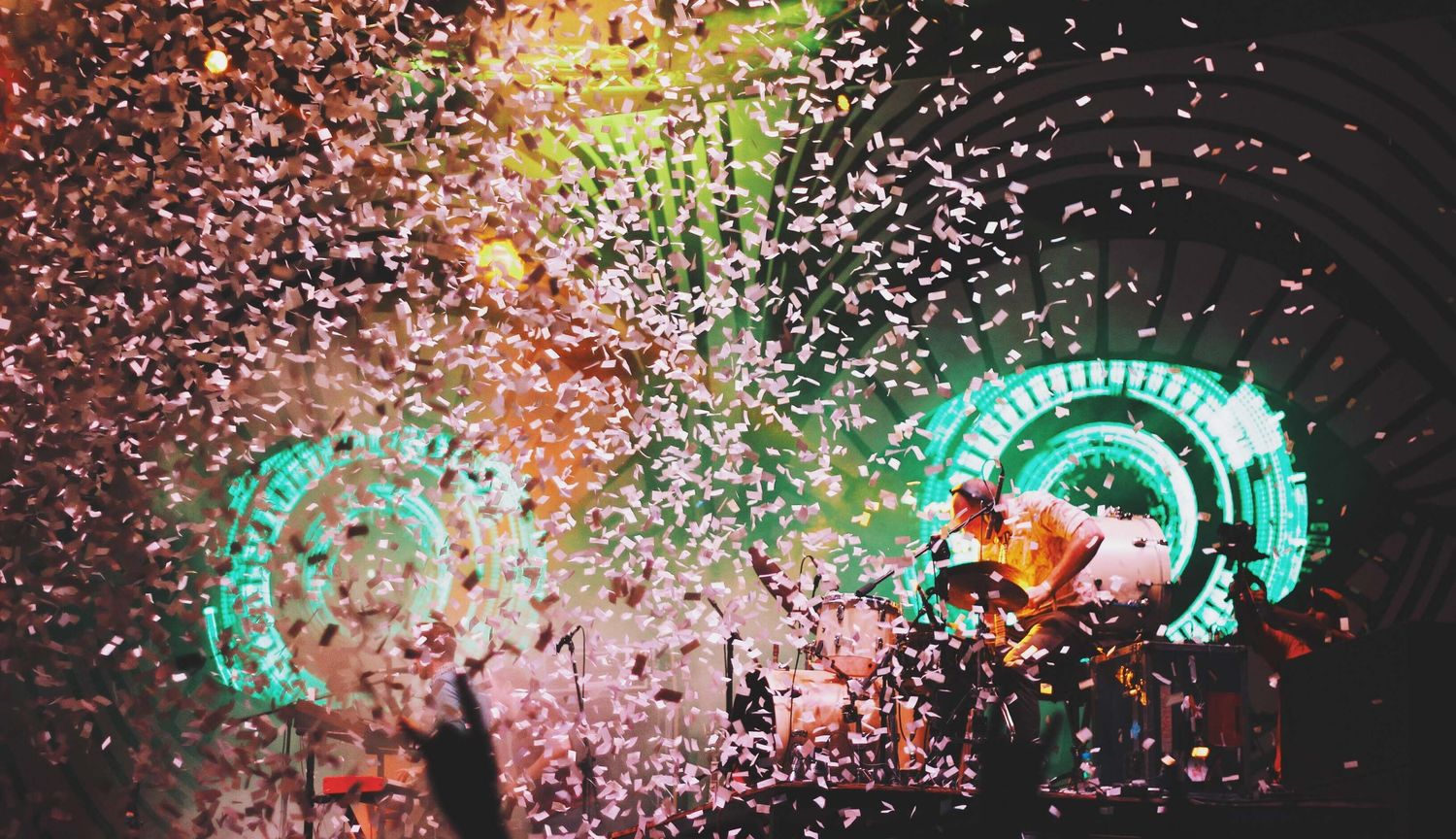 How I braved Osheaga alone with my Kobo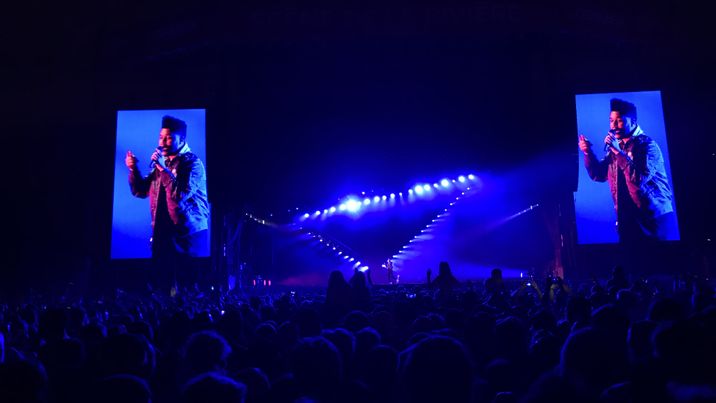 It was a wet and wild weekend, and almost nothing went according to plan.
The three-day Osheaga Festival of Music and the Arts has been on my bucket list for years. Well, that is if a bucket list can contain something that I'd like to make a habit. This was the year to get that habit started, my first trip to the three-day festival held at Parc Jean-Drapeau.
The festival blends art and music – six stages and a greenhouse of back to back bands and musicians. The grounds also showcase a number of art installations, a tent city, crowds, makeshift restaurants and bars.
So far so exciting – that is, until the torrential rains and lightning appeared and washed many a musician off the stage; in fact, the festival was halted for hours one day as we all wished and waited for the rain to stop.
It would have been a wash-out but for one thing.
I was ready for down-time. I loaded my Kobo Aura H2O Edition 2 with a couple of new books from varying genres for two reasons:
I knew that my trip would consist of varying segments of highs and lows that would put me in the mood for different reads.

Akin to my desire to discover new amazing music from different bands, I was also looking to discover great new reads from different genres.
I had decided to make this trip a bit of an artistic experiment for myself. The cross-over of art and music intrigues me. Art and music are two art forms that most easily unlock emotions inside us, and that's probably why art is incorporated into so many music festivals. But art and music tell stories, ultimately -- what about books? To see for myself how reading would fit into a music festival weekend, I brought my Kobo eReader and my entire library with my new books with me.
Here are the situations where reading fit seamlessly into my music festival experience:
On the bus ride there
My bus's estimated travel time from Toronto to Montreal was seven hours. Not the longest bus ride, but not a short one either. I had a nap and then begin reading Less. It couldn't have been a more perfect book to start with. I immediately connected with Andrew Less' sense of adventure, as he ambitiously embarks on an international journey by hopping from one dubious literary event to the next. I arrive at my destination before I even get the chance to dive deep into the novel.
When it rained... A LOT
The weather at Osheaga this year was uncooperative to say the least. As soon as I picked up my festival band on Friday it immediately started pouring. Fortunately, I was able to find shelter under a merch booth and break out my waterproof Kobo Aura H2O and started waiting out the rain with a few pages of No is Not Enough. It was the perfect accessory to have with me as I usually would've just been killing time with my friends and complaining about the sets we were missing if had I not come alone.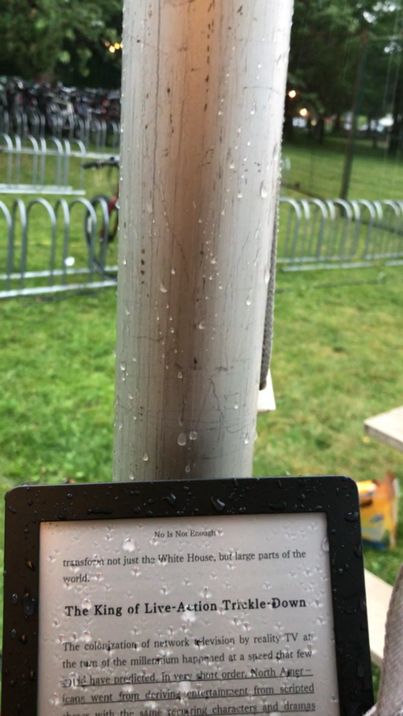 As it rained heavily on and off throughout the Friday, there was plenty of time to catch up on my readings.
When I was waiting for a set to start
Going to a festival by myself, there was more than enough time to kill between sets even after exploring the grounds and checking out what the Osheaga sponsors had to offer. There were plenty of prime spots to sit underneath some shade near the front of the stages. I remember reading The Emoji Code (something I can dip in and out of quickly just in case the set starts early) by the side of the Bacardi stage, and a few minutes later I was front row singing every word of "No Talk" along with River Tiber.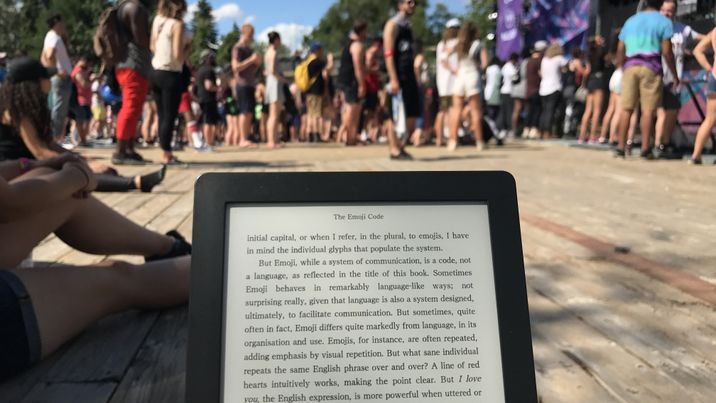 When Natrel offers you free chilled lattes and smoothies
Plenty of sponsors partnered with Osheaga and were trying to win over festival goers with Wi-Fi hotspots and free gear, but Natrel was the winner in my eyes. They were an oasis for dehydrated music lovers as they provided cold lattes and smoothies served in tall Pilsner glasses with striped straws. They even provided table and seating areas for you to rest and enjoy your cold beverage, which they graciously offered for free. It was a perfect spot for me to get some more reading done as I sipped on my chilled caramel latte.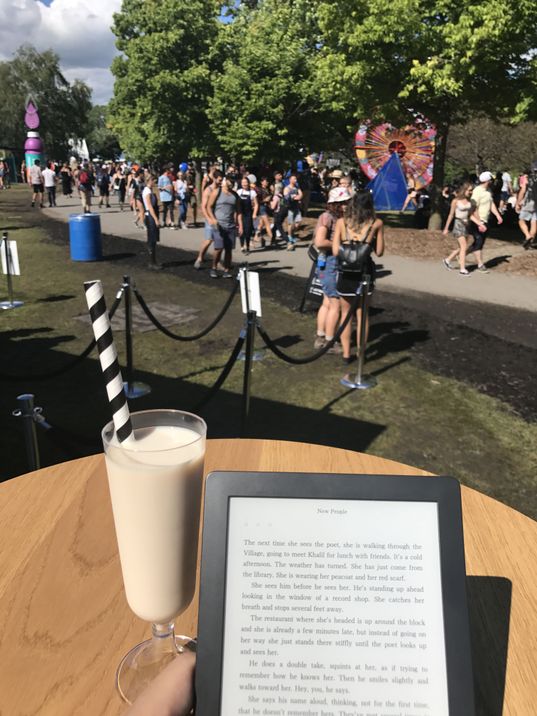 When I was waiting for my phone to charge (this was often)
When you take a lot of photos and videos, which tends to happen at a music festival, your phone's battery dies quickly. Thankfully, sponsors such as Bell and Virgin Mobile provided charging stations where you can charge your phone and take a breather. But then you're caught in the paradoxical situation of using your phone while it's charging, or doing nothing so your phone charges faster. This is where my Kobo probably shined the most. I was able to sift through my library and find something to read while others looked bored out of their skull.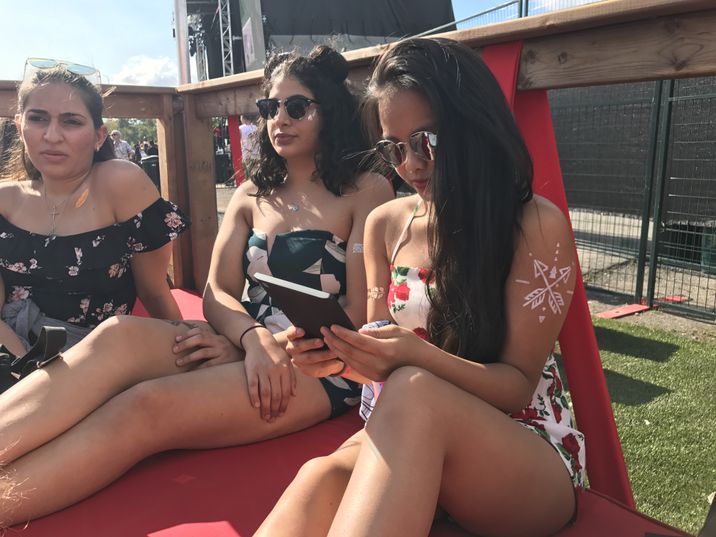 When I needed to take a break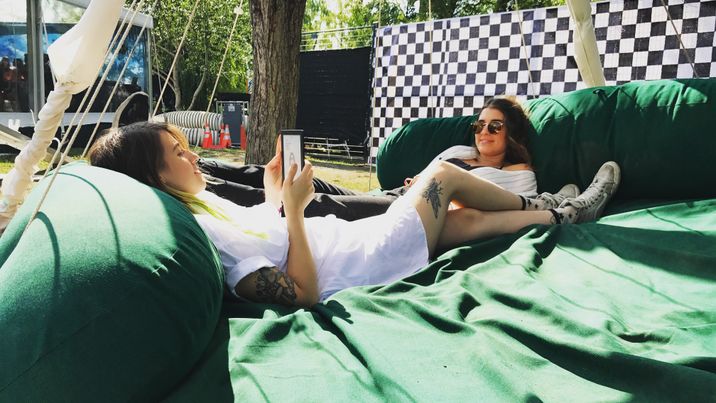 Osheaga had hammocks galore. There were two main hammock areas, one by the main festival entrance and at the south side of the festival grounds, for your to just kick back under the trees and get some reading in while you rest your feet. Outside of the hammocks, there were many other prime reading spots (all with some shade) to catch some R&R (rest and reading), including a rope palace. This is where I met Cal and Rachel, who were more than happy to give my Kobo a try. They browsed through my library until Milk and Honey caught their eye, a perfect quick read for a festival break.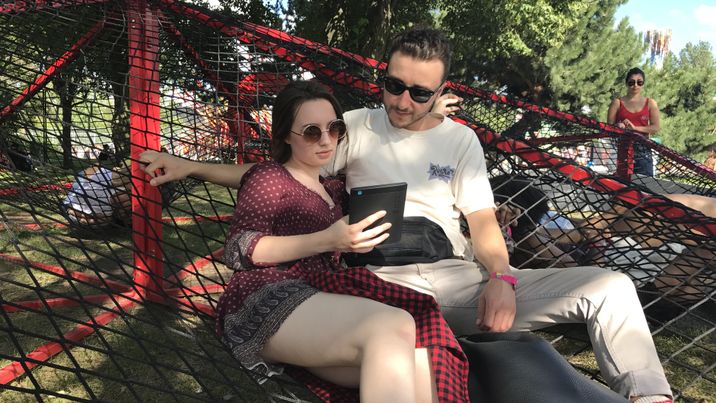 All in all, and despite the weather, Osheaga lived up to all I hoped it would. I will be back next year, and I will definitely be packing my Kobo.