In conversation with unintentional birder Julia Zarankin
Julia Zarankin couldn't have known when she wrote her memoir that 2020 would create an audience of readers looking for new ways to spend time indoors. But as she told us, one of the first thing a birder learns is to be humble—and prepared for the unexpected.
Kobo: Your book lands at a time when we've all started watching the birds outside our windows. What's it like to suddenly be an authority on everyone's new hobby?
Julia Zarankin: It feels kind of miraculous!
In May I published a piece in the Globe and Mail called The Pandemic Might be Turning All of Us into Birders. It was warmly received and I was interviewed on the CBC, and I realized my book might actually be coming out at the perfect time.
This book took 3 years to write and I realized very early on in the process that I'm not an ornithologist. This isn't going to be "a bird book". This is going to be about how birds taught me to see in a new way, and how I came to see my own life reflected in birds -- in their migratory journeys, in the strange ways they love, and I started to connect with birds. The book follows my own arc as I grew.
Kobo: Has the lockdown been good for you as a birder?

JZ: It did cancel a lot for me. That sucked.
But the silver lining was that for the first time ever I got to go to the same park every single day for weeks. Birds work on a calendar: the pine warbler comes first, then the yellow-rumped warbler -- there's a whole unwritten schedule and I never would have seen that in the same park had it not been for the lockdown.
It was a blessing. It's something I want to make part of my birding practice because it gave me a different view of how these natural cycles work.
I think of birding sometimes as an antidote to smugness. You can think you know something so profoundly and think you're sure of things—but you'll make mistakes. Birds will prove you wrong.
Kobo: Your book is kind of a unique species: blending science and memoir. Is there a book you had in mind or an example of someone doing in writing what you were setting out to do here?
JZ: My book does a lot of different things. It's about my personal migratory journey, discovering my wild side, learning to see and pay attention, and it's also a love story. I suppose I had literary models for the different strands of the book.
I didn't grow up with the outdoors. I was raised by classical musicians -- we went to concert halls and museums. My discovery of birds and the natural world happened accidentally through literature. I was going through a career transition and auditioning hobbies, and I came across Jonathan Franzen's essay, "My Bird Problem," and I thought, maybe I need a bird problem.
And from there I read Phoebe Snetsinger's Birding on Borrowed Time. She started birding when she was 34 years old, and when she got a dire cancer diagnosis she just set out to see every bird species she could. She was the first person to see over 8000 species of birds. That single-mindedness, that obsession, really fascinated me -- before I'd seen a single bird. I wanted what she had. I wanted that curiosity. And I went out and saw my first red-winged blackbird.
I'm constantly fascinated by Russian emigre writers like David Bezmosgis and Gary Shteyngart -- and Eastern Bloc writers like Aleksandar Hemon. I'm inspired by Chekhov and his call to pay attention to nature.
I think of birding sometimes as an antidote to smugness. You can think you know something so profoundly and think you're sure of things -- but you'll make mistakes. Birds will prove you wrong.
Kenn Kaufman's Kingbird Highway was the first birding memoir I read. He dropped out of high school and hitchhiked across the US seeing as many birds as he could. But I read that book before I'd really looked at birds, so all the bird talk went right over my head the first time I read it. But what I loved was how his outlook changed over the course of that year. I think that was at the back of my mind as I wrote.
As for combining all of these threads -- I think that's just the way my brain works.
I realize I'm doing something very unscientific. You're not supposed to anthropomorphise birds: birds are birds and people are people. But for me they're totally intertwined. And the way I came to love them was by seeing echoes of myself in them. Looking at their hairdos, the fashion.
Kobo: After someone's read your book and is ready to take off and become a birder—is there a book you'd send them to in their new hobby?
JZ: Kenn Kaufman. It's the classic.
And I'd send them to Helen Macdonald, for her collection Vesper Flights as much as her better known memoir, H is for Hawk.
And I'd send them to Kyo Maclear, Birds, Art, Life: for her birds were a year-long project, which is different from my book, but she traces that arc beautifully.
And of course David Sibley's field guides. He draws arrows in a really helpful way.
Kobo: Reading seems like birding in many ways—there are more books than you'll ever read, and you know you're going to fail to reach completion in a lifetime. What's a book you've been meaning to read for a long time, but just haven't gotten to yet—but you're sure you will?
JZ: I wish you'd asked me that a couple months ago, because I would have said Moby Dick. But then I read it. ◾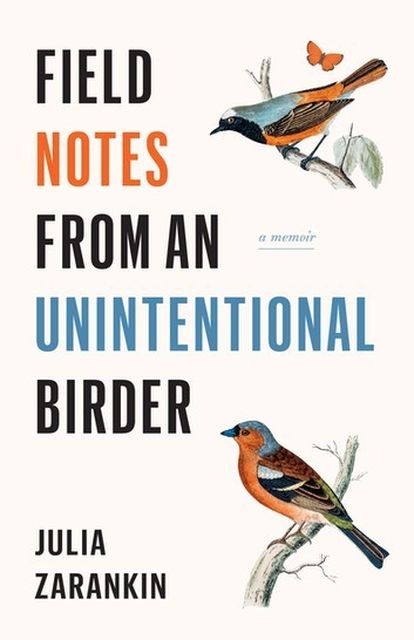 Field Notes from an Unintentional Birder

:

A Memoir

When Julia Zarankin saw her first red-winged blackbird at the age of thirty-five, she didn't expect that it would change her life. Recently divorced and auditioning hobbies during a stressful career transition, she stumbled on birdwatching, initially out of curiosity for the strange breed of humans who wear multi-pocketed vests, carry spotting scopes and discuss the finer points of optics with disturbing fervour. What she never could have predicted was that she would become one of them. Not only would she come to identify proudly as a birder, but birding would ultimately lead her to find love, uncover a new language and lay down her roots.

View eBook View Audiobook