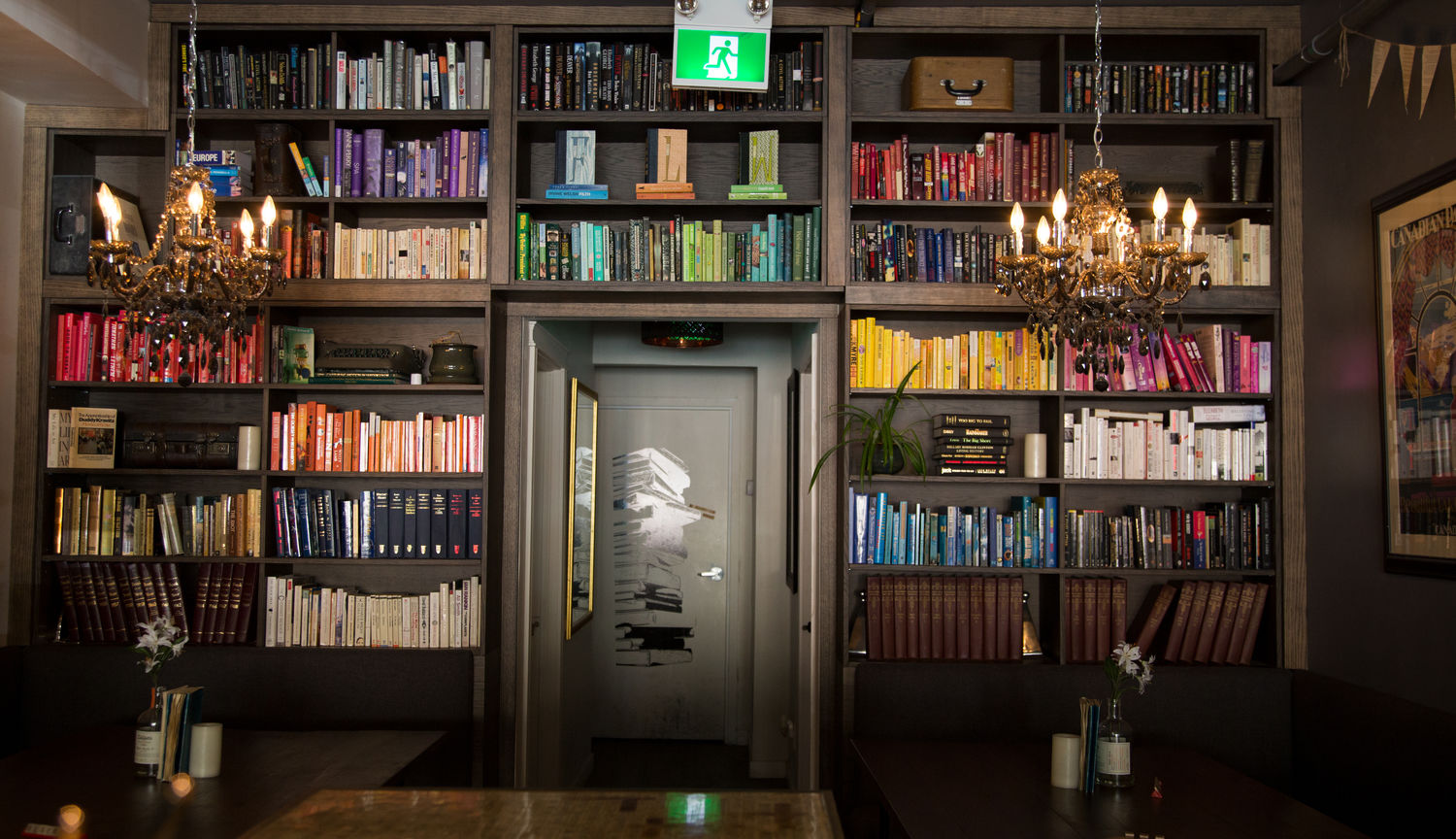 Living the dream – the story behind the best bookish bar in the world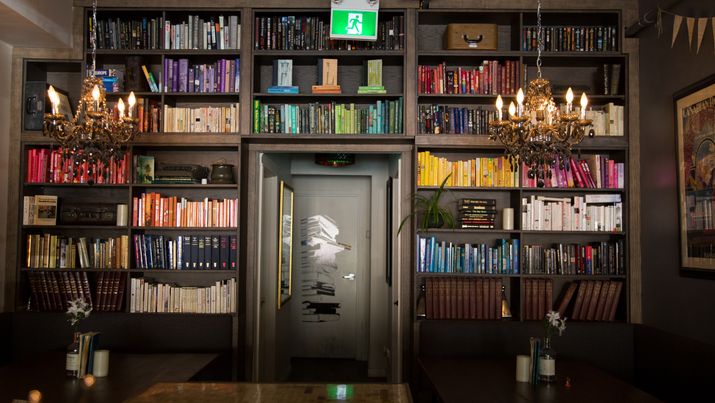 Famous Last Words is tucked into the Junction, an up and coming hipster-yet-rag-tag area of Toronto. As the name suggests, it is a bar created to be the ultimate booklover's boîte, complete with an actual book of book-themed cocktails to order.
The bar is the brainchild of owner Marlene Thorne, who says she's always been a booklover. And, she's always loved a quirky cocktail. That said, hers is the first establishment in Toronto to have such a laser focus on books and the bookworm, and she worried, at first, that she was "creating a place only I would like."
Her fears were unfounded – the place is hugely popular and in addition to a raft of regulars, regularly hosts book clubs, for which Marlene creates a special cocktail inspired by the book under discussion.
How did you come to be the owner of a bar?
After more than 15 years in marketing, I found myself downsized as part of a huge corporate merger. I wanted to try something different, but was at a bit of a loss as to what.... Although I absolutely loved the cocktail catering I'd been doing for private parties and corporate events, the idea of trying to turn that hobby into a new career was frankly terrifying. I'm not a risk-taker by nature (the opposite, in fact), but with some very strong encouragement from my husband I built a business plan, found a space and the rest is history!
How did you choose the name?
Famous Last Words, in my mind, works in so many ways: on the most literal level the bar is dedicated to books which are obviously made up of words. Then, there's the time-honored tradition of saying things like, "Okay, but I'm only having one" or "I'm never drinking again" to which the only truly appropriate response is "Famous last words...". Finally, the Timothy Findley novel is not only one of my absolute favourite books of all time; it inspired me to no end when I first read it in my early twenties as an aspiring writer. It seemed beyond appropriate that it inspire me many years later as an aspiring entrepreneur.
Tell us about the learning curve.
I did a ton of online research; because I have a background in business, most of what I had to learn was really practical stuff about permits and licensing. I also spent a lot of time with the books published by some of the bars I most respect - Death & Co, The Dead Rabbit - for inspiration and instruction. Once I opened (and actually had a few minutes to spare!) I read two books about working in the hospitality industry: Delancey, by Molly Wizenberg, which is a phenomenal memoir about a couple who opened a restaurant in Seattle. It's a very frank view of the emotional and financial roller coaster ride you embark on when you own your own business. I also read Sweetbitter by Stephanie Danler, a fictional account of a woman who finds herself caught up in the chaos of working in a high-end Manhattan restaurant - as cautionary tales go, it's a pretty good one!
Your bar is devoted to books. How did you fall in love with reading?
My parents were very avid readers, so my earliest memories involve books - being read to, and always seeing one or both of them with a book in hand. I grew up in a small town that didn't have a bookstore, so I lived for the semi-annual Scholastic book sales at my school. When I got a little older, my parents would order me hardcover Nancy Drew mysteries through the mail... it felt like Christmas every time a box showed up!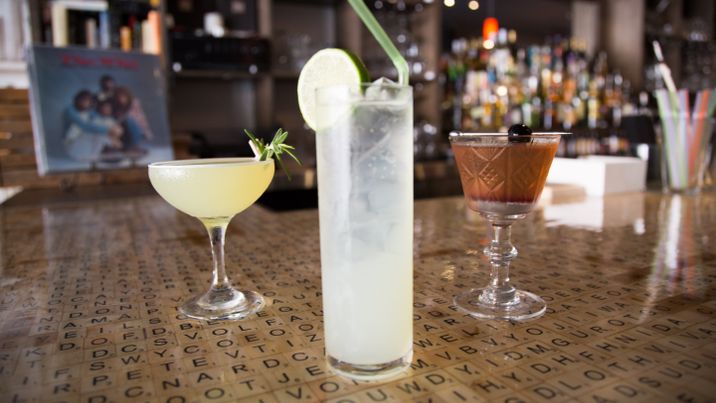 What cocktails – or books – to people most gravitate to?
Our most popular cocktail is the Fahrenheit 451 - it's a maple old-fashioned. I think people love it because it's simple, delicious, and I'm pretty sure everyone read that book in high school. City on Fire is also hugely popular - it's a combination of scotch, mezcal, Cointreau and bitters, so it's a smoky, stiff drink. All the Light We Cannot See, one of our sparkling wine cocktails, combines gin, elderflower, prosecco and fresh thyme and does quite well when the weather warms up, as does Fierce Invalids Home From Hot Climates, a riff on a Tom Collins. Famous Last Words, our version of a Last Word cocktail, is consistently in our top 10.
How do you come up with new cocktails?
Because we create a custom cocktail for book clubs who hold their meetings at Famous Last Words, there are constantly new pairings that I love, a few of which might just be making it onto our new spring/summer menu! From our current menu, I love S by JJ Abrams and Doug Dorst; the cocktail has a ton of ingredients and subtle layers of flavour and I show almost everyone who orders the drink the book because the concept is so interesting (it's a mystery-within-a-mystery that's executed in a really cool way).
Which comes first, the book or the drink?
It varies! Sometimes I love a book so much that I need to create a cocktail that represents it. A great example is Animal Dreams by Barbara Kingsolver - I love her writing and this book in particular; I started with a Nicaraguan rum (because of a really salient plot point in the novel) and then rounded out the flavours using inspiration from other places where the book is set. For The Goldfinch I used a completely different approach - I had the recipe for the cocktail and as I started to think up ways to describe its flavour profile (tart, smoky) it started to attach itself to Donna Tartt's masterpiece. I knew it would be polarizing (it's tequila-based and uses a shrub, which isn't for everyone) and it's also yellow, so it seemed fitting.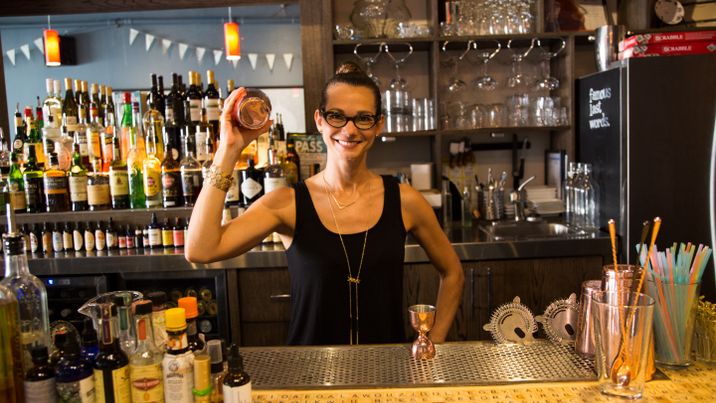 You not only have a bar devoted to books but you support literacy charities and books clubs. Why is reading so important to you?
Beyond the practical reasons of literacy being a fundamental tool for creating opportunity and opening doors, I think reading is absolutely critical as an escape. I was kind of a loner as a kid - I spent almost every afternoon in the local library, getting totally lost in books. If you can read you can go anywhere, experience anything - like the quote (attributed to George RR Martin) says: " A reader lives a thousand lives before he dies. The man who never reads lives only one."
Is digital reading important to you?
Digital reading is a huge part of my life, for so many reasons. I get so little time to read anymore that I snatch a few minutes here and there whenever I can - so having a portable, lightweight device is key. In that same vein, I love the fact that I can preview books. I need to love what I read, so if it doesn't catch my interest I'm onto the next one! Perhaps most important is the fact that I work really late hours and I often wind down with a book. My Kobo lets me read in bed without disturbing my husband (who keeps far more normal hours!). Oh, and I also hope at some point to be able to go on vacation again. In the old days half of my suitcase would be filled with books - now I can download a ton of books and still have room for clothes!
Tell us about the FLW customer.
Quite simply, they're the best! I'm continually amazed at the wide variety of people who come into Famous Last Words. Every imaginable demographic is represented and people come in big groups, in couples, by themselves. We get readers and writers and people who just love cocktails. It's often a mix of local folks from the neighbourhood (which has been incredibly supportive!) and people who travel from much farther afield - some of whom come to the Junction specifically because they've read about Famous Last Words and wanted to check us out. And everyone is so nice. Our staff constantly marvels at how nice everyone is!
Lots of people come to Famous Last Words to read. Where is your favourite place to dive into a book?
I read wherever I find myself with a few minutes to spare! But when I do have time to really settle in there's a chair in a bay window in our living room that reclines a little bit. When the sun shines there's no place I'd rather be.
What are you whipping up next for Famous Last Words?
Right now I'm doing "research" for a couple of new cocktails for the Classics section of our spring/summer list - so I'm in the middle of Under the Volcano and American Pastoral. I'm also about to download a digital copy of All Our Wrong Todays, about which I've heard a ton of good things... I bet there's a cocktail in there somewhere :)