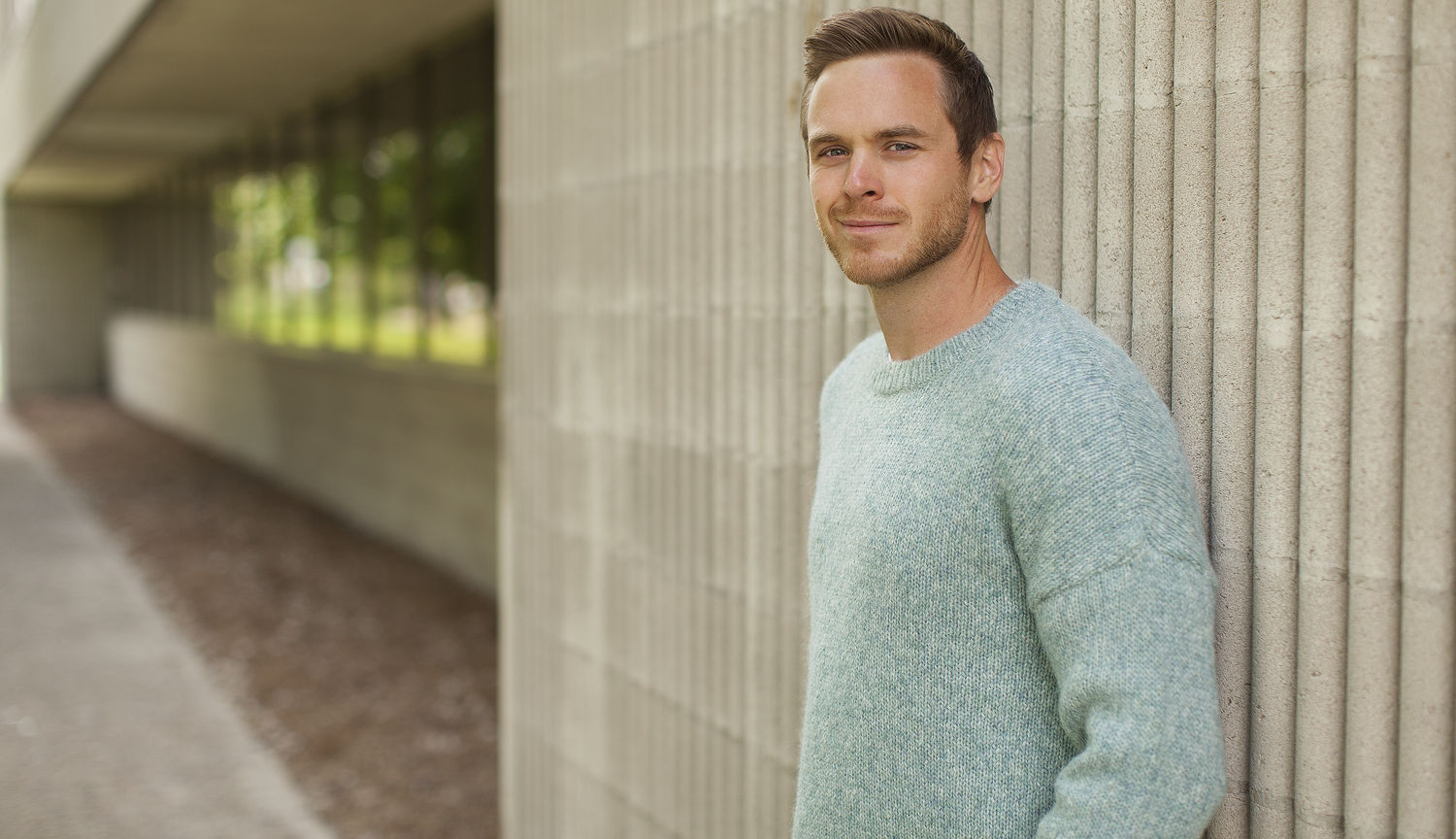 Mike Holmes Jr.: Healthy Living in the Time of COVID
If you're into high-profile home renovations, you're likely familiar with the Holmes family
Mike Holmes Jr., son of famed contractor Mike Holmes, has been carrying on the family legacy since he was 14. Of course, at that age, few kids know what they want to do when they grow up – and Mike Jr. was no different.
"Contracting wasn't at the top of my list," he confessed. After 9/11 he dreamt of becoming a firefighter to help people, but with building in his blood, he now supports families through his trade.
The most recent trend in his field is how COVID-19 is changing the way we design our homes. With an incredible number of people working in makeshift office spaces – many of whom are also caring for children – he's getting a glimpse into what future builds will bring. In our conversation, Mike Jr. shares his views on post-pandemic living, what it means to have a "healthy home", and how picking up a book can be the start of a new life.
What was it like getting pulled into the televised family business?
I actually didn't want to work for my dad. I already helped him on the weekends for free, but he asked me if I wanted to make some money working for him in the summer, so I did. I worked for him for years before even getting involved on the television side and fell in love with the trade itself.
Tell me about your family's "make it right" philosophy. How do you apply that to other areas of your life?
That's actually exactly how I look at the philosophy: everything you do in life, you do it right. That's how my dad raised us; he instilled that philosophy in us. If I'm cooking dinner, I'm going to do it right. I put the effort into my marriage to get it right. It just means putting your heart into everything you do.
With many construction projects halted because of COVID-19, how are you spending your time?
My wife and I bought a heritage house three years ago that was built in 1874, and I have a long list of projects that I've been tackling on the property. I've been building garden beds and a concrete pad where a hot tub is going to go, so I've been keeping very busy. Although it hasn't been for other people's homes, it has been nice to put the love and attention into my own.
How is the pandemic influencing home design? What trends are on the horizon?
I think a lot of people want different areas or zones in their homes where they can work effectively. Rather than expanding, people are thinking about how they can make their space more functional. They're styling their homes by the square foot.
For instance, a lot of people are now using home offices. Those who don't have one, though, might set up shop in their living room, and if you have small kids running around, that can be a huge distraction. Having different zones in your home can help to manage this.
We spoke with an architect who came up with a post-pandemic house layout and it was essentially that – creating different areas for parents to give them privacy and allow them some time to themselves. The layouts of today's homes are going to be a little bit more efficient in comparison to what we've seen in the past.
Is that doable in a smaller space, like a condo?
No matter the space, it's definitely doable. You can always find space. If you're talking about a 400 square-foot apartment with a family of four, that might get a little tough, but generally speaking you can get creative with your layout.
What does it mean to "build a healthy home"? I've come across the phrase a few times.
My wife and I always talk "healthy homes". She went to school to become a naturopathic doctor and she's a registered herbalist. She's very health focused and I do all the builds, so we naturally consider how to make a home healthy in different ways.
For example, she has a line with Fusion Mineral Paint and it's all zero VOCs (that's paint without volatile organic compounds that easily become vapors or gases). VOCs are a big focus in healthy homes. So is mould, asbestos and radon, which is the number-one cause of lung cancer for non-smokers.
A lot of people don't understand that if your indoor air quality is poor and you're spending a lot of time at home – like during a pandemic – you're likely to get sick. So we work to make sure people are able to live healthy at home.
Are there simple things that people can do themselves to create a healthy home?
Being a conscious homeowner is the big thing, so be aware of anything you add to your house. If you're going to paint, look for zero VOC paint. You can buy mould and radon tests that you use yourself, so test your indoor air quality. Think about anything you add to your home and what toxicity it might bring into your space.
I hear there's news about your show, Holmes: Next Generation. Tell me about it.
We filmed Holmes: Next Generation a while ago and it's coming soon to CTV Life. We're really excited about that. It's me and my family, and we get together to help families in need. They were touching projects. The stories are all very different and heartwarming, and we still keep in contact with some of the homeowners. It was a pleasure to work on.
You're obviously very comfortable in front of the camera now, but have you ever thought about sharing your craft in other ways, like writing a book?
My wife and I have talked about it and we have a few ideas. She's a much better writer than I am, so I might ask her to ghostwrite it for me.
Would you ever collaborate? I really like your "healthy home" holistic view.
A collaboration is definitely in order, so maybe soon.
Are you reading anything right now? What's the most interesting book you've read recently?
My wife actually bought me a Kobo because I felt like I didn't read enough. The first book that really got me was Dark Matter by Blake Crouch. It's not a long book, but I couldn't put it down. After that I read The Broken Earth series by N.K. Jemisin, and I'm going to go back and read it again. She's a phenomenal science fiction writer. If there was one series I could shed light on, it would be that one. (Shoutout Black female science fiction writers!)
My wife also got me hooked on the Outlander series by Diana Gabaldon. They're her favourite books, but they're categorized as "historic romance", which fully threw me off (laughs). I wasn't interested in the genre at all, but I'm on the third book – and these are some loooong books.
I'm a big Stephen King fan too, and one of my favourite series is The Dark Tower. I also like The Stand, Salem's Lot, and the Mr. Mercedes trilogy -- tons of Stephen King books.
What about contracting books? Is there anything that those who are interested in the trade should check out?
My dad has written books about kitchens and bathrooms, and attics and basements. Those are great if you're looking to do any projects on your home.
You're an accomplished tradesman, but are there any skills – work-related or not – that you'd still like to learn?
I'd love to learn how to play the guitar, and I want to learn a new language – French. My wife is Swiss-French, so when we visit her family in Switzerland or Quebec, I'd like to be able to communicate with them a little better.
It's never too late to try something new. I have a friend who used to own a car audio store, but now owns a successful business building furniture – he got into it because he started reading about building rocking chairs. Just picking up a book in something you find interesting can lead you to your passion.