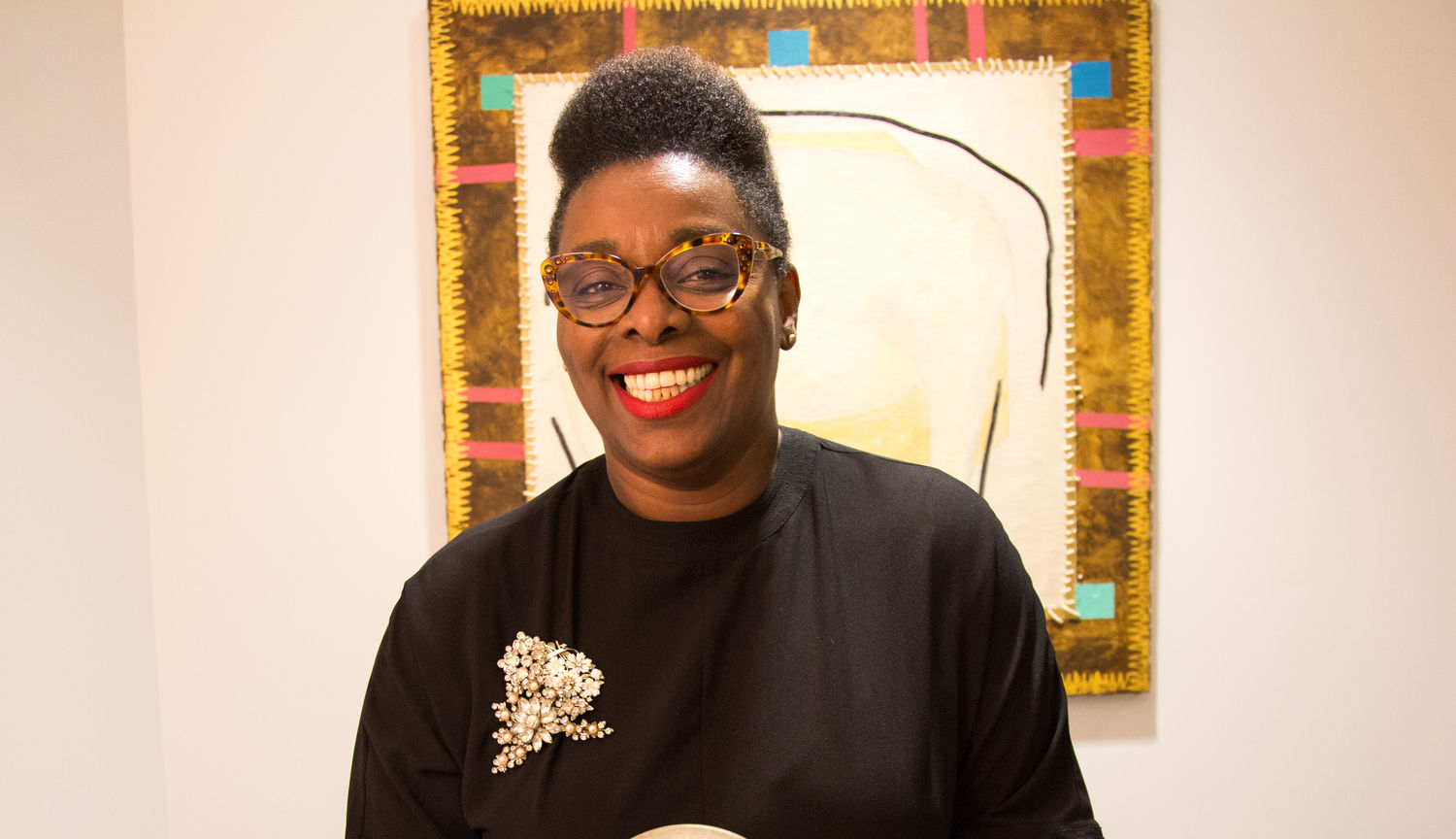 My reading life with TIFF powerhouse Maxine Bailey
Maxine Bailey is a driving force who has devoted her life to the power of stories.
Her current day job is Vice President, Advancement for TIFF, responsible for raising 25% of the organization's annual revenues. TIFF is known for the annual Toronto International Film Festival but is actually a charitable organization "committed to growing and strengthening our community through the power of film", and to that end Bailey has created a number of programs to ensure as many Canadians as possible can be enchanted and educated by the movies.
Before that, Bailey was in the theatre business as a writer, producer and director.
She is also a booklover of magnificent proportions, fitting reading into every part of her day not otherwise occupied by those other forms of storytelling, or the creating of compelling stories herself, making the case for TIFF that results in the wooing of donors to keep its programs alive and thriving.
How does she do it all, and what is her reading life like? We asked, she answered:
How do you start your day?
Checking the weather, which impacts not only my mood, but what I choose to wear. FYI, I'm much happier with sun, warmth, and not having to decide which coat works with my outfit.
I then, think about doing some of my yoga stretches. Sometimes the stretches win, sometimes I slouch downstairs and think of how much better I would feel if I had worked out as I sip hot water and lemon and listen to Metro Morning on CBC.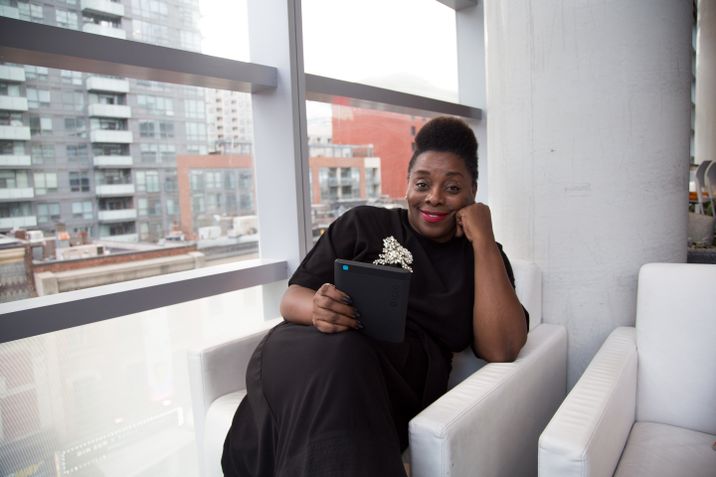 What do you do during your commute to work?
I either start a chapter of my latest book, and it's imperative I complete a chapter before I get to the office. Or, I catch up on my addiction to word games (Word with Friends, Word Streak, Ruzzle, or, Solitaire).
What is the first thing you do when you get into the office?
Stand in the longest line at the Tim Hortons near my office to get my extra-large steeped tea.
My office building has a grand atrium, and I love to scan what's screening in the building as I wait for the elevator. There's always the possibility to catch a bit of a film.
Once ensconced in the office, I check email, my schedule (things can change quite quickly around here as the festival looms), and check in with the team.
What is it like to work at TIFF?
Fun. Busy. Crazy. Always different. Rewarding. Creative. Long walks to the bathroom...you can't wait until the last minute.
How do you fit reading into your day?
Did I mention waiting in the longest line at Tim Hortons?
When I wake up I usually read instead of doing my morning yoga stretches before I head downstairs. I read during lunch or en route to an external meeting during the day. I read over dinner if eating solo.
And, sleep is elusive if I don't read a couple of chapters before I go to bed.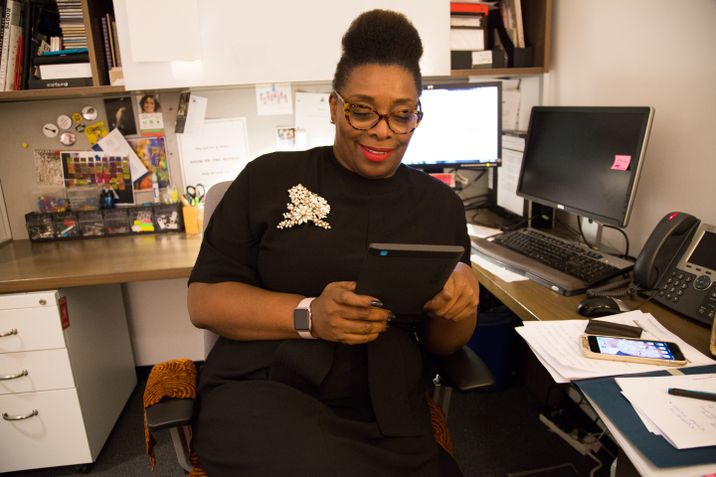 When and where do you escape to get some time to yourself?
I wish it were more regular, but I try to get to Barbados for a couple of weeks annually, where I do nothing more than eat, sleep and read. However, throughout the rest of the year I do enjoy a good meal, a good ol' glass of wine, and catching up with friends for weekend brunches. And my new-found hobby of yoga is becoming something I no longer fear. I'm not good, but I'm not scared of it anymore.
What are you reading right now?
I usually have three books on the go, and what I read is dependent on mood.
There's always some escapist – thriller, something literary or hot off the presses. I'm currently reading The Nix, re-reading Difficult Women and Milk and Honey. I'm also reading Saints and Misfits.
As we get closer to the film festival in September, I tend to read short stories as I have less time to read.
What does it mean to be a storyteller as a profession?
In my former life, I was in theatre. I loved getting a story from inside my head, to the page, to the stage.
Now in this current version of my life, I weave stories as part of my job, selling the best organization to work for, TIFF.
As engrossed as I can get in a book, there's nothing better than reading a book, and calling it – like, "I know this will make an amazing film". I did it recently with my last few books.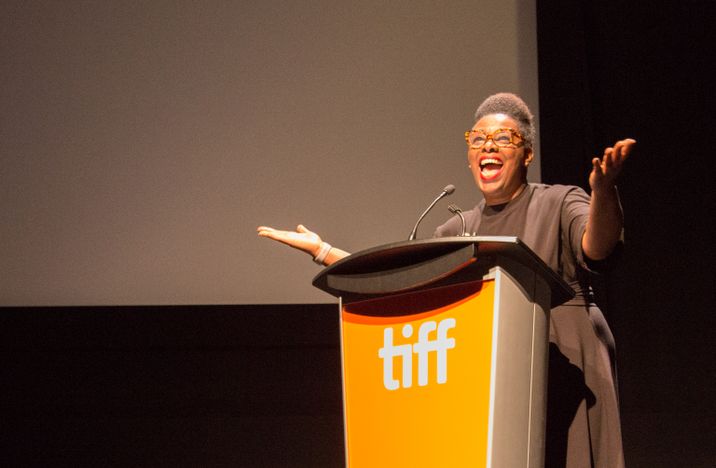 How do you think books and film impact the world?
I believe empathy is gained by sharing and learning. Book and films have the ability to transform and transport the viewer or reader to whole other worlds, languages, and emotions. Experiencing a new book is the ultimate joy for me. I consider the new things I will learn, my natural curiosity being piqued, and most importantly, I know at the last page, I have absorbed pages of the book that informed and transformed me into a better human. It doesn't matter what genre you read, view, or listen to, culture (music, film, books) makes the world a better place. Full stop.
How do you usually end your day?
By finally catching up with the news of the world online (Twitter, IG, Flipboard, Quartz, or blogs). Must. Break. That. Habit. Some strange stuff is going on in the world, it's safer and better to hide in the world of books. Then I must punish/reward myself by doing a few stretches before I head to bed with my book(s).
What books did you just know would be great movies?
Here is Maxine Bailey's Adaptation Reading List:
I recently inhaled The Hate U Give which has just been optioned – I hear Amanda Sternberg is cast as the lead.
The Seven Husbands of Evelyn Hugo – I was lucky enough to get an advance copy and damn, it's a good juicy book.
The Mothers has just been optioned by Kerry Washington's company-- I expect really big things of this.
I'm now going to go rogue, and basically mention books that should become films according to Maxine. Here goes:
Before the Fall by Noah Hawley
The Trap by Melanie Raabe
Siracusa by Delia Ephron
Another Brooklyn by Jacqueline Woodson
Behold the Dreamers by Imbolo Mbue
Fates and Furies by Lauren Groff
A Little Life by Hanya Yanagihara
The entire Ava Lee series by Ian Hamilton about time we got a female protagonist in a film series!