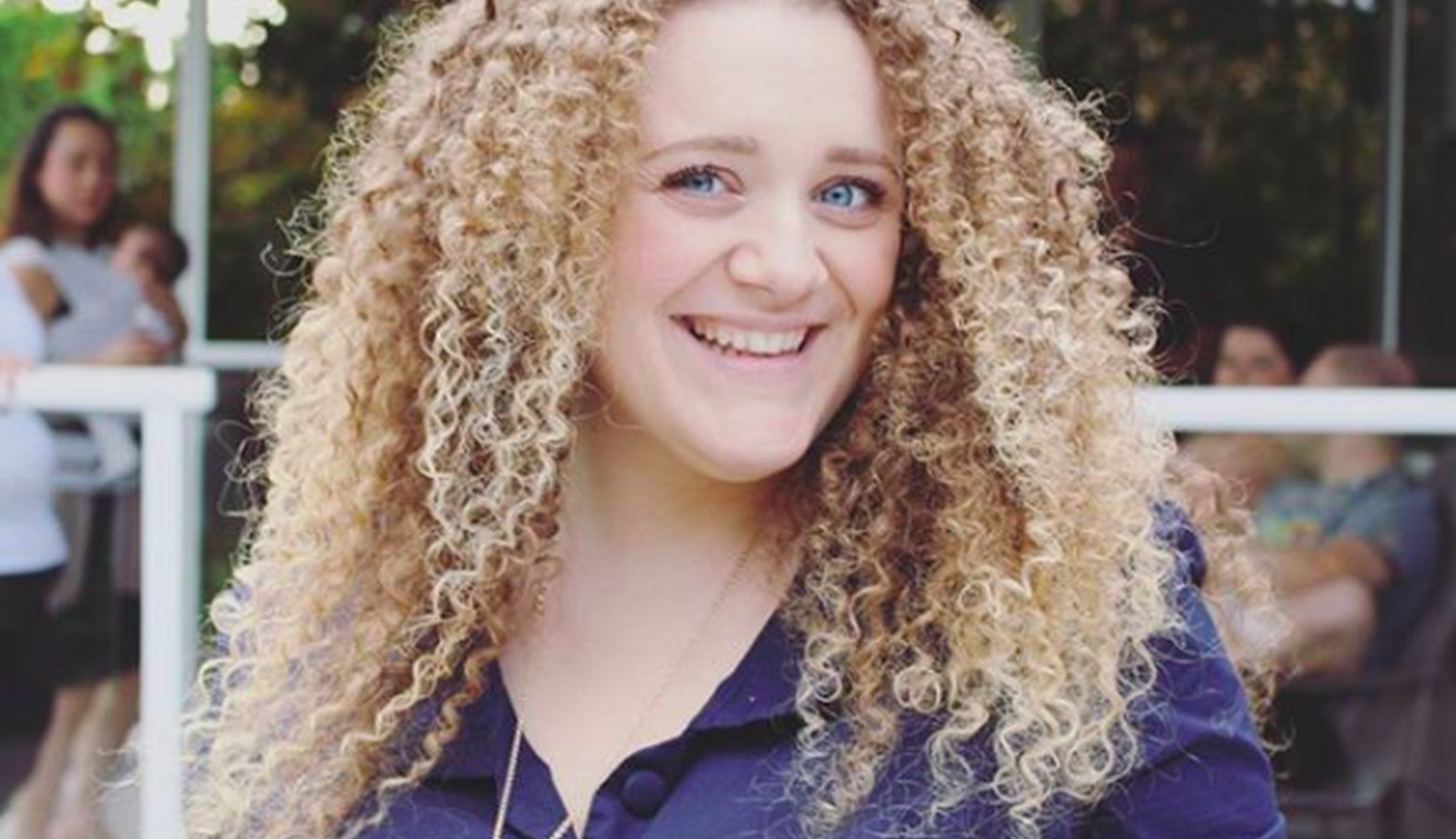 One mama's journey to reading digitally
Tairalyn Ciulla is an online creator and influencer, and founder of Little Miss Mama, a website that talks all things motherhood, travel, fashion, food, and DIY ideas. Mother to Sofia and Stella, Tairalyn has developed an online tribe who follow her charming guides and blogs. Tairalyn reached out to us because she isn't the biggest reader; so we sent her a Kobo Aura ONE and challenged her to read digitally for a week.
***
Take us through your day by day experience using a Kobo eReader:
DAY ONE:
My daughter and I, Sofia cozied up on the couch just before bed and took turns passing the Kobo, each reading a page at a time. We're reading Gangsta Granny and did not want to put it down. Before bedtime stall tactic or hooked on the book, it's hard to tell. Either way I caved and we read a few more pages.
DAY TWO:
Sofia snuck in some reading before her dance class. Normally we allow her a bit of time on her tablet to play her favorite game. She requested the Kobo instead. I'm convinced last night's late night reading was not a stall tactic.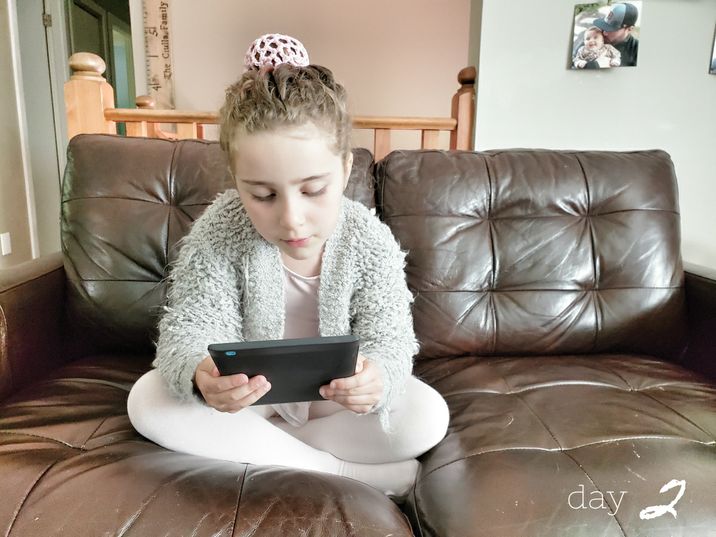 Photo credit: Tairalyn Ciulla
DAY THREE:
The girls are in bed and Sammy is outside in the garden. Perfect opportunity to steep myself a cup of tea and get right into I Just Want to PEE Alone. I cry-laughed. I have not done this since Stella hid my car keys before a big meeting (that cry-laugh was a bit different).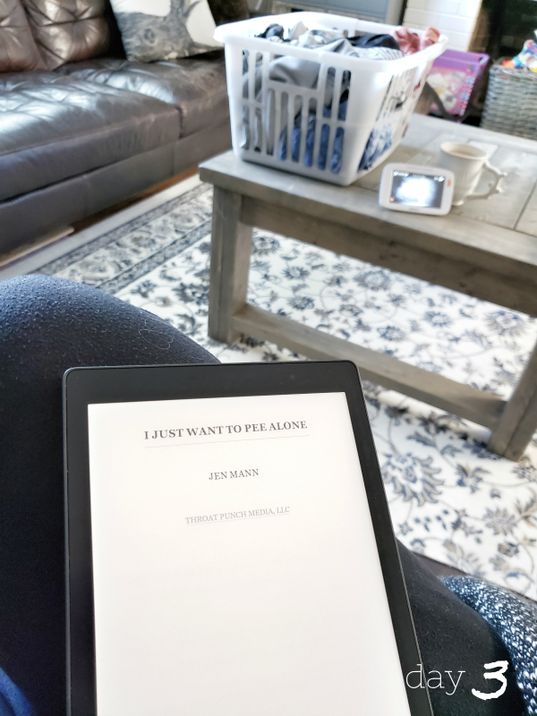 Photo credit: Tairalyn Ciulla
DAY FOUR:
Took a nice relaxing bath after the girls were all tucked in. Got straight into another few chapters of I Just Want to PEE Alone and concluded the bath with learning more about my Kobo. Learnt that Kobo recommends titles based on your current reading titles downloaded. Let's just say Kobo gets me better than half of my ex-boyfriends. I added 22 more books to my Wishlist.
DAY FIVE:
Sofia and I are just a little over half way through the book Gangsta Granny, and then it donned on me. I'm such a newbie to this reading thing. I never thought to read a review or even a spoiler alert on this novel before downloading it for us to read together. I have a feeling this Granny, as Gangsta as she is, she's going to die. Fan-tastic. Cue the tears from us both.
DAY SIX:
It only took me six days to put the Kobo's waterproof-ness to the test. I blame a new kind of bubble bath and forgetting how the whole "volume" thing works with filling a tub based on the person going in. Started a new novel tonight, Confessions of a Shopaholic. I love flipping between books based on how I'm feeling - getting invested in a good long read or giggling my way through humorous short chapters on parenting. This is good. I like this.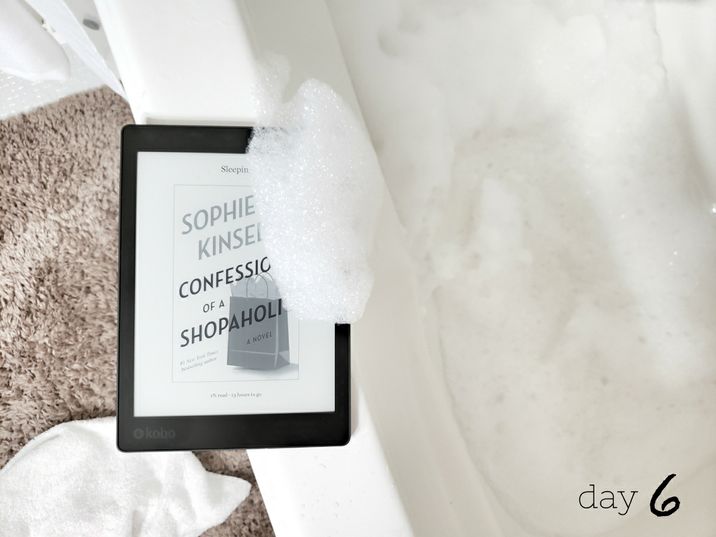 Photo credit: Tairalyn Ciulla
DAY SEVEN:
It was either put away a boat-load of laundry or read. I figured it's easier to find laundry when it's all laid out in the open anyway. The Kobo won. Got in an hour of reading during Stella's nap, getting up with a great desire to SHOP. Something tells me this Shopaholic series is going to make me broke.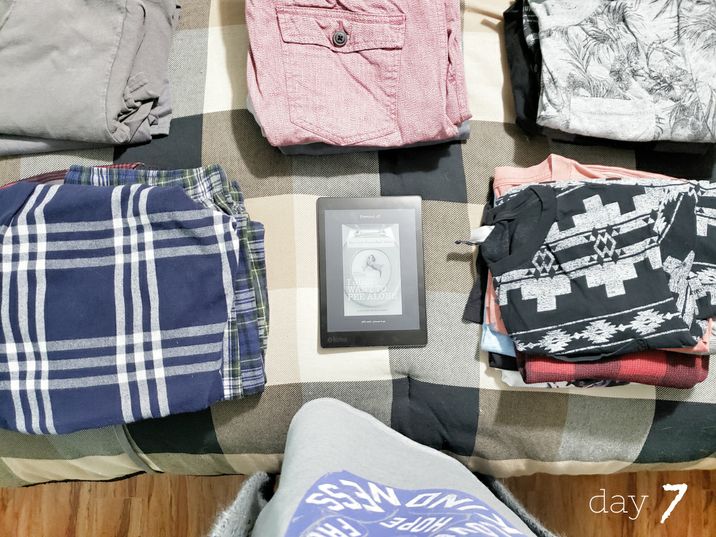 Photo credit: Tairalyn Ciulla
What was the first difference you noticed between print and digital reading? Not that I read a whole lot of print before, but it was so much easier to pick up the Kobo vs. hunt down a book, and in my case head to the store to buy it. This just makes reading easier.
Did you find yourself reading more? I read much more now as it's an option. Let's just say laundry is piling up these days.
What apprehensions did you have about digital reading? Do you still have them? My apprehensions were simply, would I like it enough to make time for it? Being a stay-at-home-mom that runs her business, any free time gets filled up with work. I am over-worked, this I know. The Kobo has given me the option of a sanity break. I appreciate it.
Is there anything else about digital reading that you think we should know? This day and age, everything is about convenience. Kobo makes reading convenient. Finding a new book. Getting a new book. Reading a new book. I'm hooked.
What is the one word you would use to describe your eReading experience? Eye-opening.
***
Want to see how other 7-Day Challengers fared? Read The art of reading on vacation.