Reading on the road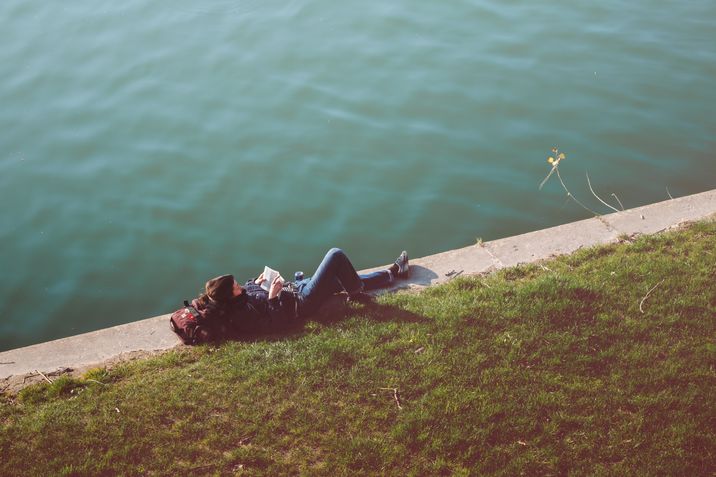 Hundreds of thousands of reporter-miles, criss-crossing the planet, from the garlanded islands of the South Pacific to nasty war zones in Central Asia and Africa, always schlepping my "book bag".
A duffel heavier than my suitcase, crammed with Lonely Planet country guides but, more so, literary travel writing, some of it current, much of it long out of print and diligently tracked down at used book stores or the now grievously missed, all a-jumble, Open Air Books & Maps which formerly occupied basement premises on Adelaide Street in Toronto. So many hours spent perusing the dusty, perilously leaning stacks of inventory.
That book bag was more crucial to my global meanderings than clothes or even first aid kits. For many of these assignments I was accompanied by Steve Russell, strapping and strong Star photographer, and he, a gentleman, would lug the tote along with his own equipment.
But Steve wasn't there when I had to hump the bag up 11 flights at my Baghdad hotel (no electricity for the elevators) during the "Shock and Awe" bombing campaign which launched the Iraq war in 2003 – one of only two hotels accepting journalists because every other lodging in the capital was filled with members of the Baath regime and their families, scrambling for refuge.
Nor was Steve there – he bailed – for one of my most quixotic adventures: late December 1999, hunkering down on a deserted Tongan isle along the international dateline, so that I would be among the first human beings to watch the sun rise on a new millennium, filing the story with a satellite phone.
Reading on the lagoon beach or at night, by flashlight in my pup tent, when a gazillion fruit bats rose screeching from palm trees, it would have been easier, far more convenient, to e-book my way through these sojourns.
At the time, the books I assembled were not available digitally and some still aren't: Freya Stark's Baghdad Sketches, Marco Polo's The Travels, Pandora in the Congo by Albert Sanchez Pinol, Robert Louis Stevenson's In the South Seas, Mary Russell's The Blessings of a Good Thick Skirt, and The Histories of Herodotus, which could only be consumed a bit at a time by my small brain.
I admired hugely, in particular, the intrepid, unconventional women who set out for the un-charted zones at the dawn of curiosity travel, perceived as eccentrics but with a keen eye for detail, not preoccupied with presenting themselves as macho conquerors of the darkest, most dangerous places.
And gosh, could they write, with insight and humour, if sometimes, admittedly, with an antiquarian fussiness. Gertrude Bell, who mapped Arabia and midwifed the modern Middle East, probed the Mesopotamian desert with a portable bathtub in tow.
So, what hardship is sleeping in a bedroll under a tank, or hitching a ride from the airport on a moped, or tackling a runaway chicken on the road because there'd been nothing to eat for weeks except rice and potatoes?
Travel compendiums are useful, practical, but often inapplicable to the places I venture. So those who came first and documented their excursions, sometimes within a fictional context, are superior guides to culture and history. Paul Theroux accompanied me on long train treks through Russia, William Dalrymple steered me through India, Joseph Conrad prepared me for the Congo. On nine "tours" of Afghanistan, either embedded with troops or reporting as a "unilateral" – me and a driver/translator/fixer – my bible was An Unexpected Light: Travels in Afghanistan by Jason Elliot, read and re-read, now mangy from its exposure to the elements, traversing mountains and deserts.
There was otherwise precious little time for fiction over the 15 years or so that I reported from combat zones. Those authors were also preferred companions, reading in a mud hut or sailing across Lake Kivu (with its underwater gas explosions) on a shrimp boat. After a while, bombardments become background white noise and the ear learns to distinguish between scattershot RPG fire and incoming mortar shells. Just take a breath and disappear into Seven Pillars of Wisdom by T. E. Lawrence.
At a certain point, especially in Afghanistan, my moveable feast of books expanded to latter-day memoirs by war correspondents and soldiers who'd survived the horrors, although the bitterness that so clearly imbued some of these accounts was off-putting. But many made more sense of the madness than generals and academics: The Forever War by Dexter Filkins, Whiskey Tango Foxtrot by Kim Barker, Farewell Kabul by Christina Lamb and a particular favorite, War Reporting for Cowards by Chris Ayres, which made me feel less alone and galumphing inept.
There were occasions, too, of zero preparation, just grab the go-bag and, well, go, learning on the fly. E-reading is a good salve for this, you can download any book anywhere there is WI-FI or cell coverage and even remote airports have these. If not, it is to seek out the back-alley bookstores that exist from Kabul to Baghdad to Addis Ababa. More often learning by just listening to the first-hand voices of real people – war-battered civilians, human aid workers, rescued child soldiers – and trusting my own eyes.
Maybe I got it wrong sometimes but at least I was there; I tried to relate truths.
These days, sadly, my wayfaring is often limited to books as the Star's travel budget has shrunk to nickels 'n' dimes. But I can always find adventure and wanderlust between the covers.