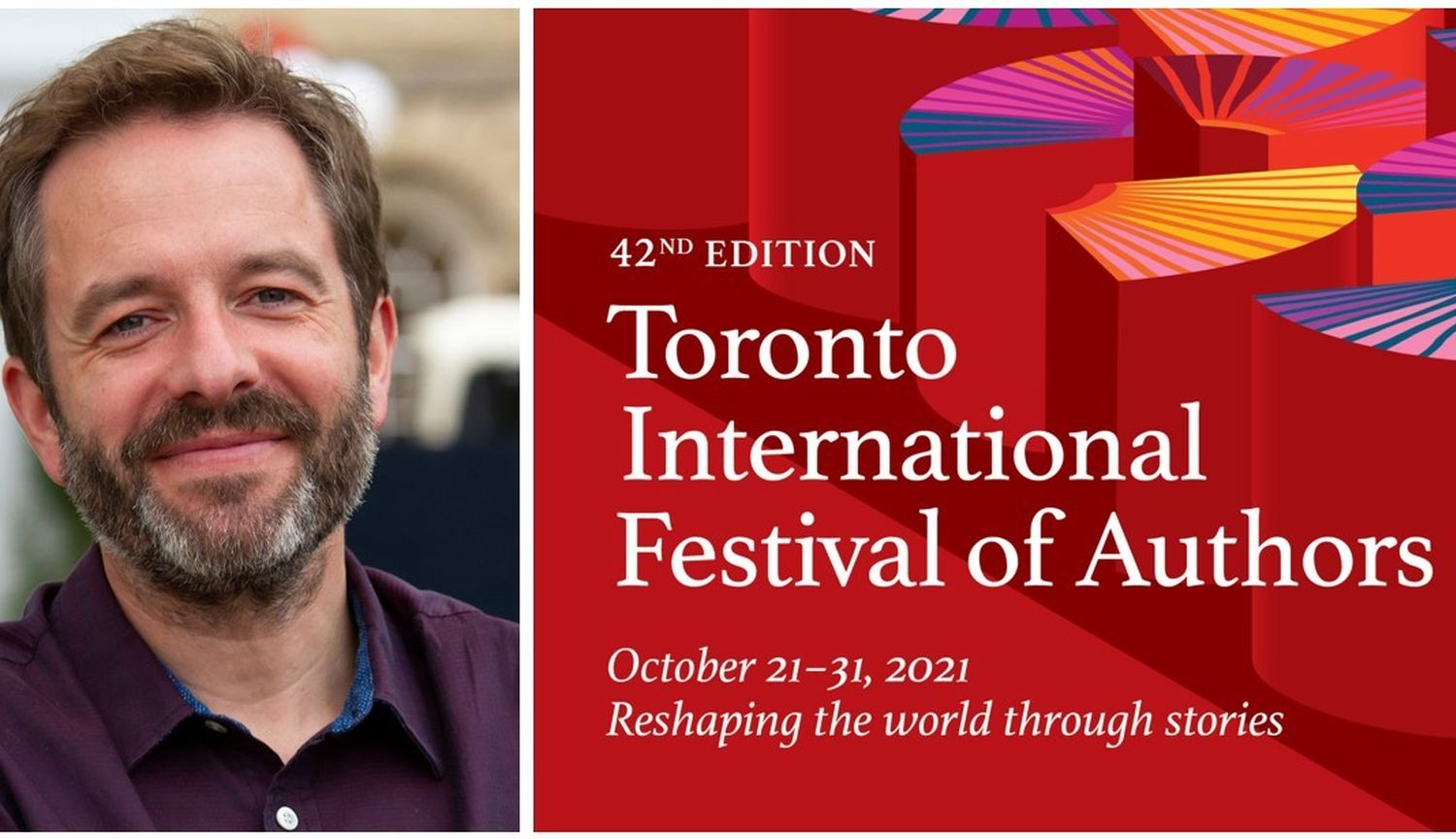 Roland Gulliver: Reimagining the Toronto International Festival of Authors
Follow The Reader is our series featuring unconventional leaders and trailblazers.
In February 2020, Roland Gulliver, former associate director of the Edinburgh International Book Festival, was appointed director of the prestigious Toronto International Festival of Authors (TIFA). Honoured and excited, his aim was to expand, reboot and re-energize TIFA's programming. One month later, the global pandemic hit.
Despite the challenges of navigating both a new role and uncharted event-planning territory (I can't even imagine the initial panic and pressure), he pulled it off and came to appreciate the unforeseen benefits of a virtual festival.

Back again online this October 21-31, TIFA promises to build on last year's success. In our conversation, Roland shares his thoughts on what makes stories powerful, the power of diversity in Canadian literature and which books you need to watch out for in the very near future.



What's trending in Canadian literature right now? What can we expect?
One of the things that's remarkable is the wealth of diversity. I think the way Canadian literature is growing, moving and shifting is really fascinating; that's not always visible outside of Canada. Also, I think the different ways of writing those stories is interesting. I've noticed many Indigenous authors who use personal memoirs to tell bigger stories, like Jordan Abel, whose book, NISHGA, is a collage of different forms of text and images.
TIFA celebrates "the power of stories". What makes a story powerful, in your opinion?
We all need narrative to give meaning to the world that we live in. The more perspectives we have on something, the more we can almost get a 3D image of it. You see something happening in the world, or feel a certain way inside, and by reading someone else's story, you find understanding and enlightenment. You also get the sheer joy of being entertained. Whether children or adults, I think the joy of a great story is part of our human makeup, and books have a particular power because the process of reading has that internal theatre that other art forms don't.
Also, I think Canadians are incredible storytellers. I love the fact that Canadian writers and publishers are very comfortable with, and celebrate, the short story. They're not very popular in other countries and people almost apologize when they publish a short-story collection. Canadians really own the form and are very good at telling their own stories.
How are you engaging younger audiences? Is it a challenge to capture and keep their attention?
It's a different challenge, particularly in the digital space. We started having a TIFA kids program last year, but we've really examined how to develop and engage that audience moving forward. With young people, the performance of stories becomes really important.
It's interesting because adults going to events are quite happy to listen to an author speak, whereas with children, you've got to entertain them. We look at storytelling very broadly, so it's comics and graphic novels and hip hop and spoken word. It's important to show that storytelling comes in many forms, not just in the books you're told to read by your teacher.
What's on your must-read list?
I'm really excited about Colson Whitehead's new book, Harlem Shuffle; we're doing an event with him in November. There's also Lauren Groff's Matrix, and Cherie Dimaline's Hunting By Stars.
I'm looking forward to Kathleen Winter's new book, Undersong, because I discovered another novel of hers, Annabel, when I was working in Scotland. The opening scenes stayed with me for many years. Oh, and I can't forget Val McDermid's new book, 1979, or The Dark Remains, a collaboration between William McIlvanney and Ian Rankin that's a continuation of McIlvanney's Detective Inspector Laidlaw books.
I have lots! That's one of the things I love about this job, but it's also incredibly frustrating. Every year there are so many brilliant new stories and not enough time to read them.
Who are the up-and-coming authors to watch?
I was a judge for the Booker Prize, which was run out of Trinidad and Tobago, and there were some really interesting writers that came out of that. In particular, new author Maisy Card who wrote These Ghosts Are Family.
Natasha Brown (new book Assembly) and Mateo Askaripour (new book Black Buck) are great too because they're writing really contemporary novels about Black culture and work.
Then there's Lauren Francis-Sharma who has a book coming out called Book of the Little Axe. The story is told from the perspective of free Caribbean Black slaves who come to America and join forces with different Indigenous communities, which gives a whole different perspective and layer to a typically one-sided view of that time in history.
What's your favourite book turned show/movie?
I started watching Sweet Tooth on Netflix, which is based on Jeff Lemire's graphic novel, but I have to confess that I often feel really disappointed when books are adapted.
There's an incredible series of books by David Peace that are all about northern England in the 1970s, and they're really dark – quite disturbing and powerful. They were adapted for television, but trying to put four books into, like, three episodes means you're not going to get any of the depth that you're looking for.
What lessons have you learned from last year's virtual festival that you'll apply this year?
It has been a really interesting process because we were all kind of making it up as we went along...like flying the aircraft while we were building it. But in many ways, it worked very well.
Having things like performances that we've been pre-recording down at the Harbourfront is exciting and a nice counterbalance to people in conversation. Also, one thing we did last year was have events in different languages, which was wonderful because it responded to Toronto – I think there are over 140 languages in the city – but hopefully also spoke to an international audience. If an author is Spanish, for example, pre-records allow us to subtitle the event so that an English-speaking audience can access it without the pause that comes with a live translator; there's a more natural feel to it. We were able to grow our programming because of the virtual format and it's great to see how literary festivals can become multilingual going forward.
What do you hope festival attendees take away this year?
Last year's festival was an incredible success in terms of engagement. I love the fact that people signed up and attended and felt like part of the festival. They participated over 11 days and everyone felt connected to being in Toronto even though it was virtual. I'm hoping that we can build on that; even though we're online, there's still that community of authors and readers and storytellers. As always, I hope that people can gain access to their favorite writers, but one of the hugely important parts of being a literary festival is that attendees come and discover something that they never expected to find. ◼
Photo credit: Robin Mair