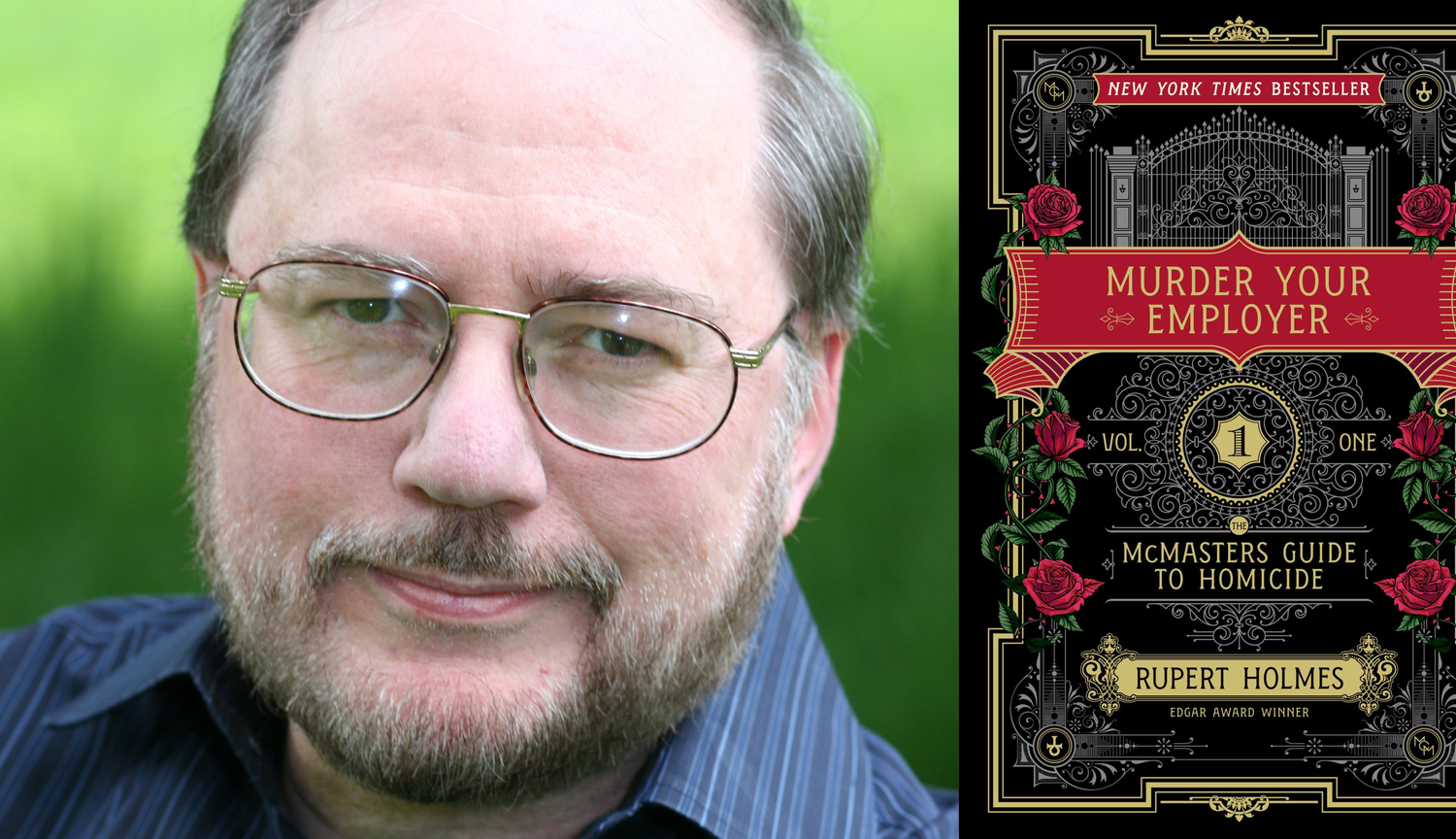 Rupert Holmes, author of Murder Your Employer
Rupert Holmes has received two Edgar Awards from the Mystery Writers of America, and multiple Tony® and Drama Desk Awards for his Broadway mystery musicals, including the book of Curtains and his sole creation, the Tony® Award–winning Best Musical The Mystery of Edwin Drood. His first novel, Where the Truth Lies, was nominated for a Nero Wolfe award for Best American Mystery Novel, was a Booklist Top Ten Debut Novel, and became a motion picture starring Colin Firth and Kevin Bacon. His second novel, Swing, was the first novel with its own original, clue-bearing musical score. He has adapted Agatha Christie, John Grisham, and R.L. Stine for the Broadway and international stage.
Kobo: What inspired the idea behind Murder Your Employer, and is any of that inspiration based in real life?
Rupert Holmes: As a writer of mysteries for both page and stage, I noticed that while there is now a do-it-yourself book for virtually every subject, including Tattoos for Dummies ("Ouch!" for the first few chapters at least) and The Complete Idiot's Guide to Sex (try taking that title to the checkout without blushing), there was no DIY for homicide. This intrigued me, but I quickly decided that instead of merely writing a tongue-in-cheek textbook, I could offer my reader an escape into a clandestine and luxurious university . . . a poison Ivy League school called the McMasters Conservatory, an idyllic finishing school for finishing people off—especially those unbearable villains among us who richly deserve a most artful "deletion." And apparently, it's an escape many have longed for: Murder Your Employer became a New York Times bestseller less than two weeks after its publication. As for any real-life criminals you might hear about on the news, if you've heard of them, then they clearly never attended McMasters.
Kobo: There are four "inquiries" that each student must consider in the novel before executing their plan. Could you explain how/why you landed on these guidelines?
RH: The challenge was to make my protagonists the kind of people a reader could root for and whose companionship during their twist-filled adventures could be pleasurable and even at times amusing. So, I created the crucial Four Inquiries of the McMasters Conservatory: 1) Is this murder necessary? 2) Have you given your target every opportunity to mend their ways? 3) Will anyone mourn their loss? and 4) Will the world be a better place without them in it? If you can truly answer Yes, Yes, No, and Yes to these solemn questions, well . . . If the behaviour of another person leaves you no choice but to kill them, their death is simply involuntary suicide.
Listen, most of us have at one time harmlessly said, "I could just kill him/her/them!" However, there are one or two individuals we've known in our lives about whom we've sighed, "Gee, I wish I'd never met them!" And with some particularly nasty, self-serving individuals who only take pleasure in the unhappiness and tragedy of others, it's easy to think, "This world would be a better place if they'd never been born." That train of thought can take you from "I could just kill him" to "I could just kill him." Enter the Four Inquiries, the vital first steps of any successful deletion.
Kobo: What are the biggest differences between writing for the stage and writing a novel?
RH: There are all the differences in the world. When I write for Broadway, I'm writing for an audience of a thousand strangers from all walks of life, levels of education, senses of humour, and degrees of intoxication; I can only tell my story through what the characters say aloud or do within a perimeter of approximately 40 square feet. But a novel is intended for an audience of one, a very private conversation between myself and my gracious reader, spoken in hushed tones across a well-appointed table in the sought-after back booth of an elegant restaurant. A joke on the stage needs to elicit a belly laugh from all assembled; a witticism in a novel seeks from my reader only a nod of recognition or a small curling up at the corners of the mouth. All the world may be a stage, but a novel is the most unbounded stage in creation. I can take you inside the minds of my characters and make you privy to their innermost yearnings and fears; I can change locations or jump through time at the turn of a page. You can close the book to get a cup of fragrant tea or a glass of fine wine, you can be gone for a few minutes or a few years, and if you return, all my cast have been waiting patiently for you, ready to resume our adventures together. To subvert Shakespeare: non-readers taste of life but once; the readers of novels live many times.
Kobo: What are some classic mystery novels you think everyone should read?
RH: As a teller of tales with (hopefully) surprising twists and turns, I fear my list will surprise no one: The Hound of the Baskervilles for its atmosphere and characters; The Murder of Roger Ackroyd for its surprise; any Agatha Christie for its observations on human nature and heartbreak, particularly Death on the Nile and the lesser known Murder in Retrospect; The Maltese Falcon; any Raymond Chandler from 1939 to 1953; and while not a novel, any collection of G.K. Chesterton's Father Brown stories will enrich your life with poetry, wonder, and humanity.
Kobo: They say the devil is in the details—could you explain how much detail is needed when crafting a fictional school?
RH: I'm so grateful you asked! I knew from the outset that to make the world of the McMasters Conservatory real to my reader, I would have to know every square foot of its lush and labyrinthian campus: the manor house named Slippery Elms; the half-timber shops and dining spots nestled around the impressive Mere pond; its lyrical gardens of the decorative, culinary, and poisonous variety; the sparkling fountains and gleaming esplanades, sunny swimming lido, and unusual features such as The Obelisk, Raven Ravine with its ornamental castle, the Thistle Maze, Bamboo Forest, and the dense forest called The Finsterwolde. In fact, both the print and digital versions of the book come with a detailed map and illustrations of McMasters created by my Broadway collaborator Anna Louizos.
But in addition to creating the campus in intricate detail, I had to create the curriculum, including the courses and textbooks from which I freely quote, such as the scientific guide All Time Is Relative When Killing One; courses like Entering Without Breaking or Rake and Hoe Wielding; sporting activities such as Underhanded Tennis and the balls, mallets, and sharpened hoops of Croquet. The most intriguing elective at McMasters is Eroticide, chaired by Vesta Thripper, a board-certified nurse practitioner and former cover model for Vogue.
Kobo: What is a recent book you read and really enjoyed?
RH: I've just read the first one hundred pages of Murder Your Mate as I typed them, this being the second volume in The McMasters Guide to Homicide, and I must say I've been riveted. SPOILER ALERT: I think I've guessed the ending!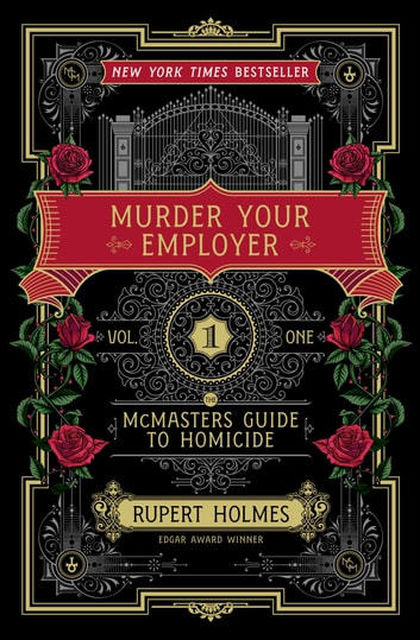 Murder Your Employer

:

The McMasters Guide to Homicide

A New York Times bestseller! From Edgar Award–winning novelist, playwright, and story-songwriter Rupert Holmes comes a diabolical thriller with a killer concept: The McMasters Conservatory for the Applied Arts, "a fantasy academy laid out like a combination of Hogwarts, Downton Abbey, and a White Lotus–style resort" (Los Angeles Times) dedicated to the art of murder where students study how best to "delete" their most deserving victim.

View eBook View Audiobook